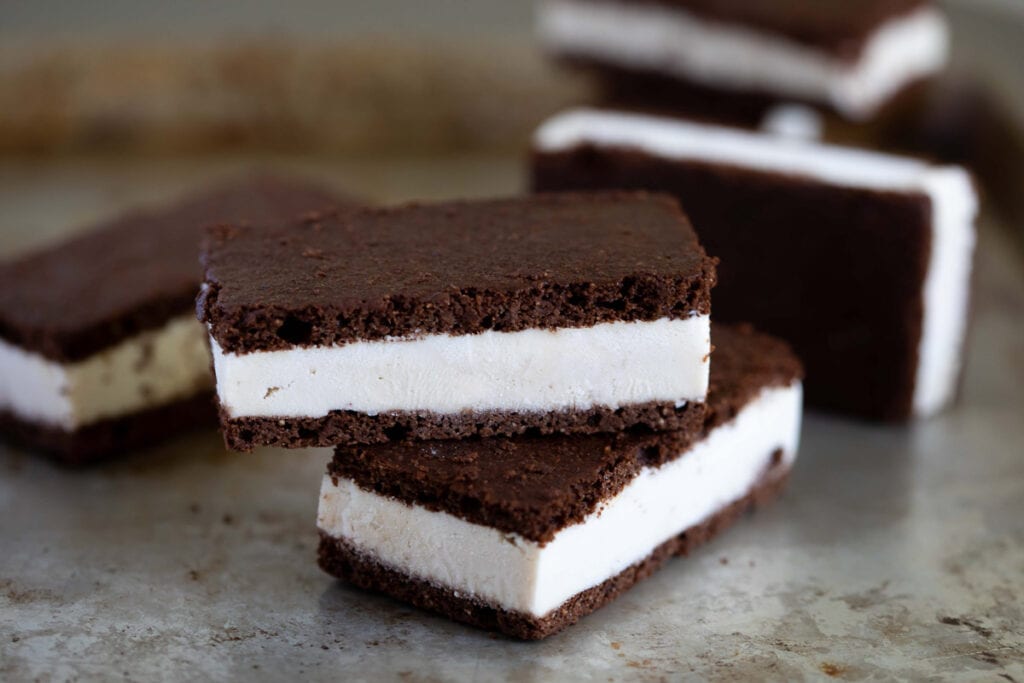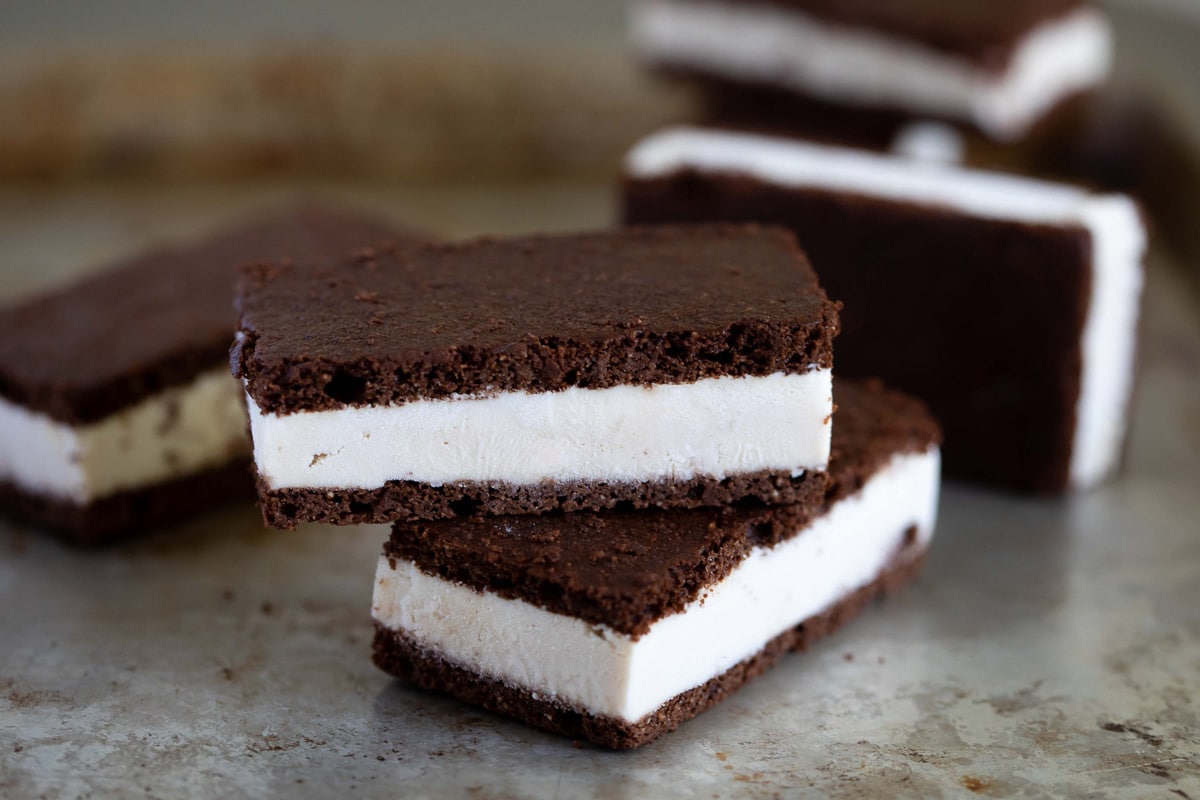 The classic ice-cream sandwich has a way of bringing me back to my favorite summer childhood memories. My siblings and I would play outside most days – running through sprinklers and enjoying endless games of roller hockey by day, and flashlight tag at night with our neighborhood friends. The highlight of the day would be the ice-cream truck making its slow crawl down our street. The telltale music wafting through the air always created so much excitement and anticipation! My siblings and I had a system that was practically set in stone; one of us would remain vigilant for the truck outside while the others would run indoors to persuade our parents into giving us money. I always felt like I was a kid in a candy store when I faced all of the options before me. 
I probably would have been happy with any of the dozens of cold treats they offered, but my favorites were vanilla ice-cream sandwiches, Bomb Pops, and those somewhat creamy but tart cartoon character faces like Sonic or Tweety Bird. I'm pretty sure they had gumball eyeballs too, which was like a BOGO in my book! This old-school ice cream truck menu is a trip down memory lane!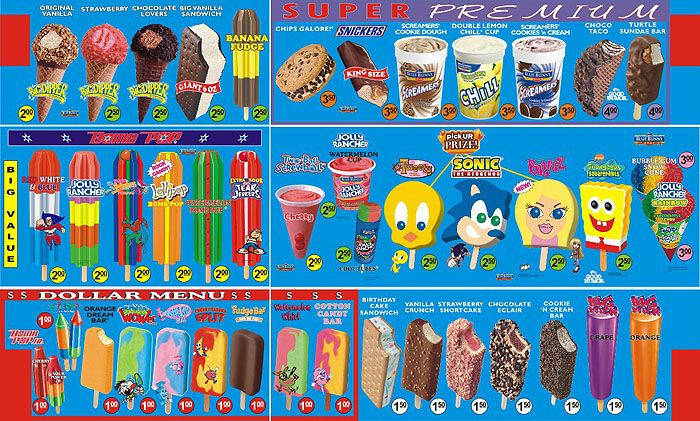 Nostalgic treats recreated
These memories are something I want to recreate for my kids, and the kid in all of us, if I am being honest! While they won't be able to look back and fondly recall an ice cream truck being the highlight of their summer day, they won't be lacking in experiencing the treats! My kids follow a mostly paleo diet, so the sugary and dairy-filled items that are typically found on an ice cream truck aren't an option. I also don't love the artificial food dyes used in those as they can cause behavior changes in kids and difficulty with concentration.
A paleo-friendly version of the classic ice-cream sandwich has been a recipe that I have wanted to perfect for a while. I am so happy to finally have it ready to share! It has all the characteristics as the ones from the ice-cream trucks minus the gluten, refined sugars and corn syrup, and the dairy! The soft and cake-like chocolate cookie even mimics the way that the original melts in your mouth! 
Whether you decide to bite right into it or lick the edges of the ice-cream as it melts, this treat will transport you back to your childhood while creating new memories with your own kids.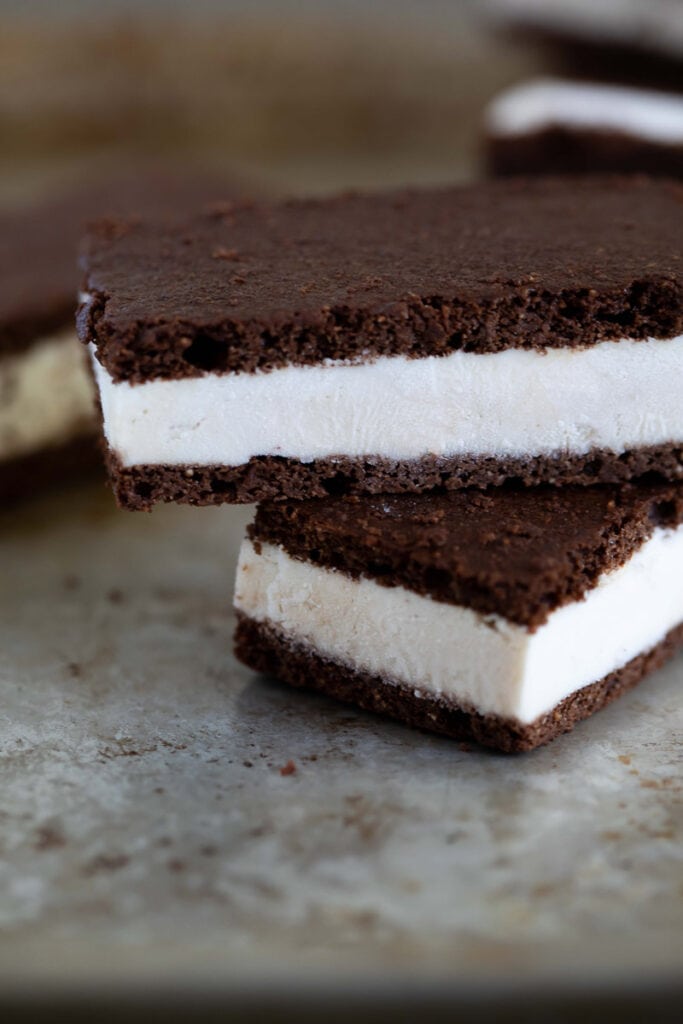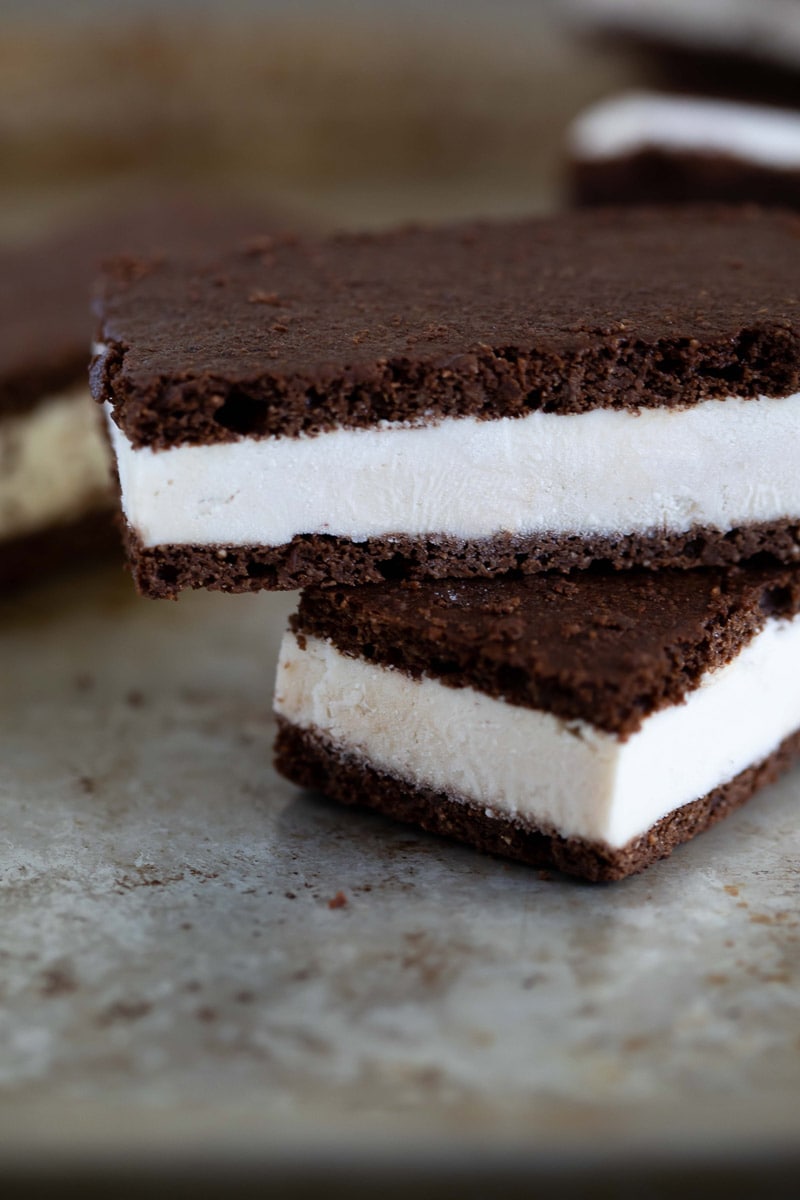 The ice-cream 
You can use whatever ice cream you'd like to fill the sandwich. Here, I used the dairy-free So Delicious Cashew Milk Vanilla Ice Cream to keep it simple, but I have tons of homemade ice cream recipes in my cookbooks and on the blog. My kids asked if we could do Chocolate Mint next time, so that's on the agenda! I'll be using my Mint Chocolate Ice Cream from Against all Grain.
You can keep it classic and make my homemade vanilla coconut ice cream, or make it double chocolate with my Double Chocolate Thin Mint Ice-Cream, or even use my Double Chocolate Ice-Cream with Peanut Butter Swirl.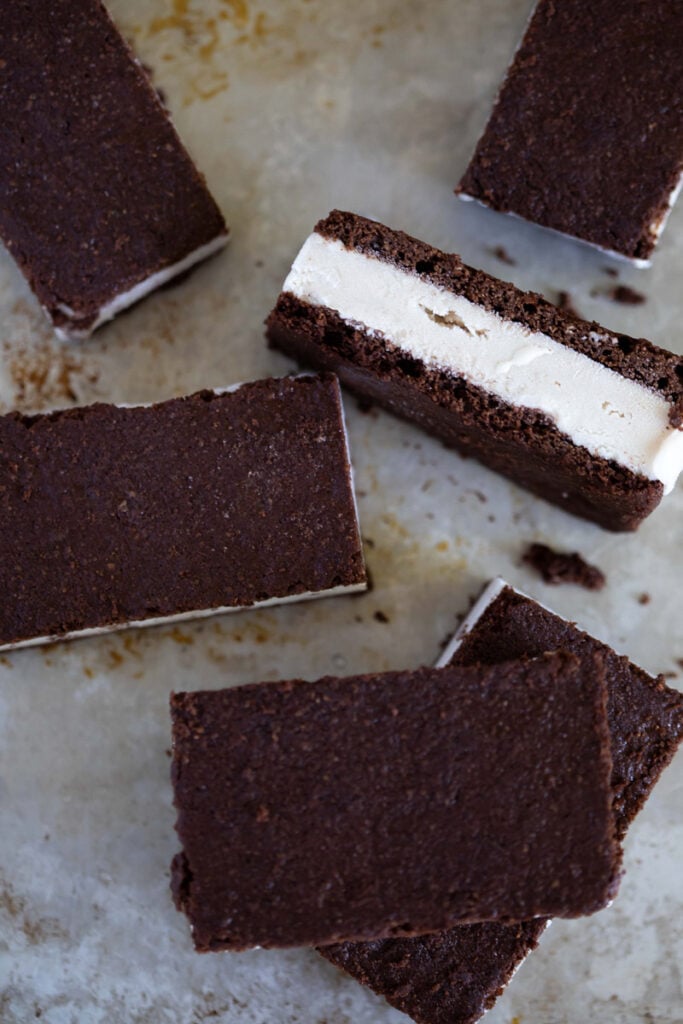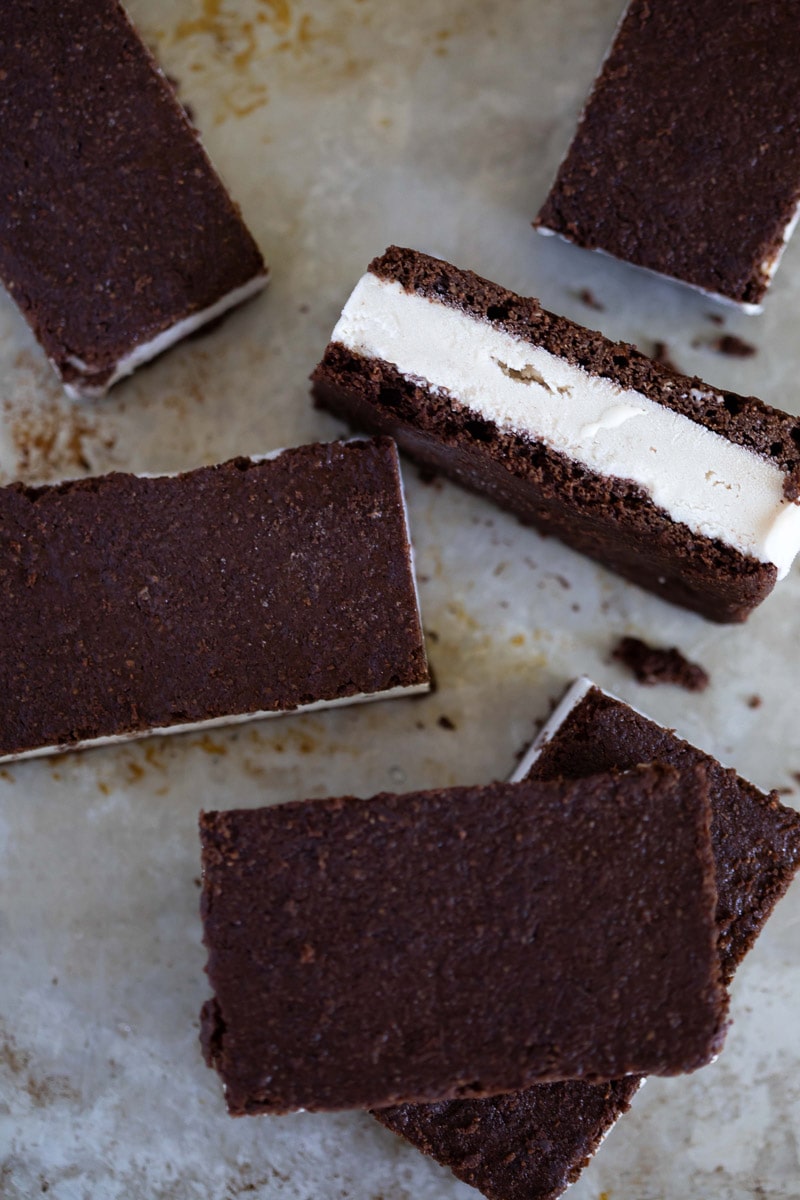 Tips for making the cookie crust 
In my opinion, the cookie crust is the best part of this recipe. It has a similar texture to a classic cake, but it's incredibly rich and chocolatey like a brownie. The recipe was actually adapted from my Whoopie Pies in my Celebrations cookbook. Trust me, you'll want to taste test it before assembling the sandwiches. Just be careful not to eat the whole thing! 
Spreading the batter evenly in a thin layer will help it bake evenly and will help with assembly. It will be fragile coming out of the oven so be sure to let it cool completely before cutting it. It is also really important to make sure the ice-cream is softened before you spread it. If not, it will make your cookie layer crumble and crack.
I found it helpful to use a large spatula when transferring the top layer onto the bottom ice-cream layer. It helps move it in one piece. You'll also want to be sure to use a sharp knife when cutting your squares. A dull knife might make the edges of the cake crumble.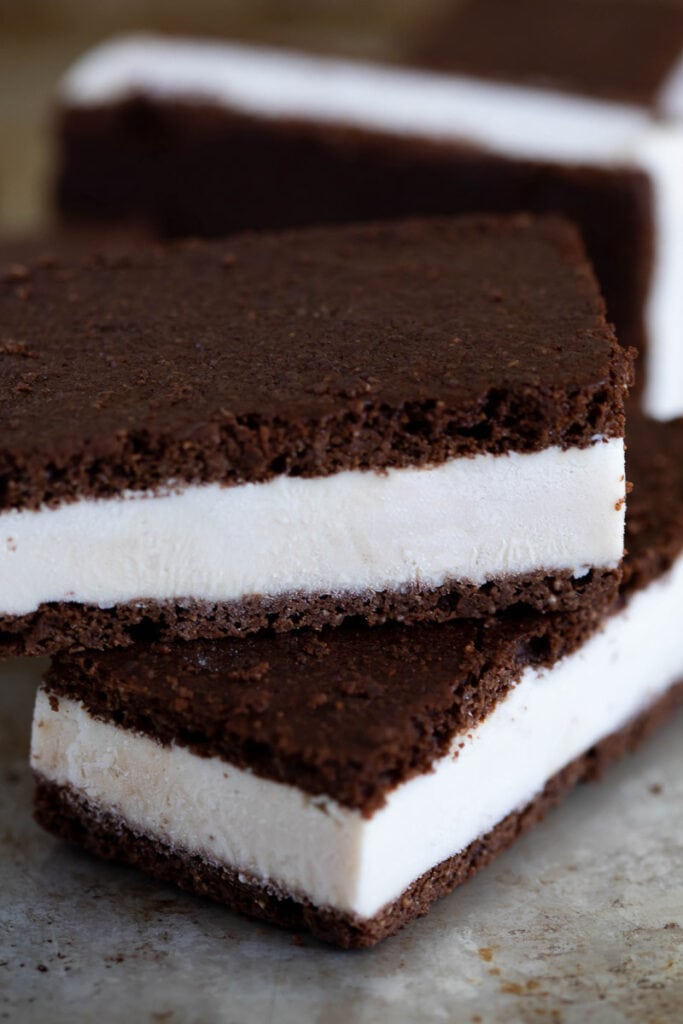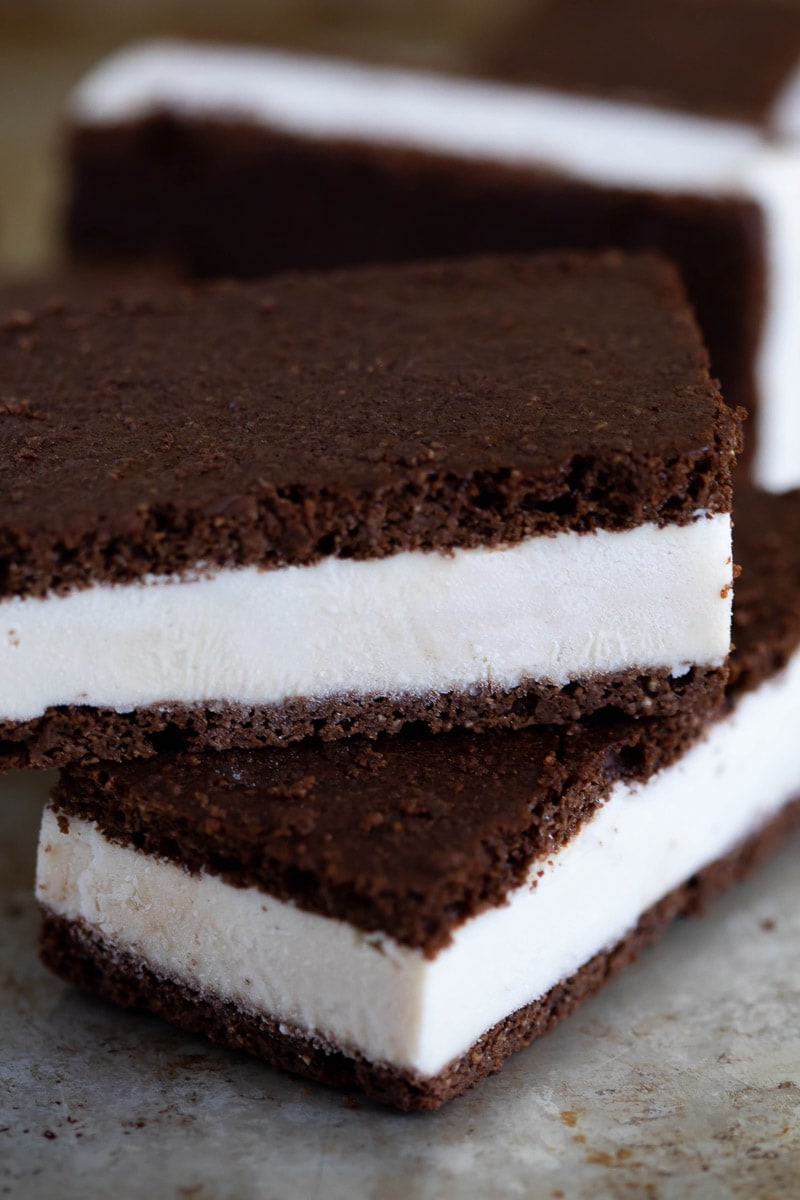 A Childhood favorite 
These Ice-Cream Sandwiches are the perfect little handheld treat for both kids and adults all summer long. I think they're perfect for a day at the pool, your next BBQ, or simply just because. 
But let's be honest, we'll make and eat them year-round.
Peppermint Chocolate Ice Cream Sandwiches anyone?
Ohhh or Gingerbread Cookie with Pumpkin Ice Cream?
So many possibilities.
You can double or triple the batch to have them stocked in your freezer all summer. Just be sure to place parchment paper in-between each one so they don't stick together. You can also wrap them individually for easy grab-and-go. 
You can also check out my recipe for a Brownie Cookie Coffee Ice-Cream Sandwich. If you're partial to chocolate chip cookies,  you can make my Real Deal Chocolate Chip Cookies and put some ice-cream in between to make a Real Deal Cookie sandwich!
Enjoy everyone! If you make these and love them, please post a photo on social media and use #daniellewalker and @daniellewalker so I can see them!
 

 

View this post on Instagram

 
Shop My Kitchen!

Other Recipes you May Like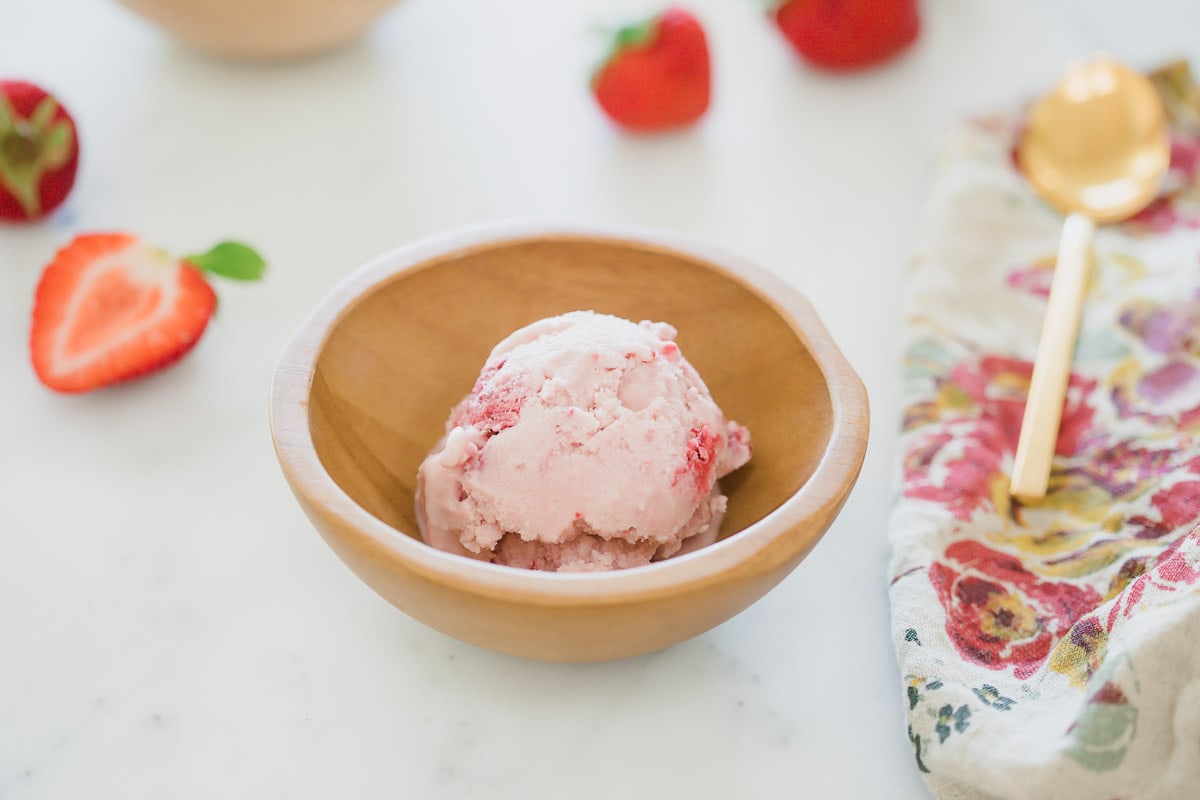 3.7K 2.5K Back in July, I made this Dairy-Free Strawberry Ice Cream on Wake Up With the Walkers per Kezia's request. She wanted a pretty pink ice cream, which I gladly accepted the challenge for since I didn't have a recipe for Strawberry Ice Cream yet. We have been on a massive homemade ice cream… Read more »