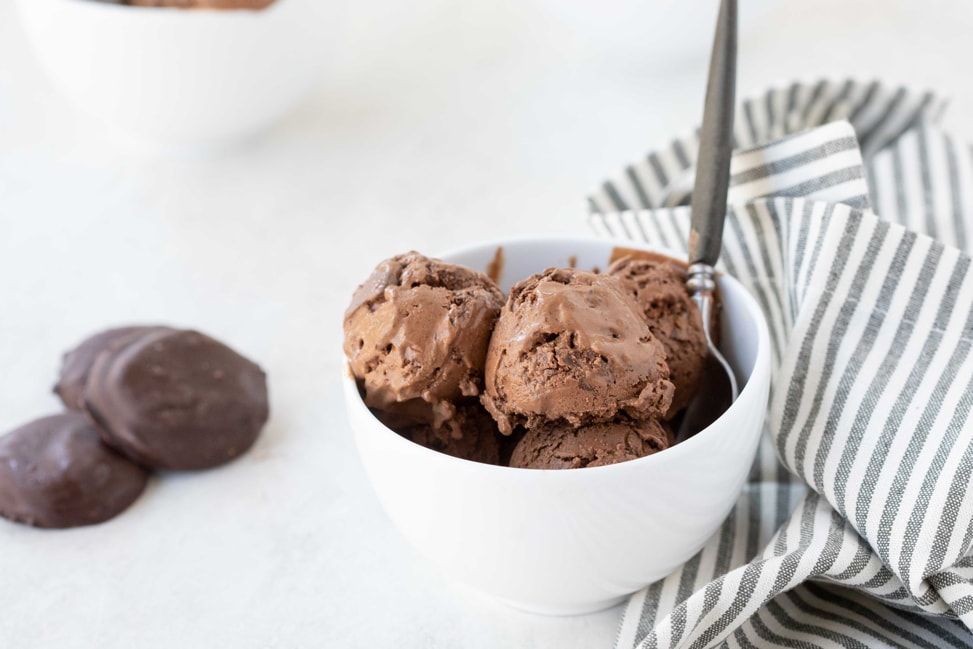 There are few things that I enjoy more than curling up on the couch after a long day to watch a show with Ryan while enjoying a bowl of ice cream. Chocolate ice cream. Maybe double chocolate. Actually, imagine throwing in some thin mints in there for good measure. That's right – a Double Chocolate Thin Mint Ice Cream that also happens to be gluten and dairy-free!
Since it's Girl Scout cookie season, I have found myself craving all of the old classics. My gluten-free "Mint Slims" can be found in Eat What You Love, and it's one of my favorite cookie recipes of all-time. As usual, when I made a batch of these cookies a few weeks ago, they were devoured within days. I handed a few out to my parents and Ryan's parents, but I'd say Ryan was the culprit for most of them disappearing. I knew I wanted to make this ice cream, so I purposefully hid five of the cookies in the freezer and told him they were off limits!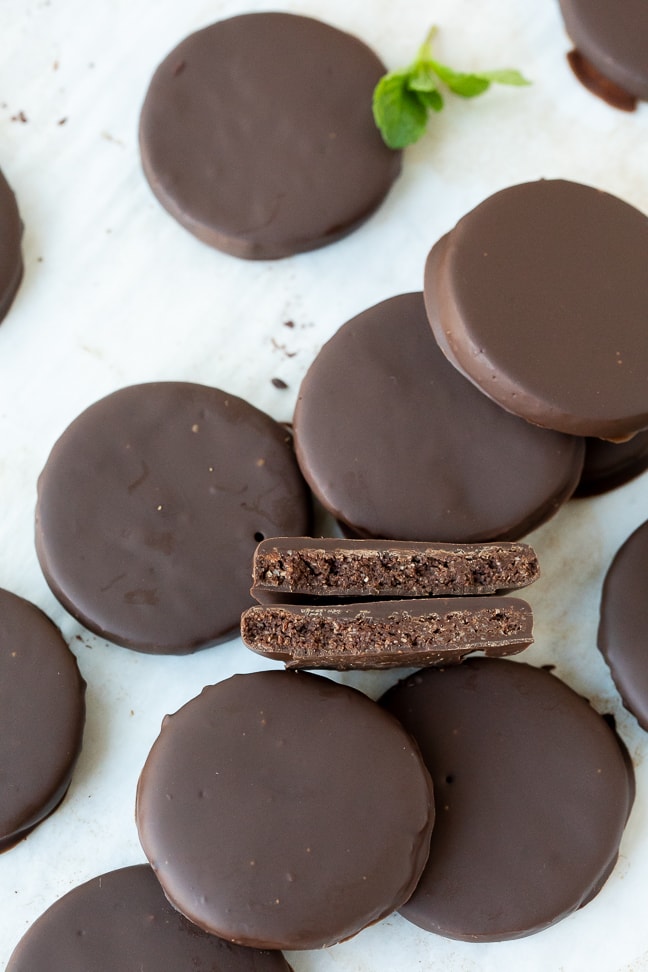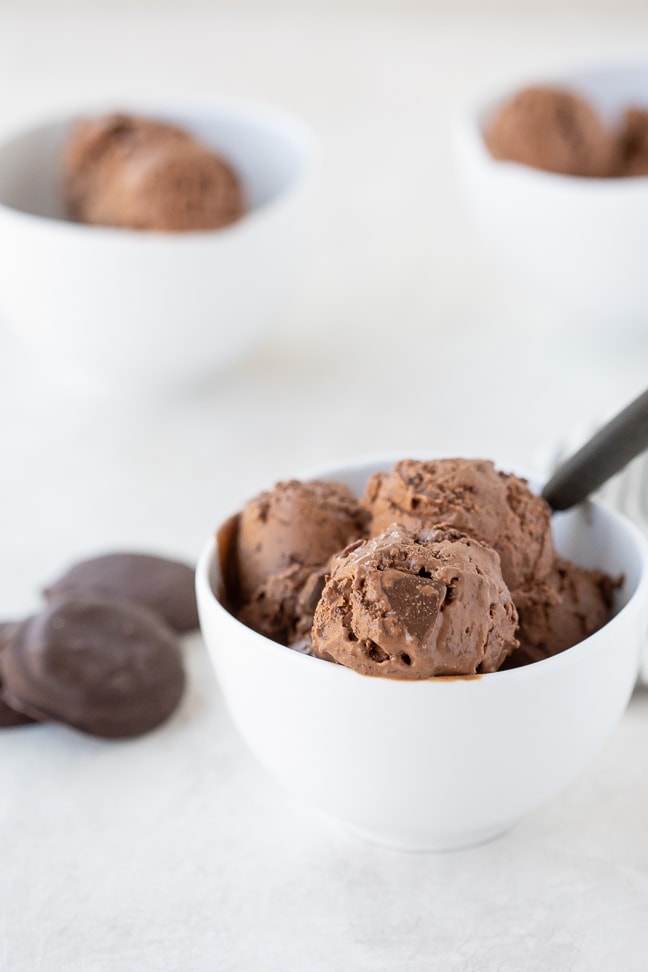 My version of "Mint Slims" makes a crisp chocolate cookie that's coated by a silky mint chocolate mixture. I can easily eat that mixture by the spoonful! That's where the inspiration for this ice cream really came from. While spooning the glaze onto the cookies I imagined it as a velvety mint chocolate swirl through ice cream. If you've tried my Double Chocolate Ice Cream with Peanut Butter Swirl, then you know the kind of swirl that I'm referring to. Except that it's mint fudge instead of peanut butter!
Our family, Asher most of all, loves the Mint Chip Ice Cream in Against All Grain. The bold flavor of mint embedded with chunky chocolate chips makes the best ice cream. It has always been my dad and my favorite from my first cookbook. This Double Chocolate Thin Mint Ice Cream is a major upgrade to that one. A deep dark chocolate base holds together crispy cookies and ribbons of thick mint fudge swirl. I can't force you to try this recipe, but I can tell you that it's likely to be your new favorite paleo ice cream. It is mine!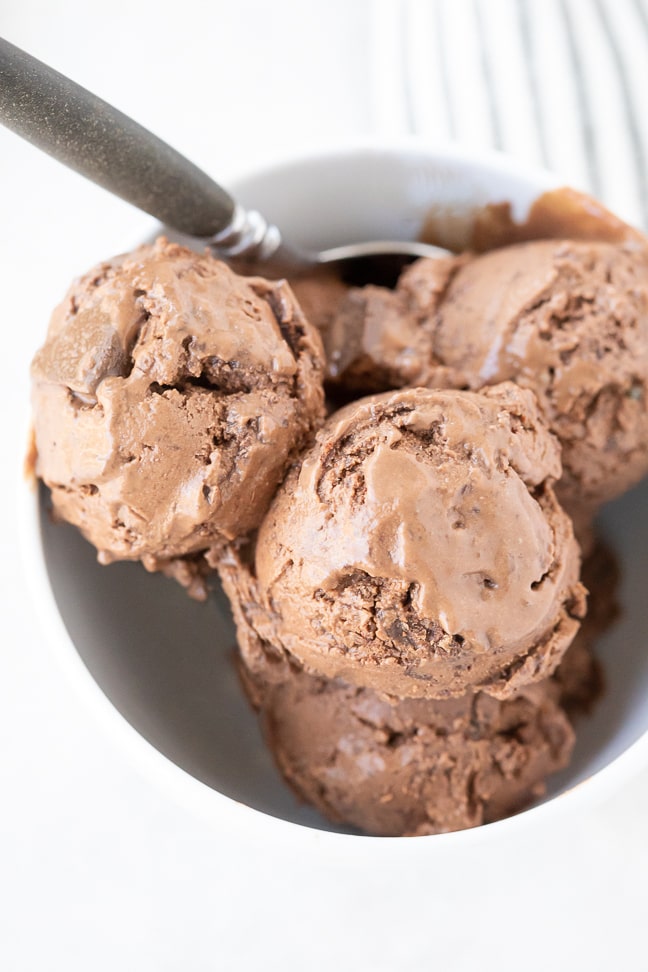 You can use any cookie that you'd like for this recipe if you don't have time or resources to make Thin Mints from scratch. To achieve the creamy consistency and smooth ice cream texture, an ice cream machine is necessary. I bought this one recently and really enjoy it! If you need a scoop, these are my go-to!
Shop My Kitchen

Watch on Instagram