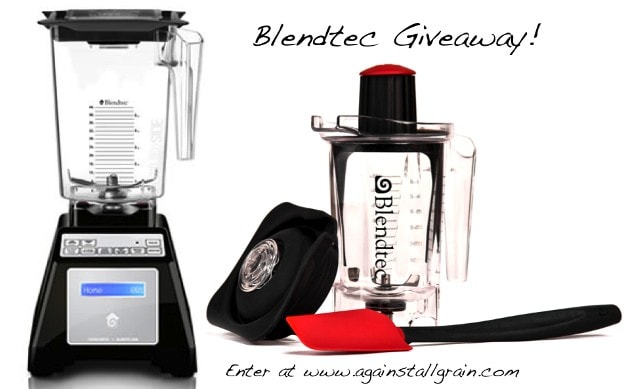 This giveaway has now ended and the lucky winner is Jessica Grant. Thanks to all for participating! 
~ ~ ~ ~ ~
I have a confession to make.
I frequently purchase processed almond milk. It's a confession that makes my sister-in-law cringe. She's a student at Bauman College and is learning the ins and outs of nutrition and has counseled me numerous times on the benefits of making fresh almond milk due to the added Vitamin D2, various gums, or other synthetic vitamins added to the store-bought kind. In my defense, I do purchase the Organic Whole Foods brand that has the smallest amount of additives. When it comes to confessions, this isn't the worst health crime I could commit, but I have been wanting to change it. I've made almond milk in my juicer a few times, but it's a bit of a process and the cleanup is not easy. With the amount of milk I use in a week, buying it was just the most convenient.
Oh how a high-speed blender has changed my life. I used to tell people that the number 1 investment to make when going grain-free is a food processor. I still use mine all the time, but I would have to say that investing in a high-speed blender will now go to the top of my list. We were never able to afford it in the past, so I borrowed my mom's any chance I could get and would even make field trips to her house just to make cashew and almond butter when I needed it. After using her "other" brand, I can honestly attest to the claim that Blendtec is the superior high-speed blender.
The first thing I made was cashew butter so I could make a loaf of my Paleo Sandwich Bread. The Blendtec Total Blender stays on my counter while the rest of my appliances go in my pantry because I use it so often. Oh and it actually fits underneath the cabinets, assembled and all! In the past few  weeks I've made everything from almond milk to pizza dough. My nut butters and salad dressings get creamy in a matter of seconds, due mostly in part to the Twister Jar accessory part.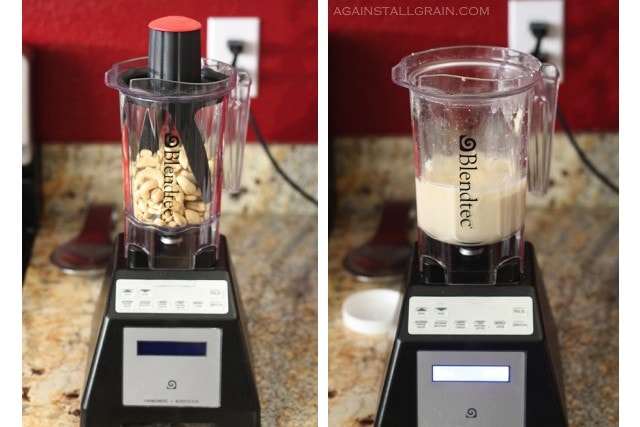 Creamy Cashew Butter
Author:
Instructions
Place the cashews and oil in the Twister Jar and press the "batter" button. Rotate the lid counterclockwise while the cycle is running.
Scrape down the sides, then pulse a 3-4 more times to ensure a smooth consistency.
That's it! With the other blenders I've used, I've had to stop the blender a dozen times to stir the butter and scrape down the sides. This one makes the process so much quicker.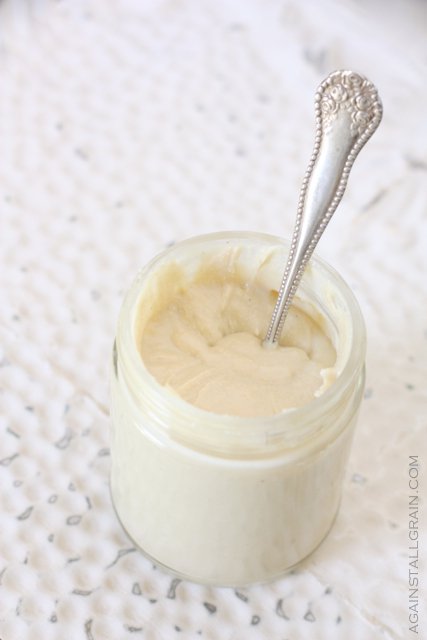 The blender can eat through anything, even an iPhone! While there's a ton of features that have really impressed me with this machine, I think my favorite part are the touch buttons to control blending. When a cycle button is pushed, the blender automatically speeds up and slows down, then shuts off when the cycle is complete, so recipes turn out perfect every time. You can chose between Ice Cream, Ice Crush, Soups, Sauces/Dips, Batters, Dressings, Whole Fruit Juice, Smoothies and more. You can also control the blender with the "pulse" button or by simply pressing the "speed" button up or down. I also love the single blade design because it means less of my sauce, butter, or dough gets wasted underneath the blade where a spatula can't reach.
I could go on and on about the benefits of this blender, but you can read all about them on their website.  Let's just get the giveaway started!
Here's what you're entering to win: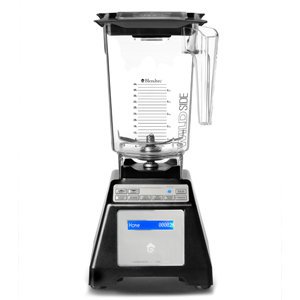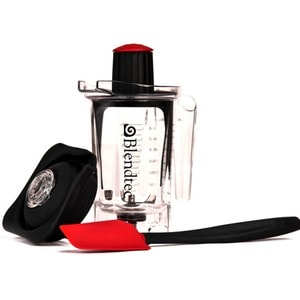 HOW TO ENTER (1 entry per household, 4 total entries with bonuses)


Mandatory Entry:
Leave a comment here telling me what recipe you will make first if you win this Blendtec Combo.
*If you don't see your comment right away, please do not do a duplicate comment. All comments must be approved by me before being posted.
IMPROVE YOUR CHANCES!



Bonus Entries (*leave a separate comment for each bonus entry with the link to your tweet or status post so I can verify completion)

1.  Follow Against All Grain and Blendtec on Facebook
2.  Tweet the following :
Win a @Blendtec blender (value $575) from @againstallgrain https://wp.me/p29IRZ-15o #giveaway #paleo #glutenfree
3.  Share this giveaway with your Facebook friends by posting the following as your status:
You can win a @Blendtec Blender from @Against All Grain by entering here! https://againstallgrain.com/2012/07/14/blendtec-total-blender-giveaway/
*Status update must be public and tag Blendtec and Against All Grain by using the @ symbol
Terms and Conditions:
Giveaway ends on Sunday July 22, 2012 at 11:59pm Pacific Time. Any entries submitted in the comments section after this time will be automatically deleted. Winner will be selected using a random number generator. The winner will be contacted within 48 hours after the giveaway has ended and will have 48 hours to respond to the email to claim their prize. A runner up will be chosen if the first winner fails to do so. Entrants must be 18 years and older and live in the continental United States. The prize will be shipped to winner directly from Blendtec.

Disclosure
This giveaway is provided to you by Blendtec. The views and opinions expressed on Against All Grain are purely my own and based upon my personal experiences with Blendtec products. I was given the product(s) free of charge; however, I was not monetarily compensated for this review or giveaway. Facebook is in no way associated with this giveaway.
Submitted to Wellness Weekend, Allergy Free Wednesdays, Slightly Indulgent Tuesdays, Sweepstakes Advantage and Blog Giveaway Directory