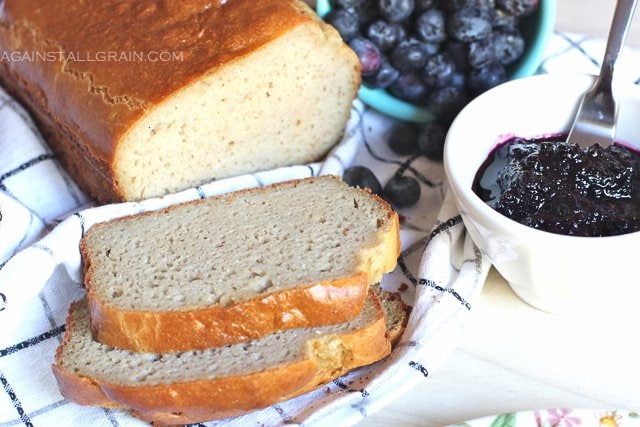 Here's the moment you have all been waiting patiently (and some not so patiently!) for. And because I ♥ my readers, I'm giving it to you a week earlier than planned: yeast-free, dairy-free, grain-free sandwich bread. It's moist on the inside with a slight crust on the outside, has an amazing texture and taste when toasted, and can also be used straight from the fridge with some almond butter and jam.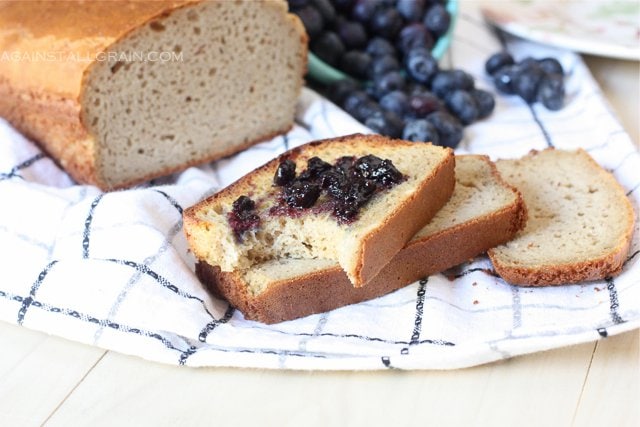 To achieve the moist white bread texture that you often miss with the use of almond flour or almond butter, I used raw organic cashew butter and beat the egg whites separately. Obviously, baking grain-free is much pricier than regular baking, but you can make a loaf of this bread for about $8.50. If you don't care about using all organic products, you can make it for even cheaper by making your own cashew butter. The price you pay for health!
We've been having a bit of grain-free sandwich bread overload in our house lately. I've made this loaf about 10 times now, changing tidbits here and there until I had it perfected and ready to share with you. Of course, we had to try it out with all of our former beloved bread recipes like paninis, french toast, and fried egg sandwiches first. I also plan to make an egg strada with this and probably even a bread pudding. But most of all, we just like to eat a slice toasted with homemade blueberry jam in the morning with our eggs.