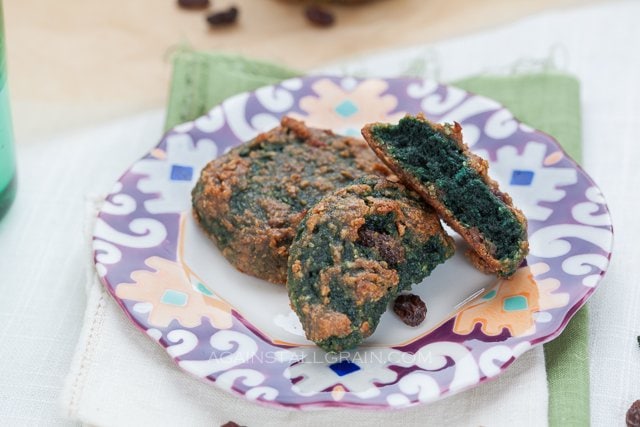 I remember pulling a batch of my rosemary raisin crackers out of the oven about 4 years ago and watching as they changed from brown to a bright shamrock green color. I quickly ran through every ingredient in my head and couldn't possibly think of why this happened this particular time when I had made them numerous times before. Then I realized I let the food processor go a little longer than normal and ended up with pulverized sunflower seeds rather than the fragments of seeds that I normally left in the crackers. Thinking it may have something to do with the seeds being ground and exposed to heat, I started searching online to see if I could work it out. After stumbling around for a bit, I finally found the answer. It wasn't the heat and the seeds, it was the seeds and the baking soda; or more specifically the miniscule amount of chlorophyl that was left in the seeds from the plant.  That is how my Cinnamon 'Oat'meal Raisin Cookies: St. Patrick's Day Style recipe was born!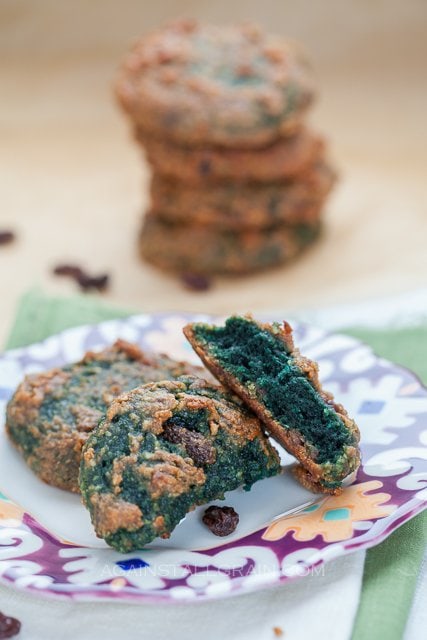 Now, I can't help but crack a smile when someone sends me a frantic email that they subbed in sunflower seed butter (aka sunbutter) for cashew or almond butter in my recipes and had their bread or muffins turn a bright shamrock green color. If you've been reading my blog or following me on Facebook for a long time, you've probably heard the explanation for this but I usually just respond with "Google Sunbutter and Baking Soda Reaction," and add a little wink at the end. 😉 There are ways to counter the reaction, such as lessening the baking soda and adding an acidic ingredient like lemon juice, as I did with my "Peanut Butter" Chocolate Chip Cookies. But in celebration of everything green for St. Patrick's Day, I decided to let nature take it's course and keep these cookies green.
Want more green baked goods? Head over to Paleo Parents for green waffles, or just sub in sunbutter for any nutbutter in a recipe that uses baking soda! I think Stacy and I should bake some green cookies to give away when she speaks on the Cave Kids – Raising your Little Neanderthals Panel at Paleof(x) in a couple of weeks! What kid can turn down a cookie that comes out of the oven brown and changes to green before their eyes?! Science is a fun tool to use to get your kids involved in the kitchen. Hopefully your kids will be intrigued and aren't turned off by mold colored baked goods!
Notes
* For SCD or if you can tolerate eggs – sub in 1 egg for the flax mixture and reduced the apple cider vinegar to 1/4 teaspoon omit vinegar.
* To make these during other times in the year where you do not want them green – reduce the baking soda to 1/2 teaspoon and increase the apple cider vinegar to 1 teaspoon or use almond butter.
* Chocolate Chips taste amazing instead of the raisins
*Leave your mixing bowl unwashed and watch the batter turn green in a matter of 15 minutes!