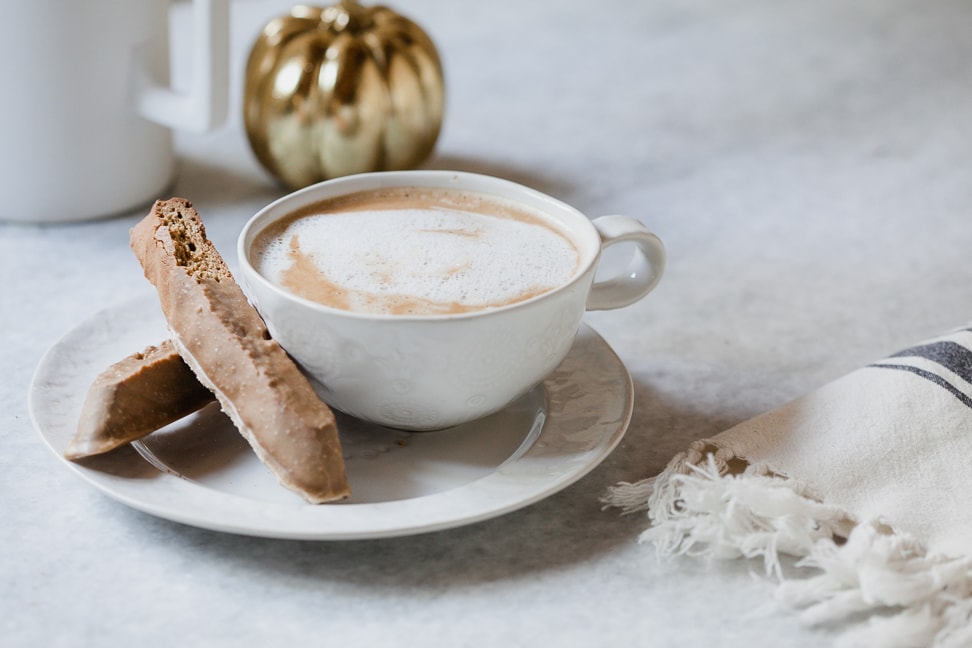 The first signs of fall vary from year to year, but no matter how the season begins, I love every second of it! The cooler temperatures, the changing colors of the trees, and most especially the comforting foods! This gluten free biscotti recipe will channel that feeling and make you happier.
One of my favorite memories is spending time in the kitchen with my Grandma Marge. She always baked the best treats that made the entire house smell wonderful! I still go back to so many of her family recipes (anything labeled Granny Sarella's in my books!) to recreate as gluten-free and paleo. They're recipes that I want to keep in the family- even if they are a little different than the originals.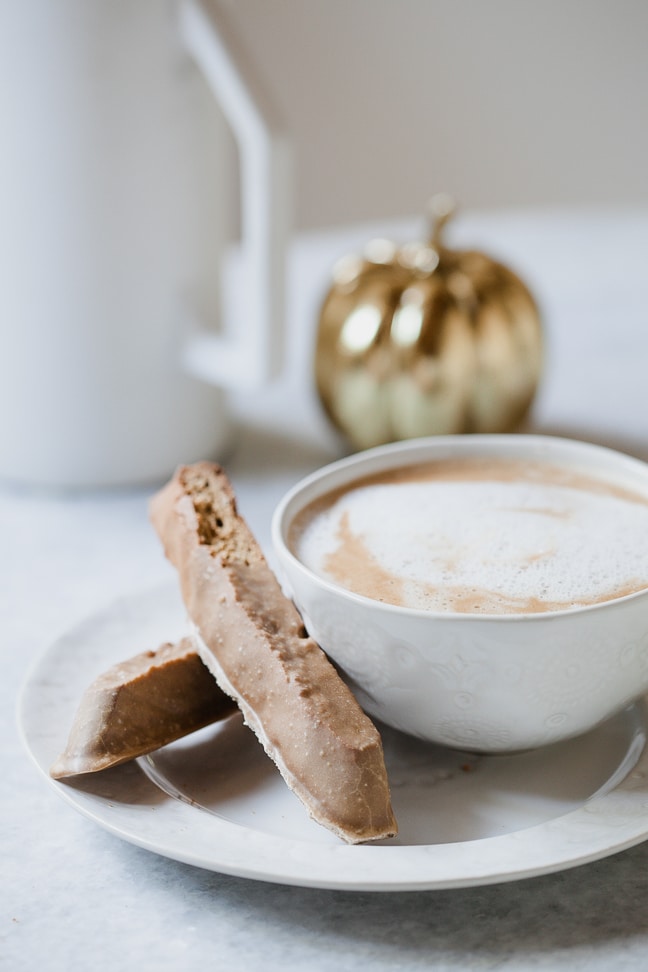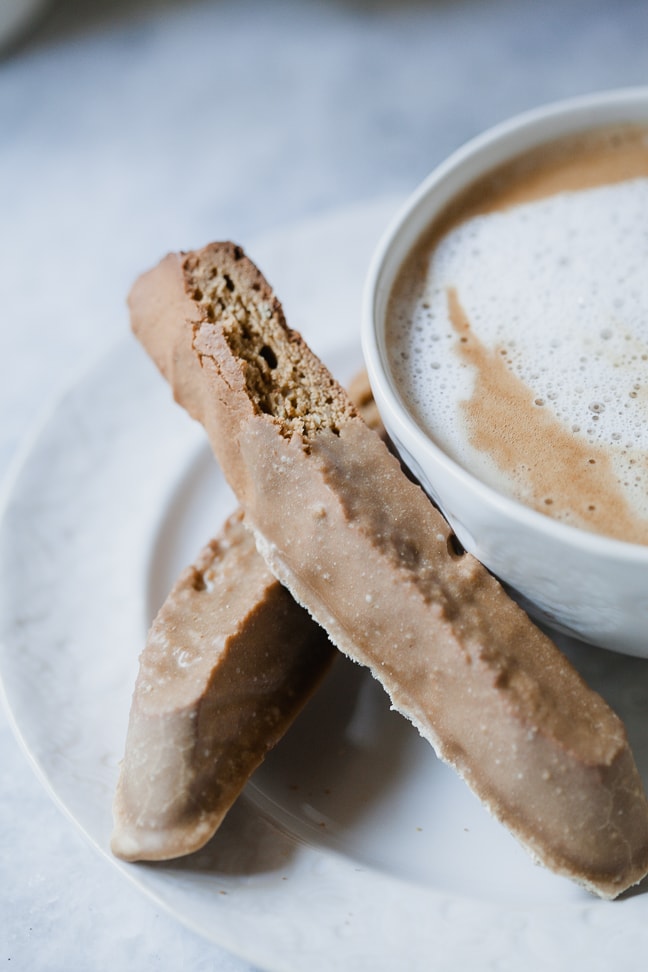 Grandma Marge would make a dozen batches of her Christmas biscotti to give as gifts ever since I can remember. The first time that I recreated her recipe as gluten free biscotti, it was a trial and error process to get that perfect buttery crunch. It took several attempts and she helped me taste test along the way, but I finally perfected it for the recipe that is in Celebrations!
This year, I wanted them earlier than Christmas, so I decided to change a few things to fit the season. If you've followed my blog for any length of time, then you know I love all things pumpkin! I can't help but want that spice mix in everything this time of year!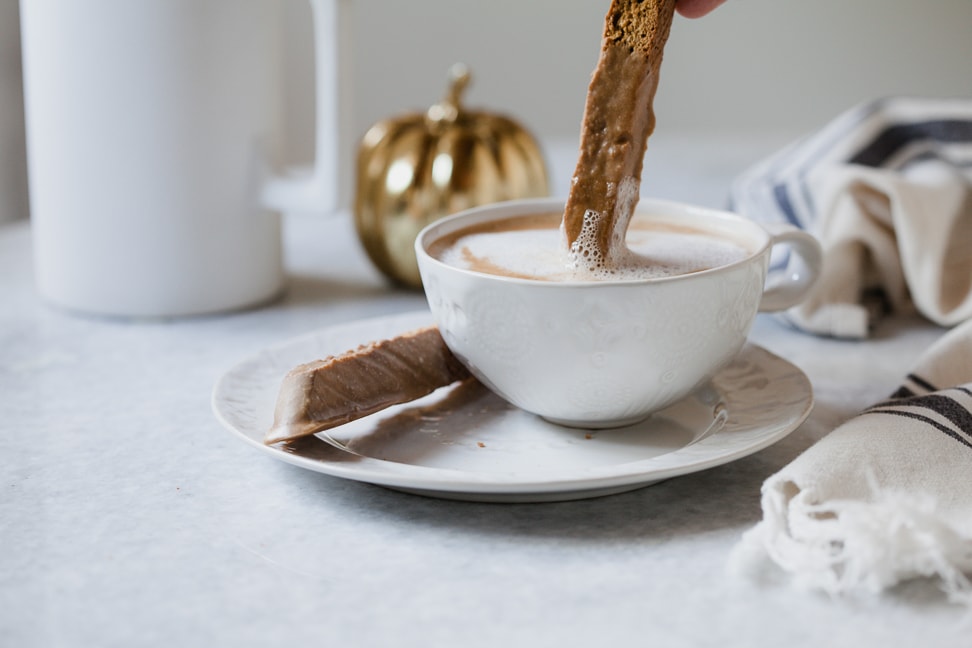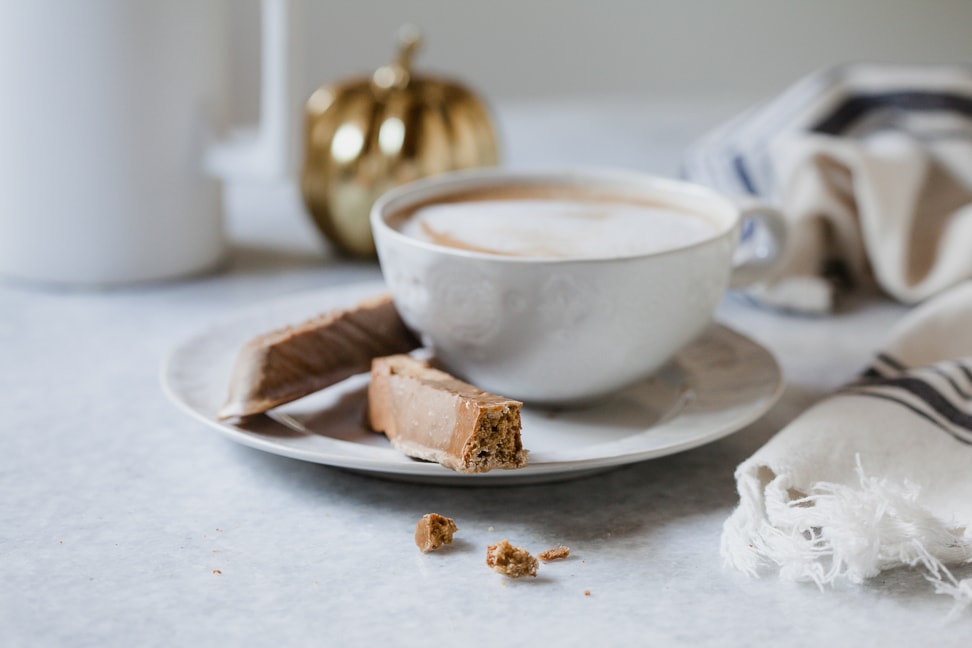 I decided to use the recipe from Celebrations as a starting point, but I changed some things around to make it into a Maple Frosted Pumpkin Spice Biscotti. The touch of spice comes from nutmeg, clove, ginger, and of course, cinnamon! The frosting is a light glaze that I made by mixing a few ingredients like maple syrup and cacao butter until I got the perfect consistency to stick to the gluten free biscotti and harden into a perfectly sweet crunch once it sets. The pumpkin flavor is noticeable, but not overwhelming, and altogether, this may be my new favorite pumpkin recipe!
These taste just as amazing as they sound, I promise! Whether you've made 10 pumpkin recipes already, or if this is your first- it is worthy of your time and resources. Enjoy them in the morning dunked in your coffee, as a midday snack, or an after-dinner treat! Are you obsessed with pumpkin like I am?
Scroll down for the Biscotti recipe!
I wanted to share some of my other favorite pumpkin recipes from the blog for you to try this Fall!
Pumpkin Pancakes with Bacon and Pecans
These Pumpkin Pancakes are quick and easy and delicious during any season! I think they're best on a chilly Autumn morning paired with some coffee. The bacon and pecans add the perfect saltiness and crunch needed to make these extra special!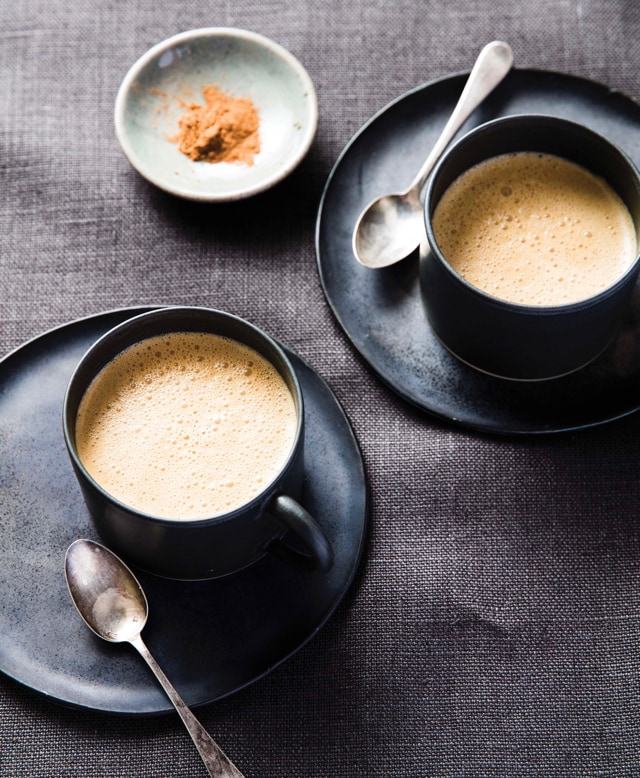 Or page 263, Celebrations
This Pumpkin Spice Latte is a healthier (and better) spin on the PSL you'd find at your favorite coffee shop. This recipe calls for real pumpkin, which gives it the pumpkin flavor, orange color, and the extra body and frothiness to this spiced drink. Be sure to watch the instructional video that goes along with this!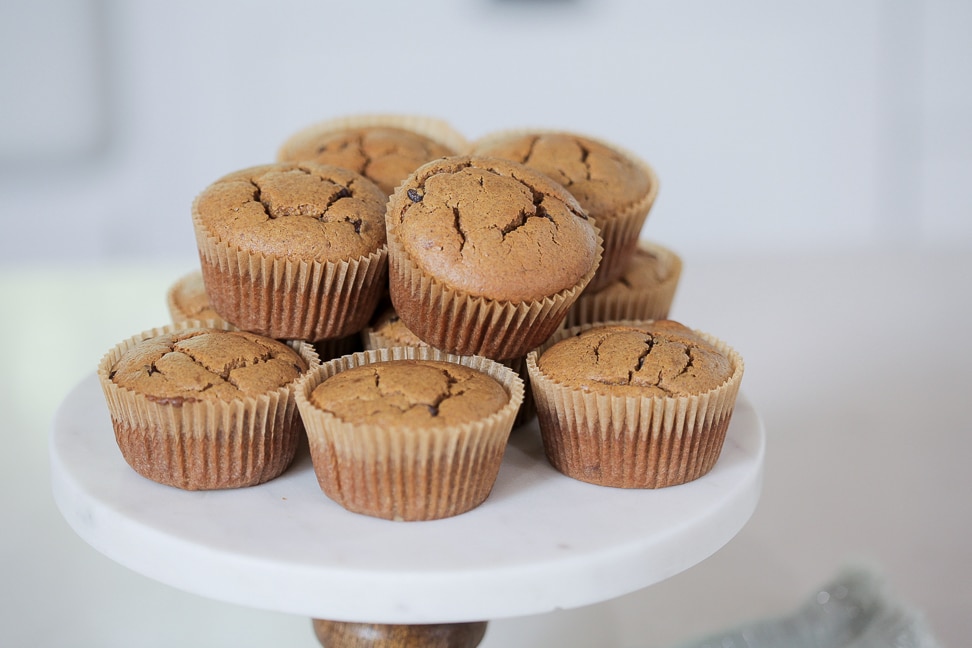 Pumpkin Chocolate Chip Muffins
There's nothing better than a fluffy pumpkin muffin with gooey chocolate chips and all of the flavors of the fall and winter seasons! This recipe started as a pumpkin bread recipe and was such a favorite here on the blog (see the SCD version here!) that I included it in my Meals Made Simple cookbook (page 64).
Egg-Free & Nut-Free Pumpkin Chocolate Chip Cookies
These cookies have a crisp outside with a chewy center and are full of autumnal spices and melted dark chocolate.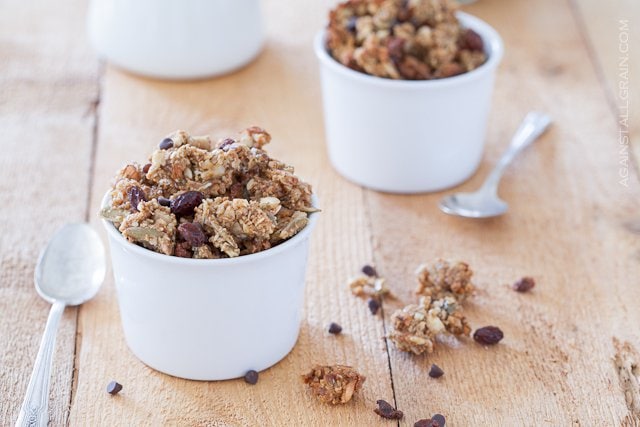 This Pumpkin Spice Granola is perfect with milk, on yogurt, or all by itself! It is SO delicious.
It's made from soaked nuts and is flavored with honey and Autumn spices. There's no oats or wheat as typical granola would have. And with this recipe, you won't miss them at all!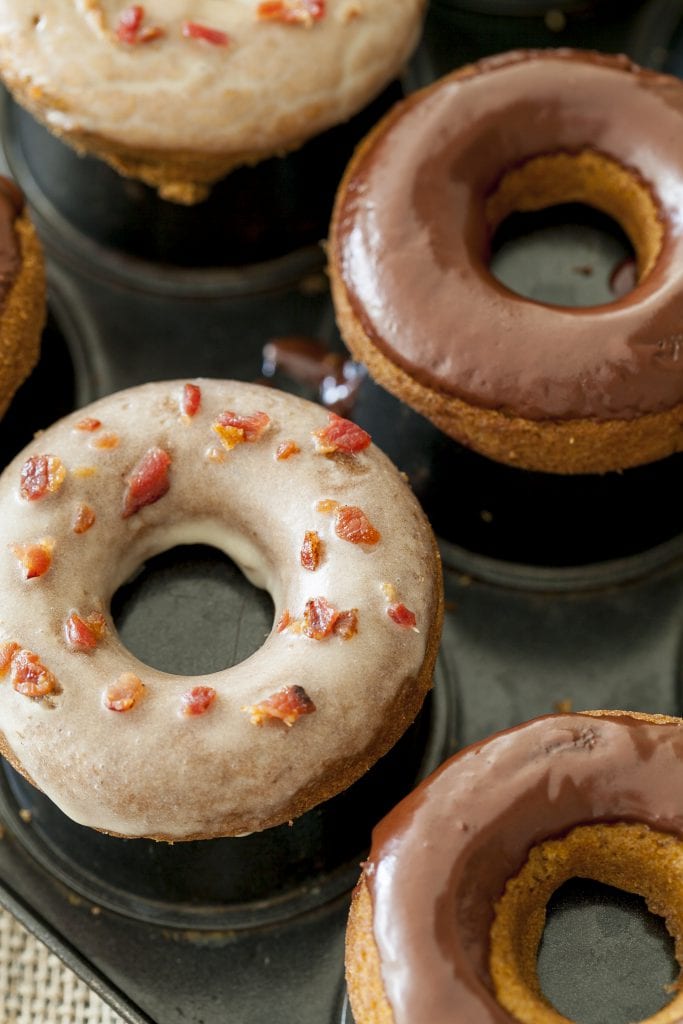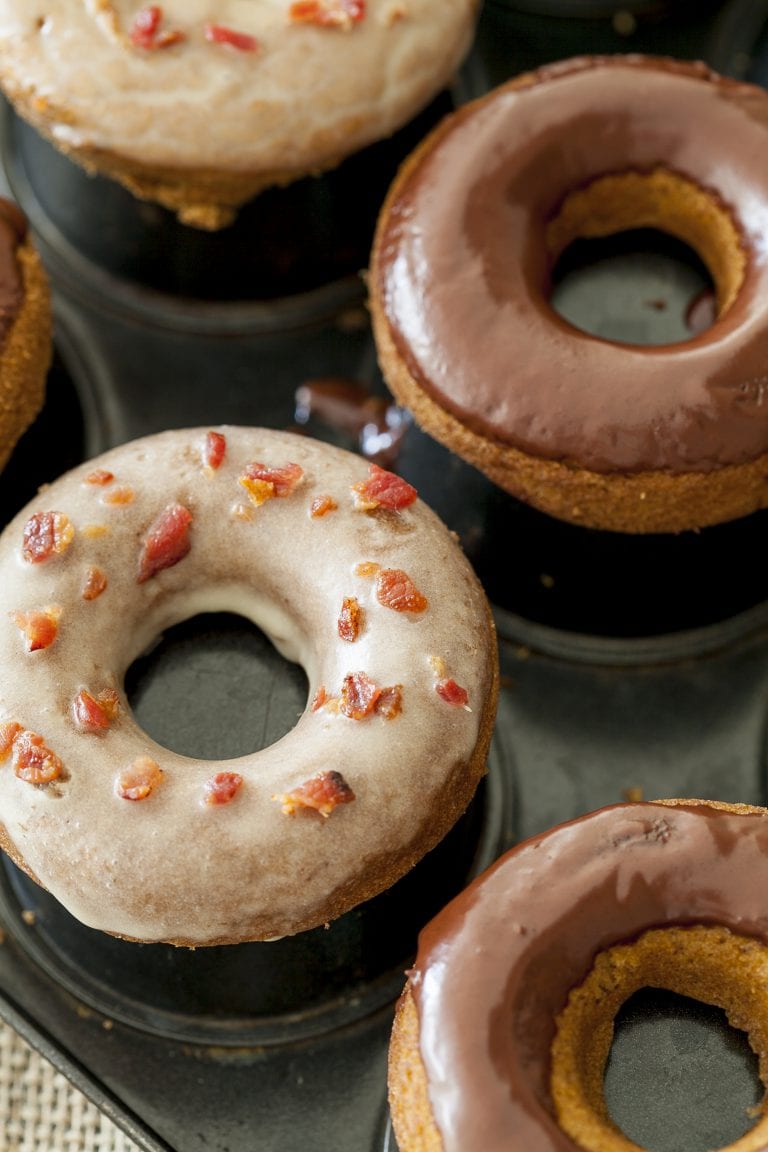 also on page 256, Against all Grain
These cake donuts are reminiscent of the old-fashioned ones I used to love; dense, satisfying, and rich. They also have 2 different crunchy and sweet glaze options that will fit both the SCD and Paleo restrictions (Dark Chocolate and Maple Vanilla with Bacon Sprinkles). With each bite, you'll taste all of the flavors of the season: pumpkin, cinnamon, nutmeg, ginger, cardamom, and clove.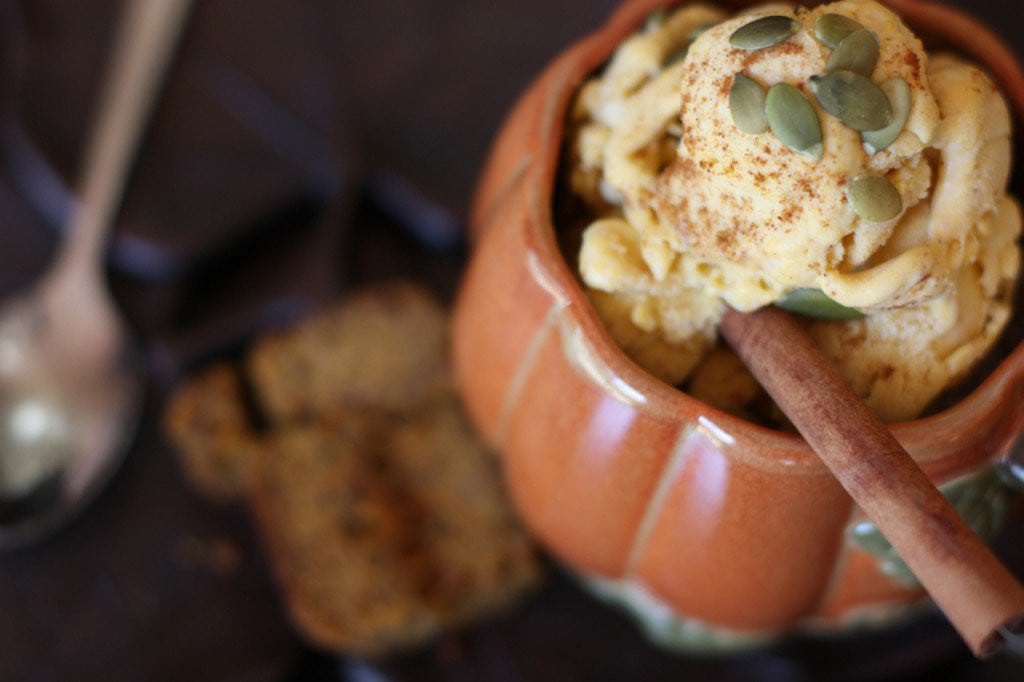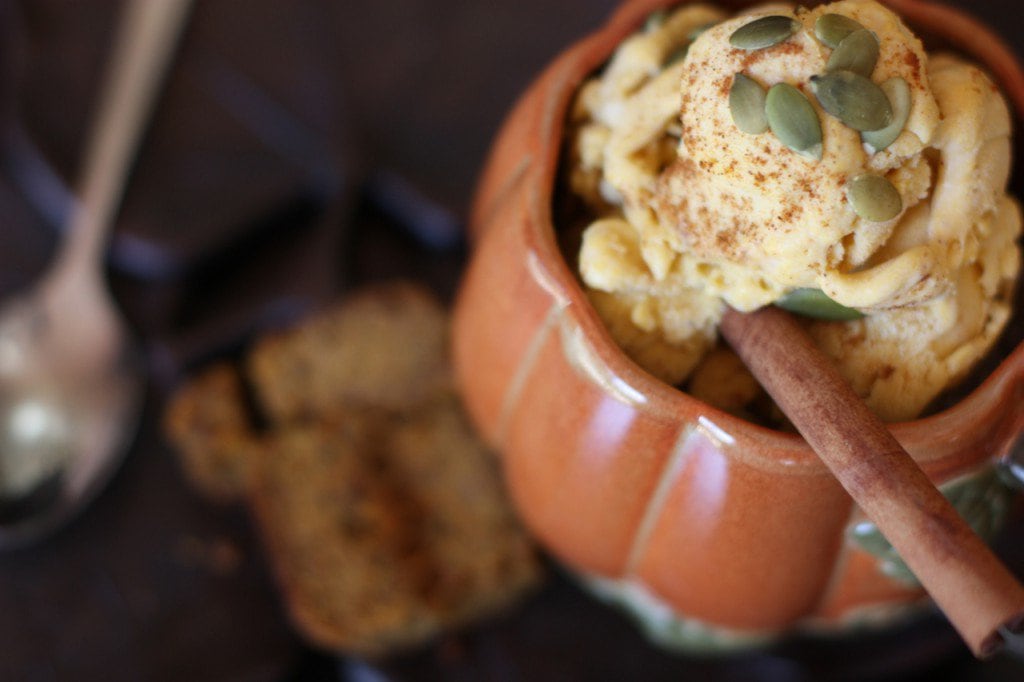 This is egg and dairy-free, and I promise you won't miss either of them. It is so creamy and has all of the aromatic spices that you find in a pumpkin pie. In fact, I may change the name to frozen pumpkin pie. Because that's what your taste buds will think you're eating.