Bobbing for apples is no problem for grain-free'ers on Halloween, but the donut on the string game is a tough one. I'm not sure how well Bacon on String would go over with your non-Paleo friends! So I'm doing you a favor by creating this Baked Pumpkin Spice Doughnuts just so you can look as silly as all of your friends with their hands tied behind their backs biting into thin air at a dangling cake that's missing it's center. Do people even actually play that game anymore?
Regardless, these Baked Pumpkin Spice Doughnuts may not even make it your Halloween or Harvest Party because you and your family will want to devour all of them as soon as they've cooled. There's also two different glaze options: Dark Chocolate and Maple Vanilla with Bacon Sprinkles. I personally have never been the dip your bacon in your leftover pancake syrup type of a person and prefer the chocolate, but both are killer.
Growing up, I probably ate a doughnut a week. My mom rarely bought them, but we looked forward to grabbing one and dropping our $.25 in the basket after church on Sundays. I've always been partial to the old-fashioned style doughnut, which is more of a cake doughnut than the yeast donuts that are airy and melt in your mouth. Old-fashioneds had more substance and always were satisfying to me. Especially with the crunch of the chocolate or maple glaze that had hardened since being dipped.
This doughnut is not only healthier because it contains no grains, yeast, or refined sugar, but also because it is baked and not deep fried as most conventional doughnuts are. They are a cake doughnut reminiscent of those old-fashioned ones I used to love; dense, satisfying and rich. They also have 2 different crunchy and sweet glaze options that will fit both the SCD and Paleo restrictions. With each bite, you'll taste all of the flavors of the season: pumpkin, cinnamon, nutmeg, ginger, cardamom, and clove.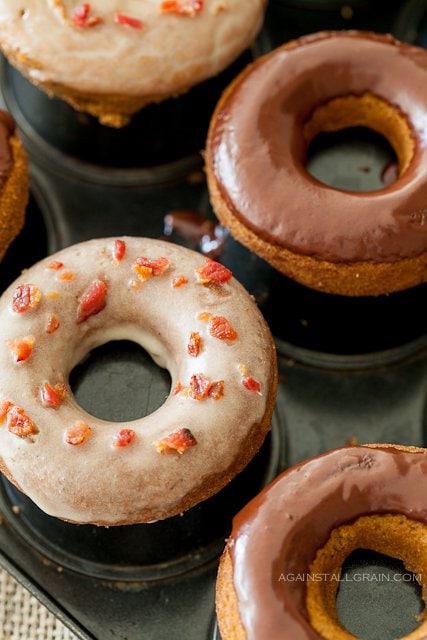 You will need a doughnut pan to make these as it is more of a cake batter than a dough you can roll out and punch the hole out of. This non-stick one on Amazon is the one that I've used because it's what I found in a pinch but I'll be ordering this silicone one as soon as I can afford it. If you use silicone, the baking times may vary a bit. You can often also find them for cheap at places like HomeGoods, Ross or Marshalls. Wondering what to do with the leftover pumpkin puree? Try my Frosted Pumpkin Spice Cookies, Pumpkin Banana Smoothie, or Pumpkin Soup with Fried Sage and Prosciutto.