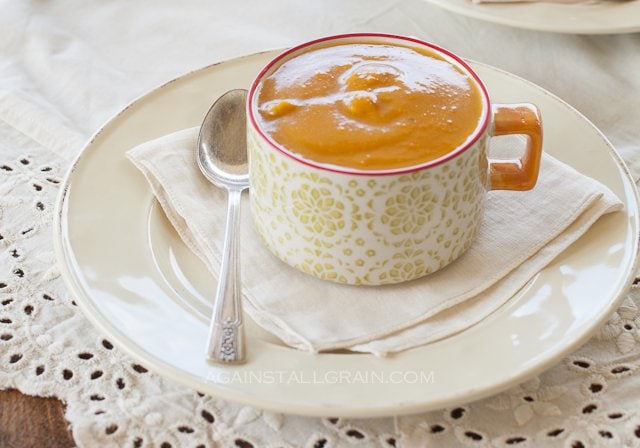 I'm willing to accept my disease and the dietary changes needed to keep it under control, but I'm not ready to give up the foods I love like this Roasted Pumpkin Soup and the years of memories that go with them!
Every year, my mom would have a Halloween party before trick-or-treating. She would serve my Grandmother's Pumpkin Soup with Ham, Cheeseburgers, spiced cider, and powdered sugar donuts for dessert. A slightly odd combination, but the flavors are accompanied by so many memories!
My mom's version, while SO delicious, used canned pumpkin, heavy cream, and flour. This is my interpretation of the old recipe. It is Paleo and SCD friendly, and is even vegan! I added a trio of spices, crisp prosciutto, and fried sage leaves on top to dress up the flavors.
I took it to our neighborhood Halloween party this year, and it was a hit! I will definitely be making it again for Thanksgiving.