I believe this Pumpkin Spiced Granola is the last of my pumpkin obsessed recipes for the season. We'll see, I may end up getting one more wave of pumpkin fever before the apple and pear baking begins, but for now, I'm leaving you with the sweet taste of pumpkin and spice in the form of granola.
This pumpkin spice granola is made from soaked nuts and is flavored with honey and Autumn spices. There's no oats or wheat as a typical granola would have. Soaking the nuts overnight makes them easier to digest by breaking down the outer barrier called phytic acid, and drying them at really low heat preserves the valuable nutrients they provide. I try to soak my nuts whenever possible, with the exception of almond flour as I haven't yet been able to reproduce the fine grind that I can get by ordering it online. Want to know more about Phytates and nuts? I'm not an expert but I know my body handles nuts better when soaked (plus it gives this granola an awesome crunch!), so I'll direct you over to Mark's Daily Apple for more answers.
If you're counting calories, I need to warn you this granola is probably not for you. It's made up of 4 different types of nuts, which while high in good fats, definitely tap in high on the calorie scale! You really only need a small amount sprinkled over yogurt with fresh fruit, or with a little almond milk. It's also a great snack to keep in your bag when you're going to be out and about for the day and need a little pick-me-up.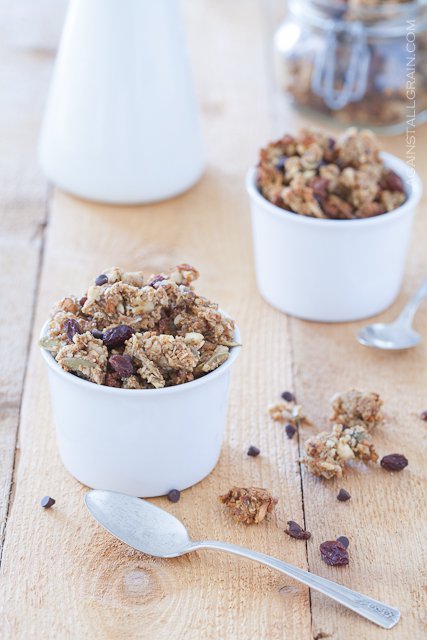 Looking for more pumpkin?
Dehydrating is my preferred method  for making this granola, but you can bake the granola in your oven at 170 degrees for 3-4 hours, or until it is completely dried and free of all moisture.