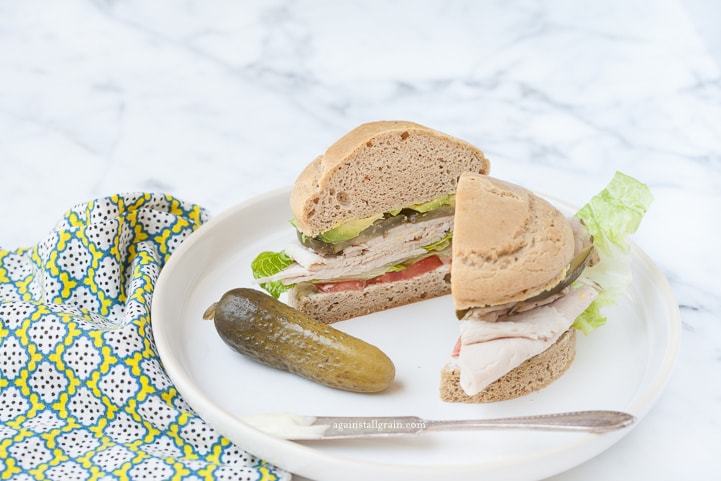 Another sneak peek recipe from Meals Made Simple for you guys! These gluten free sandwich rolls make packing lunches a breeze and hold up to sauces and juicy tomatoes, even after being in a lunchbox for a few hours. You can pull them out of the freezer on a rushed morning, so you can make a few dozen at a time and have them on hand at all times.
After a fan posted a photo on instagram of fluffy grain-free rolls using my sandwich bread recipe and English muffin molds, I decided to give it a go! I have lots of hamburger bun or sandwich roll recipes and they are continually evolving as I try new things or want slightly different textures or flavors for the various fillings we eat. The first 'buns' I made were my almond flour crusty rolls for my Chili Lime Chicken Burgers. Then I started playing with cashews and other flours and made these popular grain-free hamburger buns, which are also seen in my cookbook Against all Grain.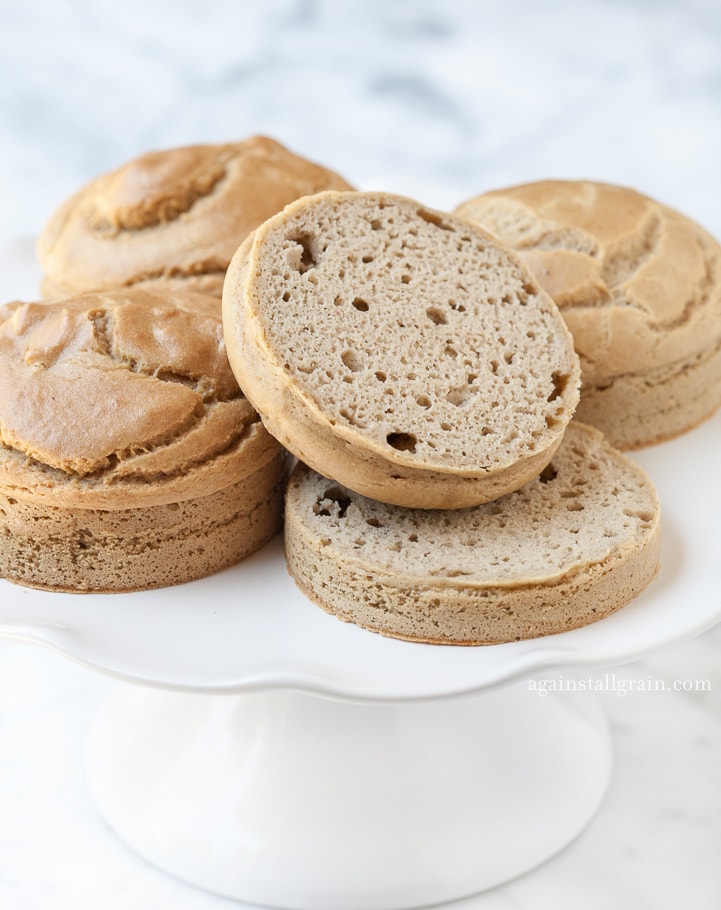 I love that both my waffles and the hamburger buns from Against all Grain use whole cashews because they are more readily accessible than cashew flour and I am also partial to the simple flavor of raw cashews over almonds. I have always loved those buns, but they do crumble a bit, so for my new book Meals Made Simple, I wanted to create something that was more sturdy and could be frozen in bulk and used to make a quick lunch or packed for a meal on the run.
I decided to combine attributes of all of my favorite past bun recipes and added a little arrowroot for stability. Arrowroot isn't something I use too often, as it is not great for those with active digestive diseases and I find it to be empty carbs, but I can tolerate it now in moderation and it really does do a lot for the texture. I am not able to tolerate any type of tapioca starch, so it is definitely preferable when I'm looking to make something a little more pliable or especially if I'm trying to make something nut or coconut free.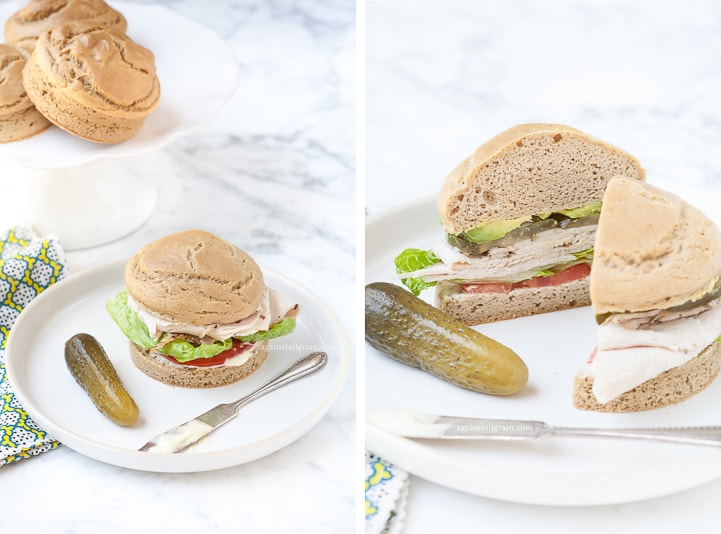 We use lettuce wraps still more often than not, but sometimes you just need a good gluten free sandwich roll with 'real' bread and these can be used for just about anything. I keep a dozen in the freezer and send Ryan off with an egg sandwich some mornings or fill them with tuna salad or plain roasted turkey deli meat with all of the fixings. When I was pregnant with Aila, I craved pizza frequently and even used these buns to make little personal pizzas like my mom used to do for us with english muffins. So many memories of my time with her are strewn throughout this book. They're both painful and beautiful, and I am so thankful that I will forever be reminded of my daughter when I look through the pages or eat one of the recipes that we made together.
For more sneak peek recipes from Meals Made Simple, see the Shirred Eggs and Crockpot Paleo Thai Stew!