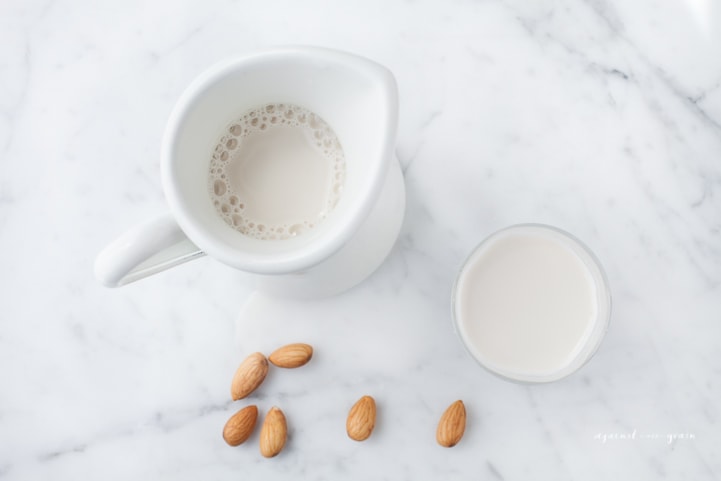 I use almond milk frequently in my recipes, especially when I am looking for something on the lighter side compared to coconut milk. I'll be honest, I used to fall into the mindset that making homemade almond milk was time consuming and defaulted to buying it at the store far too often. Until I actually get over it and make it, and then I'm reminded how simple it is and how much better it tastes!
I still do keep a carton of the Whole Foods 365 organic almond milk in the pantry for the times when I've forgotten to make it and need something quick as it does not contain carrageenans, but I use this recipe from my first cookbook Against all Grain now and try to keep a jar in the refrigerator at all times. I also soak extra almonds, drain and rinse them, and keep them in the freezer so I can make milk even more quickly when I need it.
If you do not have a good blender but have a juicer, I also have a recipe for almond milk using a juicer here!
The biggest issue people have with making it homemade is the cost difference, but if you use up all of the leftover almond 'pulp' after squeezing the milk out, I find the cost to be comparable. You can use the pulp in my Rosemary Raisin Almond Pulp Crackers, and also stay tuned for a new Double Chocolate Cookie using almond pulp that I'm working up and will share soon!