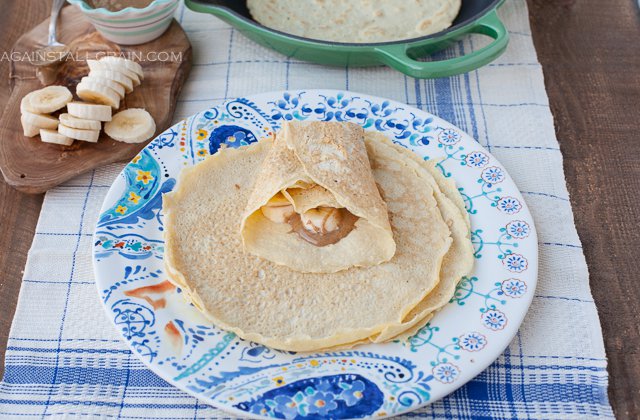 I have created this Gluten Free Crepes recipe in response to the most frequent question I get from readers when they view my original grain-free tortilla recipe, which is "what can I do with all of the leftover egg yolks*?" I do recognize that 16 egg whites is a TON and has been a turn-off to some people so I've created this whole-egg gluten free crepes recipe.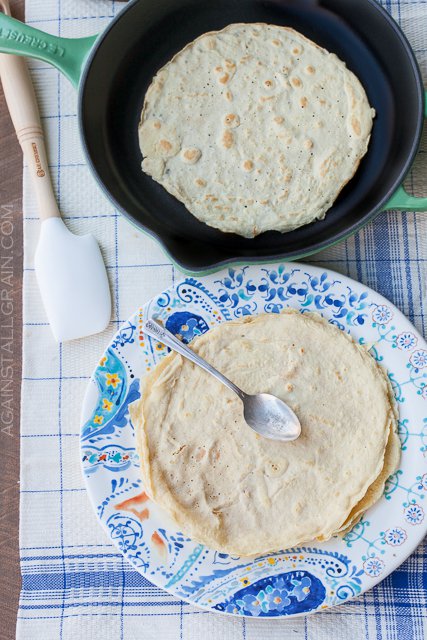 I use arrowroot powder in this recipe because it provides an elasticity to these crepes that just the coconut flour cannot provide. You can substitute it with 1/2 extra teaspoon coconut flour if you'd like, but the crepes will be a little more delicate and may tear in spots when you fold them. I figured Robb Wolf  would have something to say about arrowroot and I was right. He gives a brief description of it here and says it's ok to use, but I still don't like to use it often because it is not SCD legal. I can't wait to hear Rob speak at Paleof(x) this year. I'd love to just sit down over dinner and pick his brain for hours. Luckily he is giving a seminar at the conference so I'm coming with my notebook in hand and will soak up every ounce of information to relay back to you.
I still prefer to use the original grain-free tortilla recipe for enchiladas and tacos because it has less of an egg-taste to it, but these crepes are incredible with a sweet filling such as almond butter and bananas and also still work great for the savory. We made lasagna with them last week and it turned out every bit as good!
*I frequently use the organic free-range egg whites in the carton just for convenience sake, but a handful of yolk recipes immediately come to mind: Paleo mayonnaise, Vanilla Ice Cream, Banana Cream Pie, Berry Tart with Vanilla Bean Custard just to name a few!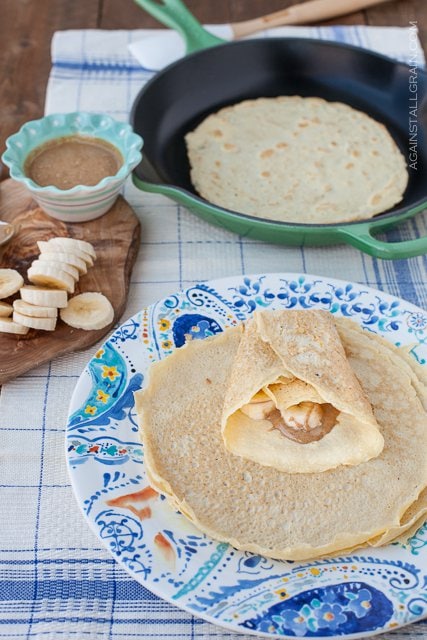 Some fun filling ideas for you: 
Almond butter and sliced bananas
Berries with lemon juice and a drizzle of honey (top with coconut whipped cream for a special treat!)
Scrambled eggs, sausage and sautéd veggies

Blueberry Jam

with chopped nuts