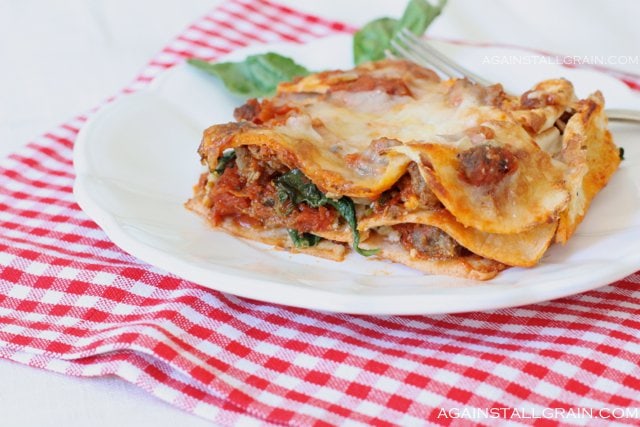 This Lasagna with Homemade Gluten Free Noodles tastes as real as it looks! I know that's an odd thing to say, but often grain-free dishes can deceive the eye in photos but can't play tricks on our palates. I was hoping it would be good, but it exceeded my expectations. Ever since going grain-free, I just succumbed to the fact that I would have to make the Italian dishes I grew up on using squash noodles. Don't get me wrong, I LOVE my Creamy Pesto Pasta dish and even really do enjoy my old Lasagna recipe using "breaded" zucchini strips, but this one takes the cake. I will never make a zucchini lasagna again. Mark my words.
Lasagna is such a comforting meal that is best shared with a crowd. There's something about bringing a large casserole dish full of bubbling cheese and the sweet aroma of cooked tomatoes to a table of hungry bellies and smiling faces. In my opinion, food is a necessary factor in building a community. It's what brings us together around  a table where we can share about our days and learn more about the people sitting across from us. It warms the heart, and fills the tummy!
Please don't be intimidated by the amount of steps, I promise you this is worth it. Making lasagna is a bit of a process in itself with all of the layering, and we are also making homemade lasagna "noodles."  You can easily make the "tortillas/noodles" and the marinara the night before if you'd like to break up the process. You can also buy a store-bought marinara to save time, just make sure to get a really good one! It makes all the difference.
Because the SCD doesn't allow mozzarella, ricotta, or cottage cheese I use a mixture of Farmer's Cheese and yogurt to mimic the ricotta and provolone as my layering cheese because it melts down really well. You're welcome to use the authentic cheeses if your stomach can handle them. You'll also see the recipe for the tortillas calls for a lot of egg whites. You can buy an organic carton of just whites at health food stores, but you can also save your yolks and make some of my delicious custard pies and ice creams!