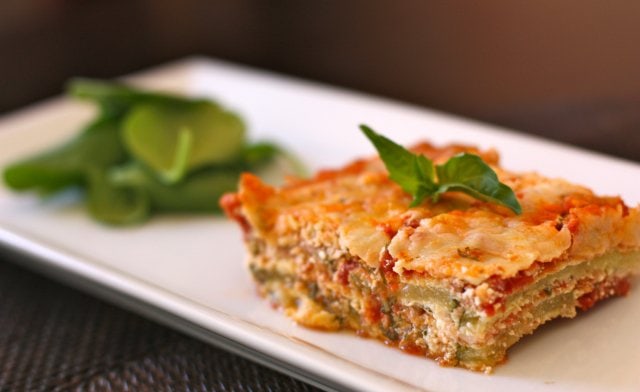 What was once therapeutic and relaxing for me, has now become chaotic and stressful! My son is crawling everywhere, gets bored of an activity after 5 minutes, and loves to climb the stairs. Needless to say, cooking is not as easy as it used to be. This recipe for Grain-Free Lasagna will take you about 30-40 minutes (plus baking time), but today, it took me over 2 hours!
Lasagna is a process in itself, with all the layers, but try doing it while you're chasing a little one around. Here's what my process looked like:
Step 1 – make the sauce… then get the baby in the highchair and give him finger food to distract him
Step 2- batter the zucchini… then puree baby's food
Step 3 – Feed baby… that's all, because you can't do two things at once
Step 4 – Bake the zucchini… then clean up baby and put him down on the floor with anything that will distract him (tupperware in my case)
Step 5 – Mix up the DCCC mixture…. Shoot! Baby made his way to the stairs and has one hand up ready to ascend
Step 6- Start layering… after layer one, run out to living room to take away the drool covered dog toy that baby is just about to put in his mouth
Step 7 – Do second layer of lasagna, go to pick up crying baby who tried to walk and lost his balance
Step 8 – Third layer… baby is tired of playing alone… put him in jumpy
Step 9 – Fourth layer… 5 minutes later, baby sick of jumpy
Step 10 – Fifth layer… keep baby from standing up on the oven which is now preheated and hot to the touch
Step 11 – Finish layering… finally daddy is home to play with baby so I can finish! Only, it was such a hectic experience, I completely left out the meat!
This isn't your run-of-the-mill zucchini lasagna. Breading and baking the zucchini before baking the full lasagna gives it more substance and makes them taste a little more like noodles. I use dry curd cottage cheese with a little yogurt, eggs, and seasoning to mimic ricotta cheese. If you are allowed to eat ricotta, then go ahead and buy that but eliminate the yogurt. If you'd like, you can add ground turkey or beef to the sauce before layering.