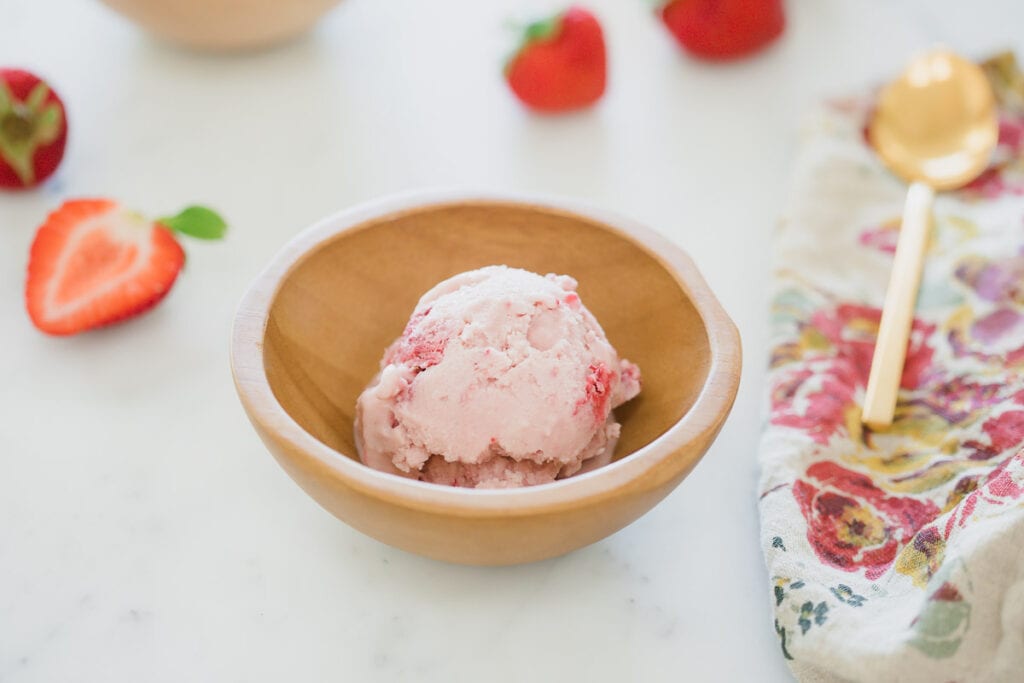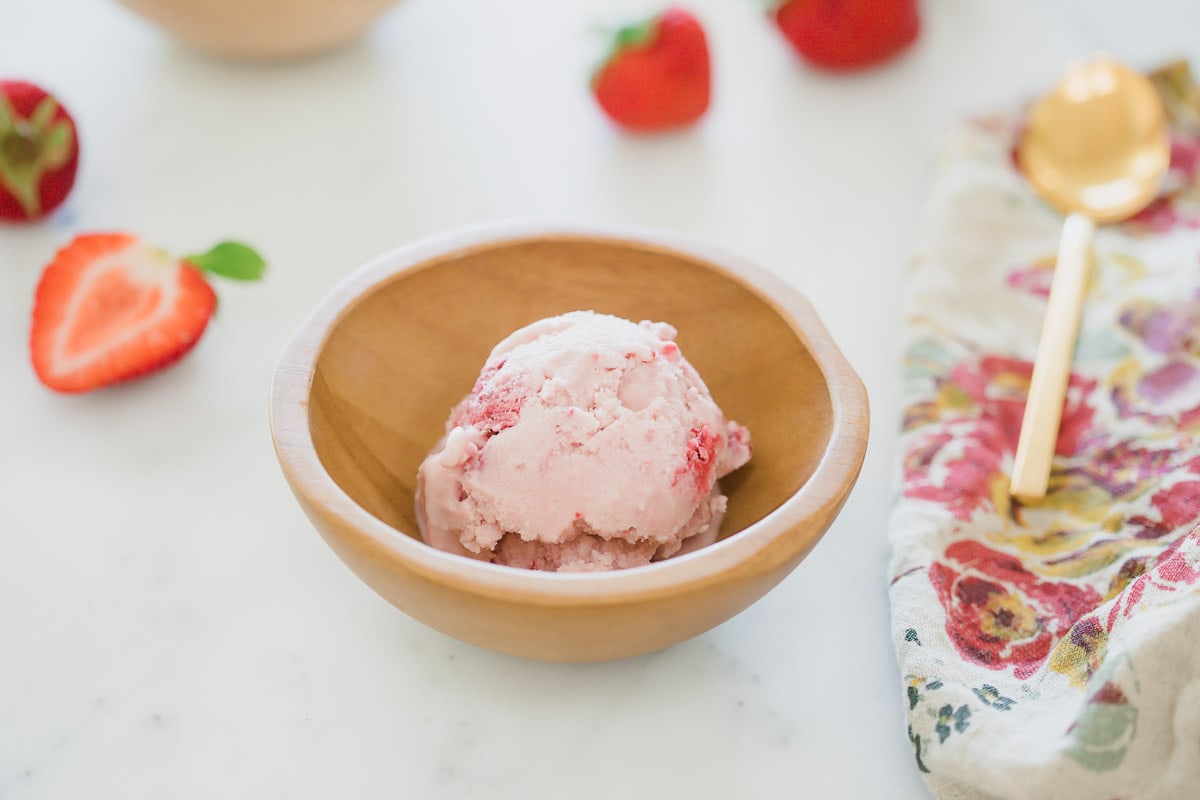 Back in July, I made this Dairy-Free Strawberry Ice Cream on Wake Up With the Walkers per Kezia's request. She wanted a pretty pink ice cream, which I gladly accepted the challenge for since I didn't have a recipe for Strawberry Ice Cream yet. We have been on a massive homemade ice cream kick since the beginning of the shelter in place mandate. Having almost all of the dairy-free ice creams sold out at all the grocery stores near us gave us an incentive to make it at home more often.
Making ice cream quickly became one of my kids' favorite activities to help me with, which I will never complain about. Although it can get messy and a bit chaotic, I love having them in the kitchen with me. Plus, as it turns out, homemade ice cream is more affordable than a store bought dairy-free ice cream! It also has cleaner ingredients!
This recipe for Dairy-Free Strawberry Ice Cream is made with fresh strawberries, so no artificial coloring or preservatives. It is 100% dairy-free, refined sugar-free, and egg-free! It's incredibly creamy with just a touch of sweetness. It tastes amazing on its own or with some fresh whipped cream or dairy-free chocolate sauce. This recipe will definitely satisfy your frozen dessert cravings!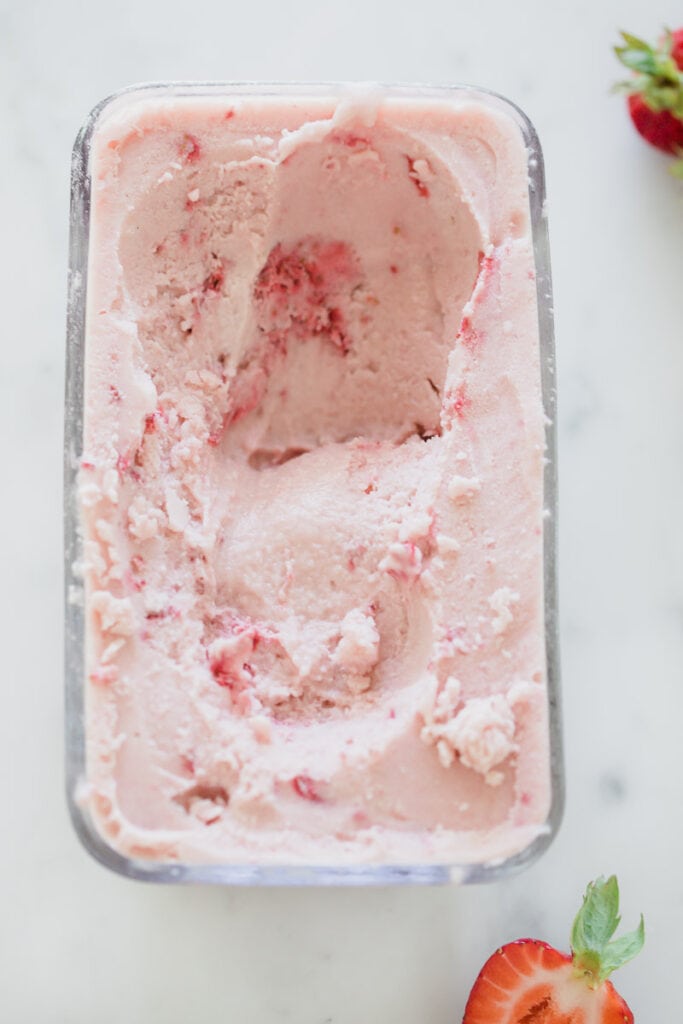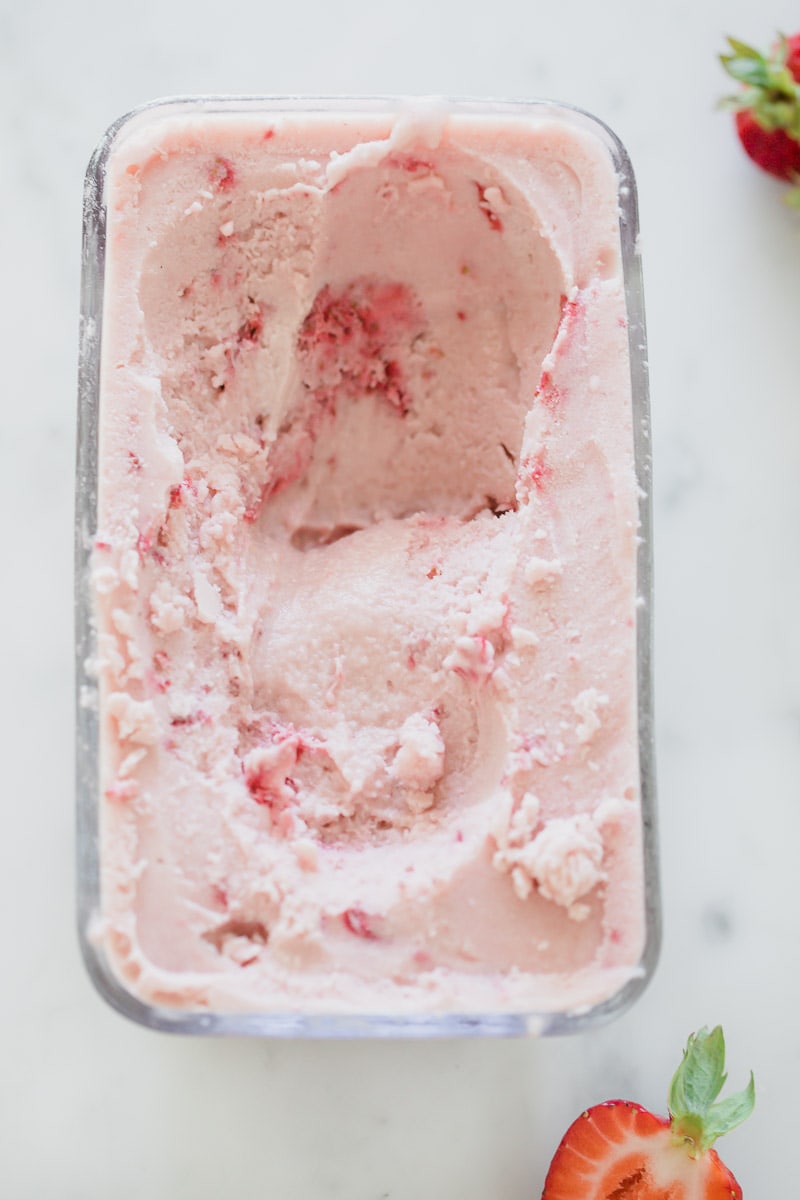 Dairy and Egg Free! 
In pursuit of a master homemade dairy-free ice cream base, after years of trial and error, I have acquired some helpful tips and tricks. Some dairy-free ice creams have a tendency to develop an icy and crystallized texture, which is not only really difficult to scoop out but never quite tastes like ice cream to me. I have found that using a dairy-free base that is higher in fat, like coconut milk or cashew milk, helps give it that soft and creamy texture that dairy-based ice creams have. Homemade cashew milk tends to work better than store-bought. It really helps achieve that thick and velvety ice cream texture that we love.  
I've also found that including eggs helps avoid crystallization and iciness. I have several ice cream recipes that include eggs, but I wanted to give an egg-free option for those of you that can't have eggs. I find that using unflavored, grass-fed gelatin works really well as an egg substitute. The combination of gelatin mixed with homemade cashew milk gives it that delicious, melt in your mouth, classic ice cream finish.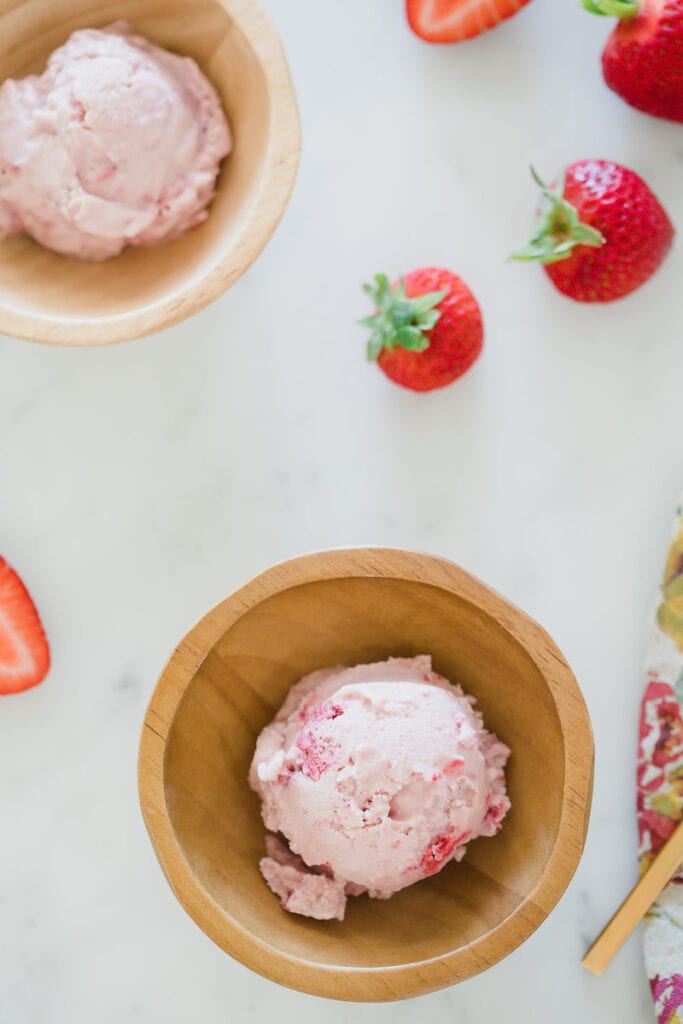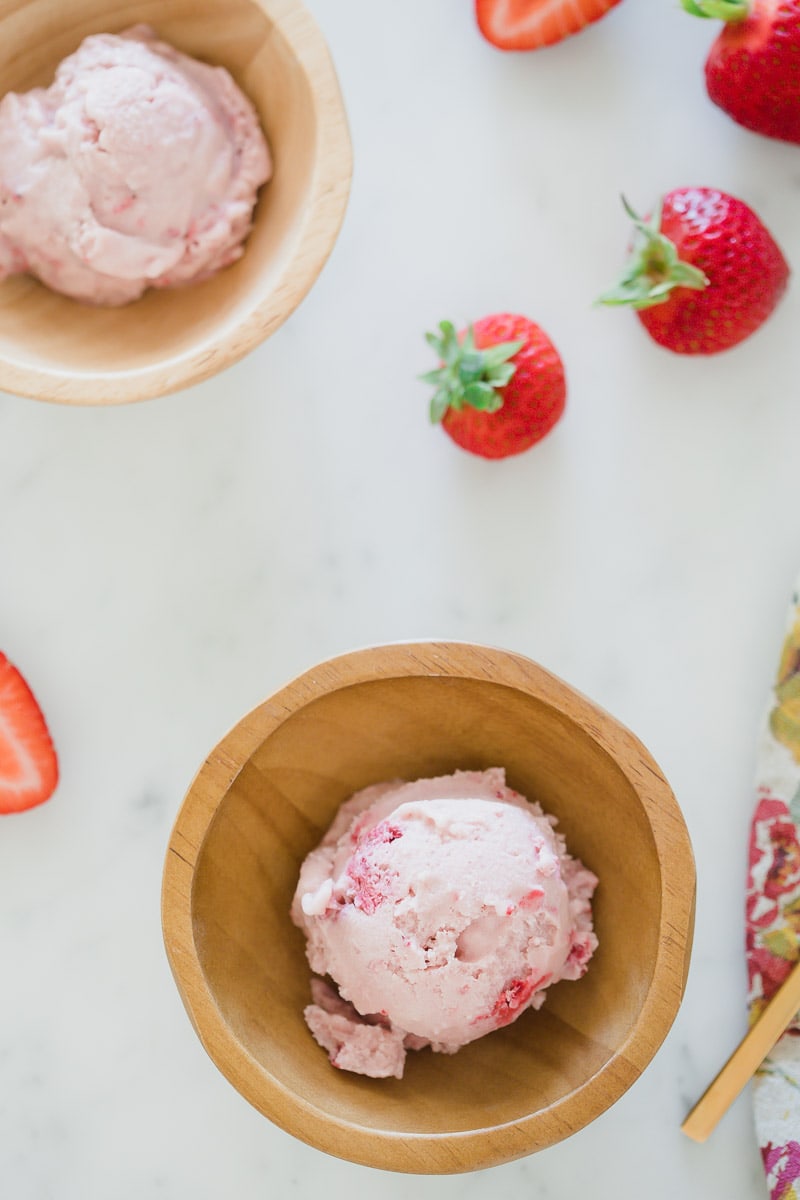 Slightly sweet 🍓🍯
I kept this recipe on the lighter side when it came to the sweetness. By keeping additional sweeteners at a minimum, the flavors and natural sweetness of the strawberries stand out. Using a granulated sugar like maple sugar also makes a difference in the creaminess of the ice cream. It helps prevent the ice cream from getting icy and crystallized compared to when I use honey and maple syrup. I chose to use maple sugar for this recipe, but if you don't have it on hand, coconut crystals will work too! It does have a darker caramel flavor compared to the maple sugar, so there will be a slight difference in taste and color.
I recommend trying it before you add it to the ice cream machine. By taking this step, you can customize the level of sweetness to your liking. If you prefer your ice cream to be just a bit sweeter you can always add a splash of either Honey Simple Syrup or my Vanilla Honey Simple Syrup.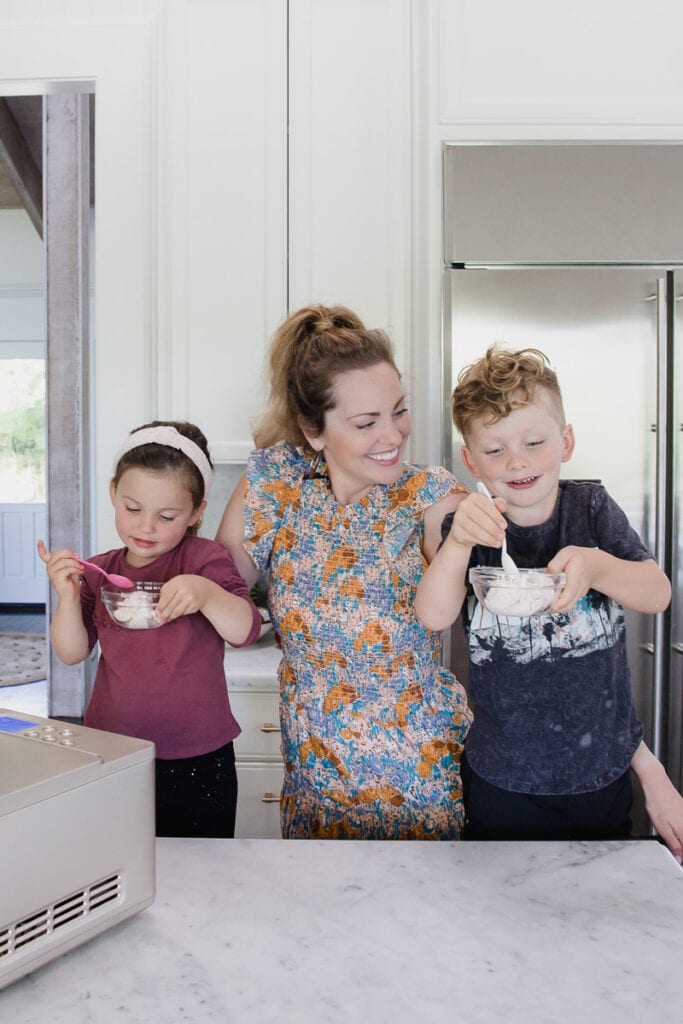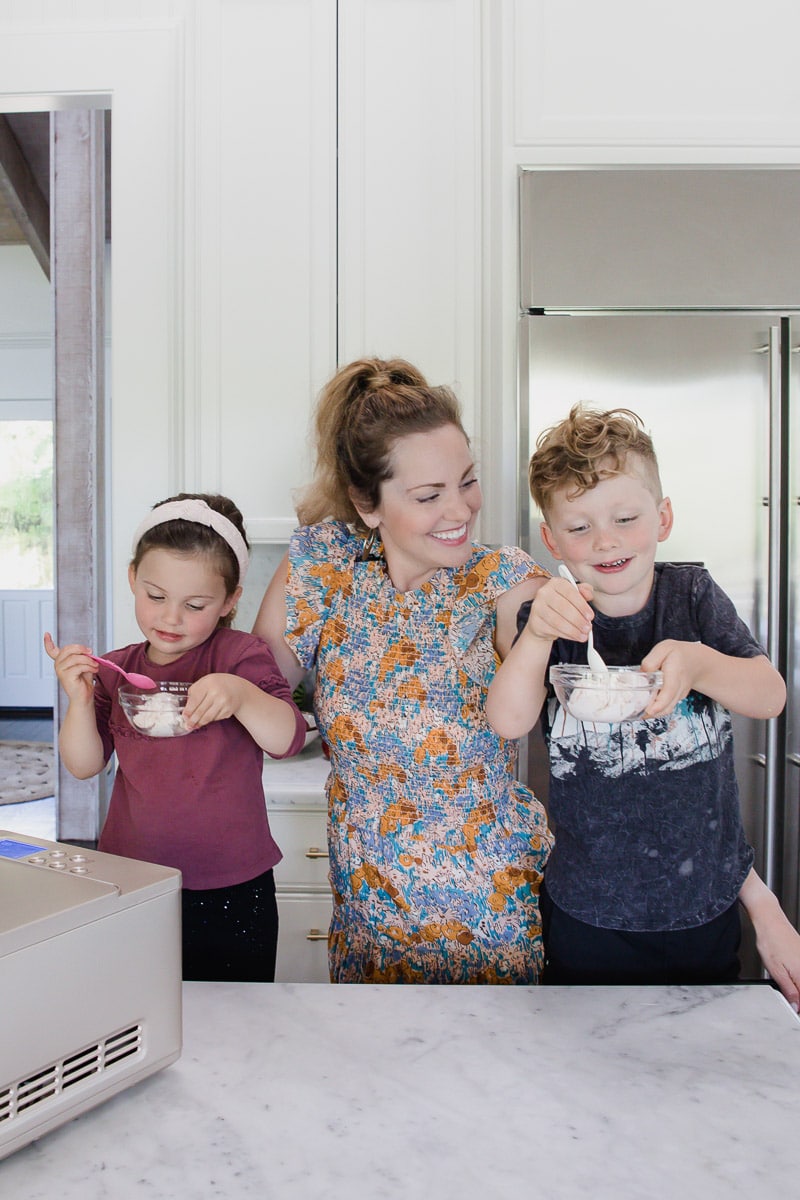 The strawberries 🍓
You can use either fresh or frozen strawberries for this recipe. Although, I will say that fresh is slightly better than frozen because there will be less liquid and ice. You can use either a food processor or a blender to mix the strawberries. Or get your kids involved and have them smash them with a potato masher. Easton and Kezia loved that job when they were helping me make this! I like to keep a few clumps of strawberries to add some texture to the ice cream, but blend to your liking! I also recommend tasting the strawberries before adding them to the ice cream maker. If they are not sour enough you can add a splash of lemon juice!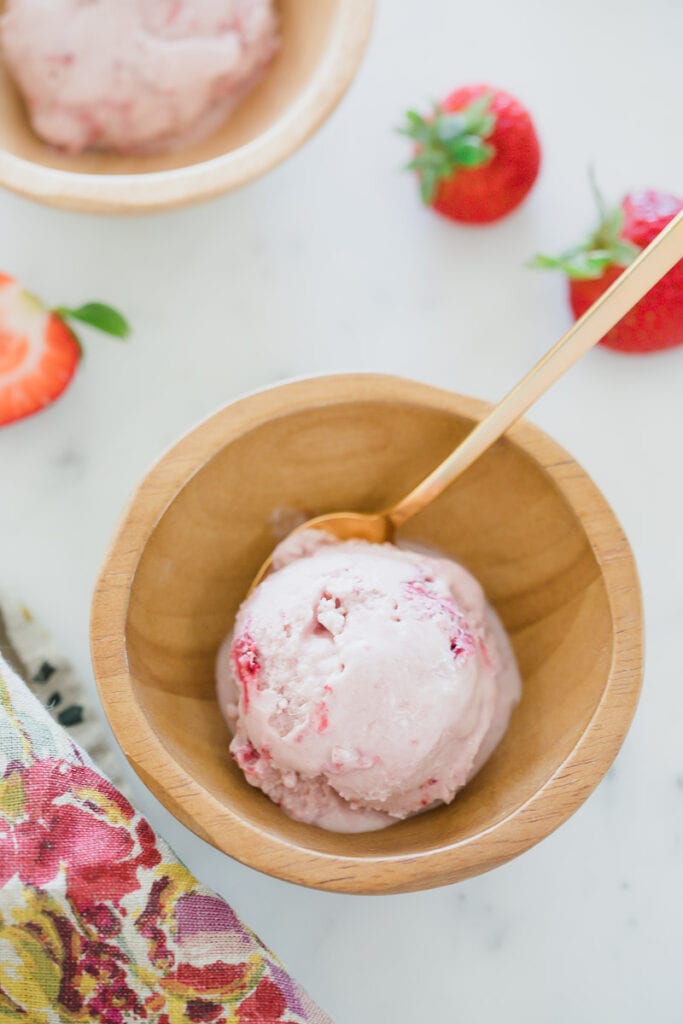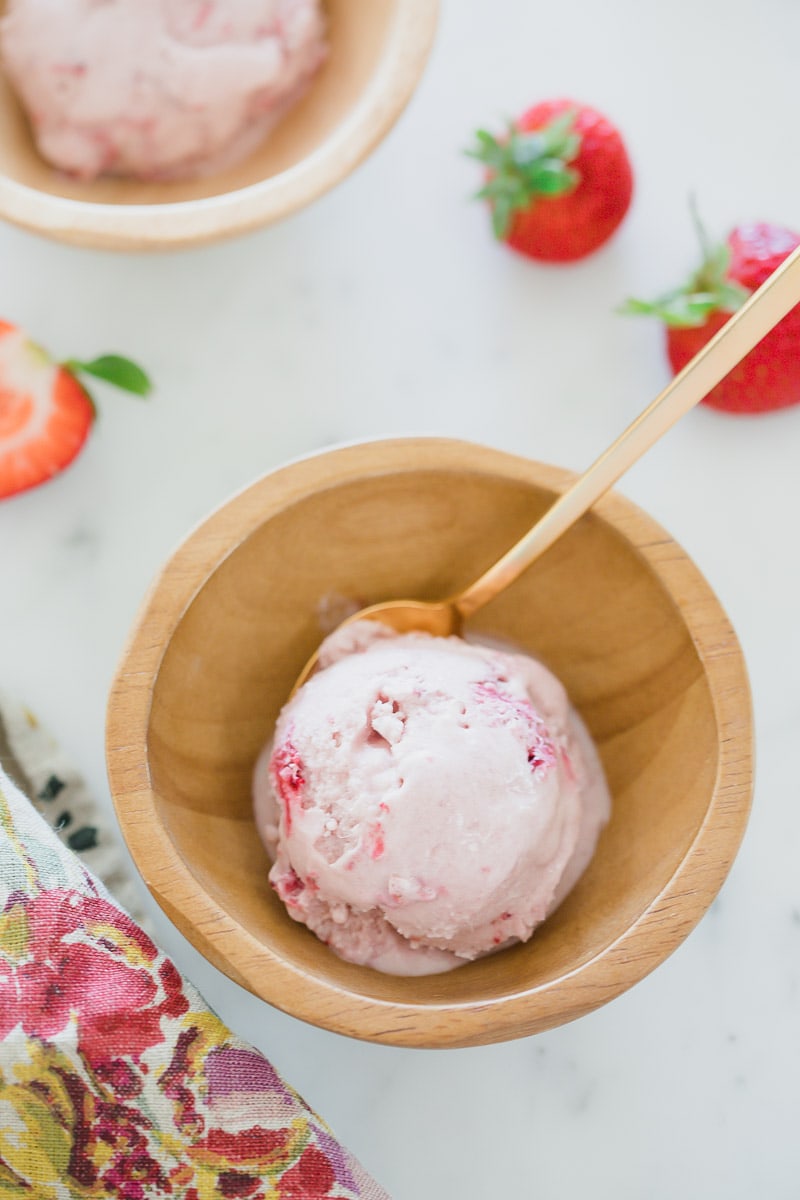 I hope you enjoy this recipe! If you are looking for different flavors of homemade dairy-free ice cream I have several on my blog and in all of my books! 
View this post on Instagram
Shop this Recipe!