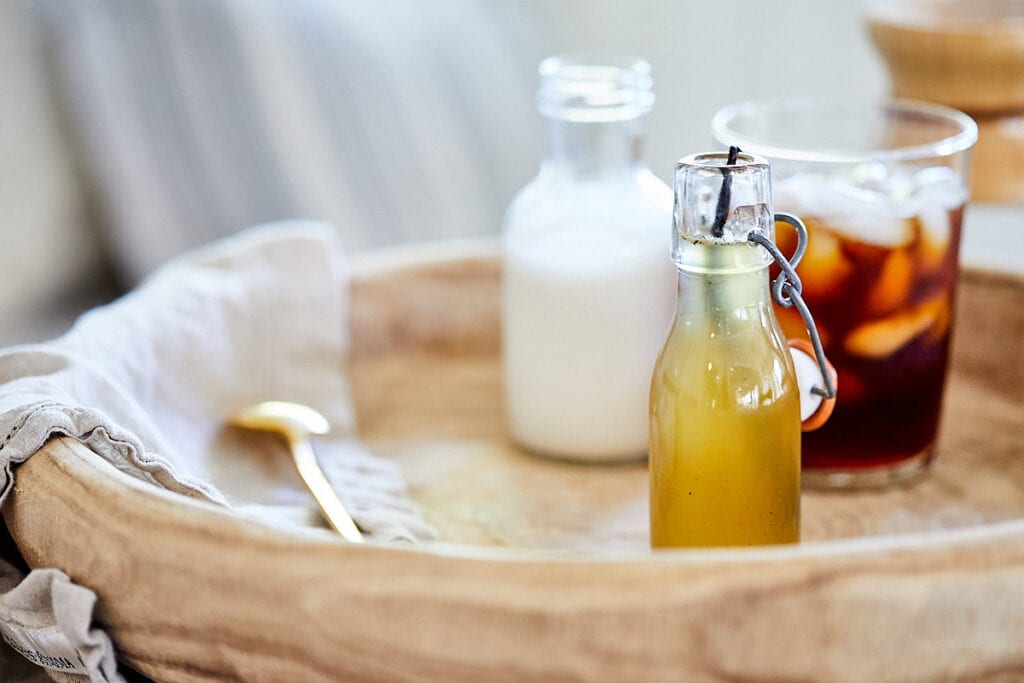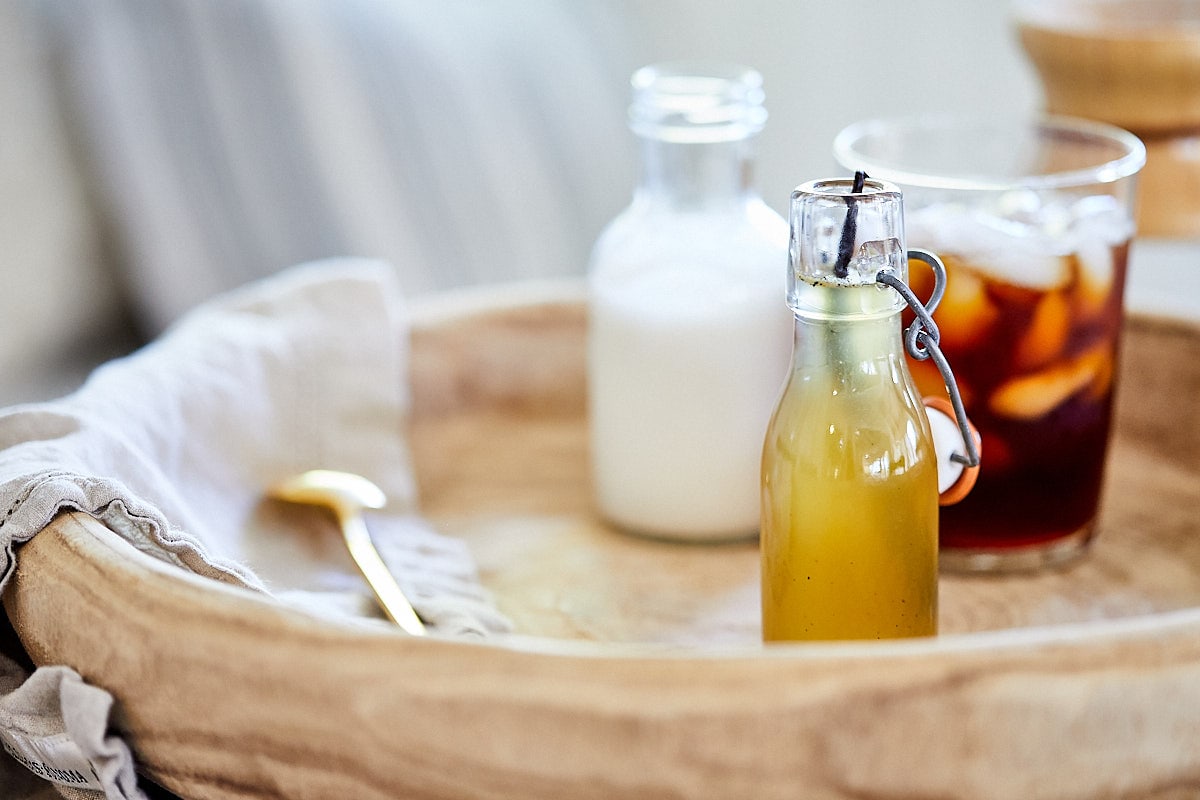 Two months ago I published my recipe for Honey Simple Syrup which I frequently use for cocktails and a quick lemonade for my kids. This recipe for Vanilla Honey Simple Syrup is similar to the original recipe, but incorporates fresh vanilla bean! It is perfect when added to a morning cup of coffee for a sweet, vanilla flavor. It also works really well in cocktails or mocktails. (Hint Hint, a recipe for Vanilla-Pineapple Margarita using this Vanilla Honey Syrup will be coming very soon!)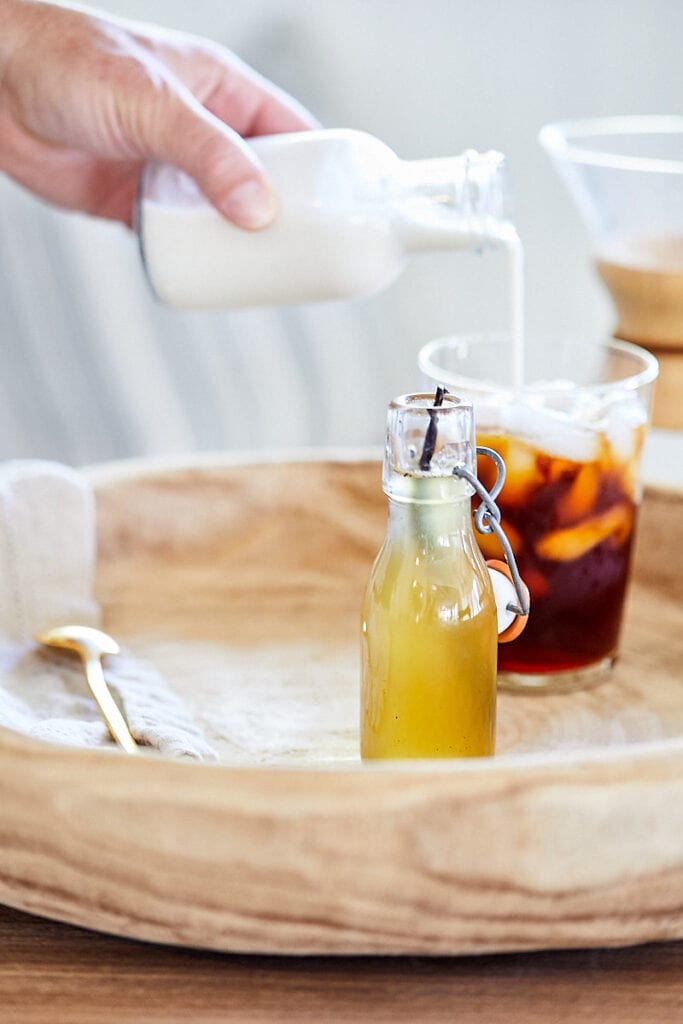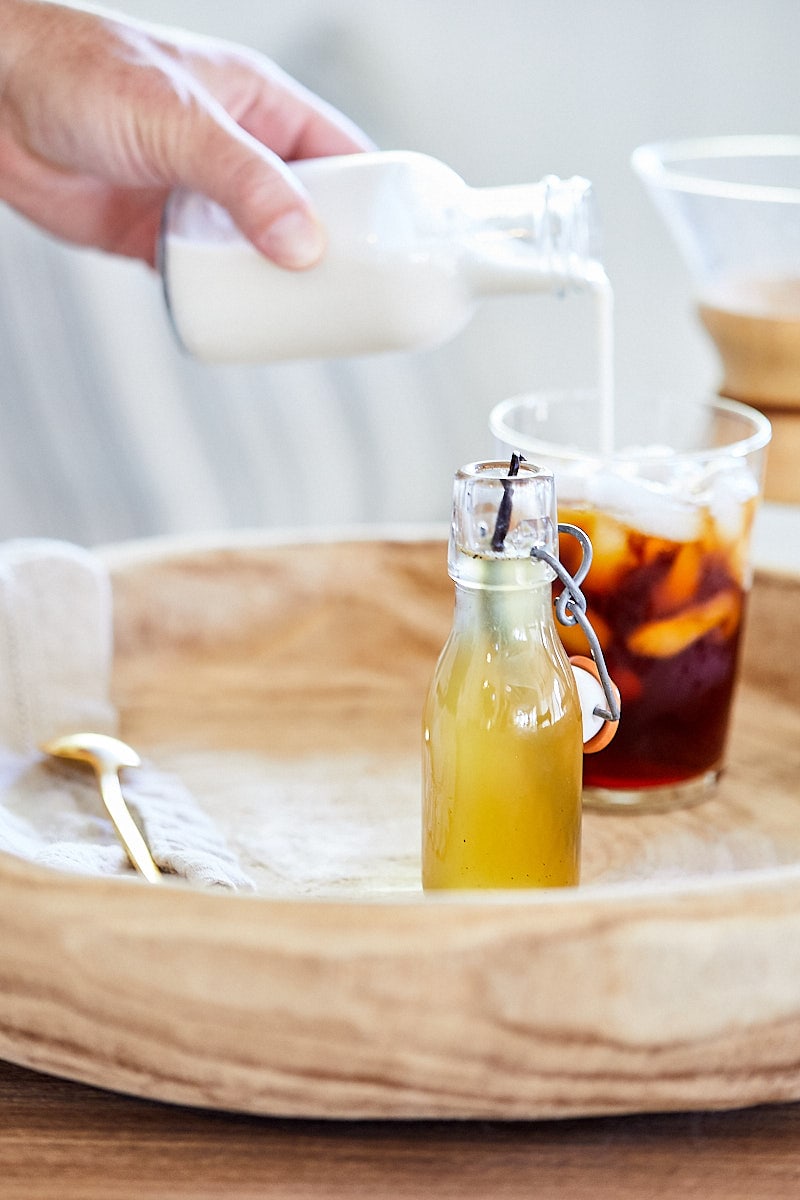 Ways to use: 
This recipe for Vanilla Honey Simple Syrup can be used in so many different recipes. Below are some of my favorite ways to incorporate it into drinks and food. 
Coffee- I like to add a splash or two of the syrup into my morning coffee along with some plain almond or cashew milk when I don't have my Dairy-Free Coffee Creamer on hand. It adds the perfect amount of sweetness and a hint of vanilla, making your morning extra special. It also tastes really delicious as an Iced Vanilla Latte, if you like your coffee cold! 
Cocktails- Ryan and I have been on a big craft cocktail kick this summer. I have been having so much fun experimenting with different ingredients creating both fruity and savory adult beverages. Stay tuned for the next couple of weeks – I will be posting a recipe for Vanilla-Pineapple Margaritas using this simple syrup!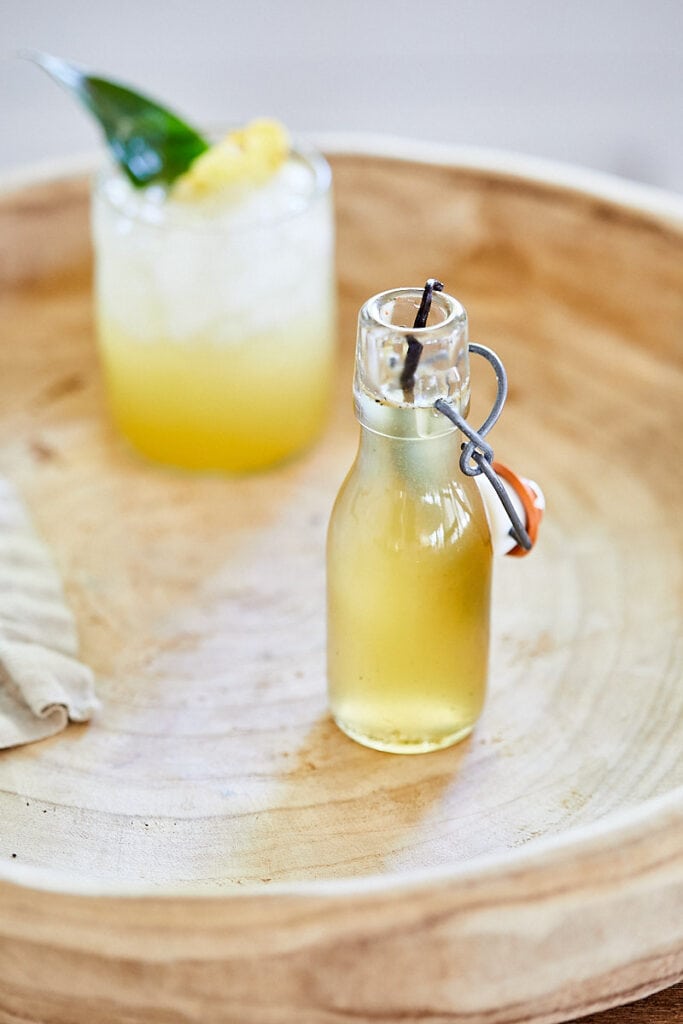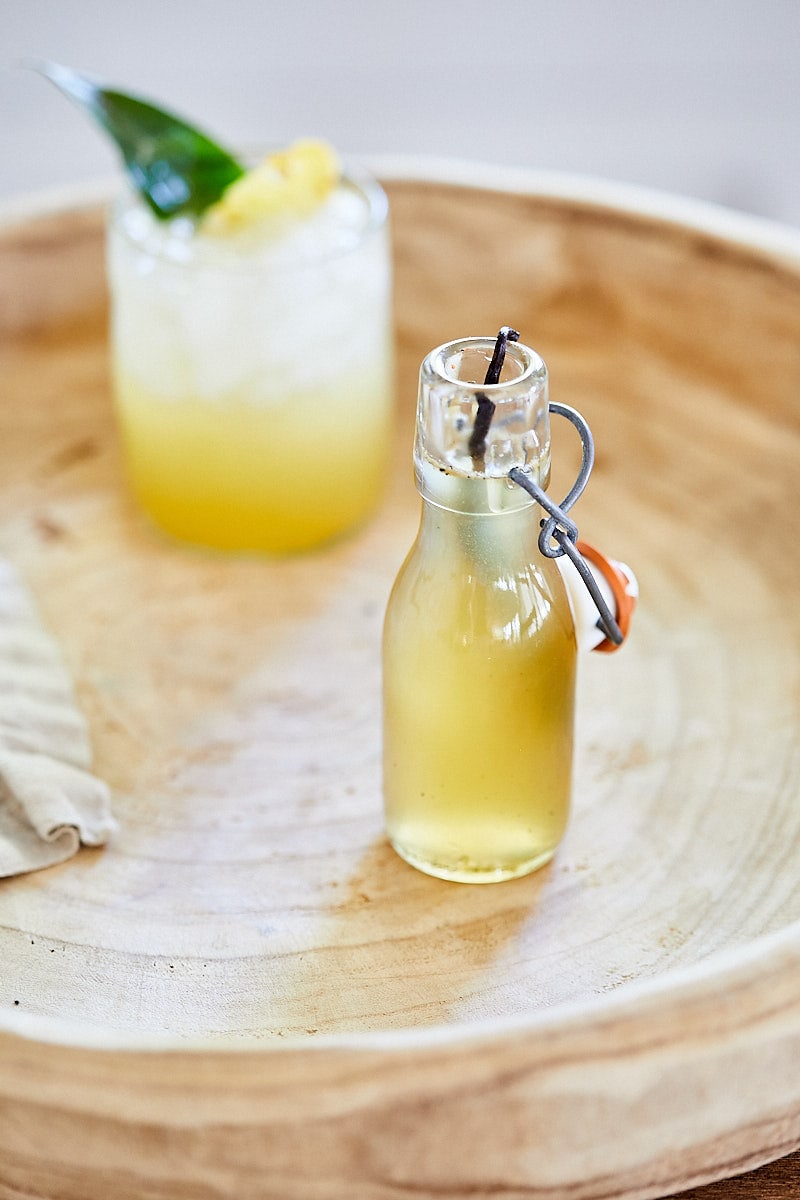 Mocktails-  Since I published my recipe for Cherry Limeade two weeks ago, I have been thinking of ways to make a healthier version of Vanilla-Cherry Cola. It's on my list to create, I just need to get the cola flavor perfected a little! You can also add it to my Lavender Lemonade recipe on page 105 in my cookbook Celebrations or here on the blog for a simple and refreshing lavender vanilla lemonade! 
Pancakes and Waffles! For SCD and GAPs followers, or others who can't tolerate maple syrup, this simple syrup can also be used in place of maple syrup on your favorite pancake or waffle recipe. Some of my favorites are my Spiced Pumpkin Pancakes or my Crispy Nut-Free Waffles on page 237 in my cookbook Eat What You Love. The fluffy pancakes in Celebrations are on regular rotation here too, and we love them with this syrup and sliced strawberries.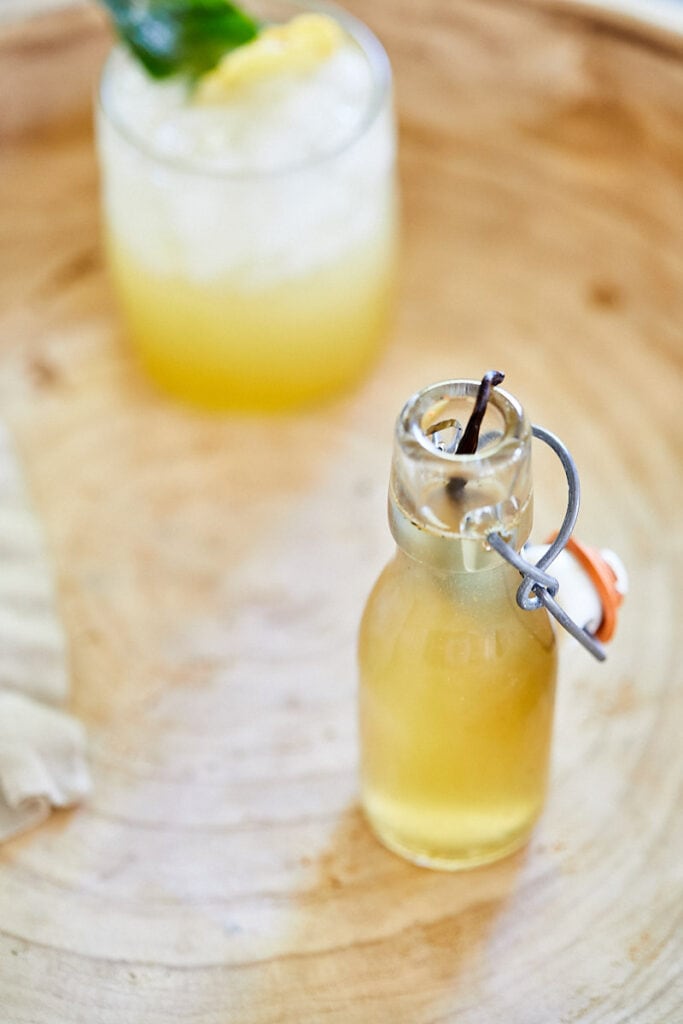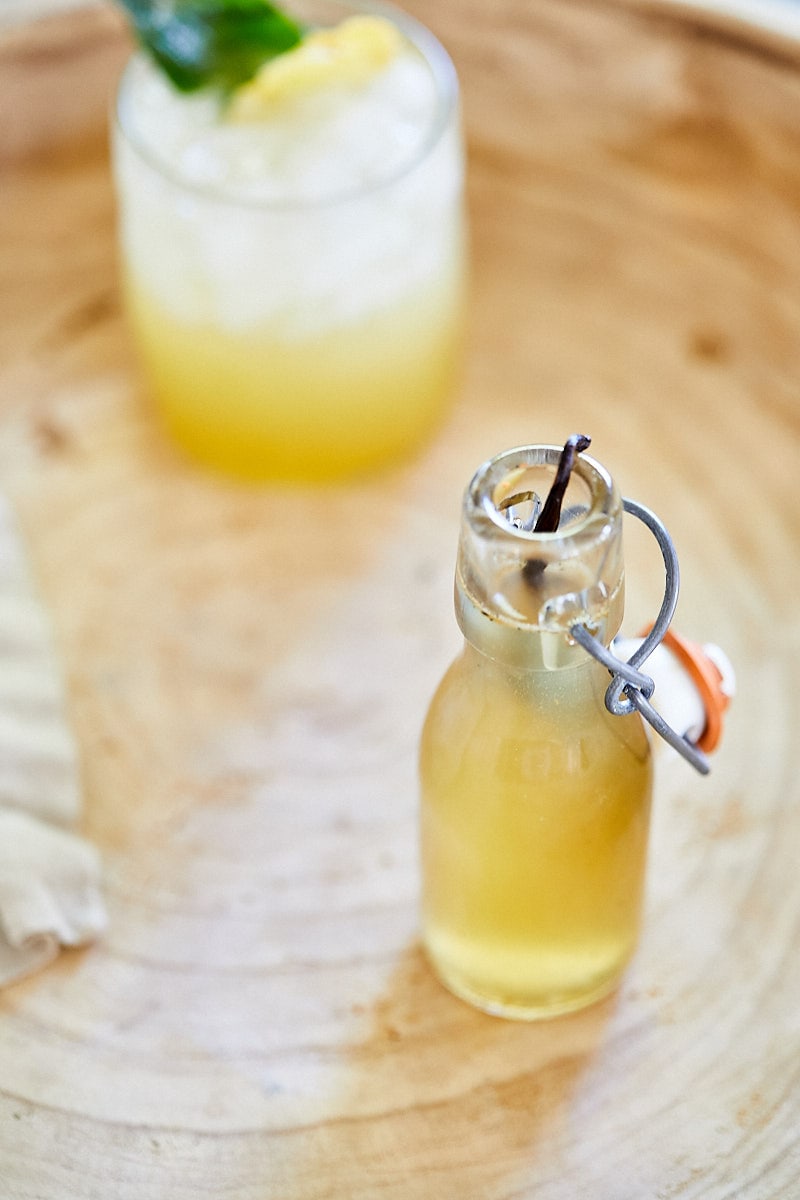 The Honey
Just like in the original recipe for Honey Simple Syrup, the honey you use in this recipe can make all the difference! You may notice when shopping for honey that they can range from almost clear to deep amber. The flavor can vary from mildly sweet to bold in flavor. 
For recipes that I don't want the taste of honey to overpower the dish like in this honey simple syrup, I use a raw light-colored variety. The honey I use the most frequently when testing recipes and for personal use is this Canadian Raw Honey. Acacia honey and clover are also really nice to use and will give you that same light flavor. This YS organic honey will work just as well! As always, buying honey locally will have more health benefits as well as support your local beekeepers! 🐝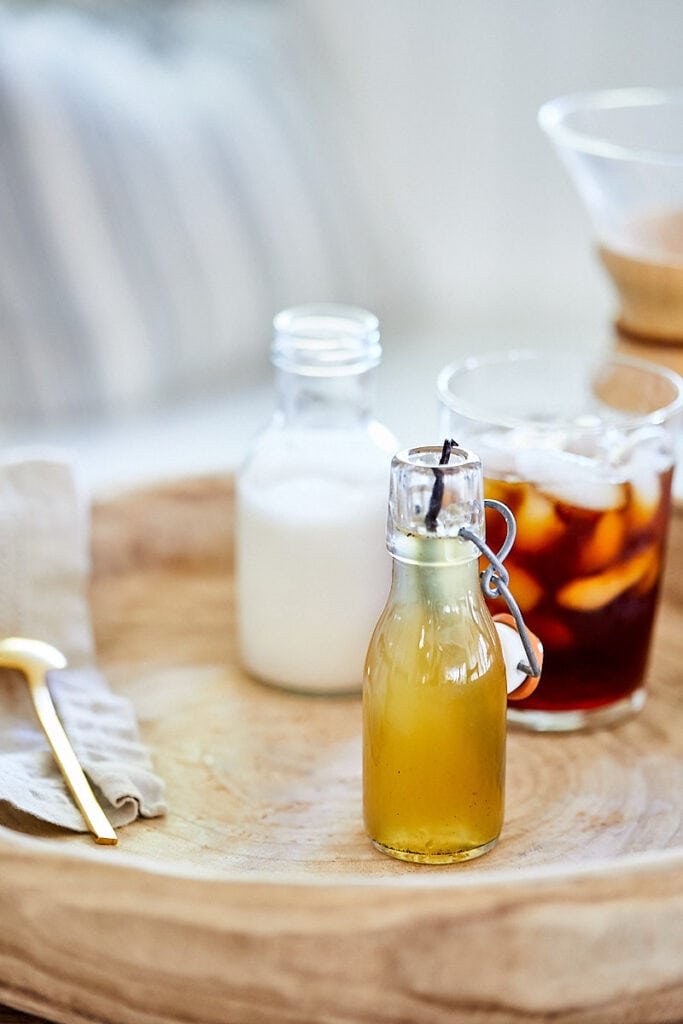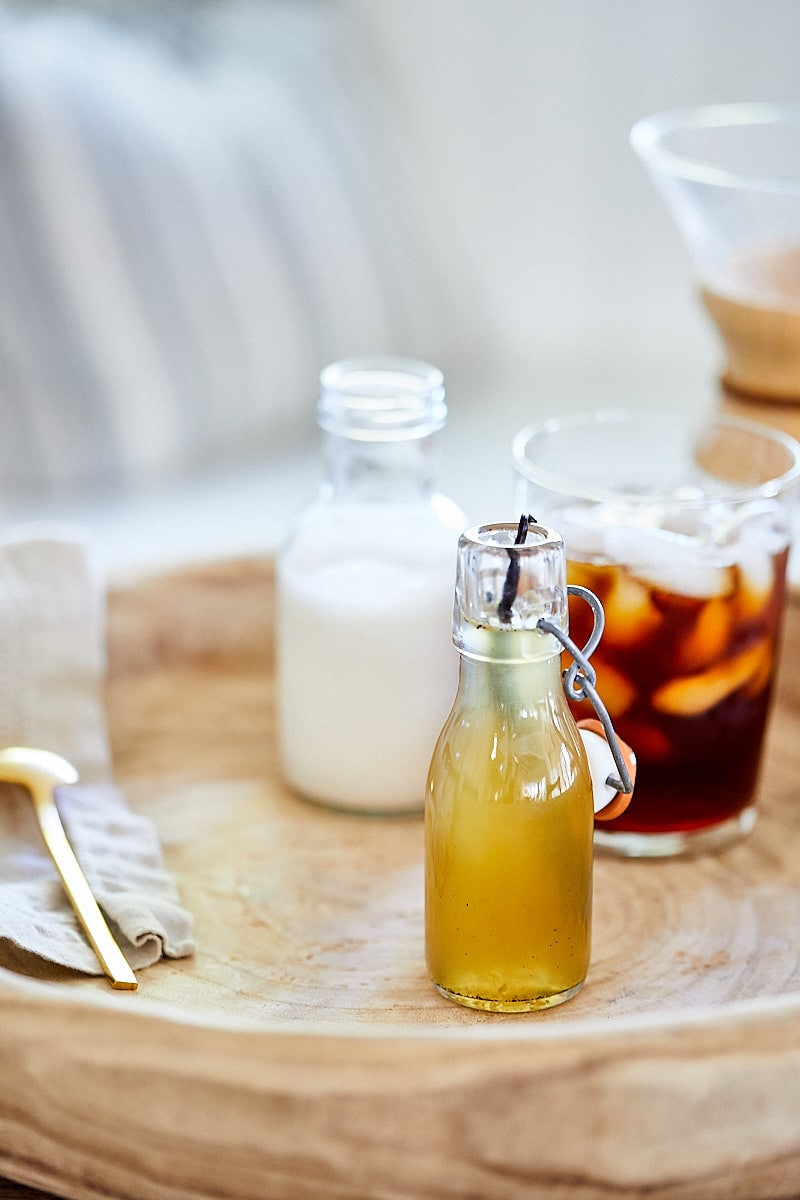 I hope you enjoy! I can't wait to see how you use this recipe for Vanilla Honey Simple Syrup! Don't forget to be on the lookout for a Vanilla Pineapple Margarita recipe. It will be on the blog in the next couple of weeks! 
Shop this recipe!