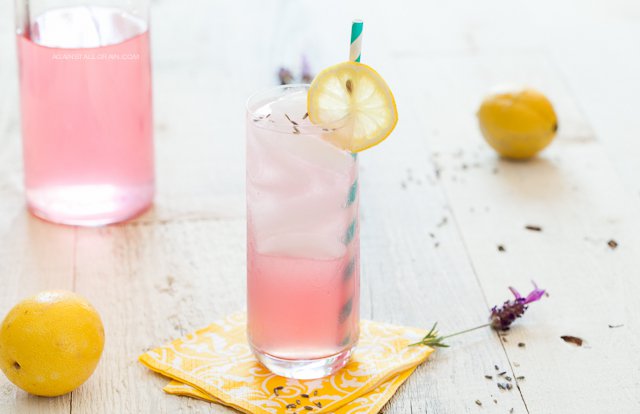 We celebrated my good friend's birthday a couple of weeks back, and her affinity with lavender helped inspire the menu. I have never experimented much with using lavender in my cooking and had to read up a bit on what variations were good for culinary use. I didn't even realize that we had lavender growing in our backyard, but it turns out that it is a French lavender plant and doesn't fare as well in cooking. The English kind is the best for stripping the leaves and infusing drinks or baking into desserts so I plan to add that to my little herb garden next Spring. I had a hard time finding any in bloom elsewhere so we chose to use the dried leaves from the bulk section at Whole Foods. This lavender lemonade was among the spread and it provided the perfect refreshment for our guests during the scorching heat wave we were going through. The adults spiked theirs with a little tequila too which really took the edge off of the heat! We all enjoyed it so much and I plan to make a double batch of it to celebrate Mother's Day this weekend.
The lovely pink tint comes from the infusing the lavender leaves in hot water, but if you do not like lavender or simply cannot locate it, you may chose to use thyme, rosemary, or possibly another edible flower.
Spring is in full bloom here in California. Our hills are brown, which is always terribly backwards, but the flowers and trees are lush and boast vibrant leaves and flower buds. My herb garden started to perk back up about a month ago and I was able to pick my first few leaves for a salad dressing just yesterday. We don't have the largest backyard so my husband found an idea on Pinterest last Mother's Day and built me this sweet little fence herb garden. Fresh herbs provide a much more intense flavor than dried, so having them at my finger tips where I can snip off just what is needed is so nice. Especially compared to having to purchase an over abundance at the grocery store and either dry them myself so as not to waste, or have them wilt before I have a chance to use them. I am growing basil, cilantro, sage, thyme, chocolate mint, oregano, parsley, and chives. Asher has taken a liking to watering them with me as well, so we spend a few moments each night as the sun sets learning about how things live and grow and he giggles as he "accidentally" gets my feet wet with the hose. It's the simple things in life that keep you smiling and give you something to look forward to each day!