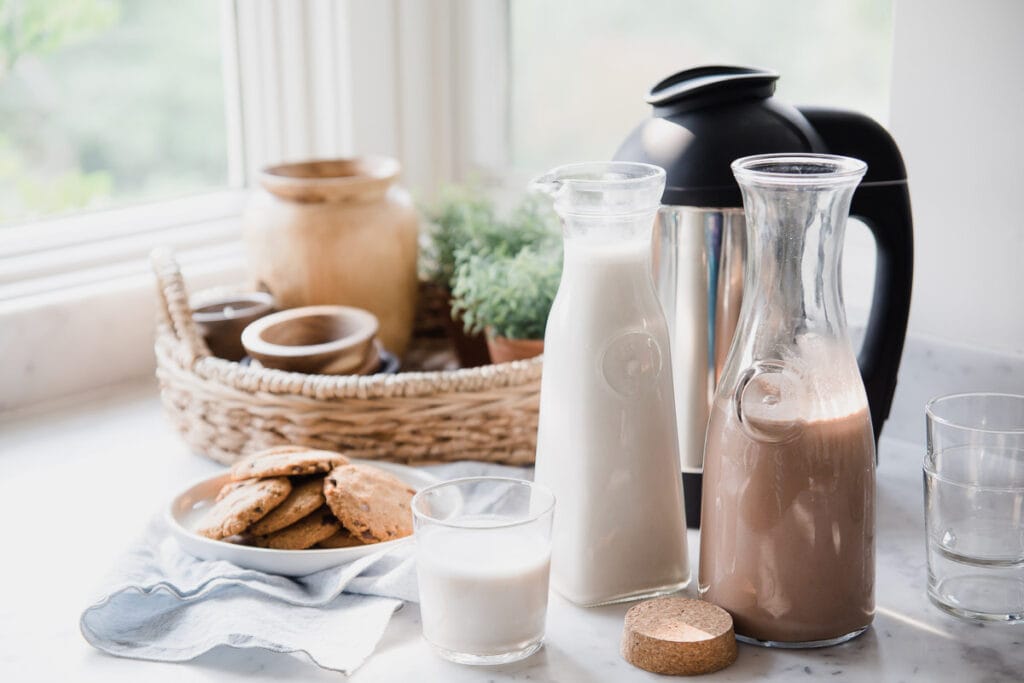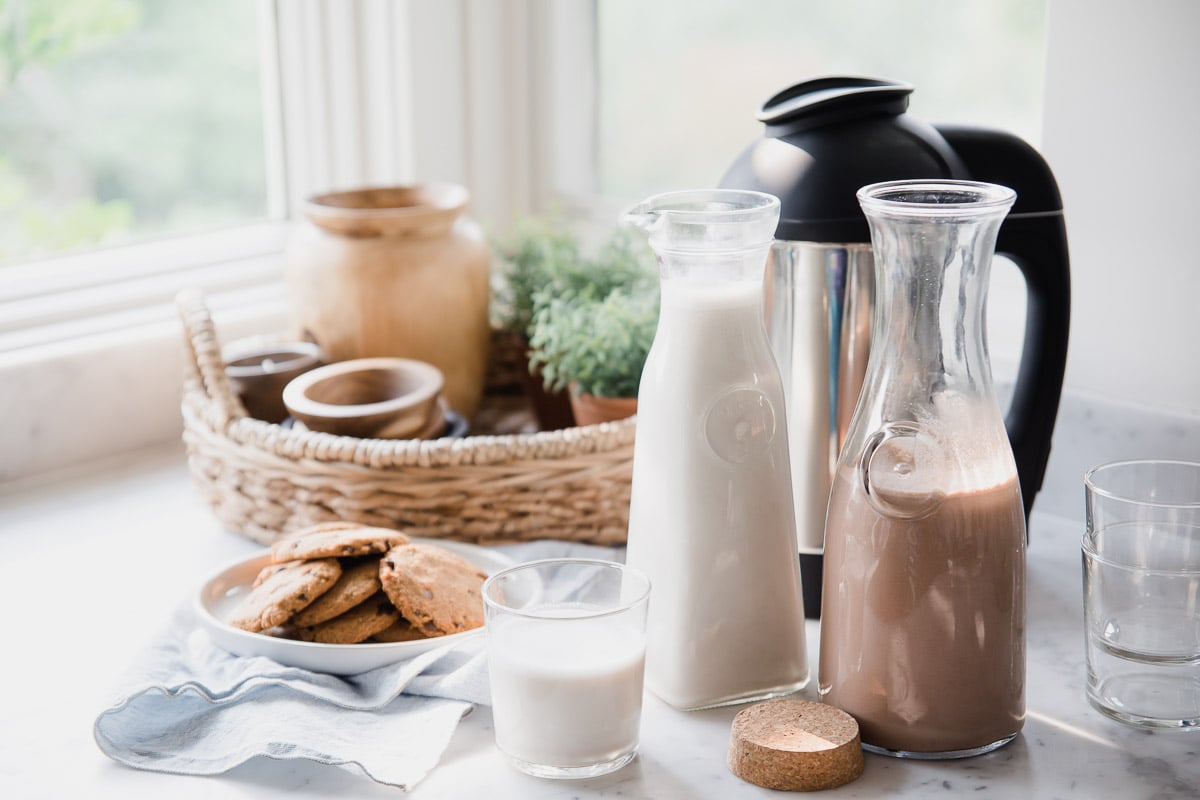 This post is sponsored by our friends at Almond Cow
All opinions are my own
I'm in love! I'm in love, and I don't care who knows it! Danielle here, with yet another Christmas movie reference. Sorry.
But really. I'm in love with a new machine in my life. The Almond Cow.
Use code DANIELLEWALKER for $25 off any Almond Cow purchase of $200 or more
I'm not usually one to purchase a lot of kitchen gadgets or small appliances. I tend to lean towards minimalist, and especially like to keep my kitchen counters clean. So when I heard about the Almond Cow in it's start-up days, a machine for making homemade dairy-free milk a few years ago, I will admit, while I was incredibly intrigued, I wasn't an early adopter.
Nut milk bags, blenders, spills, and soaking
Though my lack of early adoption wasn't because I was happy making homemade dairy-free milk in my blender. To be completely honest, after spending the first few years of my paleo journey making everything from scratch- condiments, almond milk, coffee creamer, beef jerky, granola – I was burnt out. Especially with the nut-milk making process.
This will sound dramatic, but it's the truth – I did not ever want to look at a nut-milk bag again, and I always, always, forgot to soak almonds 24 hours in advance of needing almond milk for a recipe. The process of soaking, pureeing, and then hand squeezing the liquid out of a cheesecloth bag was messy and time consuming. I had milk miss the bowl every time (maybe it was just me, but I always had pools of wasted milk on the counter after diligently "milking" that nut milk bag like a cow's udders).
And I usually wanted the immediate gratification or needed the milk immediately for recipe testing. I switched from making almond milk to making cashew milk more frequently because I could do a quick soak and it didn't need to be strained. I haven't made a homemade batch of almond milk in at least 5 years.
The Problem With Store-Bought Milks
The problem is that most brands on the market contain fillers and stabilizers like Carrageenan, Guar Gum, Gellan Gum, Acacia Gum, Sunflower or Soy Lecithin, Dipotassium Phosphate, Cellulose Gel/ Cellulose Gum, Locust Bean Gum. And the ones that don't are triple the price.
These can all be hard on the gut, causing digestive discomfort, bloating and inflammation. Plus I don't really care for the flavor and texture that all of those ingredients lend to store-bought almond milk.
Some cleaner store-brands started emerging onto the market and I succumbed to just buying it. Always. Spending $6-$8 per bottle.
Reducing Single-Use Plastic
In addition to the problem of spending $6-$8 a bottle that lasted for 3-5 days, we have been diligently trying to reduce our use of single-use plastic in 2020, and store-bought nut milk was one area I knew we could reduce in.
So I finally gave in and tried out the Almond Cow. They gifted me a machine, with no obligation to talk about it, but after a few batches of fresh, homemade milk, I was sold.
I used to purchase a bottle of almond milk weekly, so in just our home alone we are saving 52 plastic bottles a year.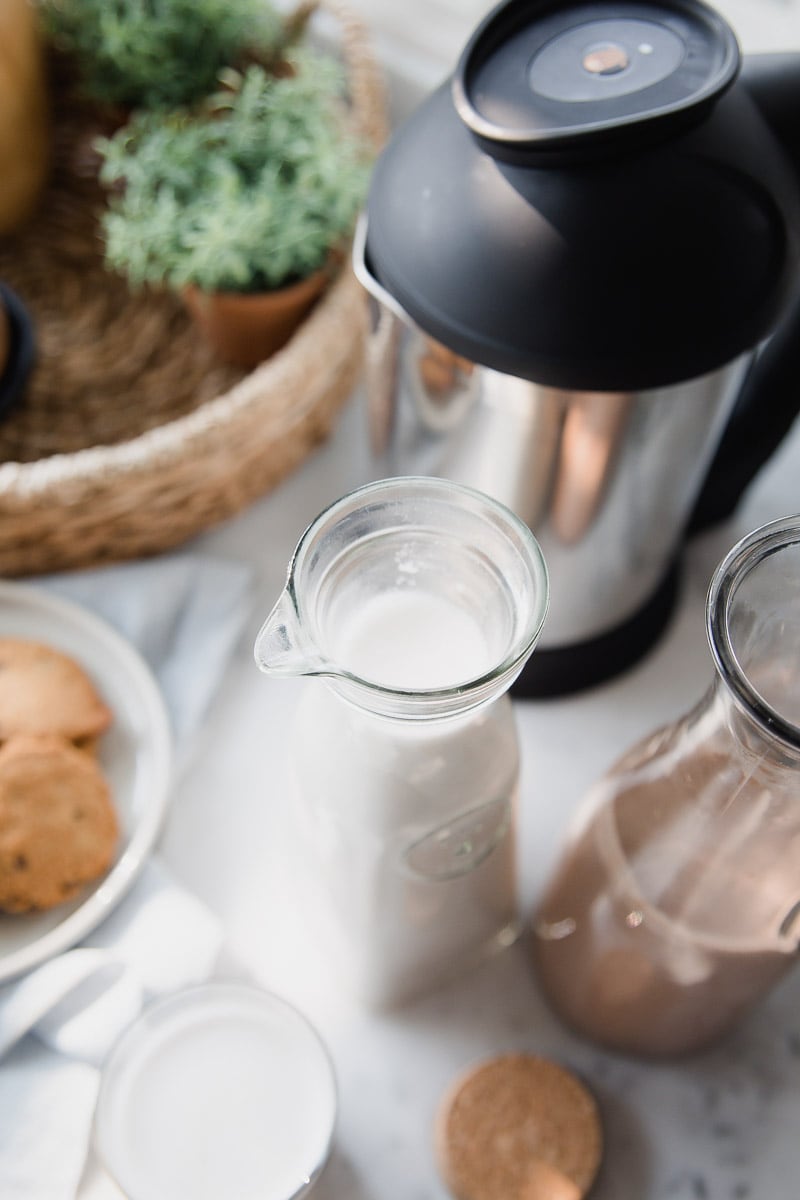 Use code DANIELLEWALKER for $20 off any Almond Cow purchase of $200 or more
Why I'm In Love With Almond Cow
Aside from the plastic saving, there's no squeezing and no messes of the milk missing the bowl. No fillers, no binders or stabilizers. It's incredibly easy to clean, which I was afraid it wouldn't be. Much easier than scraping out the inside of a nut-milk bag and washing it free of residue. You also get all of your pulp to use in other recipes, which I always felt I wasted some when I made homemade and couldn't get it all out of the bag.
I know every ingredient that goes into my homemade dairy-free milk, and it's simple – nuts or coconut, water, sea salt. That's it. Unless I'm sweetening it and then there's a date or maple syrup and maybe some vanilla.
I can make all of my favorite coffee creamer recipes in it – Pumpkin Spice, Gingerbread, Vanilla. You can have so much fun with what you make – Hazelnut, Walnut, Pecan, Almond, Cashew. Chocolate, Horchata, Eggnog, Golden Milk. You name it! Be sure to see some of my favorite recipes below!
And the best part – I can have it ready in minutes. I've had it for a little over a month now and have already made at least 12 batches of milk or coffee creamer.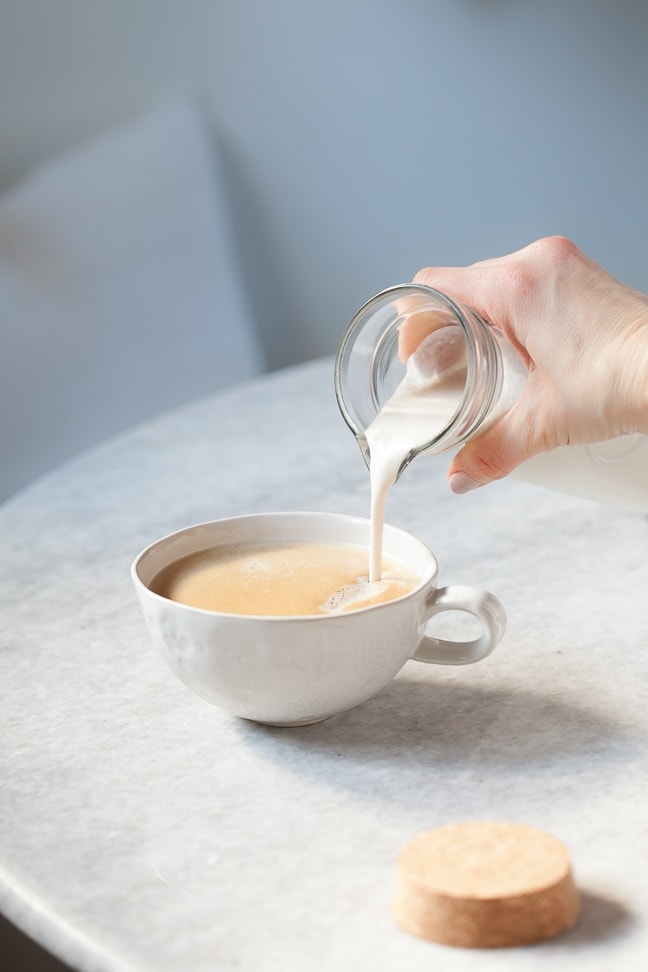 Cost Analysis
After calculating the cost of the machine and the cost of the ingredients, I figured out that it will only take around 30 batches of milk to pay for itself. Especially if I use up the nut-pulp in other recipes like cookies, granola, crackers or porridge. 50 batches or so if I don't.
That's one area that has always bothered me about store-bought milk (similar to buying boneless chicken!) – the bottles contain a much higher water to nut ratio, and what happens to all that pulp? When you make it yourself, you get to use every part of the ingredient, nose to tail if you will, making it much more cost-efficient.

Pulp What?
Nut pulp is what is leftover after straining out the liquid for your milk. It's actually really valuable – it's the meat of the nuts. There's a ton leftover and it works great dehydrated and blitzed in a food processor to use as flour, or blended into recipes in its damp state.
Try my Almond Pulp Rosemary Crackers or Almond Pulp Double Chocolate Cookies. Dehydrate it into granola mixed with some maple syrup, raisins and sliced nuts, or use it in my Paleo Breakfast Porridge.
There's dozens of recipes for pulp over on the Almond Cow website too that I can't wait to try – from muffins to cake pops to cupcakes to savory tarts.
Do You Need One?
I think it depends how frequently you purchase versus make homemade dairy-free milk, and how many people in your household drink it. I figured out I was purchasing 1 bottle a week. My kids or Ryan will occasionally have it over granola, but I drink it every day in my coffee, and I use it a lot in recipe testing and baked goods. My kids will, however, down an entire jug of the chocolate milk (recipe below!!) in just a few days if I make it!
If you're purchasing the same, or even more frequently, the cost and knowing exactly what's it in your milk is worth it in my opinion.
If you're ready to give it a shot – I have a special discount code for you, and some recipes to get you started!