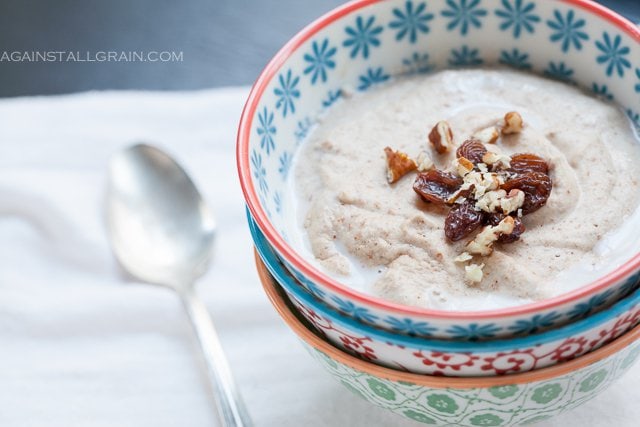 I am in the midst of my first Whole30 challenge as a reset for the year and to overcome my slight addiction to Paleo treats. I actually make more than I eat, especially since writing my cookbook, but they are still very prevalent around this house. It's only been a week, but I can report so far that I am totally sick of eggs. I've never been a huge breakfast person in general, but without the option of of my chocolate avocado shake or the baked goods like muffins and waffles, eggs have been our go-to for the last week. I know there's a lot of people out there who eat soups or stir-frys, but I just can't do it. My brain is wired for certain things to be served at dinner-time and certain foods that are acceptable to eat in the morning. This banana nut porridge serves a need that I knew was required for my Whole30 journey.
One of my favorite breakfasts in the past was a warm bowl of steel-cut oatmeal. Rich with nutrients and warm flavors, but unfortunately not so kind to my digestion. It was really cold the other day (we had frost on our grass, which is about as cold as it gets here!) and I wanted something other than eggs that would give me energy and warmth to start the day. I guess you could technically call this porridge SWYPO, but in my opinion it's not different than snacking on a handful of nuts and a banana. It's a whole-food and nourishing for your body, so it's clear in my book. You be the judge though. Regardless, you should try this porridge at one point whether it's February 1st or now! The only way to succeed when switching to such a drastic lifestyle is to get creative, so that's what I did with this recipe! Be warned though, it's rich and filling so a small portion will be more than enough.
The recipe requires soaking the nuts overnight. This helps make them blend smoothly into the porridge, but most importantly aids with digestion. Soaking nuts breaks down the phytic acid which acts as an anti-nutrient and can wreak havoc on the digestive tract. Read more about it from Mark's Daily Apple if you're interested.