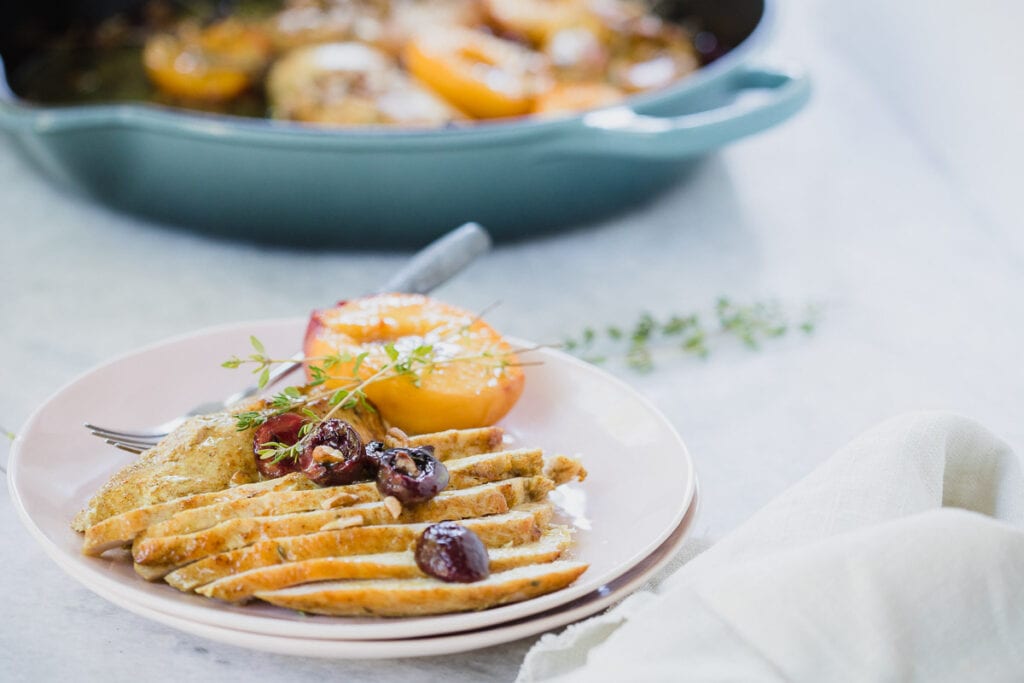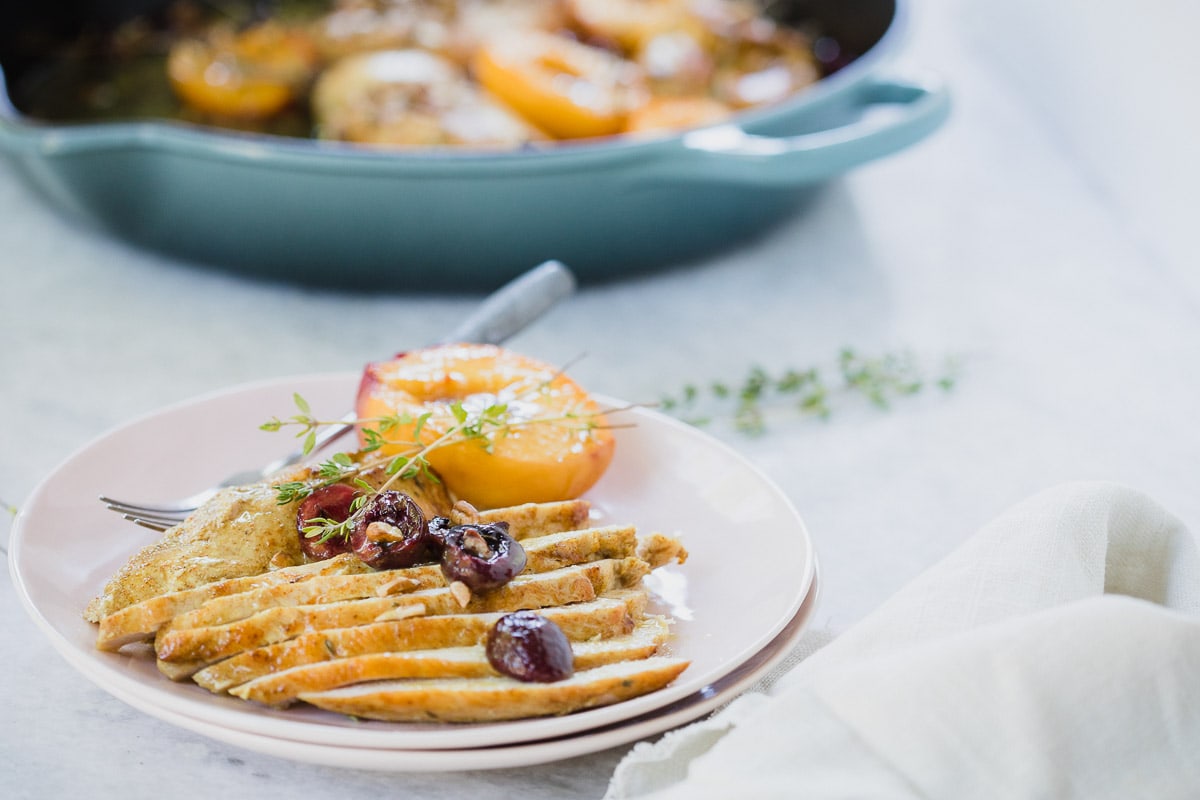 You may have noticed that some of my most recent recipes on the blog have been on the sweeter side – we can all thank quarantine plus my sweet tooth for that! I'm taking a break from the desserts this week and introducing this savory Skillet Spiced Roasted Chicken with Summer Fruits recipe instead. Stone fruits have been the kids' go-to snack this summer. They eat them like candy! Not a complaint, but before they devoured them all, I managed to sneak some away to create this light and refreshing one-pan dinner. 
If you haven't seen my social media, I am deep into testing a variety of sheet pan, one-pot, Instant Pot, and easy 30- minute meals for my next cookbook! Can you believe this will be my 5th one?! Sometimes it feels like it was just yesterday that I published Against all Grain, my first cookbook. At the time, I thought it highly probable that it would be the only book I'd publish. A few years later and over 900 published recipes, I am thrilled to add another one to the collection. Whether it's the first cookbook or the fifth, the anticipation and excitement are always the same! There is still time to let me know if you'd like to see a certain dish that you've been craving in this upcoming book –  just go to this Instagram post and comment with your requests.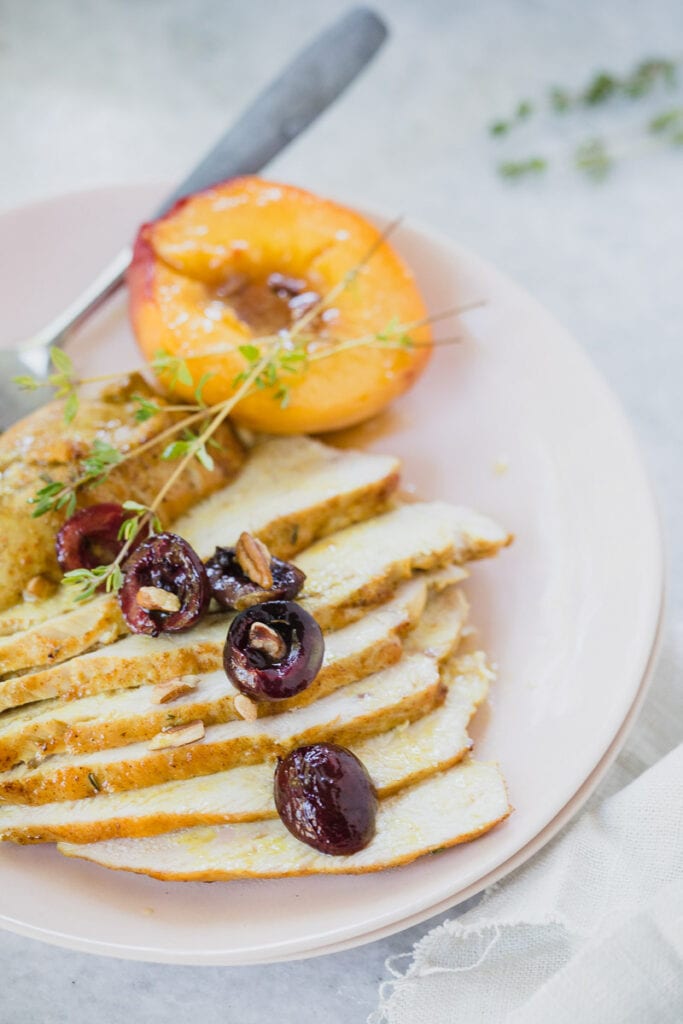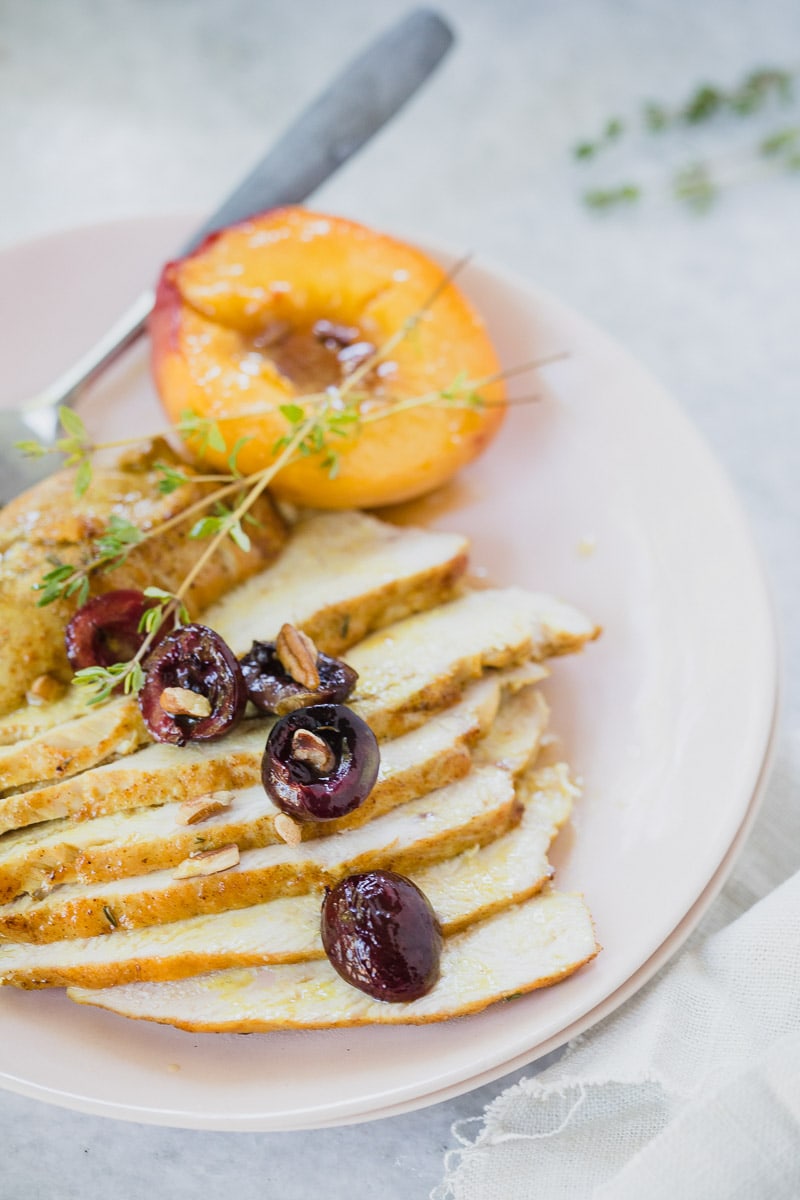 Stone fruits
I used peaches and cherries in this recipe because they are what I had on hand, but this recipe can be easily substituted with your favorite stone fruits such as apricots, plums, or dates! If you are making this recipe in the winter, or don't have fresh stone fruits available, you can get dried fruit from your natural health food store. To rehydrate, just cover the fruit with warm water and let them rehydrate for 10 minutes. Then simply drain the water, and make the recipe as instructed. 
What to serve it with
I have so many recipes that complement this Skillet Spiced Roasted Chicken with Summer Fruits. My Saffron Cauli-Rice on page 219 in Meals Made Simple or my Cauli Cous-Cous on page 134 from my cookbook, Eat What You Love, are great options if you are craving more of that traditional chicken and rice dish. They help keep it light and refreshing while adding a boost of nutrients from the cauliflower and spices. My Roasted Pineapple and Sweet Potatoes with Cinnamon Cashew Drizzle, Burnt Broccoli recipe, Grilled Prosciutto Peach Salad, and Moroccan Chicken Salad, just to name a few, would also be great options to serve with this one-pan dinner!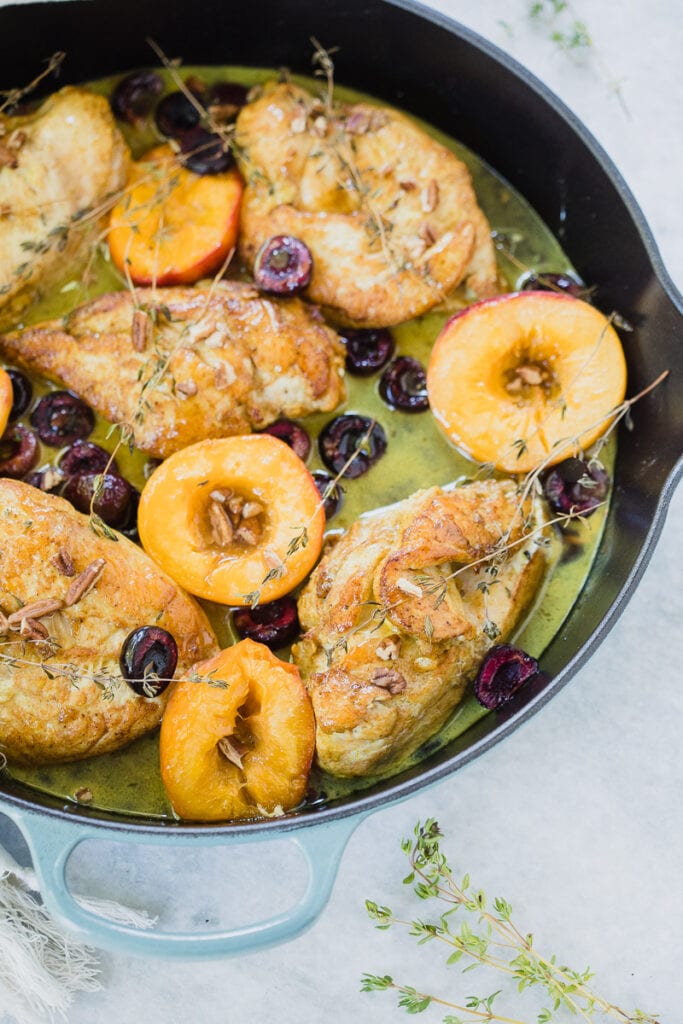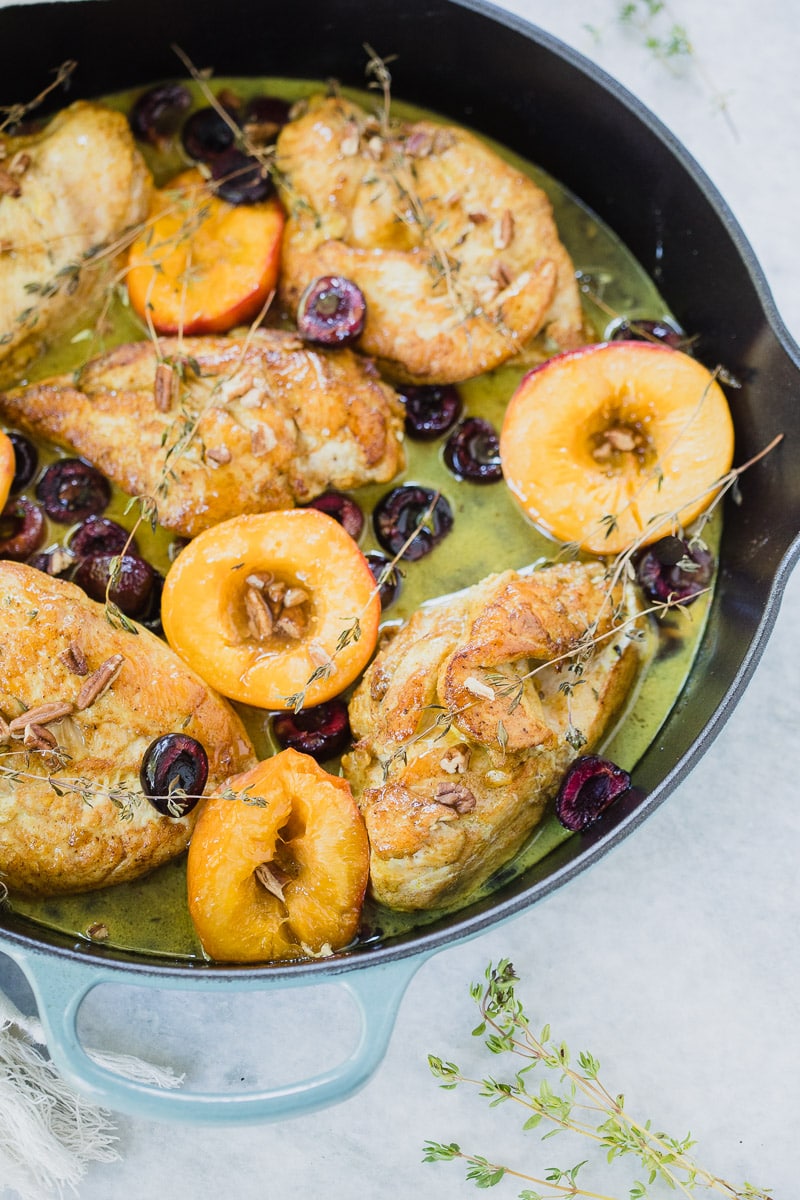 One Pan Meal 
To make this recipe a true one-pan dish, I quickly browned the chicken in a large cast-iron skillet with all the spices for about 2-3 minutes before adding the rest of the ingredients and then finishing it in the oven. If you don't own a cast-iron skillet, you can brown the chicken in a pan and then transfer over to a 9×13 glass baking dish and place in the oven. 
Storing
This recipe freezes really well, so if you have an abundance of fresh peaches and cherries this summer, you can definitely make double or triple and freeze for the fall and winter months. I like to freeze meals like this in a glass pyrex container, so I can let it defrost overnight and then stick it in the oven to heat up for a very quick and easy dinner.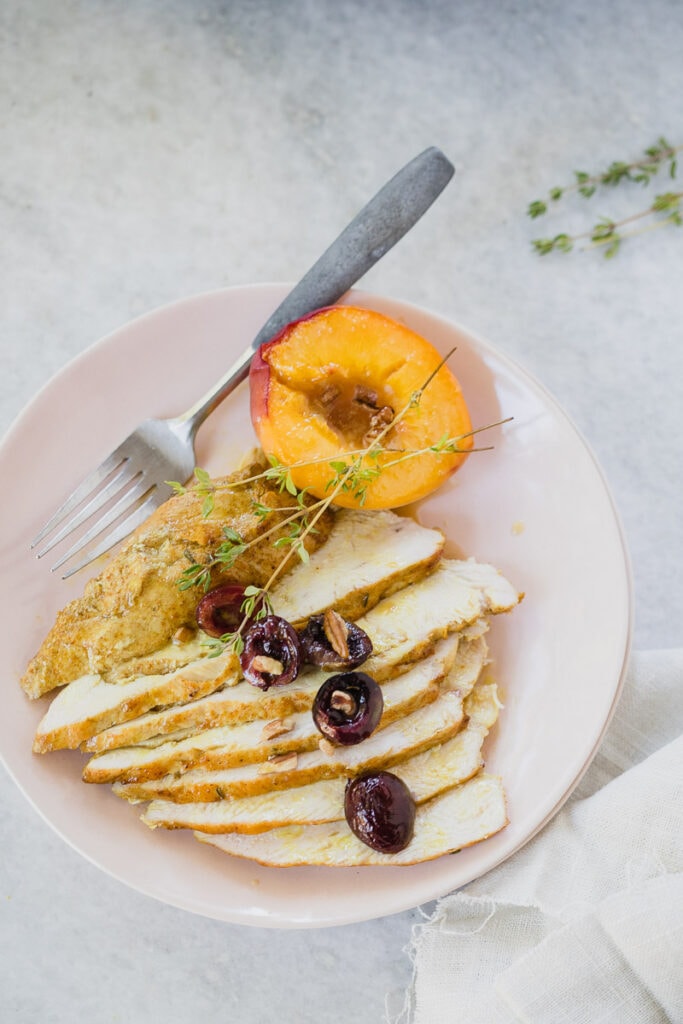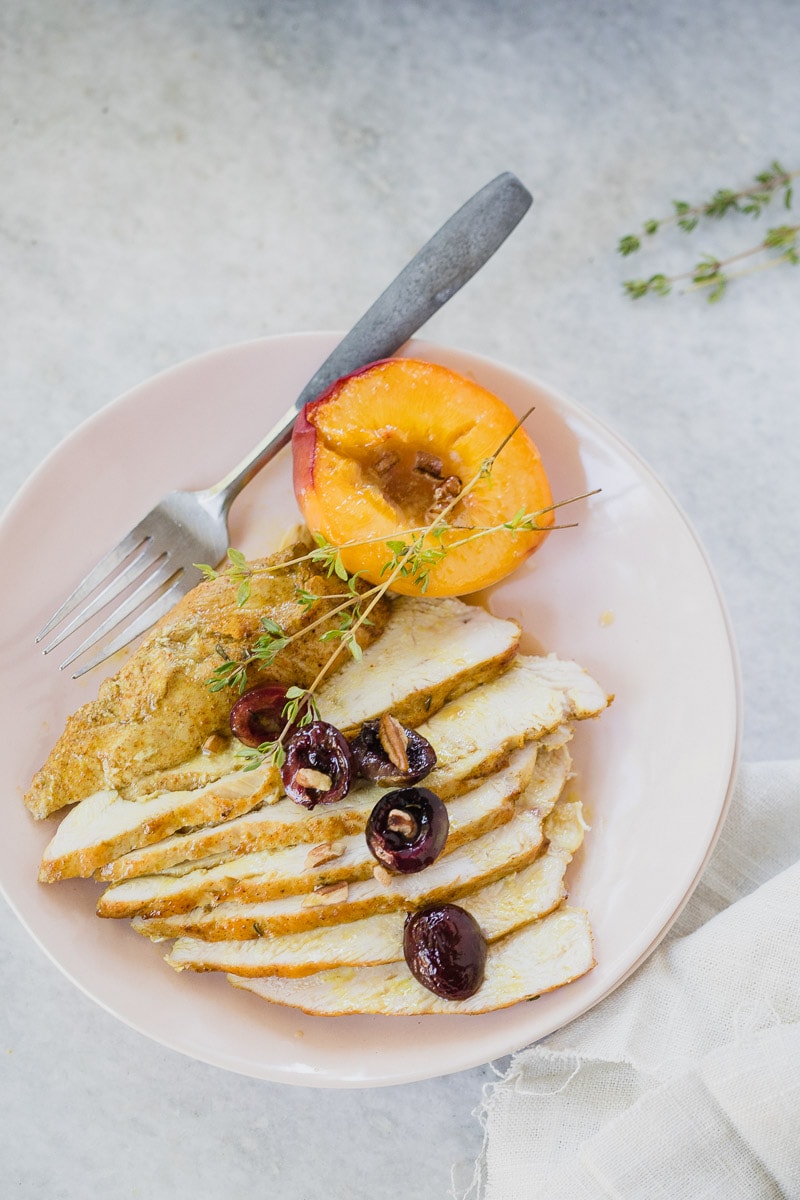 I hope you enjoy this easy one-pot recipe and it can be an easy weeknight dinner for you while you wait for AAG book #5 to hit shelves. In the meantime make sure to check out my other easy one-pot/ 30 minute dishes like my 15-minute Veggie Packed Fried Rice or my Roasted Veggie Bowls with Tahini Dressing Sheet Pan Recipe.
Shop My Kitchen!