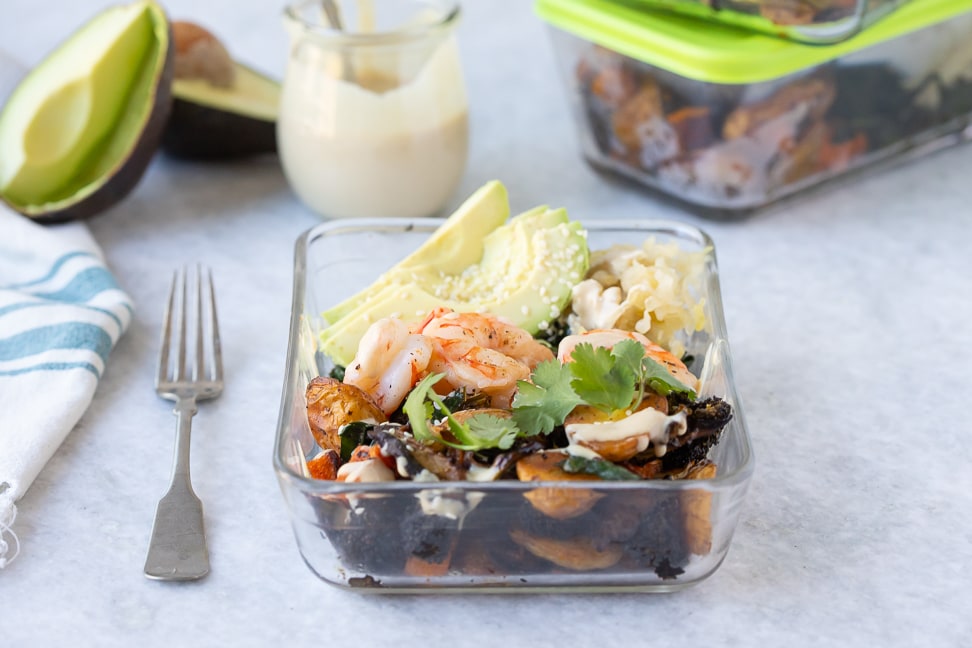 Back in January, Ryan opted to eat a little less meat and be more veggie and seafood-forward. That's slightly gone out the window now since we are locked down at home. Before the stay-at-home order, I was getting creative in the kitchen for some easy lunches for him like these roasted veggie bowls.
I noticed that by the end of the week we'd have some random, un-used produce in the fridge. This recipe is such a great way to use it all up! I don't always meal-prep for the week, but he wasn't eating the meat-filled dinner leftovers that we usually reheat for lunch. I wanted to whip up something that could be divvied up in portions and warmed up as needed. A make-ahead, sheet pan meal was the perfect call to construct easy to-go roasted vegetable bowls.
This recipe uses some of his favorite vegetables, but you can use up whatever veggie you have on hand – make this recipe work for you! You may recognize the seasoning I use on the roasted vegetables from my Burnt Broccoli recipe. It makes every vegetable taste amazing! I always quadruple the spice mix and keep it on hand to sprinkle over vegetables and kick them up a few notches.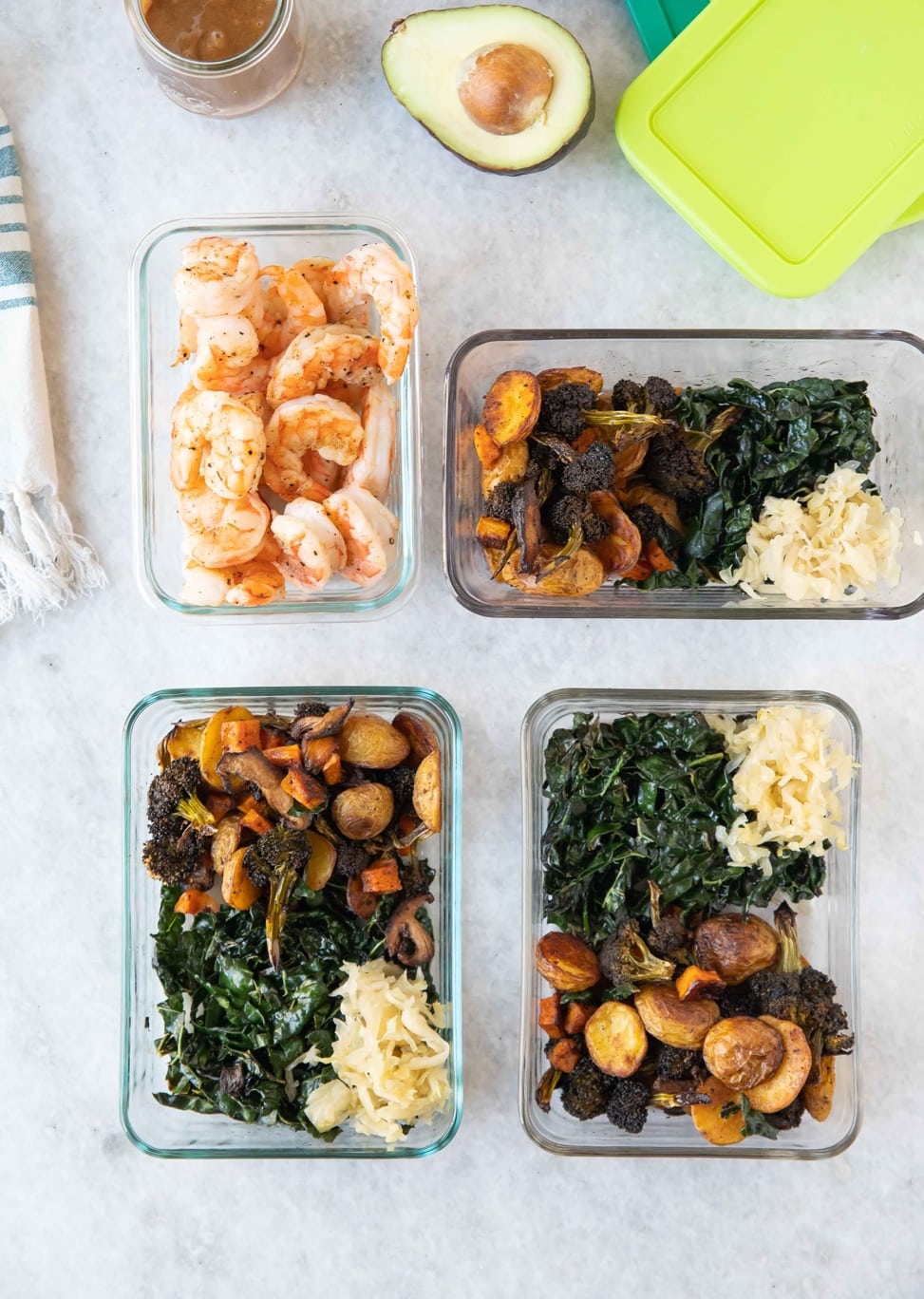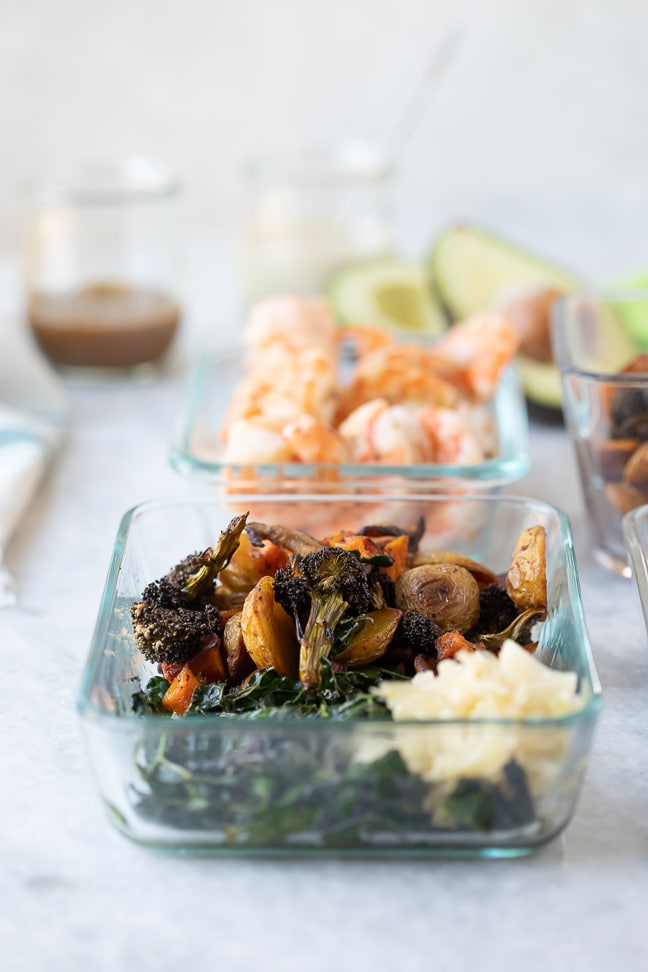 It's All in the Dressing
I included two different dressings here so you can pick your preference based on what vegetables you have. Or just make both! I like to have them both ready in the fridge to give the roasted veggie bowls a boost in flavor. Plus, having options will stop it from feeling repetitive. Dairy-Free Pesto Sauce is another great one to have on hand, as it adds a super-fresh flavor to any bowl.
The Tahini Dressing is garlicky, creamy, and a little tart – it's the perfect go-to dressing. It gives a subtle kick to the bowls and tastes really fresh and light.
Ryan and I absolutely love the Almond Butter Thai Dressing when there are shrimp and sweet potatoes in the bowl. This dressing is actually from my Pad Thai recipe, so you can imagine how good that nutty and sweet umami-packed dressing is on shrimp and roasted vegetables!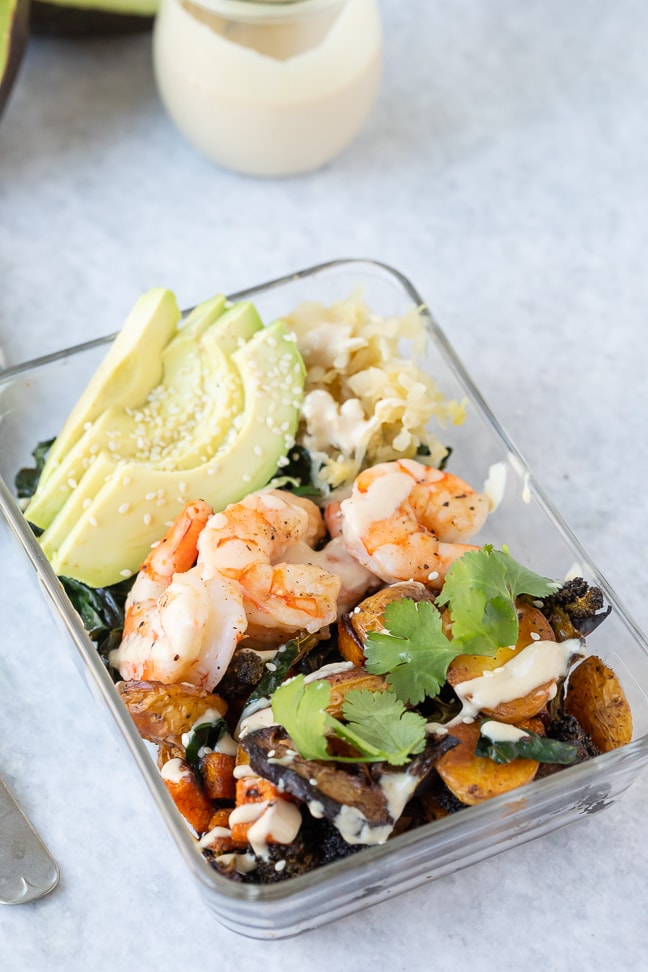 Sheet Pan Meal Tips
Since this is a sheet-pan meal, my biggest tip is to make sure that you don't overcrowd your baking sheet. If the veggies are crowded, they'll steam instead of roast. Feel free to divide them between two baking sheets if needed! I like to line them with parchment paper for easier cleanup, but you'll get a bit more of a crisp crust on the vegetables if you roast them directly on the pan.
If I have them in the freezer – I like to toss some shrimp in avocado oil, salt and pepper and add it to the sheet pan in the final few minutes. If you're adding shrimp (or salmon would be delicious too!), roast the vegetables first until they're close to being fully cooked. Push them to the side and add your protein for the final 3-5 minutes – depending on which fish you're using.