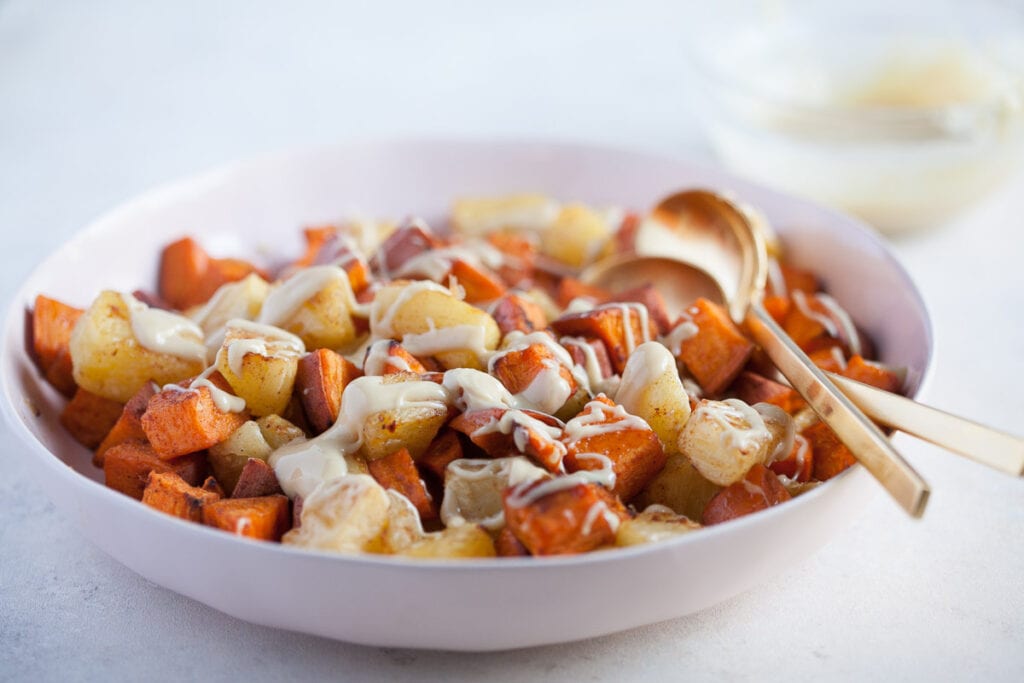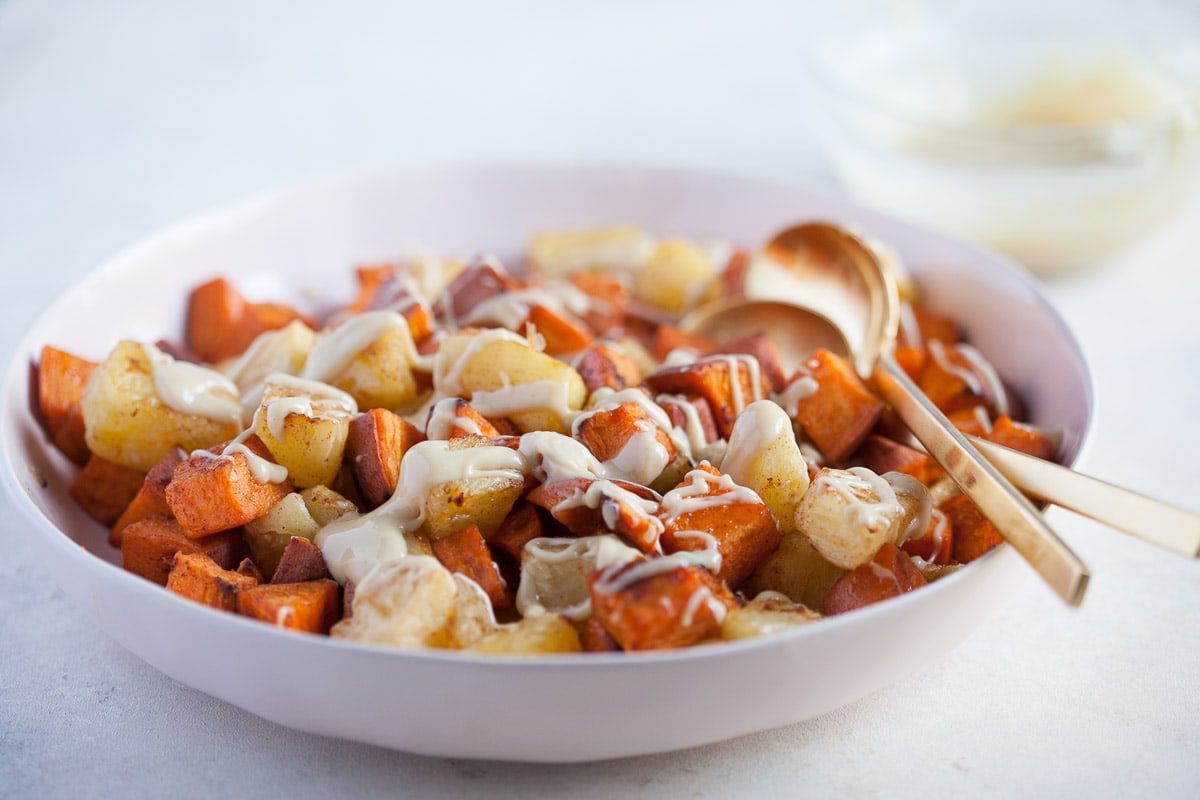 My time in New York inspired this Roasted Pineapple and Sweet Potatoes recipe. It's a city that holds a special plate in my heart.  I have watched from afar through the COVID crisis as the city hurt. But I've also watched with admiration while they have so powerfully bonded together.
My book publisher's office is in the city, and I do media interviews a couple of times a year in New York. My time there is always full of anticipation of something greater for my message and my business. It's always so invigorating landing on the ground there! It's full of passion and a drive that's unique to that city.
A Safe Place To Eat
On one of my early trips back in 2014, I stumbled upon the flagship restaurant for Hu Kitchen. This was long before they were creating the awesome paleo treats that are sold in stores. The flagship store had a sign out front that said: "It's time to get back to the way humans ate, before industry ruined food." I was sold! The sign also boasted that all of the menu items were free of soy, refined sugar, gluten, canola oil, gmo, and dairy and that the meats were grass-fed and poultry and eggs were organic.  Immediately, I fell in love with the vision and mission they have to make real food with minimal processing.
Honestly, Hu Kitchen is my first stop when I land in Manhattan. During a busy day full of meetings, you can find me there more often than not. I'll be there for breakfast and then again for lunch. There was a day where I walked to all of my meetings all over the city and I was exhausted by the end of the day to try to find somewhere safe to eat, so I utilized a delivery service to have Hu Kitchen brought to my hotel. Three meals in one day!
I also finished the edits for my second cookbook Meals Made Simple there. Hauled up in a corner on the top level for nearly 5 hours editing and typing away!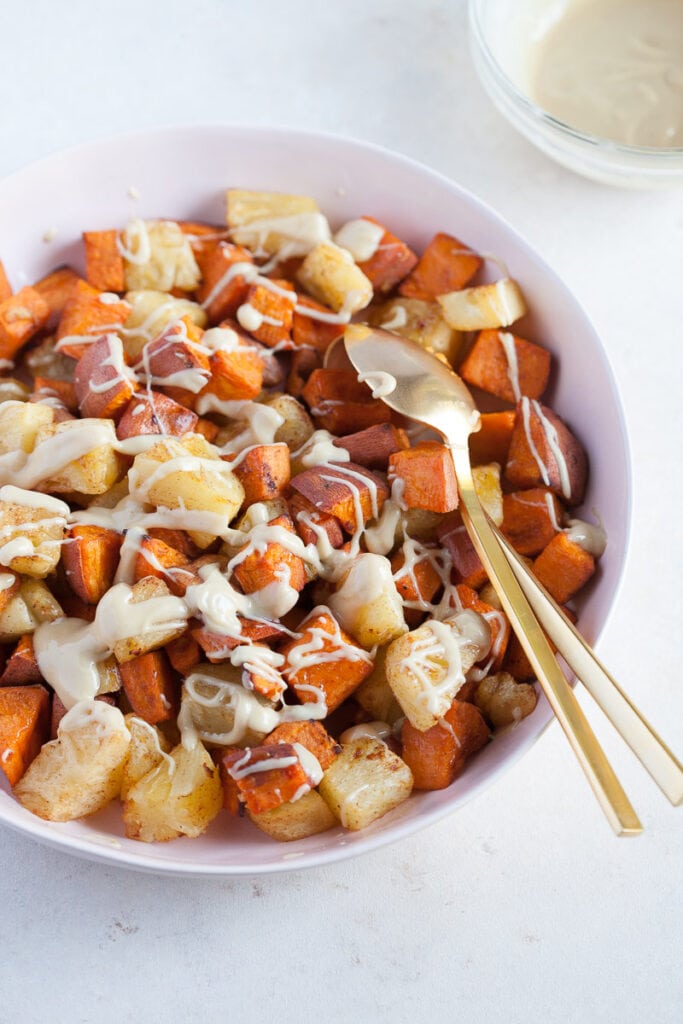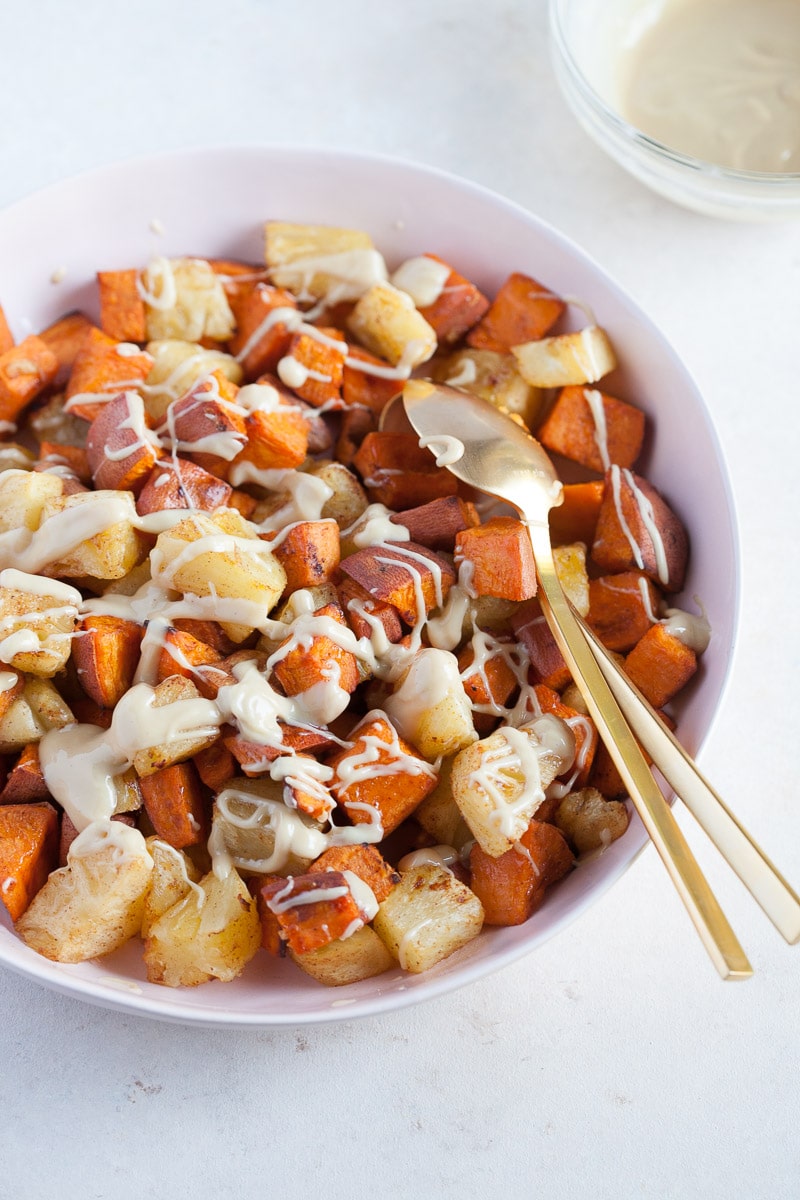 My Favorite Side Dish
My favorite side dish that they offer is the Roasted Pineapple with a Cinnamon Cashew Drizzle. This dish is just roasted pineapple with a light drizzle of cashew cream. Roasting the pineapple brings out the sweetness, and the cashew cream balances the tartness. I love how tender the pineapple gets after cooking. It always feels like a dessert and indulgent, but it's super simple.
I loved to get their almond flour-crusted chicken tenders or rotisserie chicken, load up my plate with other roasted veggies, and enjoy the pineapple as my dessert. With a chocolate bar tucked in my purse for the walk back, of course.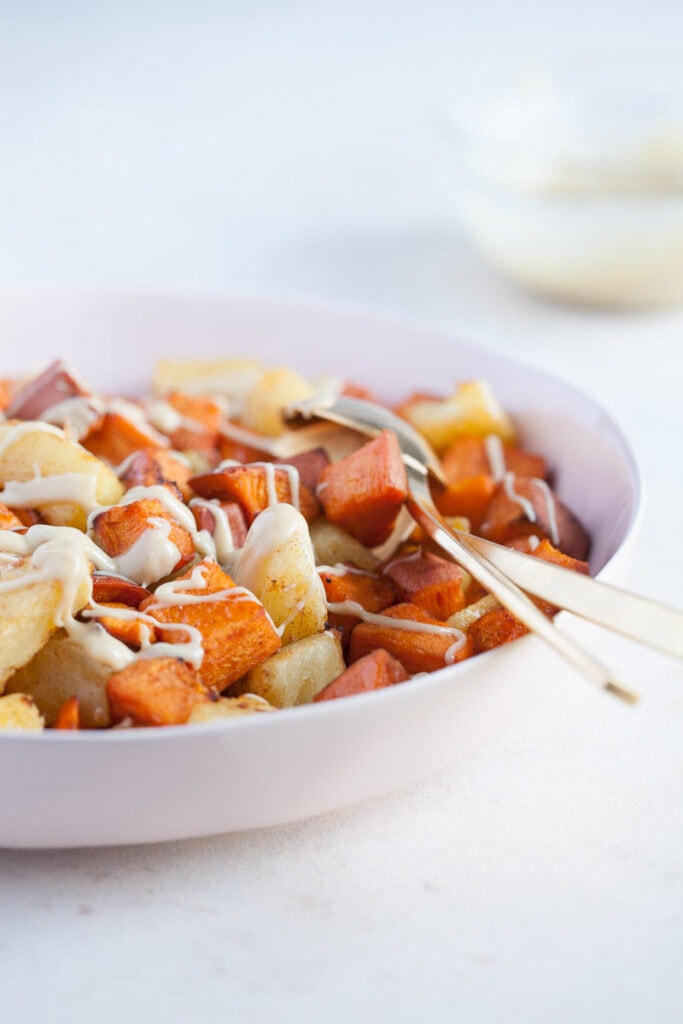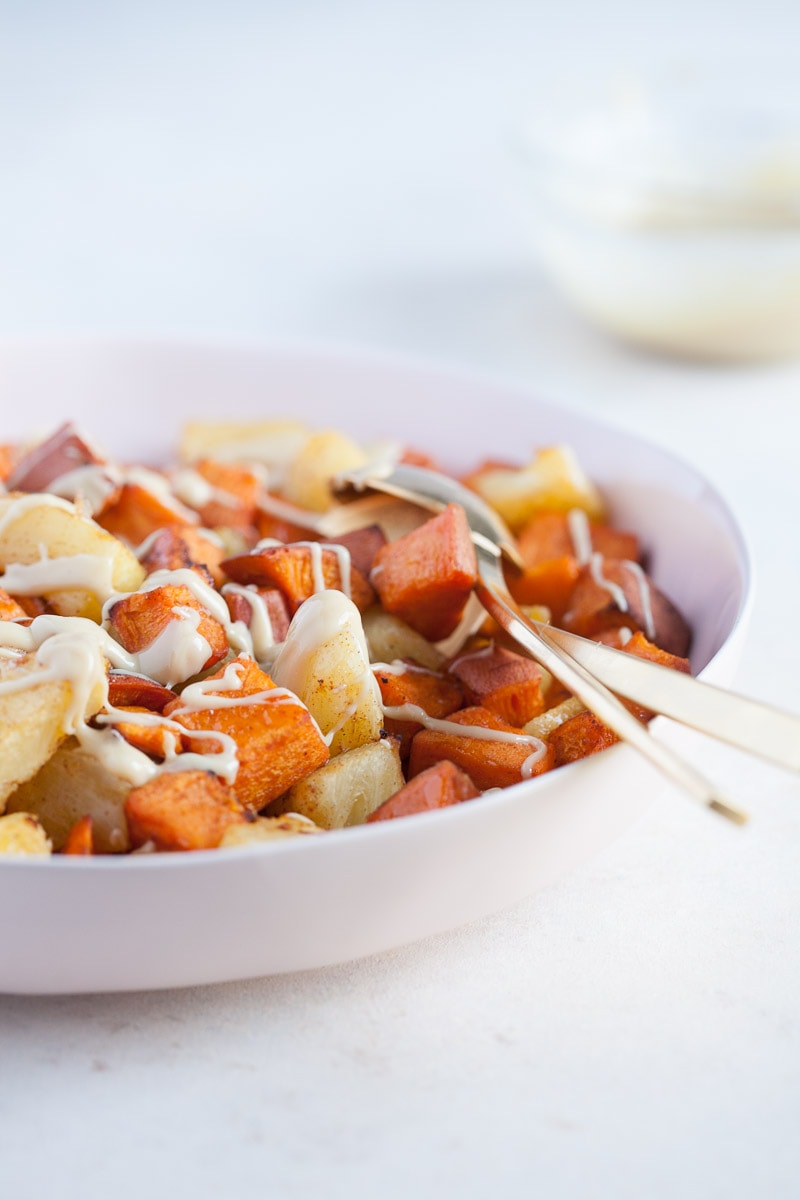 A Personal Twist
We've been eating a ton of pineapple lately, and I decided to recreate my favorite at home, with my own spin on it. I added sweet potatoes and tossed them in a little coconut oil and spices before roasting everything. Roasted Pineapple and Sweet Potatoes makes such a great summer side-dish, but I also feel like it would be great with apples during the fall. After the veggies and fruit are roasted, they're drizzled with a mildly sweet cinnamon cashew cream.