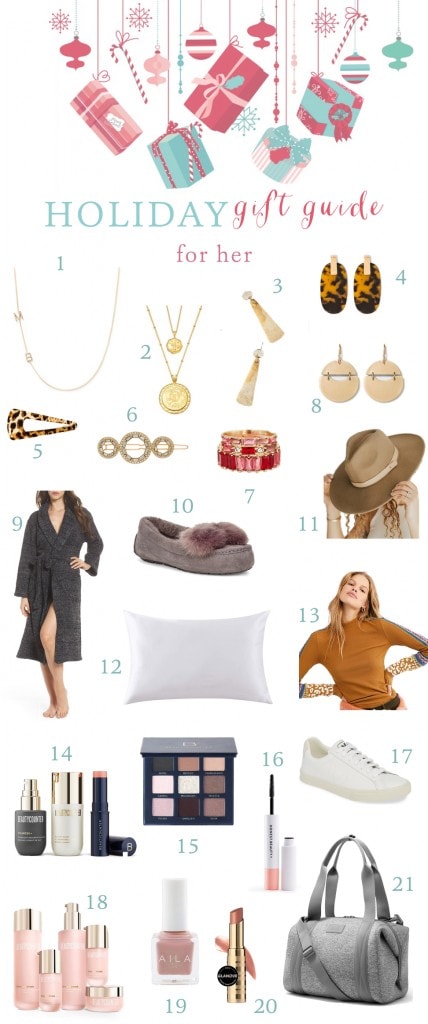 1 | 2 | 3 | 4 | 5 | 6 | 7 | 8 | 9 | 10 | 11 | 12 | 13 | 14 | 15 | 16 | 17 | 18 | 19 | 20 | 21
See the 2019 Gift Guides!
1. I never take this 14k gold necklace off. It has all 4 of my kids initials on it and I just love how dainty it is. I get so many questions about it, so I know it would be a wonderful gift! You can pick how many letters you have on it and even add more later.
2. I found this necklace while getting outfits together for the EWYL tour and have loved it ever since! It's a combination of two beautiful 18ct Gold Plated necklaces she'll love.
3. These are some of my favorite earrings. I love that they can be dressed up or dressed down, worn with any outfit!
4. Tortoise is timeless, and so are these cute earrings!
5. I love wearing a fun clip in my hair to add some character to an outfit. I love the cute tortoise pattern on this one!
6. This clip is so cute, and could be worn with a nicer outfit for some hair jewelry!
7. I wear this stacked set all the time! You can choose your birthstone color or just go with what you'll wear most. It's adorable with a casual top and jeans or goes nicely with a sophisticated dress.
8. I love wearing these earrings when I wear my hair in a bun or ponytail. They are the perfect length to compliment a casual up-do!
9. Every mom needs a good cozy robe, am I right? Not only for the hospital when your backside is exposed, but for the many, many days where getting dressed just isn't going to happen. This one is my all-time favorite. It's super soft and I really would wear it everywhere if possible.
10. Our floors are always so cold, my husband and I pretty much always have slippers on. But I also love taking a pair with me when I travel!
11. My Carly Jean Los Angeles pieces are some of my most worn, and this hat is no exception. It's a beautiful and fun addition to any outfit, and the khaki color goes with everything! Use DWCREW for 30% OFF your entire order!
12. I get lots of questions about the silk pillowcase that I use, and this is it on Amazon. I choose to sleep on a silk pillowcase because it is excellent for your skin and helps keep the frizz out of curly or wavy hair.
13. I wear this cute top under a fun jacket in the winter and let the sleeves peek through to add a unique look to a fun outfit. It's thermal fabric being the perfect layering top to keep warm this winter.
14. This trio gives a beautiful "no makeup" look to any face and it's non-toxic. I use the combo daily and love the dewy look it gives.
15. This eyeshadow palette has all of the classic colors you want with a beautiful shimmer to them. I use it all the time and love the velvety colors.
16. This is the best lengthening mascara I have found! I love that it's a trustworthy brand without parabens and silicone!
17. These cute sneakers are my favorite for a day running errands or paired with a cute outfit with jeans. They are well-made with organic cotton and support cotton farming families in Brazil!
18. BeautyCounter products are a fantastic non-toxic option for skincare! I use this set for cleansing and hydrating and have loved what it does for my skin!
19. This is my favorite brand for nail polish for many reasons. It would be a perfect gift idea! It is non-toxic and gluten-free, and the colors are so beautiful.
20. This is my favorite daily lipstick. It's just enough to add a little something but looks effortless. I usually layer it with a little peony lip gloss.
21. This is my favorite carryall. It has a padded laptop sleeve, a stretch key cord, a removable pouch for tech gadgets, a removable laundry bag, and two water bottle pockets. I also always use the small pocket on the back of the bag for my phone! It's great for travel or the gym!