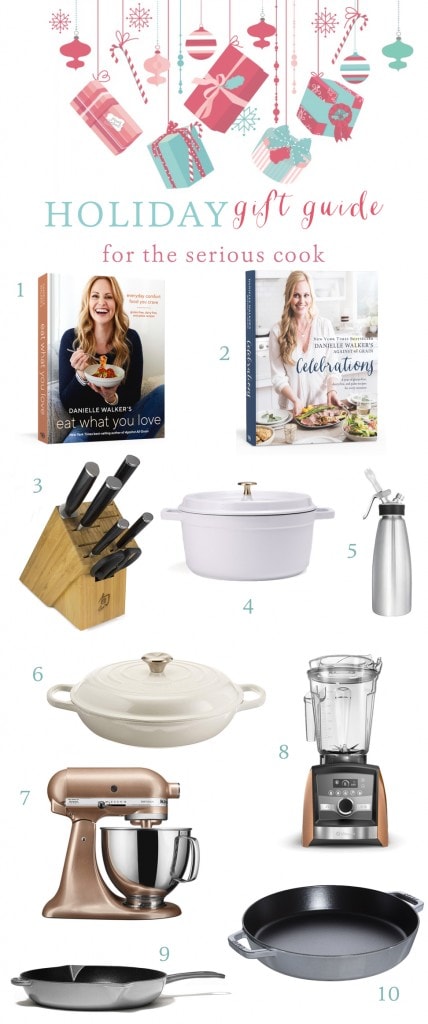 1 | 2 | 3 | 4 | 5 | 6 | 7 | 8 | 9 | 10 
See the other 2019 Gift Guides!
1. If you've changed your diet to grain-free and gluten-free, but miss all of your old favorites, this book is for you.  From pop tarts to chicken and dumplings, this book is filled with beloved comfort foods we crave.
2. For special occasions, gatherings, dinner parties, or holidays – this book is filled with the best classic recipes from Christmas to the Super Bowl.
3. These knives are my favorite and I've built up my collection over time. It includes herb shears, 3.5-inch Paring Knife, 6-inch Utility Knife, 8- inch Chef's Knife, and a 9-inch Bread Knife. I use this set for everything, and I love the bamboo block that holds them!
4. This cast-iron cocotte is perfect for all of your cooking needs. Works great on cooktops, and safe for the oven and broiler up to 500 degrees. I like using cast iron because it is so heavy, ensuring even heating for your dish.
5. I love using this gadget with my homemade whipped cream recipe. It helps the texture be smooth and adds a velvety creaminess to the topping! If you know someone who makes bakery style treats, this would be the perfect gift!
6. This is the best braiser I've ever had! It can evenly and thoroughly cook large cuts of meats and hearty vegetables.
7.  I underestimated how much I would appreciate a stand mixer until I had this one! It gives way for productive multitasking a lot less headache when baking!
8. This is the best option for anyone who wants a heavy-duty blender in their kitchen. It is sleek and beautiful and it also has a lot of power for blending smoothies, making hot soups, dips & spreads, and ice cream.
9. This cast-iron skillet from Staub is a fantastic gift for the skilled chef in your life. Cast iron typically lasts forever with proper care, and Staub is a trusted brand. It is safe for both stovetop and oven, being a great option for cooking a large variety of dishes. Plus cast iron provides great health benefits of ron transfer!
10. This famille pan is one of my favorites! I use it for frying, searing and browning on the stovetop as well as baking and oven roasting! It's large enough for family size dishes! Plus cast iron provides great health benefits of iron transfer!