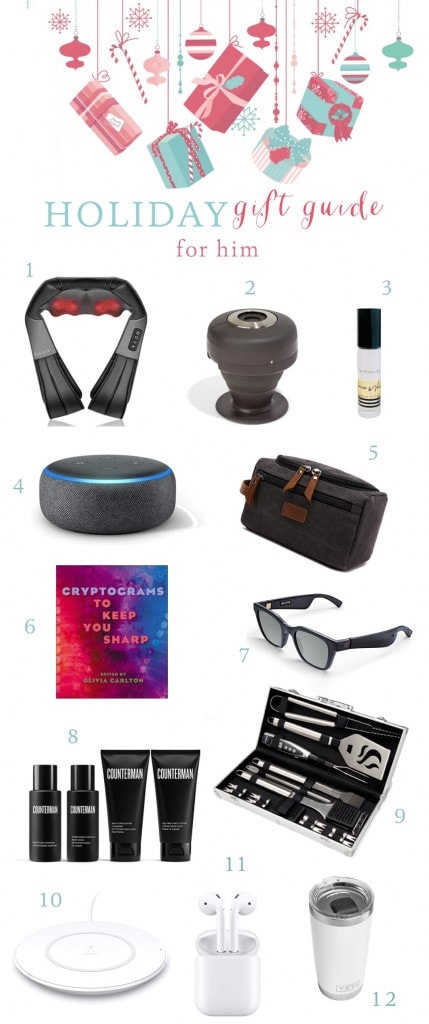 1 | 2 | 3 | 4 | 5 | 6 | 7 | 8 | 9 | 10 | 11 | 12 
See the other 2019 Gift Guides!
1.My friend Annie Downs recommended this, and immediately I snagged one for Ryan's birthday. He loves it because it fits comfortably while sitting at a chair or on the sofa. It has a pressure setting so that you can choose the intensity, and it's protected with a 15-minute overheating auto-shutoff!
2. I got this for Ryan for his birthday earlier this month, and it's already one of his favorite travel items! It makes a single cup of coffee that is cafe-caliber without ever having to leave your hotel room or campground! It's easy to travel with, and I have a good feeling the man in your life would love it too!
3. Ever since Ryan has gone cologne-free, he's been using this oil roll-on! We both love the scent, and it can be for men or women. It is a combination of pure essential oils and synthetic, but it's phthalate and paraben-free, so we feel more comfortable using it!
4. Before we had Alexa, I had no idea how much we would use her! (It?) The kids like to ask her to read stories and play music, but Ryan and I love it for quick questions and reminders! Plus, it has been on a MAJOR sale for the holidays, not sure how long it will last!
5. Who doesn't need a new toiletry bag?? This one is simple, with great pockets and compartments. It's nice because the largest zipper is big enough to hold a full-size shampoo bottle and toothpaste! Ryan doesn't travel without this!
6. The ideal gift for the brainiac in your life! This book is filled with loads of Cryptograms, which are substitution codes, and every letter in the code has been replaced by some other letter. Sounds tricky, huh? Ryan can spend an hour working through these, especially during flights!
7. These are one of the coolest things I've seen- sunglasses and headphones in one! They are Bose, too, which means its a reliable audio brand that stands true to the quality. They are Bluetooth activated and have an integrated microphone for crisp, clear calls!
8. BeautyCounter isn't only for women! Ryan loves the handy travel pack of the essentials. It includes shampoo, body wash, face lotion, and a daily exfoliant. BeautyCounter is my favorite because they produce clean products that work.
9. This BBQ Tool Set is of high quality and long-lasting. We have it for our needs at home, and Ryan uses it all the time on our Green Egg! It includes a chef's spatula, grill tongs, silicone basting brush, eight corn holders, five skewers, cleaning brush, replacement brush head, aluminum storage case, and a digital temperature fork!
10. This is the most convenient charging method that I know of! We love that you can place your device on top of it for charging. It works with iPhones and Airpods, and you get a full charge quickly!
11. Air Pods are always a great gift idea! Ryan loves how easy they are to wear and multitask. You can feed kids, listen to a podcast, and take a call without ever picking up anything extra!
12. This tumbler is amazing; it keeps drinks cold for HOURS- even when the cup is sitting in the sun! Plus, it is BPA-free, dishwasher safe, and it doesn't sweat or leak!