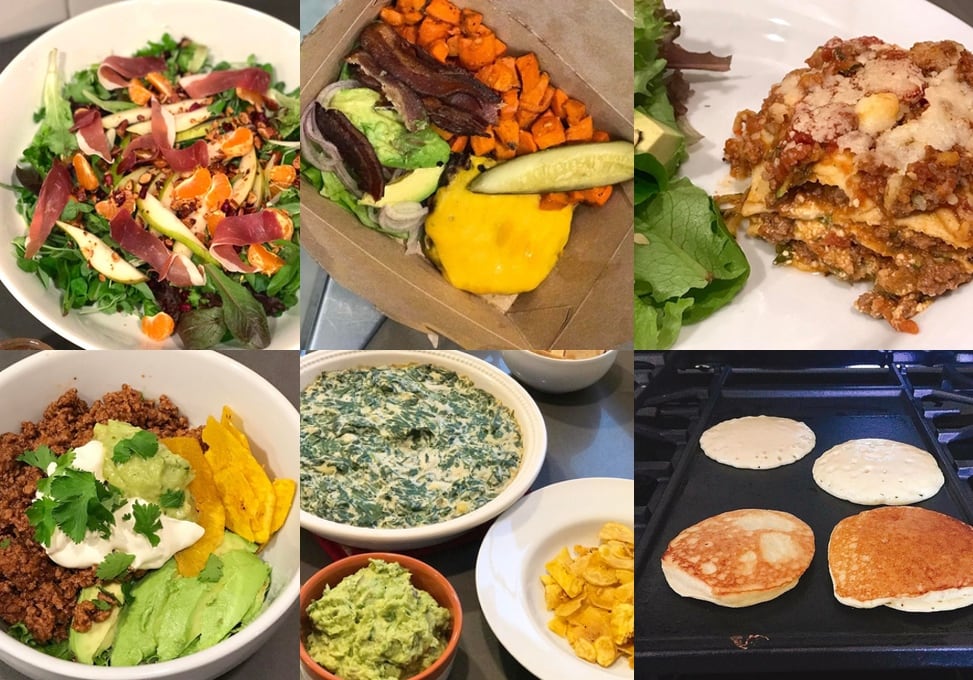 The last two weeks have been filled with great friends and great food!  Read this week's digest to see what we have been eating (and craving), my latest Facebook Live video and our latest sonogram picture of our little girl!  Plus lots of scrumptious suggestions for the big game on Sunday!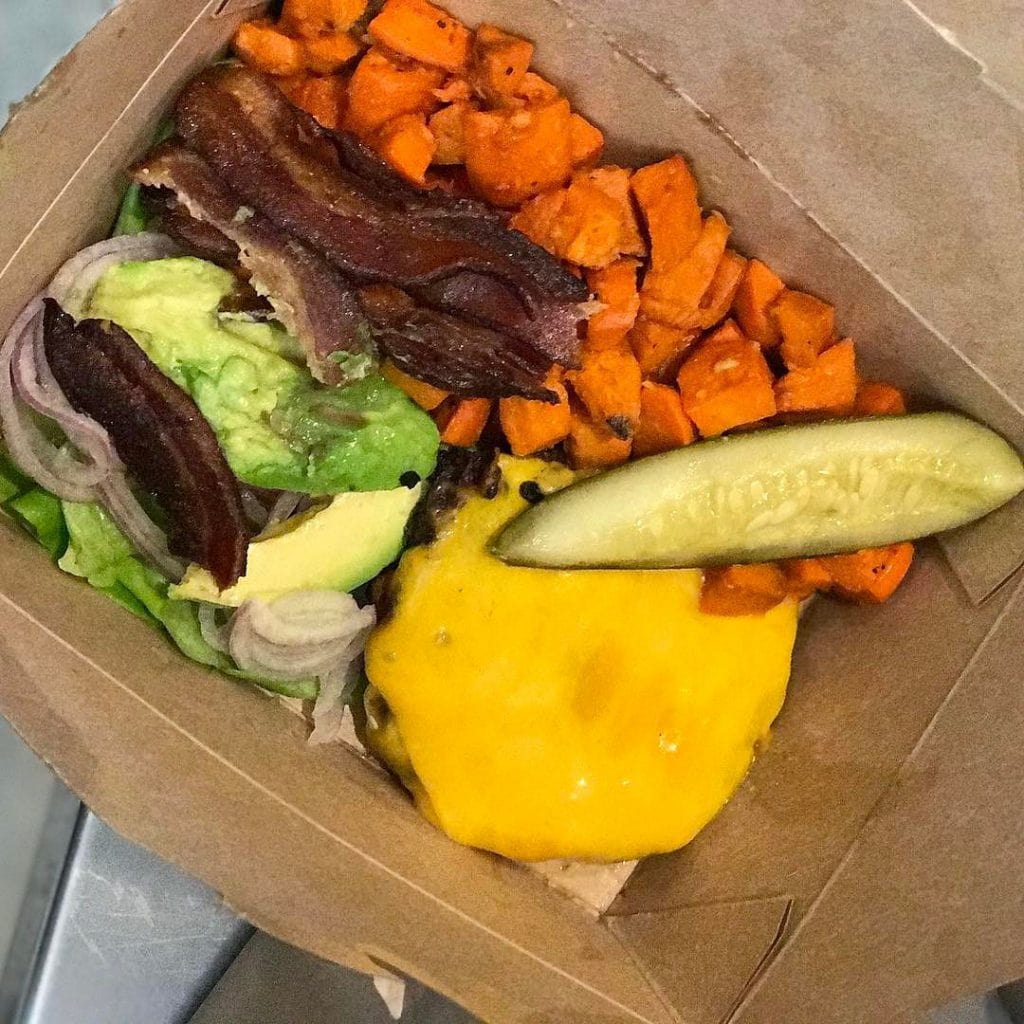 SFO terminal 2 is the best terminal for airport travel food – grass-fed burger, no bun, all the fixings (except I'll scrape that cheese off bc it's not grass-fed/raw which I don't tolerate as well) and a big side of roasted sweet potatoes and Brussels.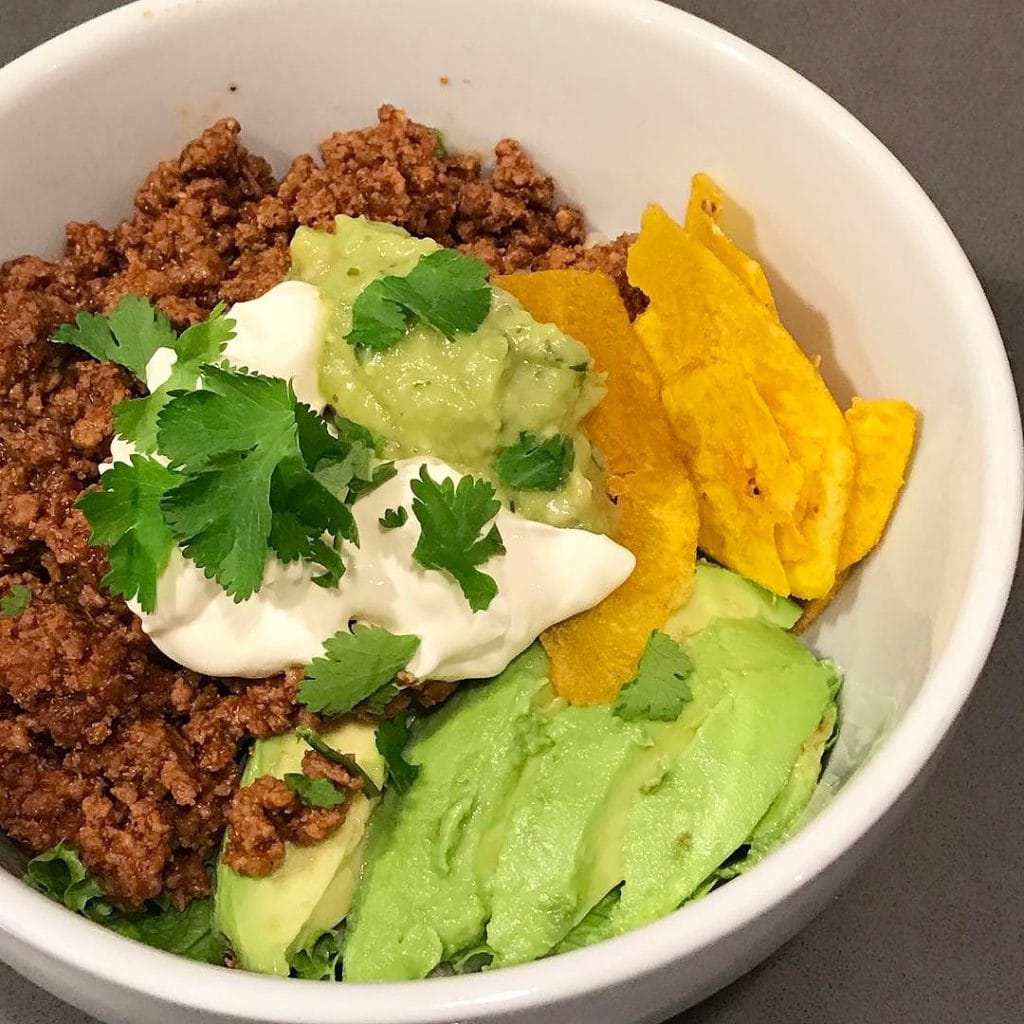 Made taco bowls for dinner the other night. One of our most frequent fall-back meals when I'm out of time or just tired! I keep a jar of the taco seasonings from Meals Made Simple (Page 244) in my cupboard at all times. Did you know that most store bought packs have wheat or corn in them?
Served over lettuce with avocado, lactose-free sour cream, grass-fed raw cheddar, plantain chips, cilantro, and tomatillo avocado salsa.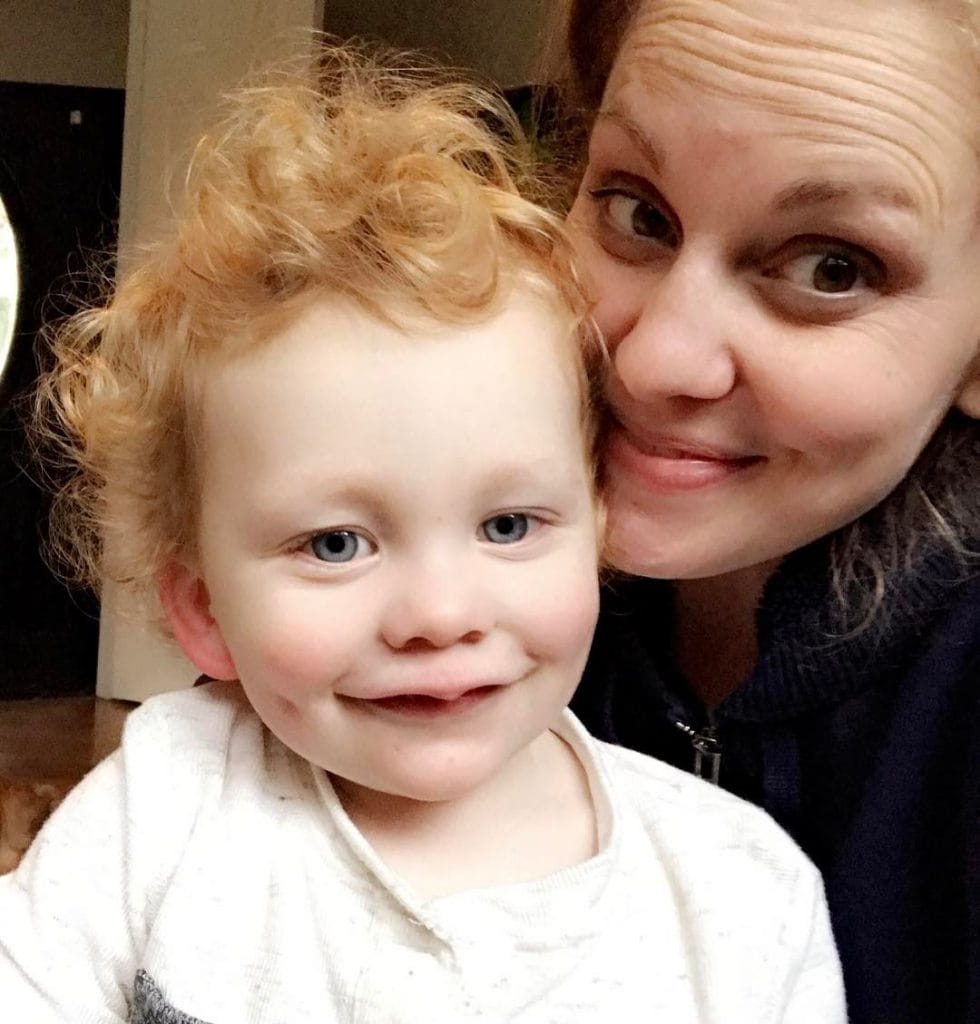 It was a no nap type of a day (5 teeth at once!) but at least we're all smiles!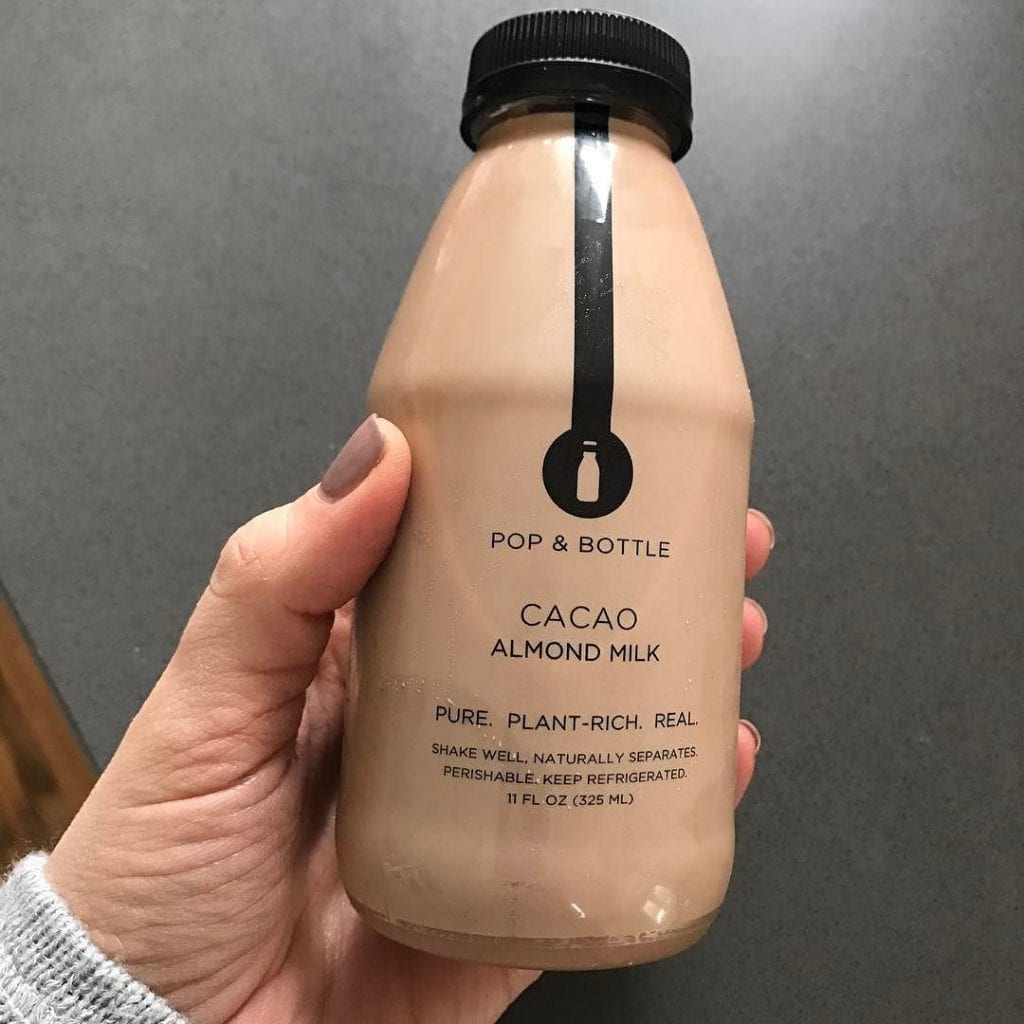 Current favorite treat that I get at Whole Foods.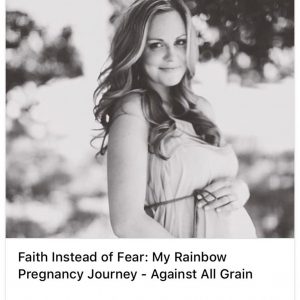 I was reminded of this article I wrote for the Today show when I was pregnant with Easton a couple of years ago. We are almost 3 years out from losing our precious Aila, but the feelings in this post are still so raw and real with this new pregnancy. If you know anyone carrying or trying for a rainbow baby, I hope they find this post encouraging.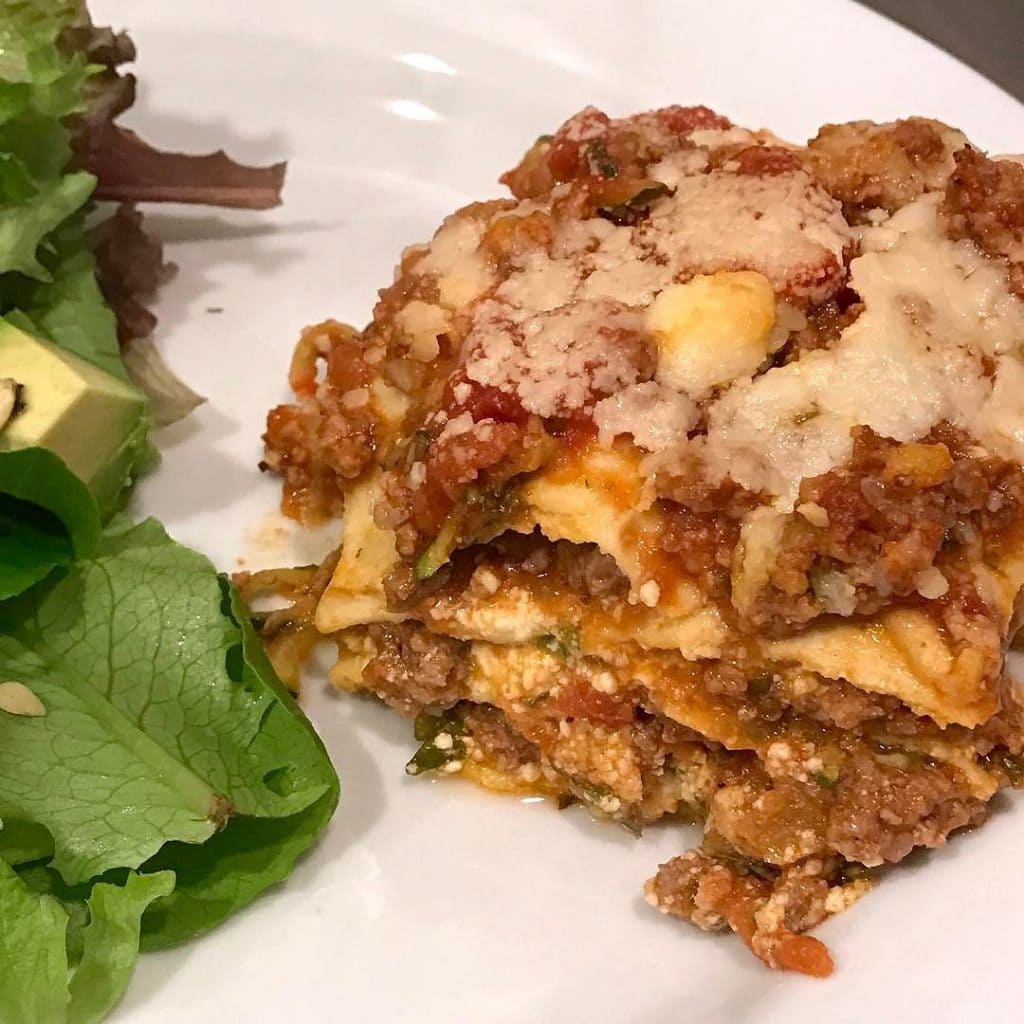 Here's what I made on Facebook Live last Tuesday. My dairy-free lasagna recipe from my first book Against All Grain! You can watch the video here.
The grain free tortilla recipe is on my blog. Remember I am Live on Facebook every Tuesday at 4:00 pm PST. Tune in as I usually have great give-aways (see next post)!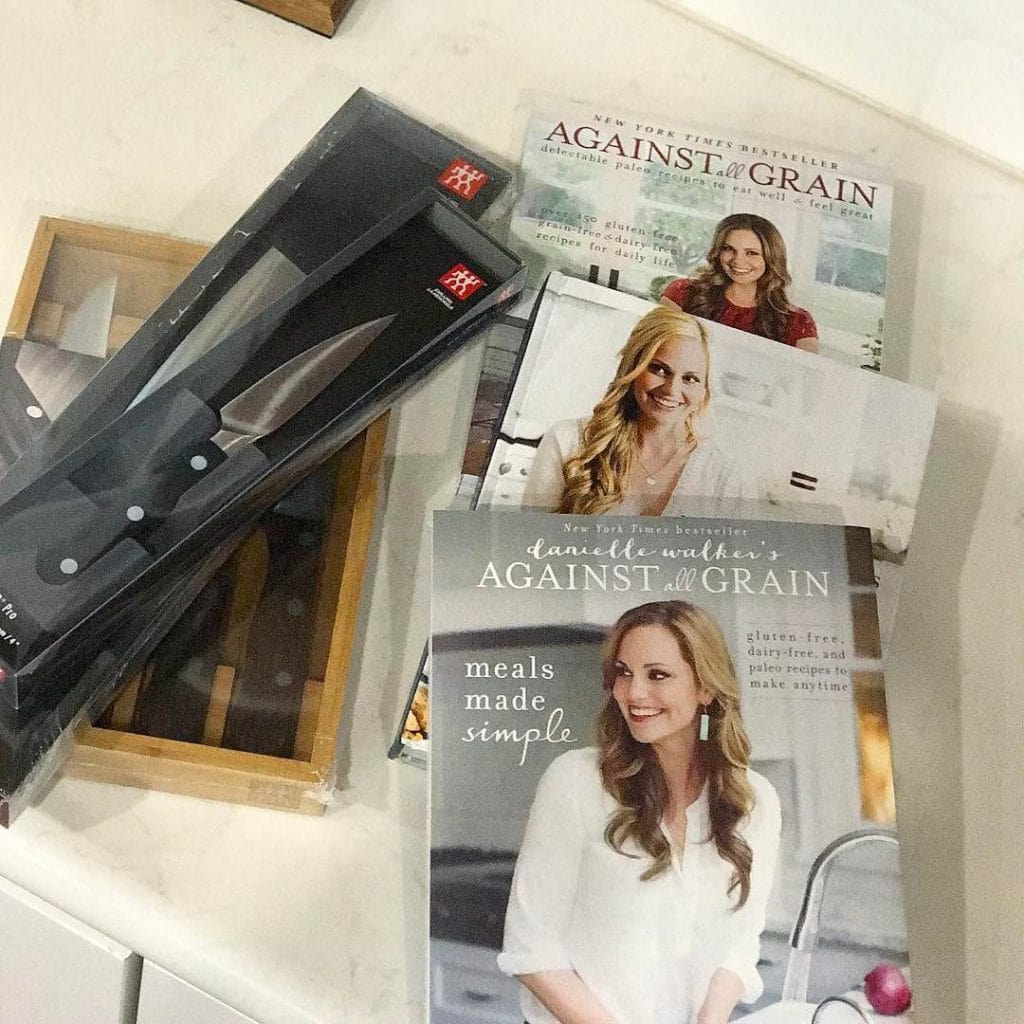 A lucky viewer won my FACEBOOK LIVE Giveaway last Tuesday!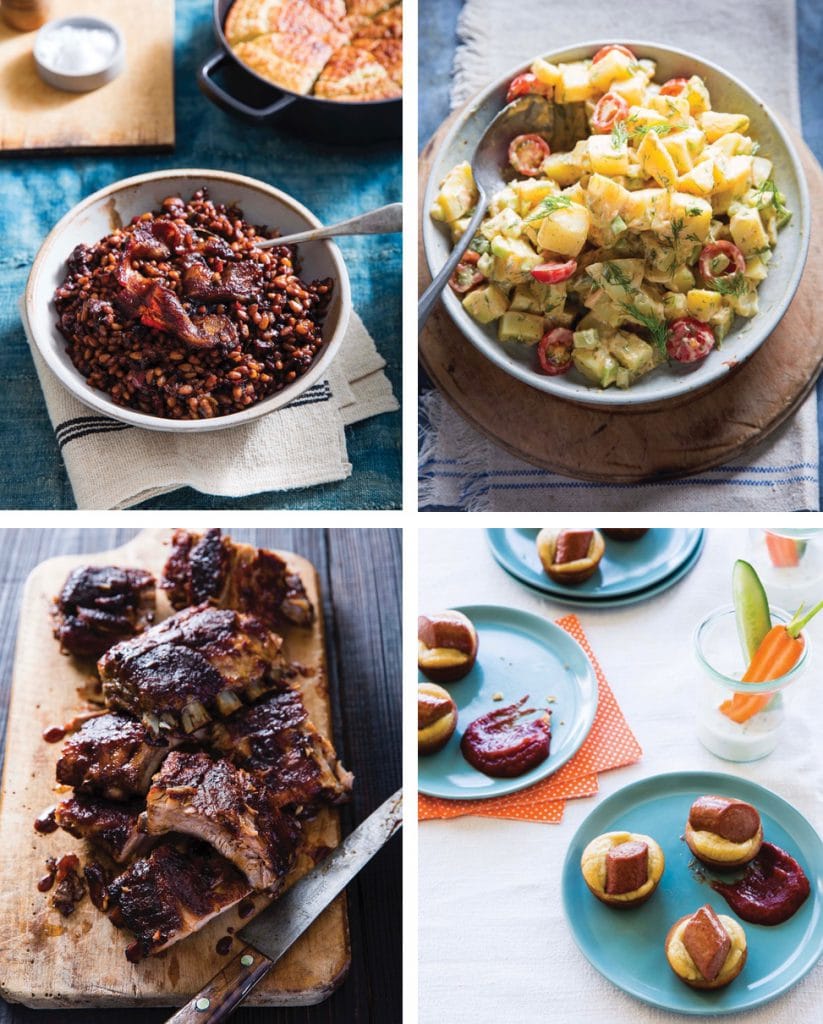 If you're craving more of a BBQ comfort foods type of spread for your Super Bowl party, these recipes from Celebrations would do the trick!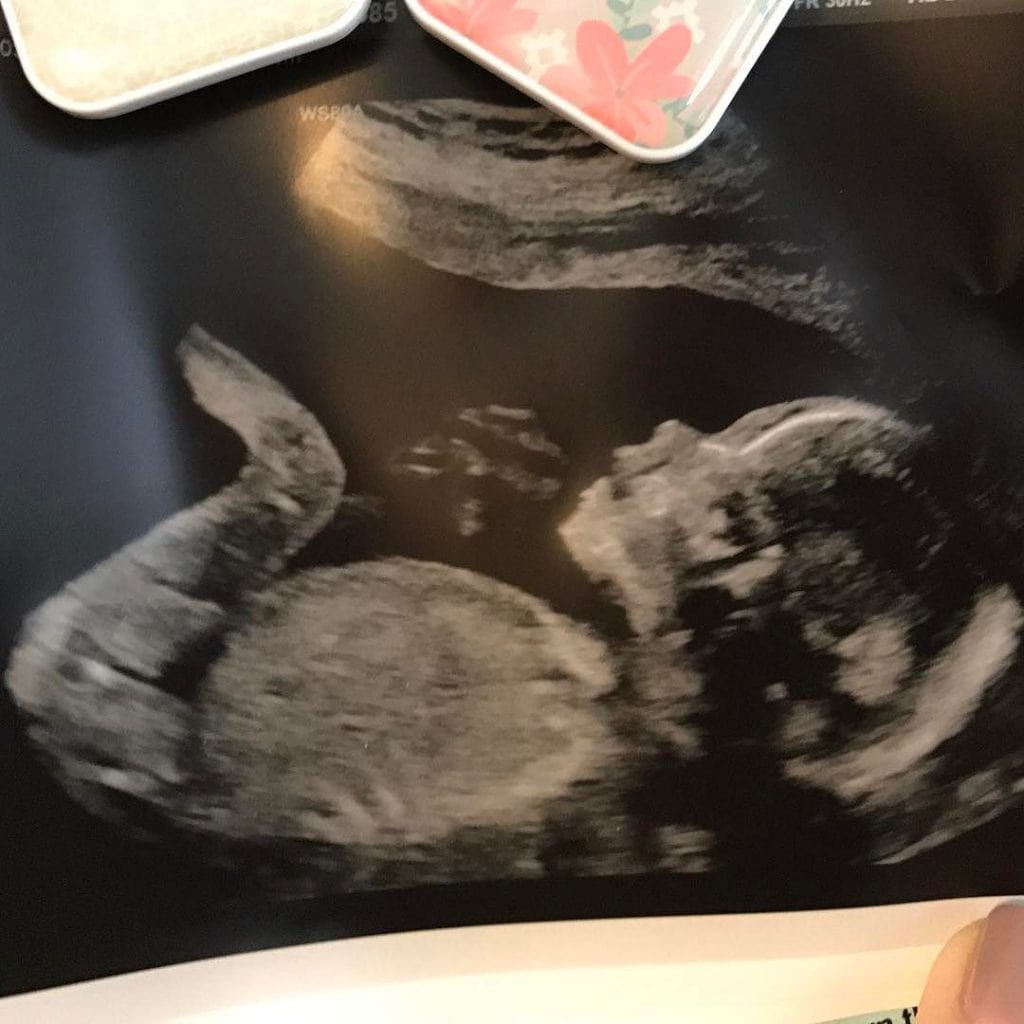 She has no idea how wanted and loved she already is.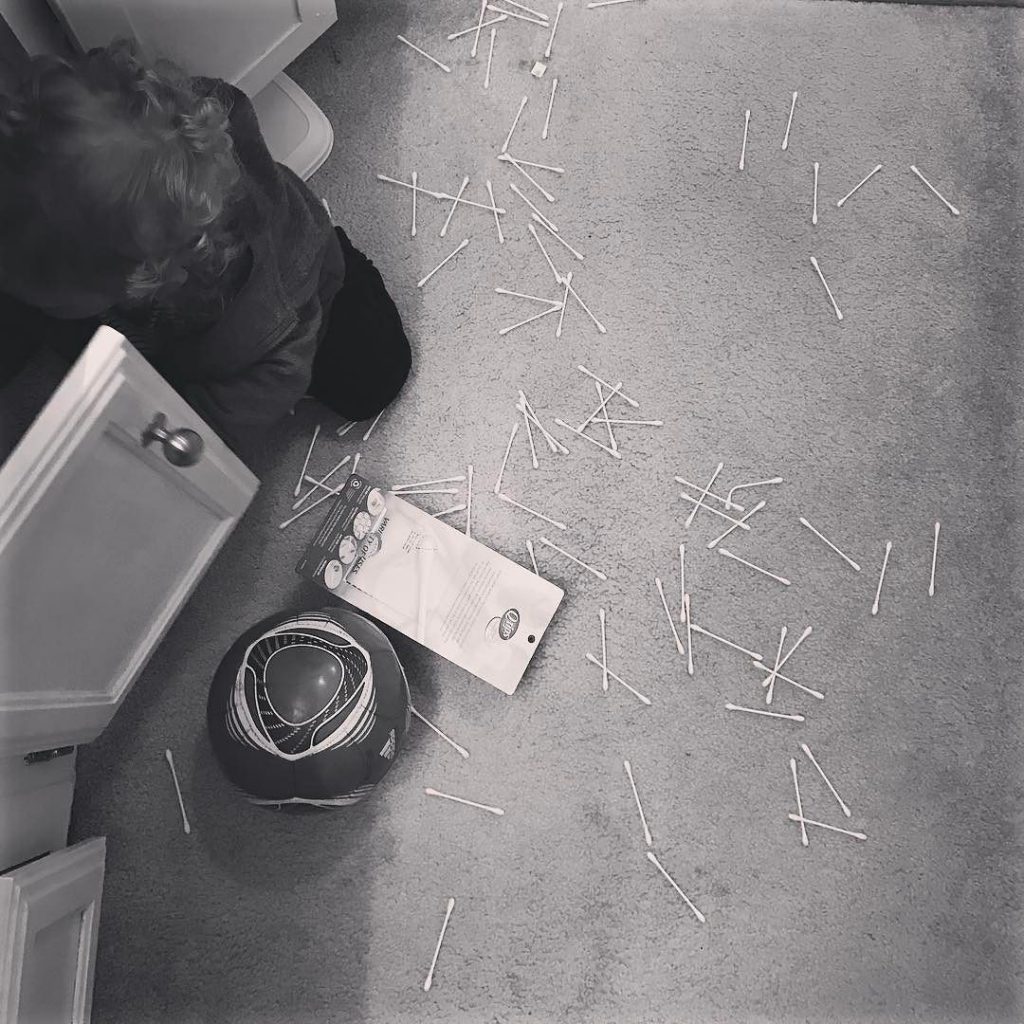 Easton playing a game of q-tip pick up!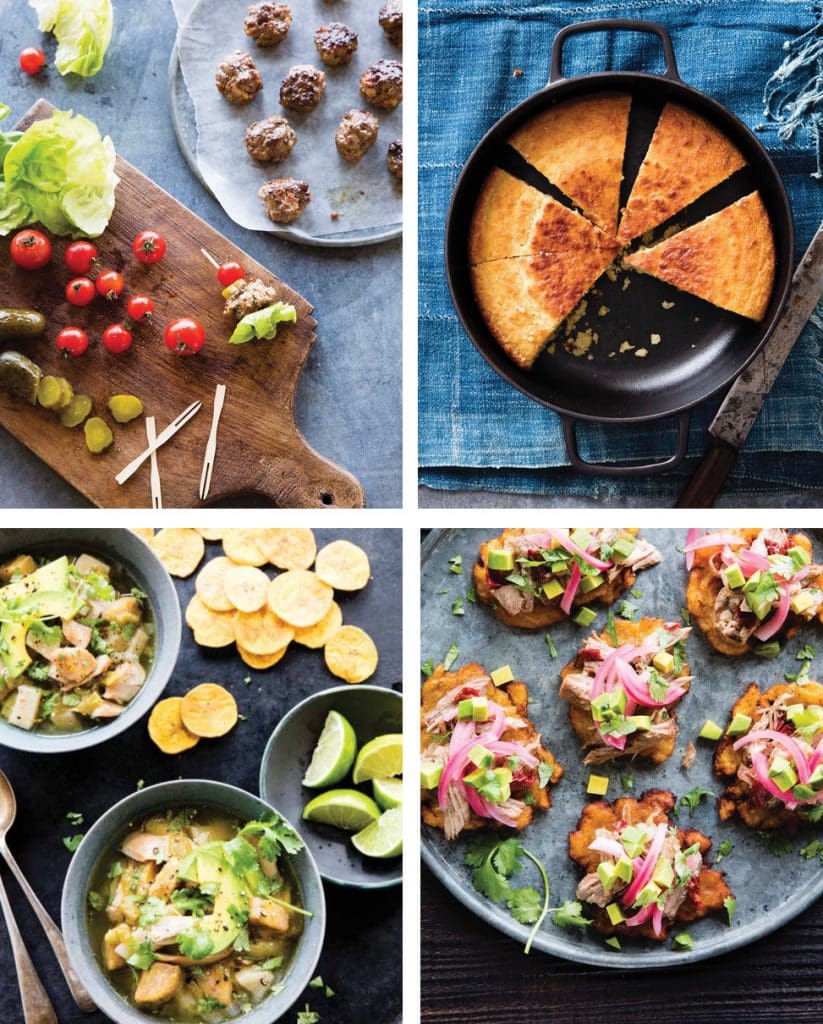 Probably my favorite Super Bowl menu inspiration from Celebrations – the Comfort Food menu! Bacon Burger Bites (page 140), "Corn" Bread (page 131), slow cooker Chicken Green Chile Soup (page 58), and slow cooker Carnitas (page 57) on plantain tostadas.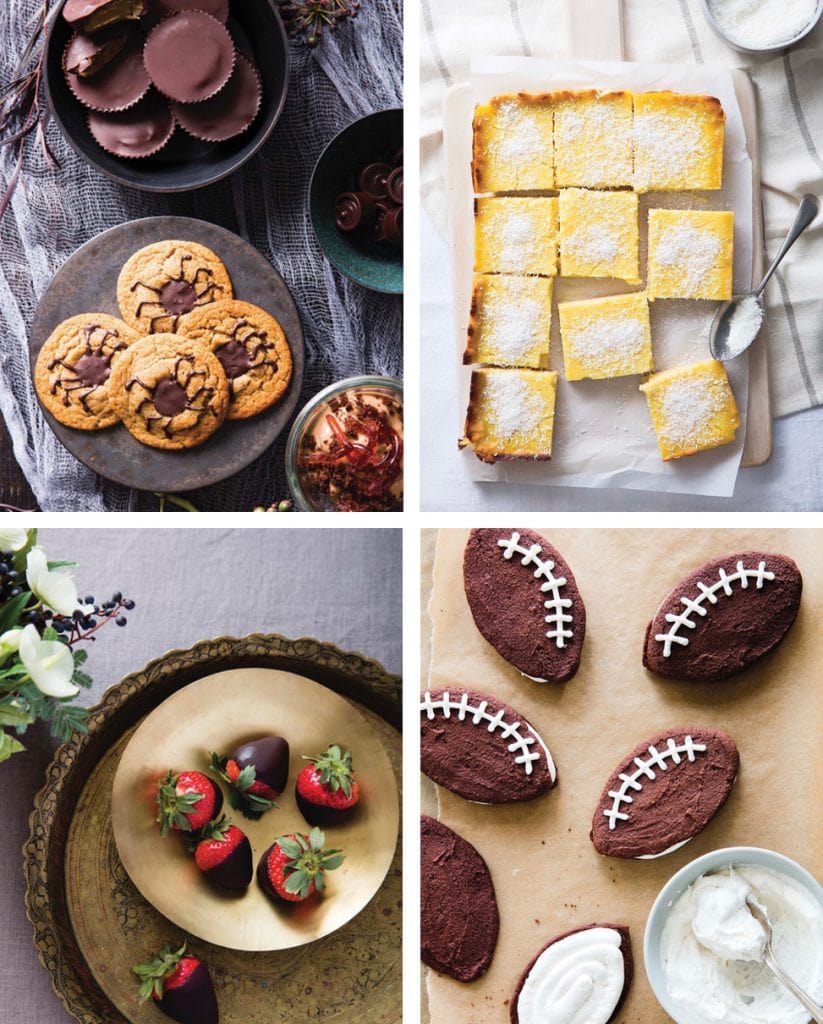 More Super Bowl inspiration for you from Celebrations.
Nut-Free "Peanut" Butter Blossoms – page 206 *pipe a football shape instead of the spider!
Nut-Free Lemon Bars – page 117
Chocolate Strawberries – page 40 (homemade dairy and refined sugar free shell)
Whoopie Pies – page 61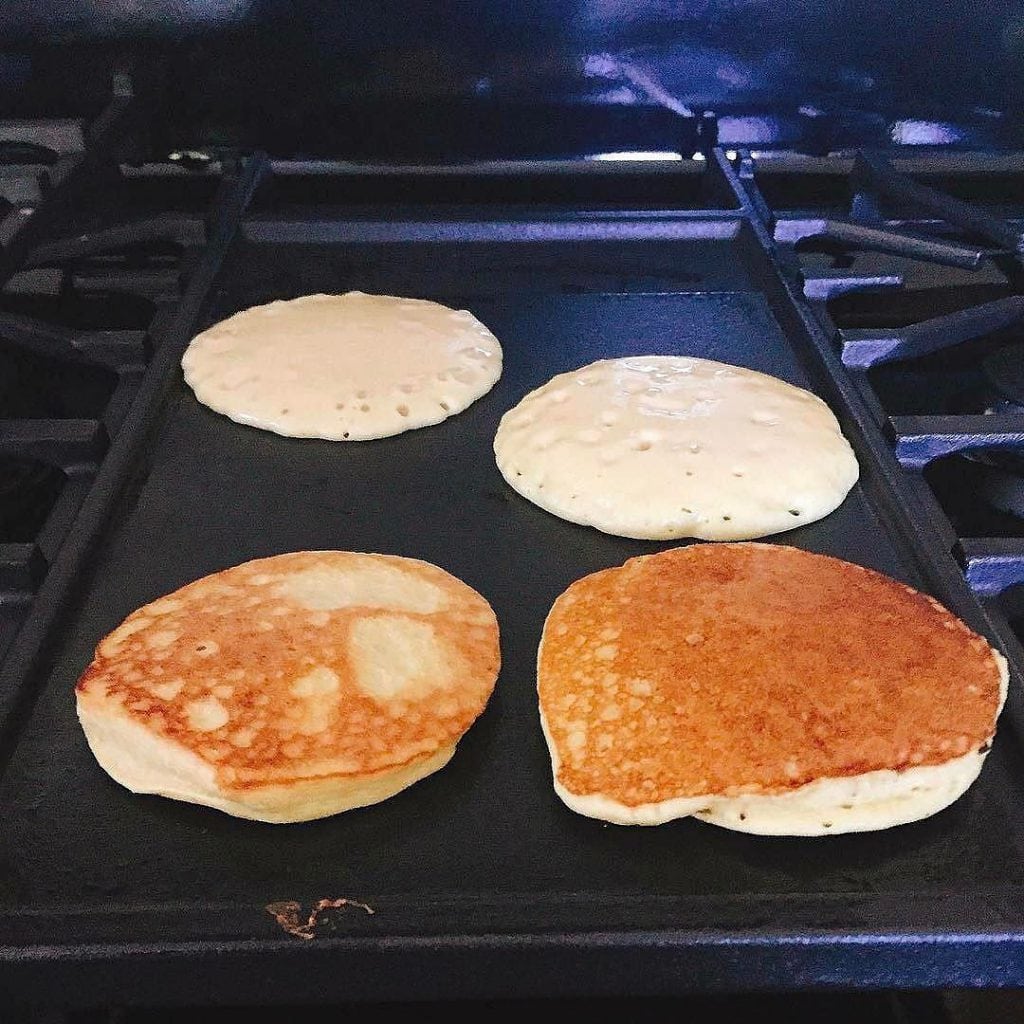 Keeping on with our Saturday morning tradition of fluffy grain-free pancakes for the boys.
Have you tried the new recipe from Celebrations (page 68) yet? They're my fluffiest pancakes yet!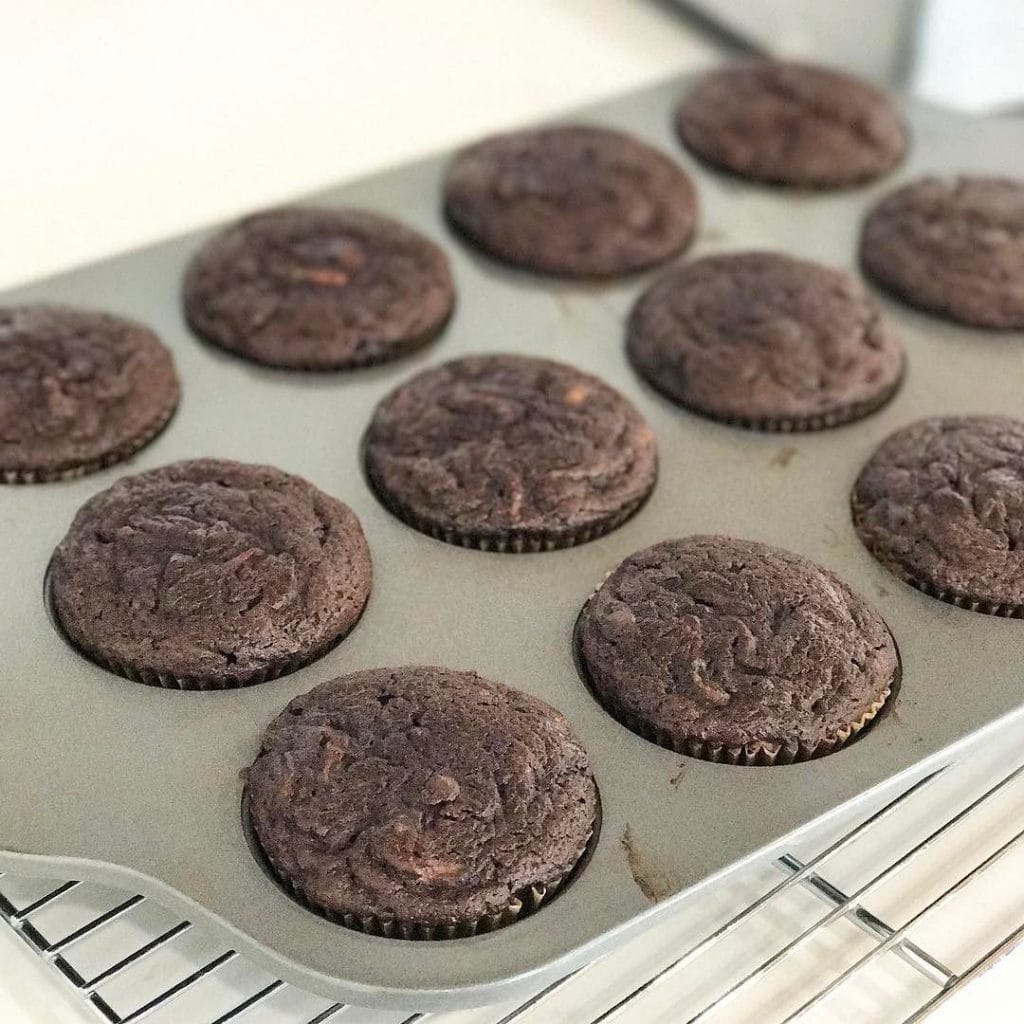 Made a batch of my nut-free Chocolate Zucchini Muffins yesterday and also threw in some puréed broccoli. Both my boys thankfully will eat whole Broccoli on its own but I had some extra from a soup so I figured why not?!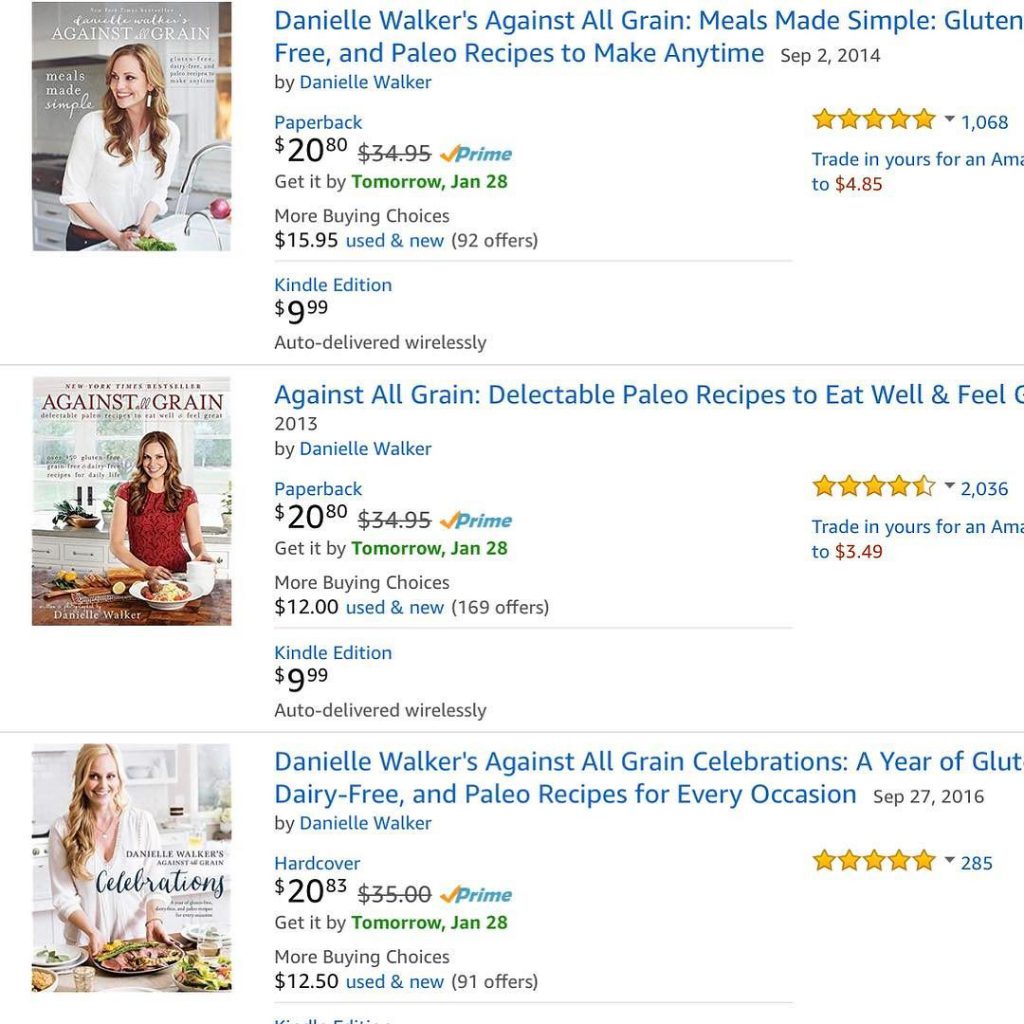 All 3 of my books are on sale on Amazon if you need to complete your "trilogy" or are looking for a gift idea!
Meals Made Simple, Against All Grain and Celebrations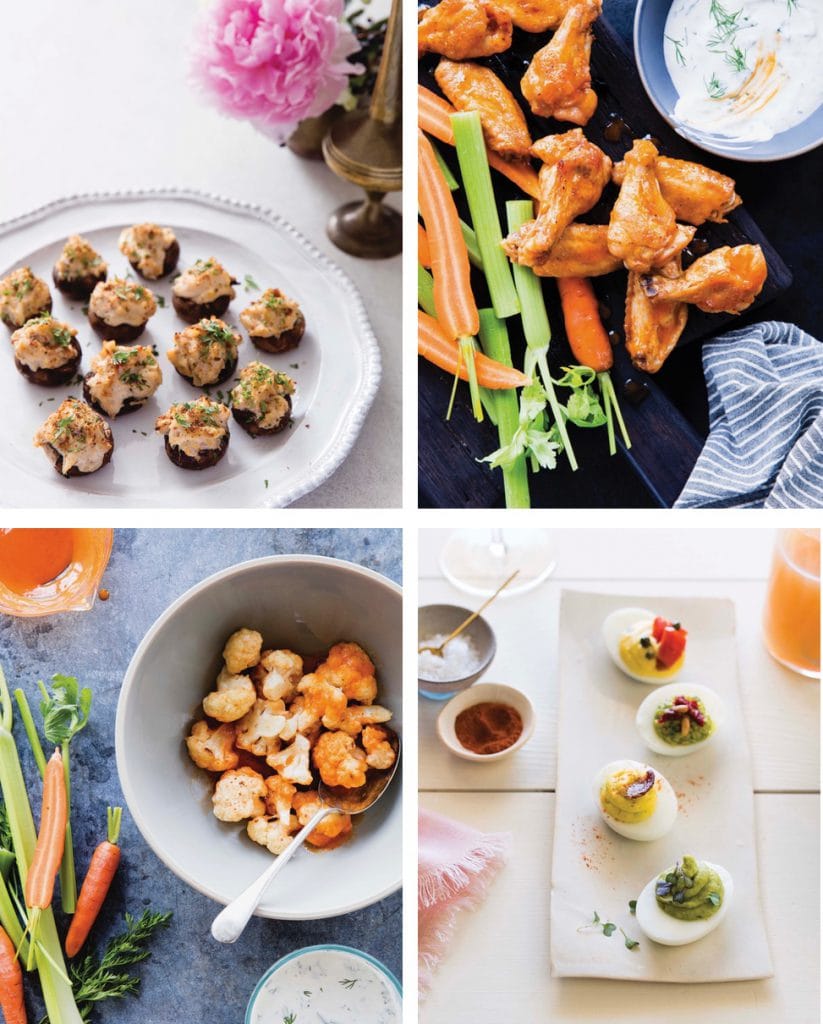 Super Bowl snacks anyone? These recipes are in Celebrations
Those crispy Buffalo Cauliflower bites (page 54) are one of my favorites, and the Truffled Bacon Deviled Eggs (page 187-88) are a serious craving for me lately!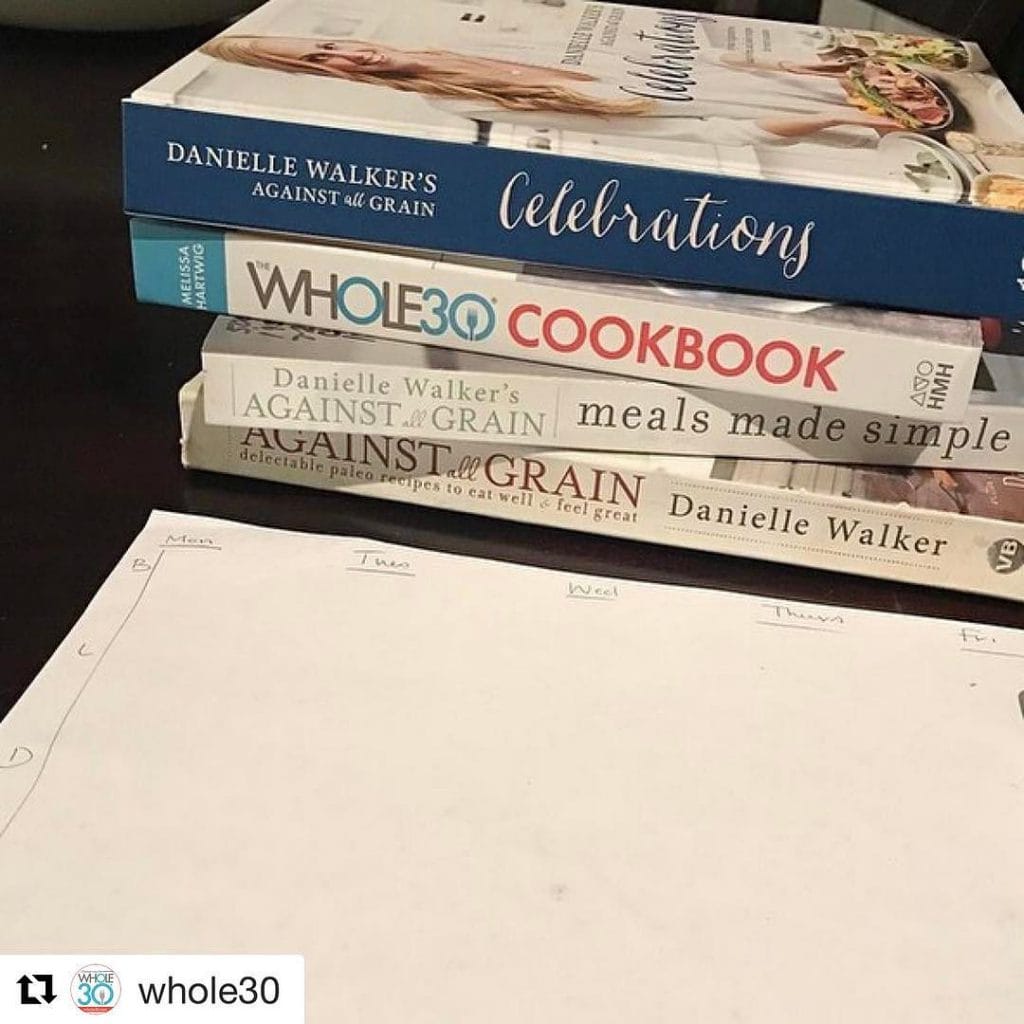 Had a great event with Melissa Hartwig at Book Passage in Corte Madera!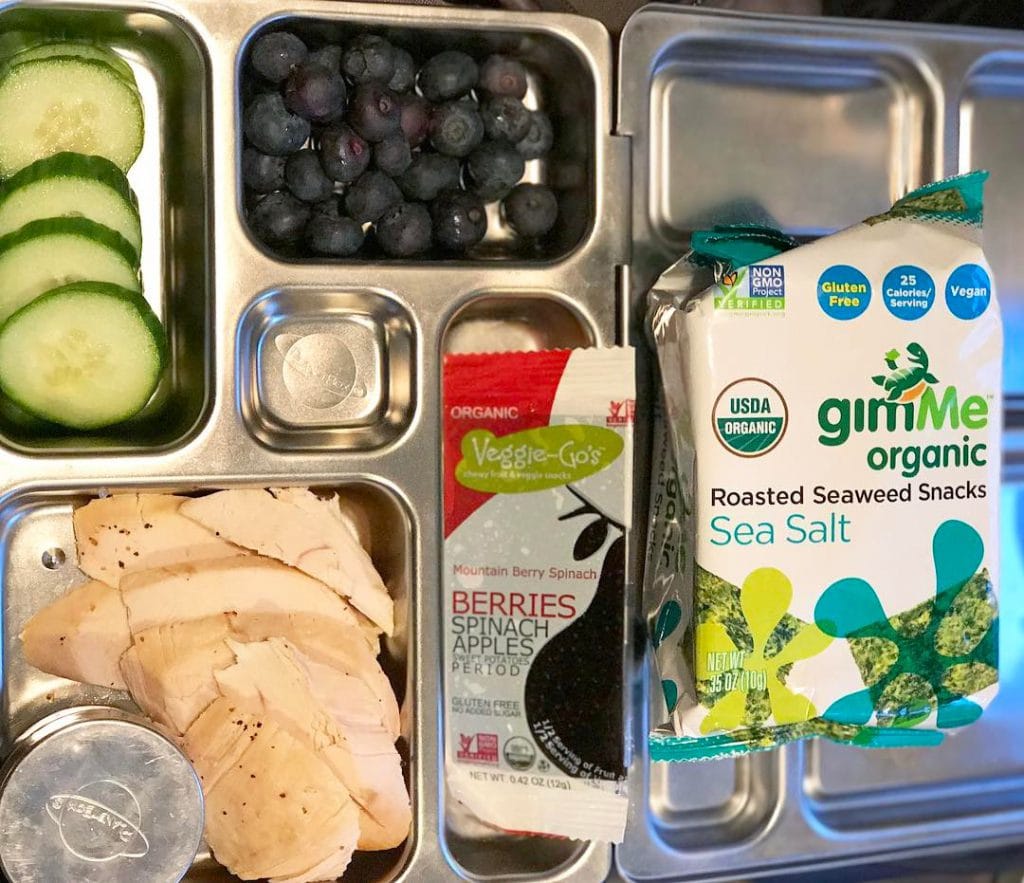 Asher's lunch last week.  Leftover roasted chicken with ketchup, cucumbers, blueberries, fruit leather, and seaweed.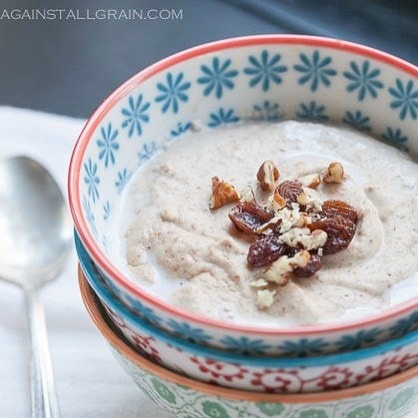 If you're starting to tire of eggs or leftovers for breakfast (I know I am!) and want something warm, comforting, and hearty – try my Banana Nut Porridge! A batch lasts in the fridge for a few days because you only need a small portion to really fill you up.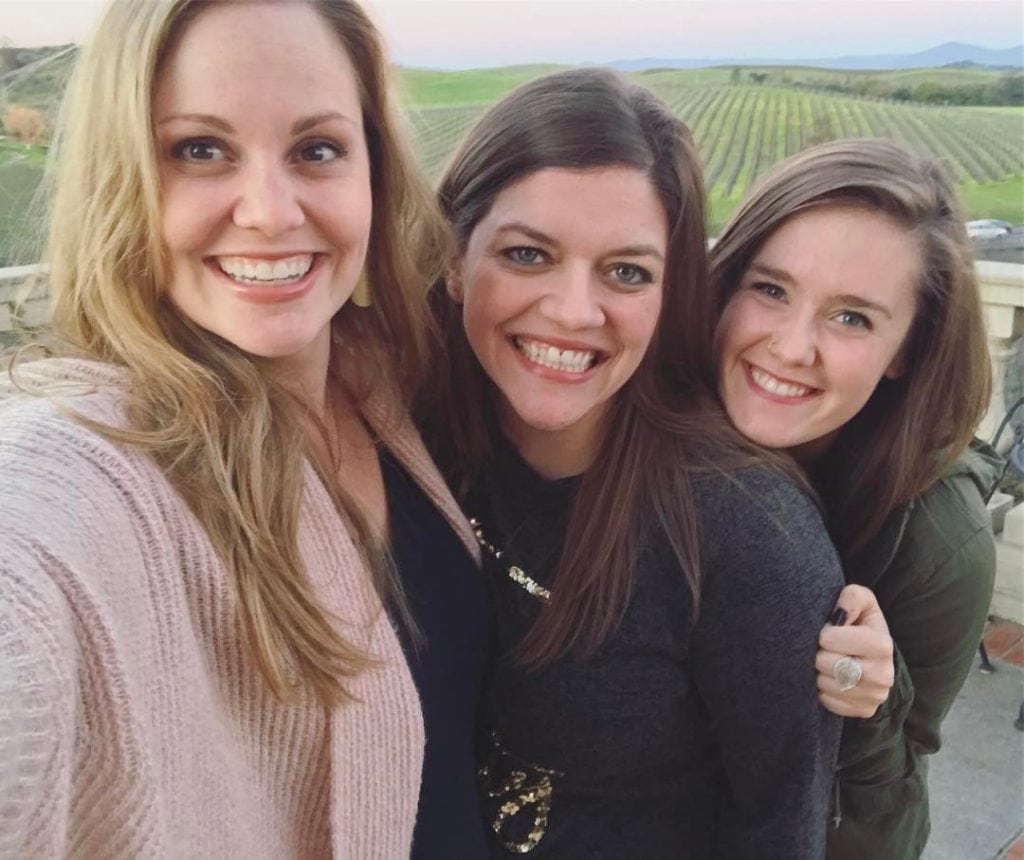 Love when dear friends come to stay with us. We'll miss Annie Downs and her sweet sidekick Eliza loving on our kids, and the good meals and conversations by the fire at night!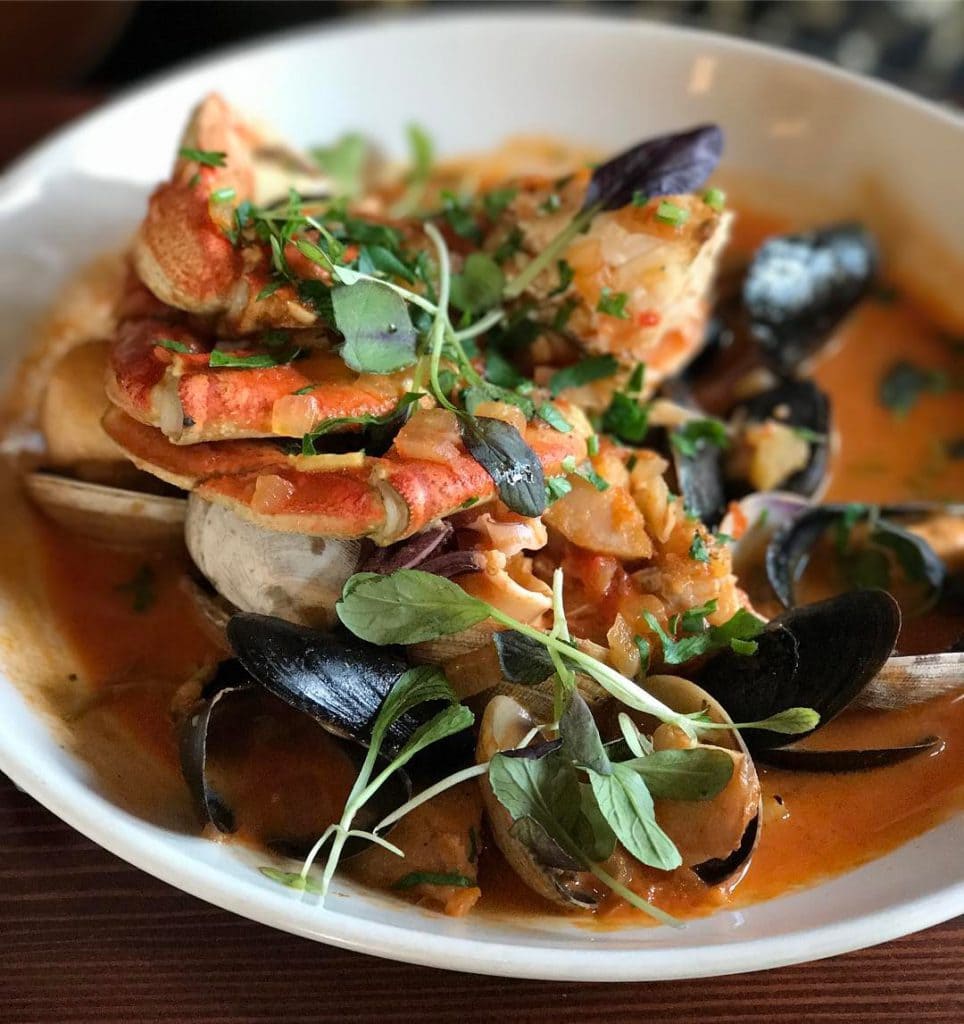 Annie ordered the yummy Cioppino at Farmstead at LMR.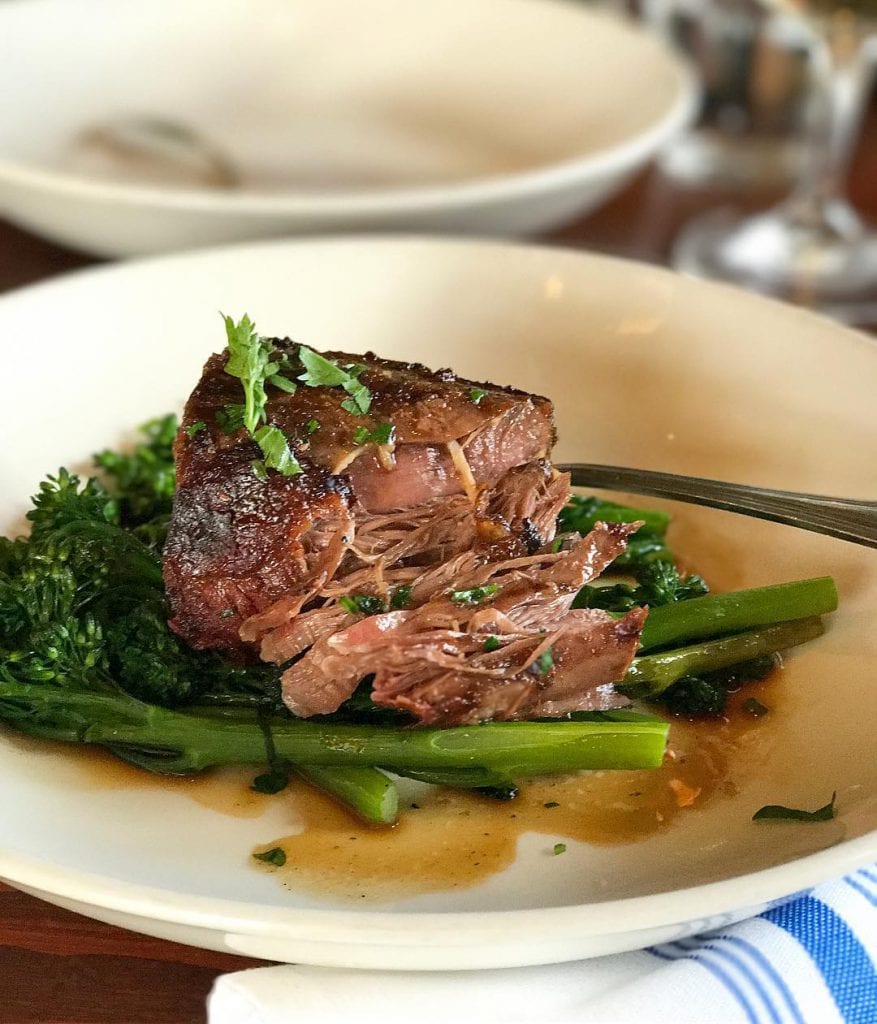 I had an amazing grass-fed beef shoulder at LMR during our visit to Napa last week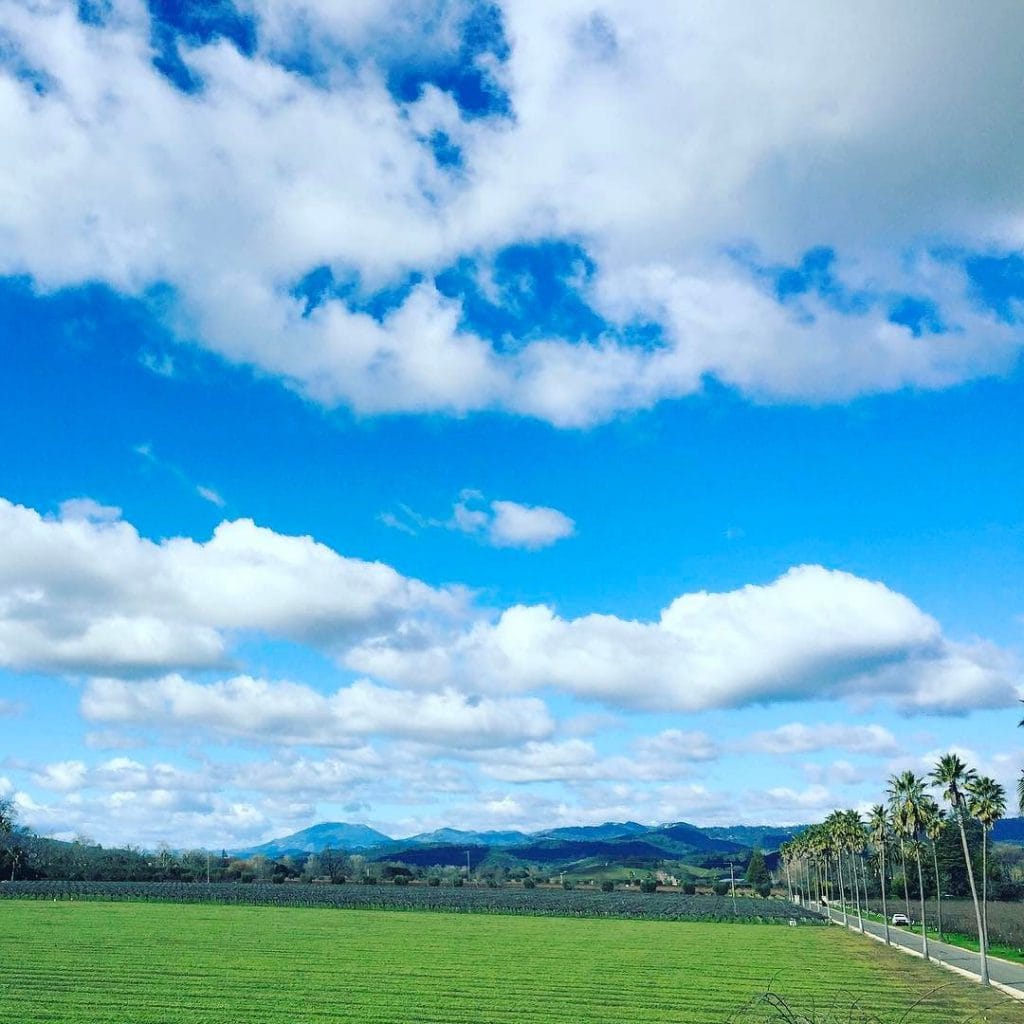 Napa Valley after the rain cleared! The views and wine at Round Pond Winery never disappoint.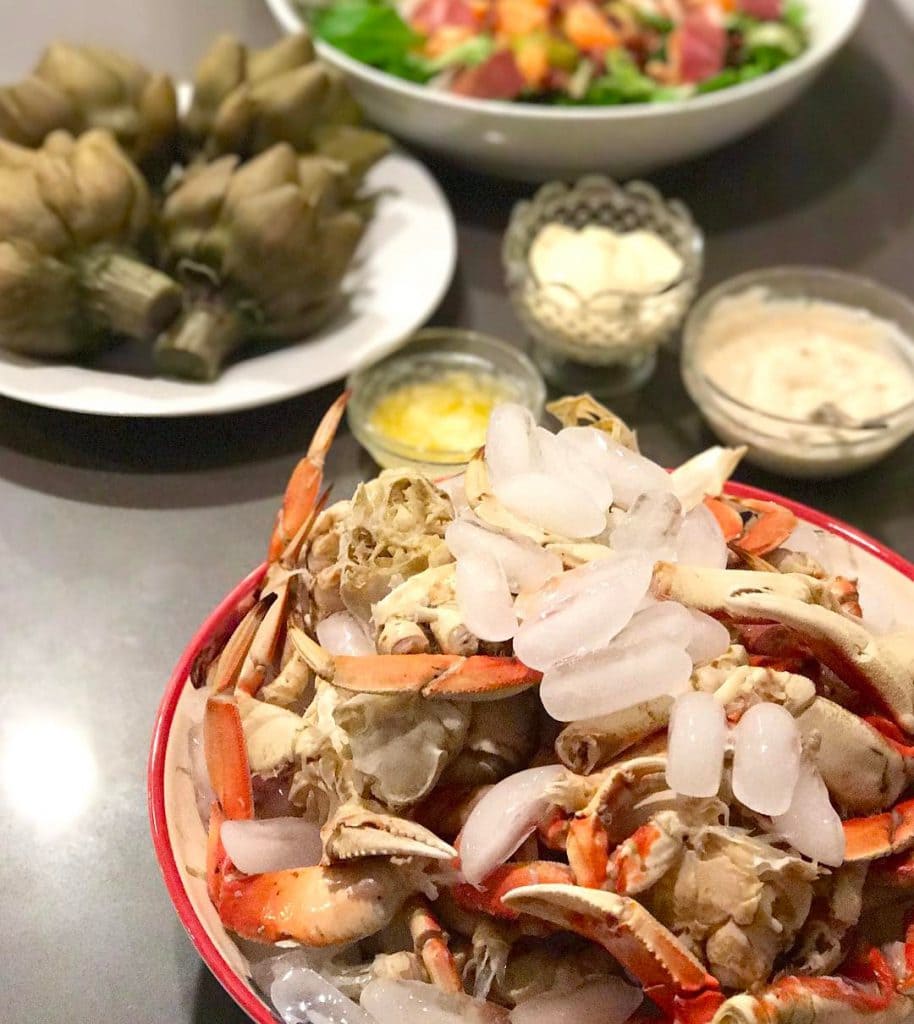 Crab Feast!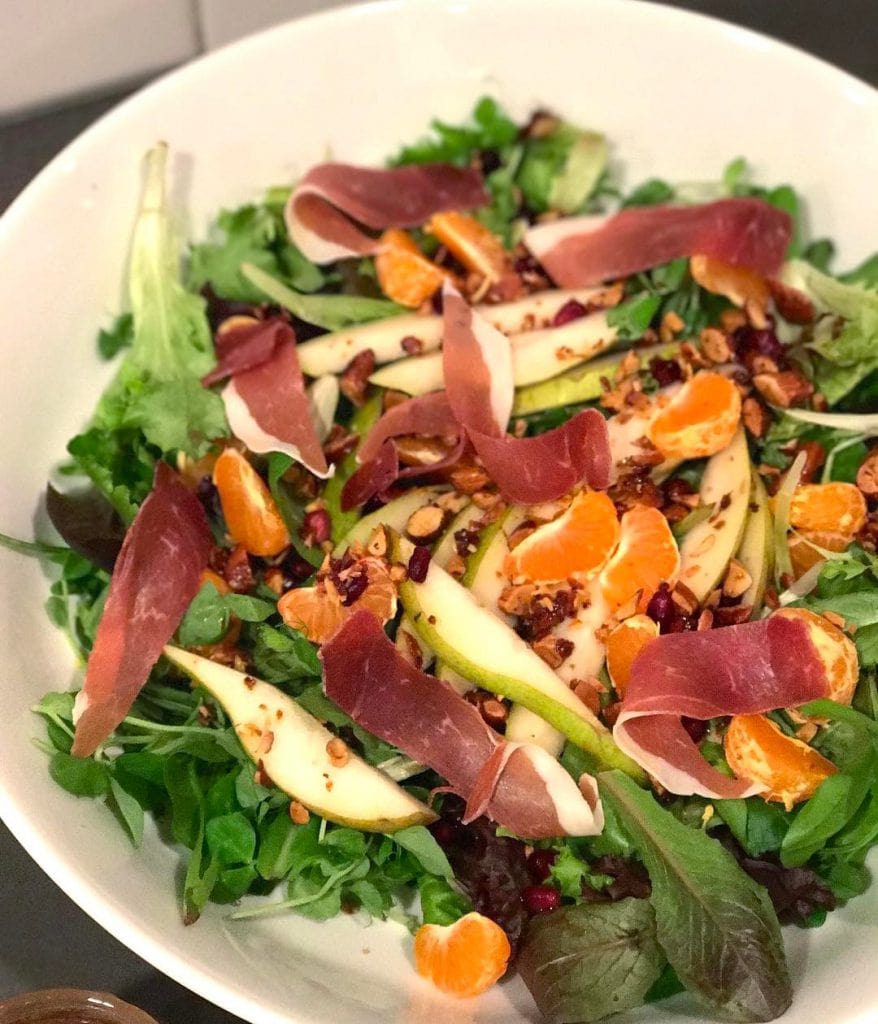 For dinner the other night,  I used the Prosciutto Persimmon Salad (pg 276 of Celebrations) but subbed in pears and mandarins, added some of my Smokey Candied (minus the "candied" part) Almonds from the blog, and used a little date syrup in the dressing instead of honey.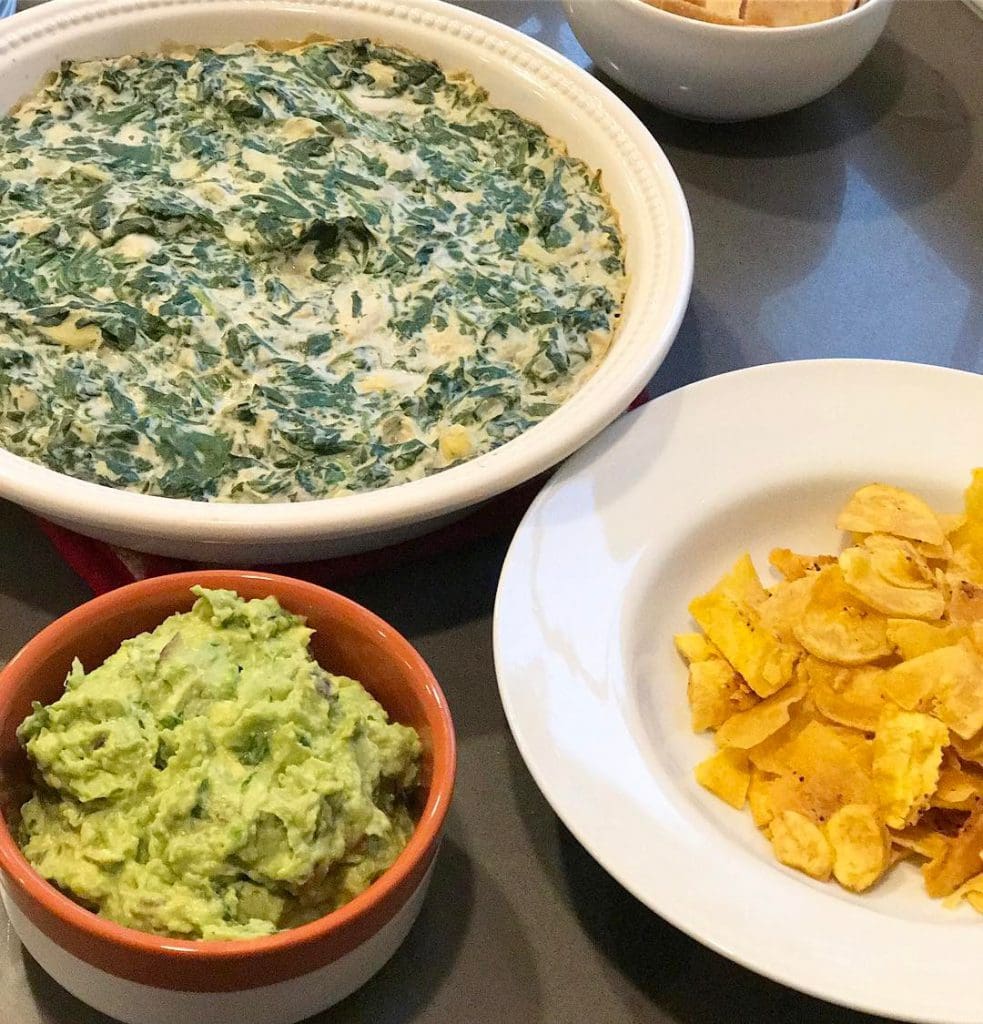 Snacks! Dairy-free spinach artichoke dip from Celebrations and guac with plantain chips and grain-free crackers.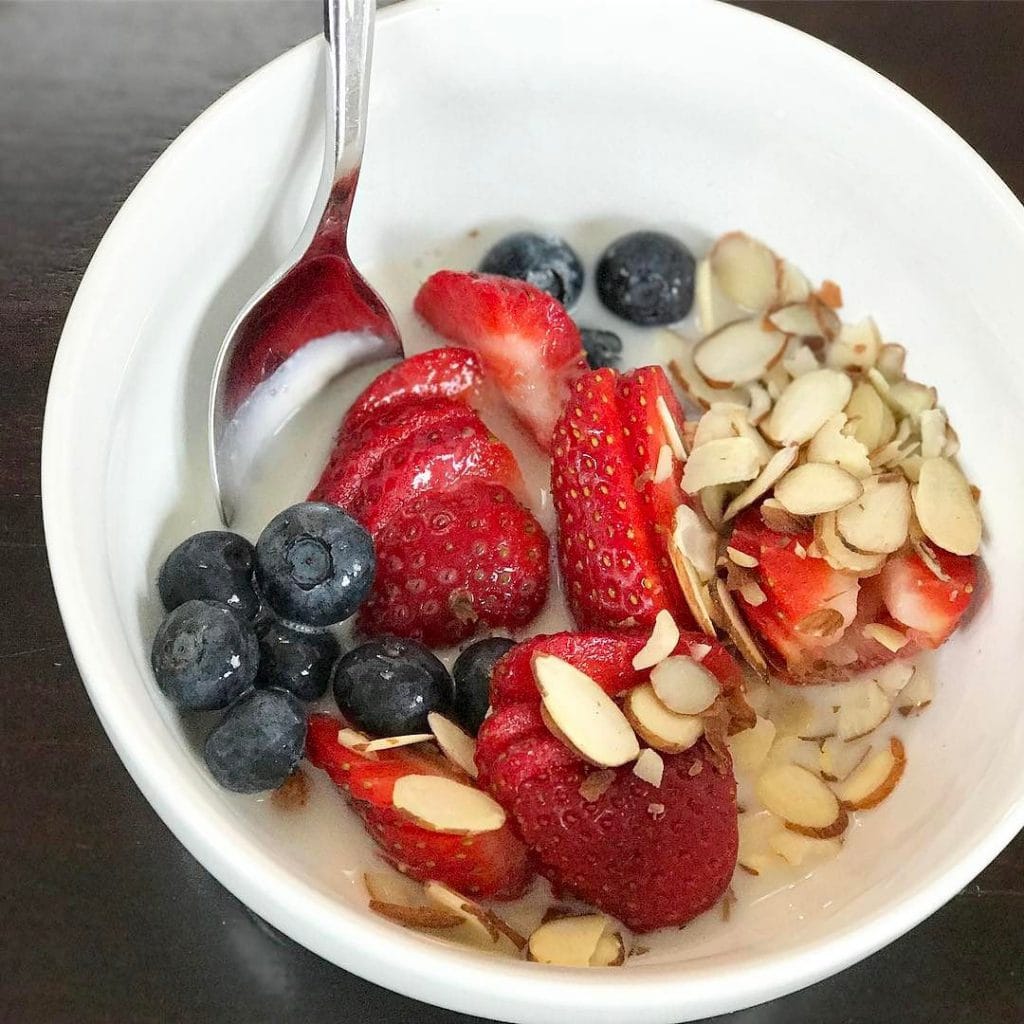 I just needed something cold, sweet and crunchy.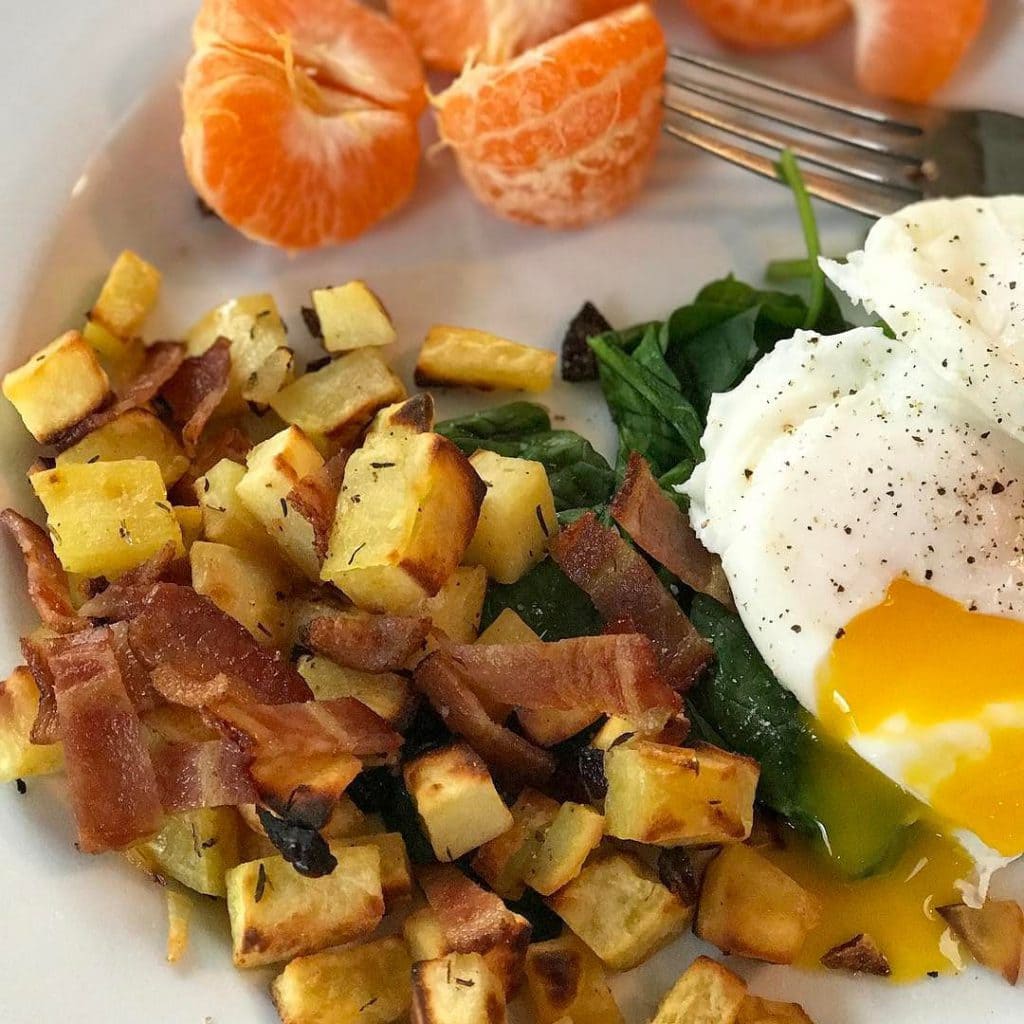 Breakfast was great but it was seriously lacking hollandaise. Too much work!
I added bacon the Hannah sweet potatoes I roasted last night, blanched some spinach and poached 2 eggs.
Roasted a couple of trays of Hannah sweet potatoes with avocado oil, ghee, garlic, onions and thyme. I always make extra to throw into a breakfast hash or have for lunch the next day.