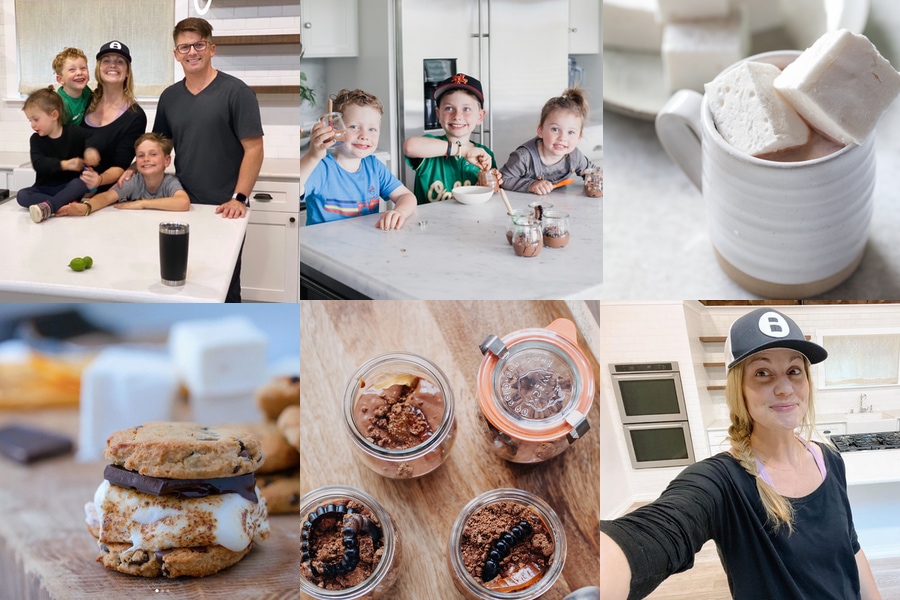 Hi everyone!
I am absolutely loving all things Fall here! This digest has loads of wonderful autumn inspiration from recipes to outfits! You'll see lots of recipes from Celebrations and from the blog, as well as a few recipes that I tested earlier this week! I also include a couple photos of the way Kezia and I spent the weekend.
Spiced Apple Cider 🍏🍎🍏
There is an ongoing debate this time of year that I am always interested in. It can get pretty heated when the topic comes up. So, here it goes. Are you an Apple person or Pumpkin person???😂
Can I just be both?! Because I can't ever choose between the two!🤷🏼‍♀️
This cider is best when simmered for at least 30 minutes to let the spices settle into the mixture but it can be done in a slow cooker too and left to simmer during the whole day or evening if you're throwing a party. It will make your house smell amazing too.
The mulling spice mixture can be tied up in little tea bags too to make sweet autumn gifts!
Follow this link for the recipe!
I'm LOVING all of your entries for October's Cookbook Club. From the looks of it – you're all pumpkin spice latte girls like me, even though our debate in the comments from yesterday's posts seemed 50/50.
😍🎃😍
Also – might I suggest my Pumpkin Spice Latte WITH my Marshmallows on top and a sprinkle of cinnamon?
Divine.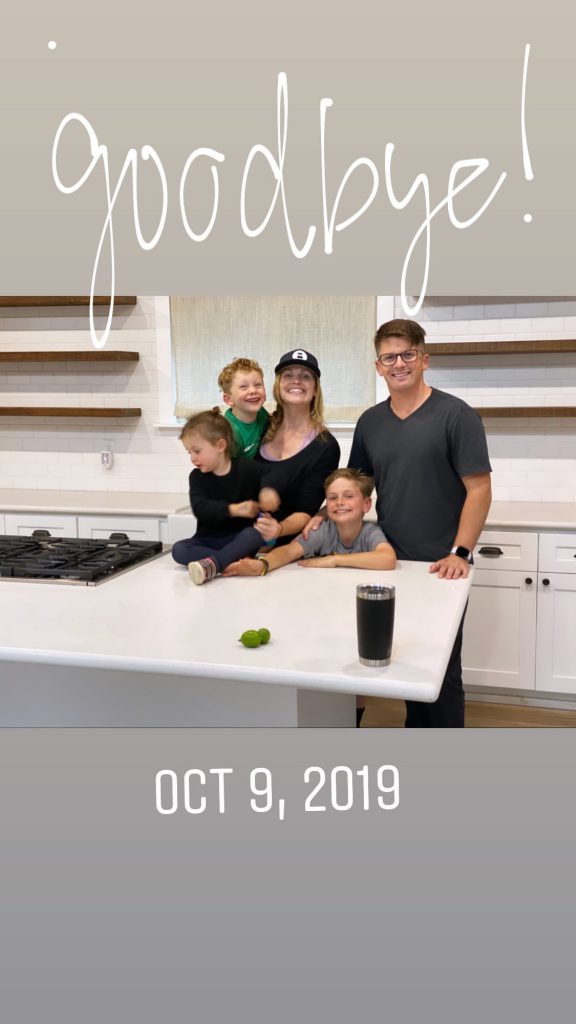 We officially said goodbye to my test-kitchen and filming studio yesterday as a new sweet family takes over our old house!
There are so many memories in this place. We built it in the garage when we first moved in when Asher was 4 and I had just finished writing Meals Made Simple. I got the idea from The Pioneer Woman and Ina Garten using their barns to test and film and run their businesses out of. I called it my Ina-Barn even though it was a garage haha.
I tested recipes and wrote both Celebrations and Eat What You Love in this space. We filmed hundreds of YouTube videos, Facebook/IG Lives in it, and I wrote, tested, and photographed hundreds of blog recipes here.
I also brought home 2 babies to this house and had them strapped to me or bouncing by my side for so many of the hours I worked out here.
She will be greatly missed!
We hope to build something one day at our new place so I can work from "home" again but for now, we're renting a quaint little apartment down the road from us to work and test in!
Did you have a favorite recipe or video that came out of this space?
Are you looking for some healthier Halloween Ideas? 🎃🦇🕸
We make these dirt cups from Celebrations every year! They provide a fun Halloween treat that is sweet and indulgent, but also completely gluten-free and dairy-free! You can make them nut-free too if you use my Whoopie Pie recipe from the same book for the dirt! My favorite part is setting one in front of a child and watching their cute faces see the "dirt" and "worms" hiding beneath the pudding!
If you don't have Celebrations yet, but still want to make these- I included the recipe for you here 😉
We used the Elderberry Gummies from Eat What Love and Simple Mills chocolate cookies for a short cut.
Dirt Cups
SERVES 8
2 1⁄4 cups full-fat coconut milk
2 1⁄2 teaspoons unflavored gelatin powder
1⁄2 cup pure maple syrup
1⁄4 cup natural cocoa powder
1 teaspoon pure vanilla extract
Pinch of fine sea salt
To make the pudding, pour 1⁄4 cup of the coconut milk into a heatproof bowl. Sprinkle the gelatin over the top and set aside to bloom for 5 minutes.
Heat the remaining 2 cups of coconut milk, the maple syrup, cocoa powder, vanilla extract, and sea salt in a saucepan over medium-high heat for 5 minutes. Whisk the hot mixture into the gelatin and continue whisking until all of the gelatin dissolves. Press a piece of plastic wrap directly on top of the pudding and chill in the refrigerator for 6 hours, or until completely set. Using an electric handheld mixer or a whisk, beat the chilled pudding on high speed until creamy.
Spoon the pudding into eight 8-ounce see-through glass or plastic cups and place a few of the gummy worms on top of each cup. Sprinkle with the dirt (cookie crumbs) and serve.
I love having everyone in this shot! A Walker-Family Live! Kind of has a ring to it…😂
These Dirt Cups are the perfect healthier Halloween treat!
If you missed it, check my last IGTV post to see the first half when Ryan and I made these!
This was among the top memory from you guys and my friends over on Facebook when I posted about saying goodbye to my studio space yesterday! It's definitely my favorite 😂😂😂
Some other favorites were when Kezia pulled Easton's hair during our Snickerdoodle video or when Easton popped up out of nowhere during our Oatmeal Creme Pie video! And the ones who said the squirrels running across the fence, the neighbor's loud leaf blower, and the squeaky door when my kids would run out made my heart so full that you've watched so many lives over the years you know us so well.
Also, this was the last time all 3 of them were in a live video with me (albeit quickly for K) until this week's dairy-free Dirt Cups!! You can watch that video here!
Who else starts craving that plate in early October?! I may have to do a Friendsgiving this year so we can eat that meal twice. 😍
Happy Thanksgiving weekend to all of my Canadian followers! All of the food photos you've been posting all weekend are making me so excited to celebrate next month here in the States!
For everyone here in the US – check my blog for all of the amazing Thanksgiving resources I have for you! There's a timeline that starts counting down in mid-November, a free Leftovers recipes pdf, my favorite products and so much more!
Okay, pay attention. First you take the graham. You stick the chocolate on the graham. Then, you roast the mallow. When the mallow's flaming, you stick it on the chocolate. Then you cover it with the other end. Then, you stuff.
🍪🍫🍪
I know s'mores are billed as a summer treat, but lighting a 🔥 pit during the colder months and roasting homemade marshmallows is even better in the fall in my opinion!
We did a slight twist and sandwiched the toasted, gooey marshmallows between 2 of my real deal chocolate chip cookies with a few squares of Hu chocolate paleo chocolate. DIVINE. ⭐️A little tip for you: homemade marshmallows will melt super quickly when roasted IF you don't dry them out. Cut them, toss them in a little arrowroot, then leave them out on the counter on baking sheet to dry out for 3-4 days. They'll hold up a lot better!
Click here for the marshmallow recipe, or find it in Celebrations!
Chances are that if you saw my last post,
then you probably have a sudden craving for a real deal chocolate chip cookie s'more!
Here's a video making my gluten-free marshmallows to show you, step by step, just how easy they are to make! Watch the full-length video for a look at how to make these healthier marshmallows, plus a peek at baby Easton with all his curls! 😍
My pro-tip: make these earlier than you plan to use them and let them sit on your counter to dry for 3 days. I've found that they roast best for s'mores that way! For leftovers, you can store them in an airtight container at room temperature for up to 2 months!
Click here for the marshmallow recipe, or find it in Celebrations!
Have you ever roasted grapes? Seriously it takes them to another level. What about roasted grapes with roasted apples, figs, and toasty hazelnuts?! This Roasted Autumn Harvest Salad is my all-time favorite. I double up on the dressing so I can keep it in the fridge and use it for a week afterward too.
If you're hosting or attending any fun Autumn dinner parties, or anticipate being on salad duty for Thanksgiving, this one will totally impress everyone around your table with minimal effort and it's whole30 approved!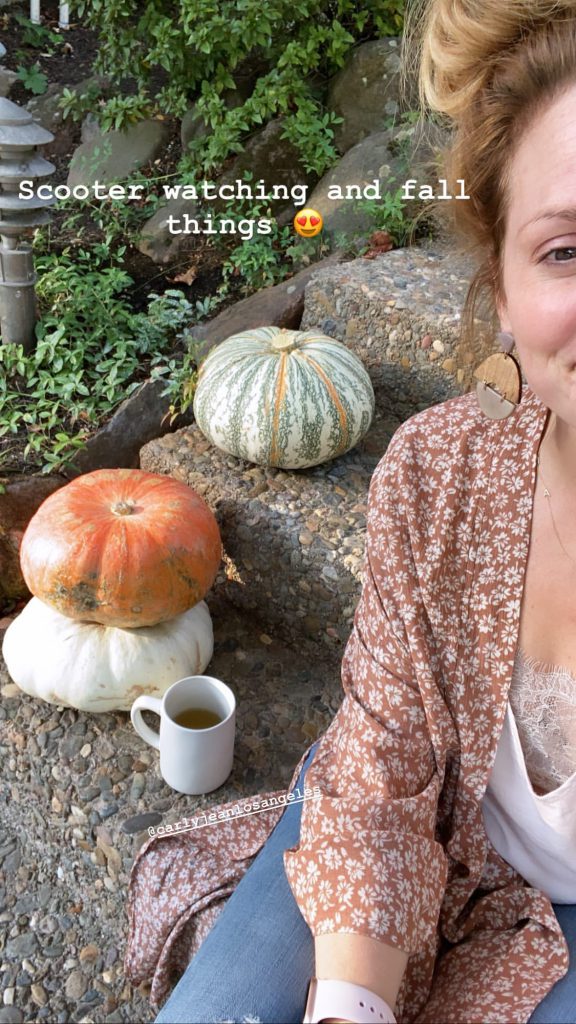 One of my most favorite ways to spend the afternoon!
Watching Kezia scooter while surrounded by the most wonderful Fall things! 🍁🎃☕️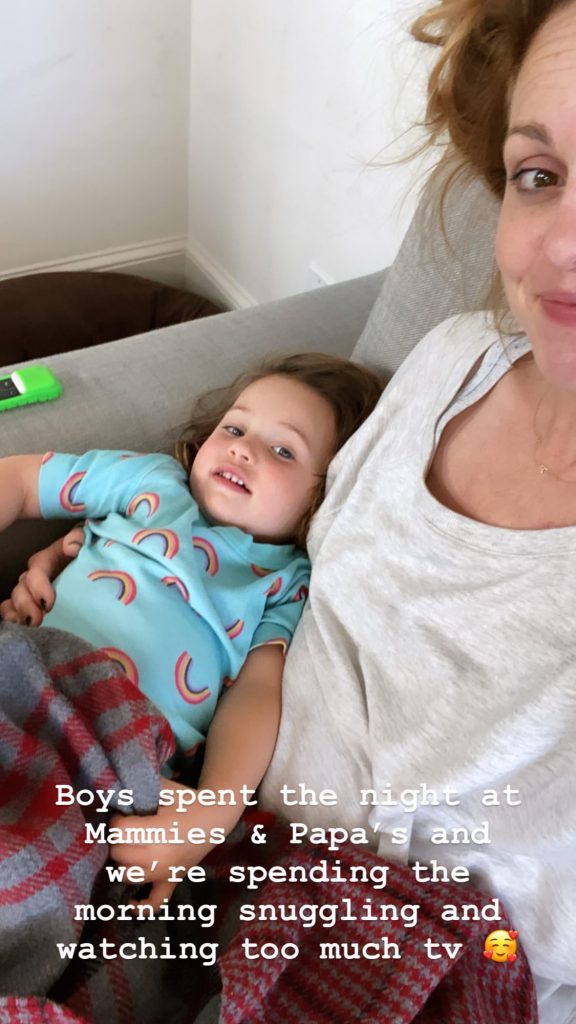 ❤️❤️❤️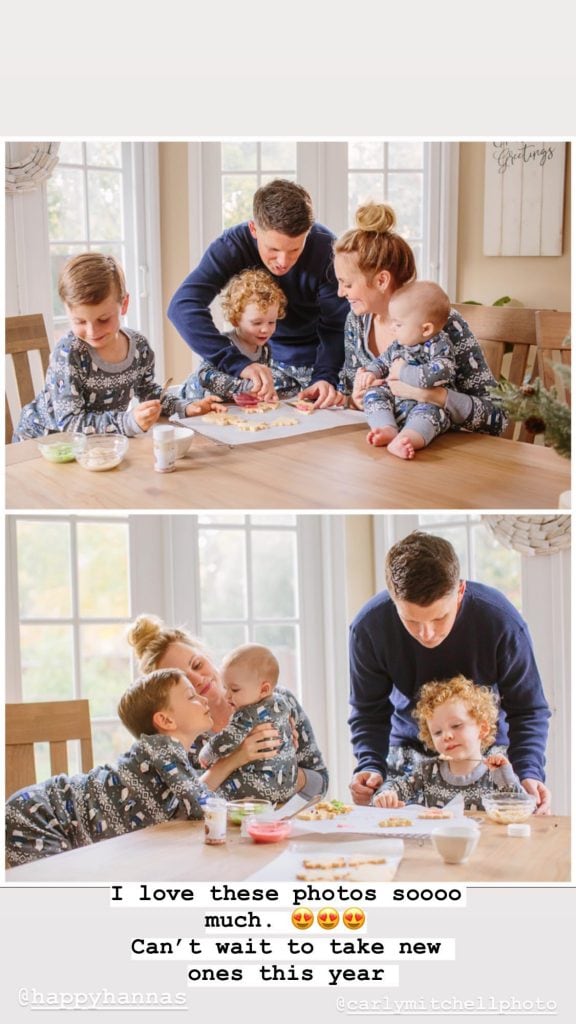 Our Christmas pjs were delivered earlier this week! ❄️☃️🎅🏻
Words cannot express the level of excitement that I have to take family photos in them again this year!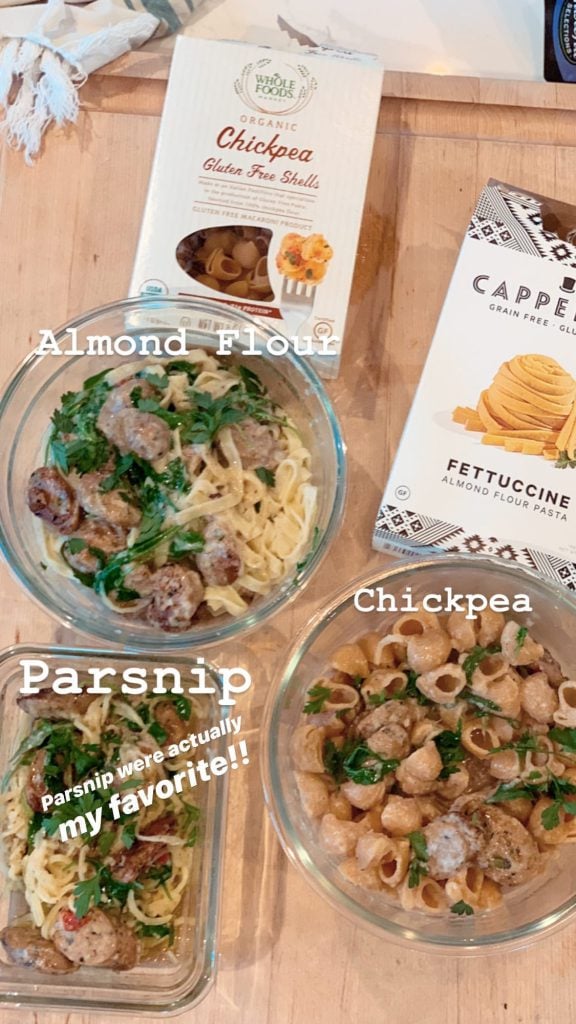 LOTS of recipe testing fun happening here at Danielle Walker Inc 🥰😉