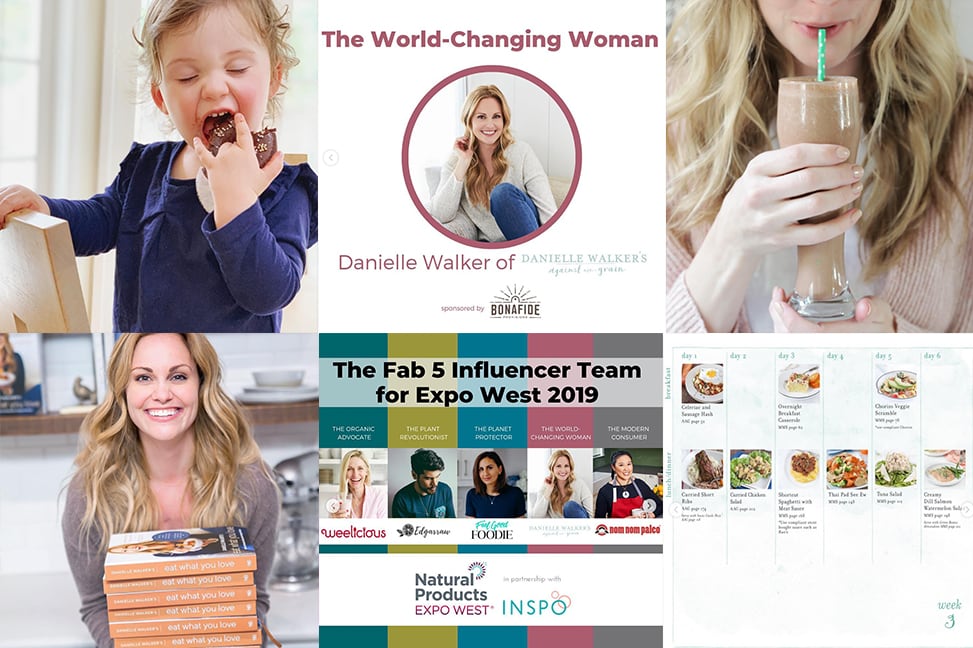 Hi friends! I hope you all had a great last week of February! Can you believe it is March already and almost springtime!? This week's digest includes a new Facebook Live where I show you how I make my Seasoned Fries from Eat What You Love, new 8 week Whole30 meal plans, and a look into what I will be doing at Expo West this year! Scroll down to read more.
I still drink a variation of this smoothie almost every day. Especially after I've had a busy travel month and want to do a little reset from eating out so much. I started with this simple version when I was in a flare last year, but throw a handful of frozen spinach into these days and a half of an avocado. My kids always devour it too!
AUTHOR: @DanielleWalker AgainstAllGrain.com
INGREDIENTS:
8 ounces cashew milk (store-bought is ok, but homemade makes it much creamier)
2 scoops collagen peptides
1 medium ripe banana (frozen if possible)
1 tablespoon cocoa powder
1 cup ice cubes
optional: 1/16 teaspoon organic stevia extract powder (100% stevia) or 2 teaspoons pure maple syrup* * see note in the blog post
INSTRUCTIONS:
Place all ingredients in a blender and blend on high for 60 seconds, until smooth and thick.
Get it, sister. 🍩🍩🍩
Are you heading to Expo West?  I'm beyond honored to announce that I was chosen to represent the "World Changing Woman" category @natprodexpo! I'll be signing copies of my new book at my sponsor's booth – @bonafideprovisions on Thursday 3/7 from 1-2pm, so please come say hello, sip on some bone broth, grab a copy of the new book, and bring your copies of my other books to have signed too!
Who is starting a Whole30 in March?! 
A few months ago, I asked if you guys would enjoy having a Whole30 meal plan guide as companion material for my first 3 cookbooks, and it's now available!
Whenever I commit to partaking in a Whole30, I am reminded of the need for creativity in the kitchen. I usually get bored by day 10 and have to keep it fresh and exciting to stick with it.
My hope is that these meal plans take away some of the stress and guesswork for you. With these, you essentially have a guide for exactly how to eat for 2 full months if you'd like! Or mix and match your favorite 4 weeks to get you through your 30 days with ease.
There's so much on our plates as mothers, wives, caretakers, and friends. It's important to set realistic standards for ourselves and accept grace through this journey. Hopefully, these meal plans can take one small thing off your plate and free you up to do the others!
Click here to download the free guide now!
In case you missed it, I was Live this past Tuesday and made my Seasoned Sweet Potato Fries with The New Primal paleo BBQ Sauce! You can watch the full video above and get the full recipe here.