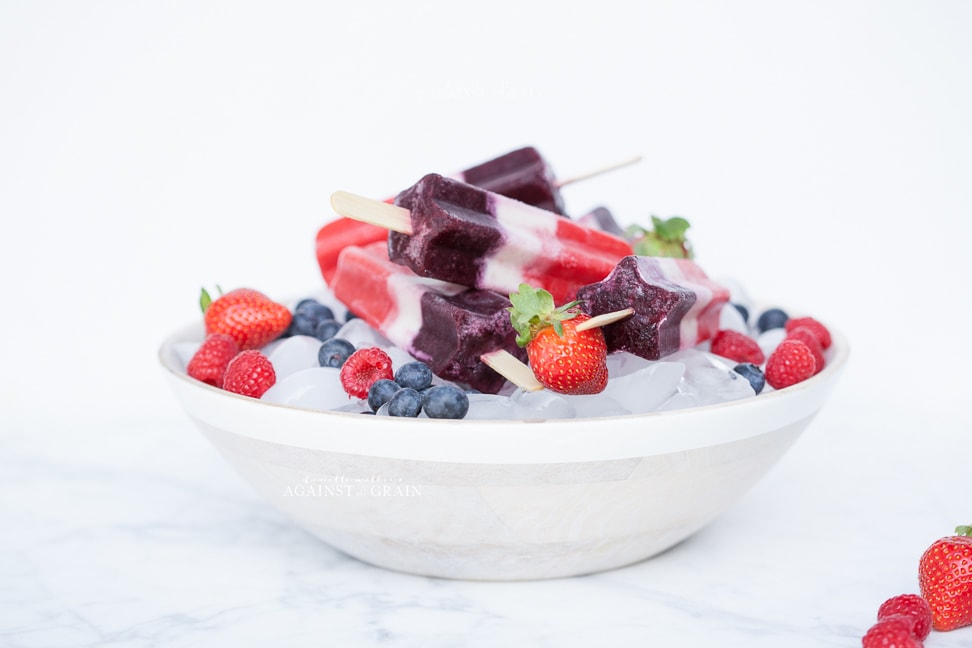 Do you remember playing outside in the summer and when you'd hear the ice cream trucks music in the distance, you'd make a sprint to your parents to ask for some money to go buy a frozen treat? I sure do… and those were the days! There's actually 3 different red, white, and blue popsicles out there: Bomb Pops, Firecracker Pops, and Rocket Pops. I always remember getting Bomb Pops from the ice cream man and I wanted to create my own recipe for Homemade Bomb Firecracker Popsicles! What's your favorite?
These pops were inspired by the ones you'd find at a snack shack or in the neighborhood ice cream truck. What's the difference, you ask? The red layer is usually cherry, but we love raspberries and strawberries so I used those instead. These are also dairy-free and refined sugar-free, unlike the look alike popsicles that are laden with sugar, high fructose corn syrup, artificial dyes, and who knows what else!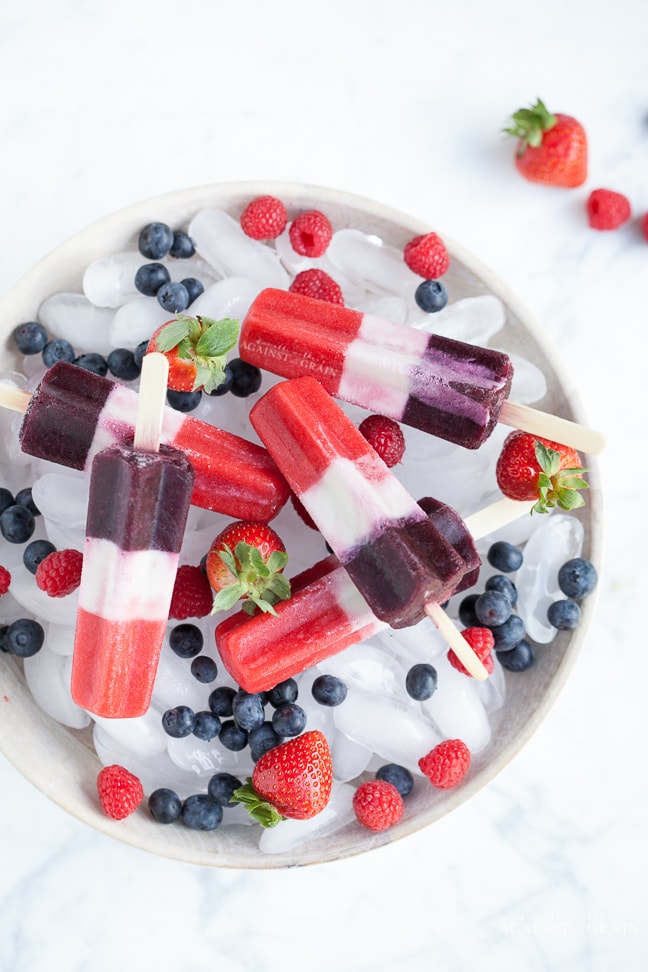 As you all know, I love recreating old favorites for my family to enjoy, and Asher LOVES these! He thinks it's so fun that as you eat it your lips and tongue turn different colors.. first red and then blue! I created these for the 4th of July chapter in my third cookbook, Celebrations which comes out in September. Unfortunately, there wasn't enough room in the book to include it, but lucky for you, you're getting the recipe a few months early and just in time for Father's Day and the Fourth of July!
Speaking of Celebrations, you can preorder your copy now to ensure you get the lowest price AND it shows up on your doorstep before everyone else. Plus if you pre-order from Barnes&Noble now for a limited time, you will get a signed copy!! See more info here.
I was so happy when I found star shaped popsicle molds but any other popsicle mold will work just fine! I love these Tovolo molds which are BPA-Free but I've heard these Onyx stainless steel molds work great too, especially if you're eliminating plastic from your household.
Here's a fun activity with popsicles – write a word of encouragement for your kids on the top of the stick and when they're done licking it all off, they can read it and their day will be a little bit brighter! 
Looking for more popsicle recipes? Check out my Watermelon Pineapple Ice Pops, Dark Chocolate Fudge Pops, and my Egg-Free Fudge Pops