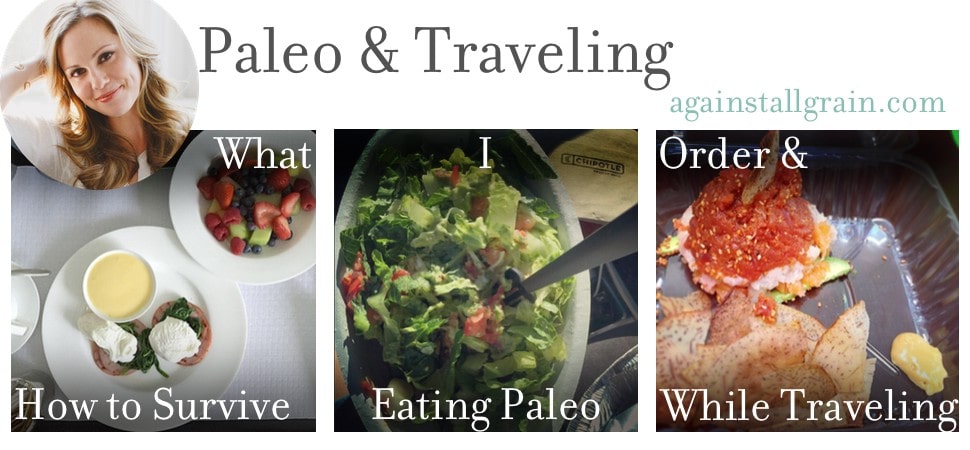 How do you deal with traveling while on Paleo?
That was one of the most frequent questions I got while on the road, and after traveling for over a month straight, I guess I am now qualified to answer! I try to prepare a few snacks ahead of time to take with me and help mitigate the chance of ending up in an airport with a delayed flight and my stomach growling with only a McDonald's in site. When I'm in need of a meal though and I'm left with little options, my go-to order when traveling is a bunless burger. That can get tiresome, however, so here are some other tips for ordering out as well as a journal of some of my meals while I was on the road for my Meals Made Simple Book Tour. I typically search on Yelp to find a place that offers grass-fed, or at least local, beef and love when I see them offer a lettuce wrap alternative. It is a fantastic and cost efficient fall-back order when you're faced with a restaurant that doesn't cater to grain-free, or even gluten-free. I usually ask to have avocado and bacon on top and have it served with a side of vegetables or sometimes sweet potato fries as long as they're not battered, which believe it or not, most places are. Even Disneyland is doing lettuce-wrapped burgers now! Stay tuned for a post on how to eat your way through Disneyland on a gluten-free and even Paleo diet. It is doable! I usually start off the meal telling the server or the kitchen that I am gluten and dairy-free and then modify items from there. A lot of restaurants are now starting to offer gluten-free menus, and if not, make sure your server is informed and can help guide you. So many restaurants I have been to have even sent the chef out to answer any questions I had. If you have celiac and are sensitive to cross-contaminiation, I suggest finding a restaurant that verifies a completely gluten-free kitchen. I am fortunate enough to be ok when I come in contact with gluten, I just cannot consume it. My take on eating out is do the best you can. If you are forced to eat a little canola oil or non-organic produce, it will likely be ok for you every once in a while. I try to focus on avoiding the obvious grains, sugar, and conventional dairy which I know I will react to and try not to stress about a few things being less than perfect. I do notice though, when I'm gone for longer periods of time that my body sees the effects of the non organic or grass-fed meats and conventional produce, and very likely gluten contamination from eating out so much. So when I'm home, I do a clean reset, and even revert to an Autoimmune Type Protocol if I notice my health slipping at all. Find out more about that protocol here, here and here. I also load up on homemade bone broth and all of my supplements when I get back to try to mitigate any damage I may have done while on the road.
Some of the top items you may find grains in at a restaurant are:
Soy Sauce
Thick Sauces
Salad Dressings
Mayonnaise and Mayo Based Salads or Sauces
Breads, Pastas, Beer, Tortillas etc.
See my former post Dining Out on a Paleo Diet to see how to find things at Italian, Mexican, American, and Thai restaurants
Here's some of the meals I ate along my tour! Most of them had slight modifications from the written version on the menu, but if you know what you ask for, you'll be in better shape!
Want to see what else I've been eating while I travel? Check out this Danielle's Digest HERE and this Danielle's Digest HERE to see what I ate on vacation to Calistoga Ranch.