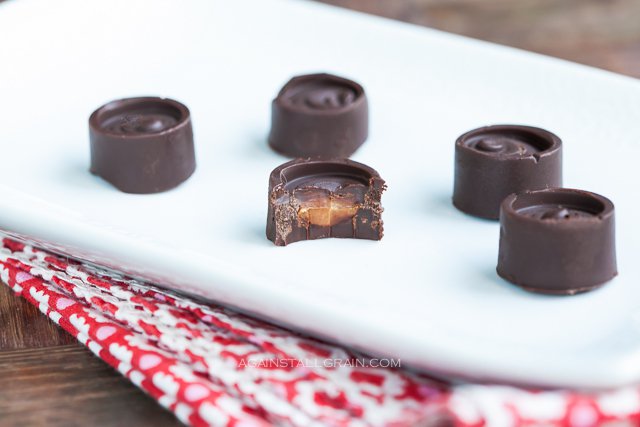 When life gives you extra caramel, you make Dark Chocolate Caramels (Paleo, Dairy Free)!
Last year, when I first made my caramel glazed donuts for my cookbook photoshoot, I was left with half a pot of delicious caramel sauce and nothing to do with it. And by nothing, I mean play chocolatier and make pretty little Paleofied Rolos! But before doing so, I also poured some warm caramel into these cute little molds and wrapped them in parchment paper for gifts! I am sure that the possibilities of this caramel are endless!
I took the easy way out and used enjoy life chocolate chips, but you can use the coating from my chocolate truffles if you'd prefer to have a version using honey.
And as an added bonus –  some reviews are in for my book and some of the bloggers are giving away copies as well! Be sure to read their full reviews and enter on their sites for a chance to win!
Kelly says "First I made macadamia waffles. Oh. My. Goodness. They are out-of-this-world. Then tonight I made hamburger buns. To quote Zoe: "These are the best burgers EVER." We loved them. A lot."
Taylor Made it Paleo  (ends in 1 week)
Taylor says "Danielle has created a paleo version of almost everything in Against All Grain, (even chips and salsa!), and I have no doubt it would help to make the transition easier for many people out there"
Mommypotamus (giveaway ends in 2 days!)
Heather says "Just about every dish you've ever adored can be found in these pages, only yummier and free of processed junk. The photography is a feast for the eyes – sure to inspire you even on the days you don't want to cook! My favorite part: Though Danielle's vibrance is most definitely behind every recipe, she's also right in front, sharing the story of her transformation."
Rubies & Radishes (ends in 4 days)
Arsy says "The photos are stunning and every recipe looks incredible."