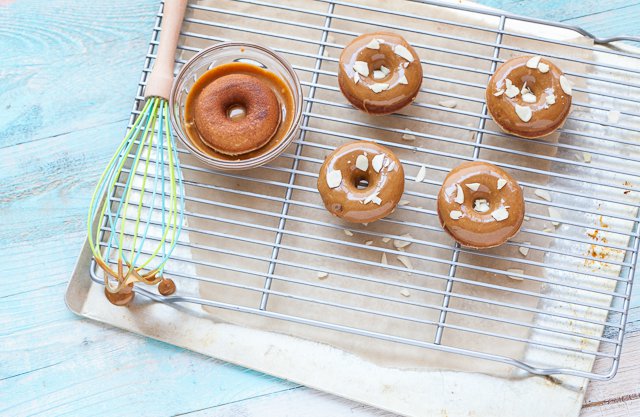 I grew up in a house where even the throw blankets and flags were swapped out in celebration of a pending holiday. We had a special plate that we got when it was our birthday, and boxes upon boxes of Christmas decorations that would take multiple days to set up and take down. It seems like there's a "national day" for everything these days, but I love a good holiday and and will always jump on the chance to celebrate something silly – like doughnuts! So, in commemoration of National Doughnut Day on June 7, I couldn't pass up the opportunity to create this recipe for Caramel Glazed Doughnuts.
You probably remember my killer pumpkin doughnuts from last year, but that recipe is associated with Autumn in my head, so this holiday needed its own creation. There's not really too much to say about doughnuts, and what there was to say was already said in the pumpkin doughnut (donut?) post, so I'll just put a bunch of mouth-watering photos in front of you and allow you to drool on your keyboard. And feel the urgent need to purchase a doughnut maker.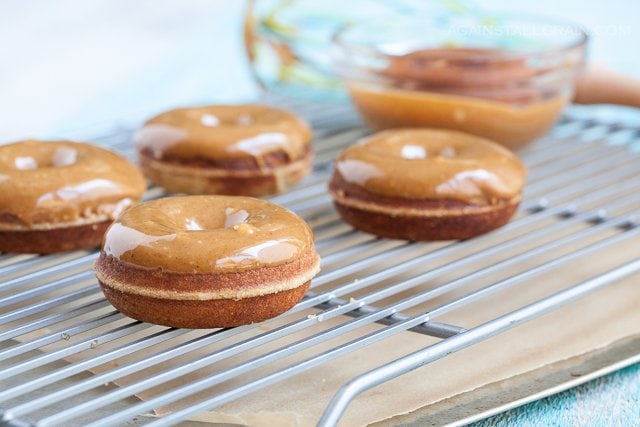 Oh, one last thing. I purposefully made these doughnuts nut-free for all of my readers who have allergies, but then my scattered brain went and put almond butter in the glaze! So if you want these truly nut-free, use either one of the frosting choices from the pumpkin doughnuts I mentioned above. Chocolate or maple with bacon 'sprinkles.' Otherwise enjoy this satisfyingly gooey, honey caramel glaze and top with sliced almonds for a little crunch. This recipe makes 6 mini doughnuts in my doughnut maker. If you use a doughnut pan, the quantity will depend on how big your mold is. Feel free to double the recipe, but I suggest measuring the coconut flour out twice. It is really finicky and even 1/2 teaspoon extra will make a difference.