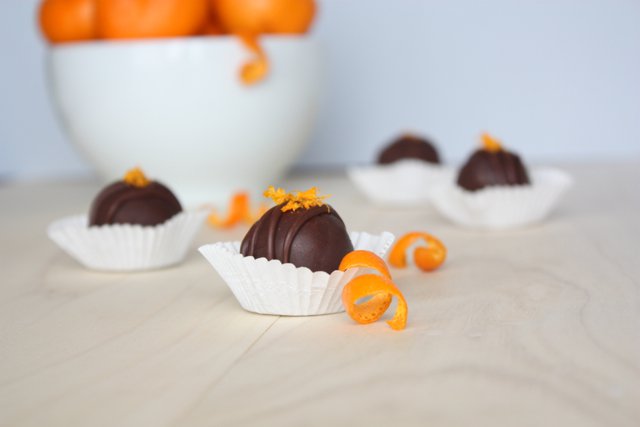 Oh man. You guys are in trouble with this one. These Paleo truffles are so addicting. I think I've gained 5 pounds just from my trial batches!

The outer chocolate shell provides a slight crunch when you bite in, and the chocolate inside melts as soon as it hits your tongue. These little bites of heaven taste like they came straight from a candy shop display case, but they're extremely easy to make and the recipe doesn't involve tempering chocolate. Better yet, they are made of all raw, natural, and dairy-free ingredients.
I order my raw cacao butter on Amazon, but you can also find it at most health foods markets. Don't fret about the price or think you won't use it all. It lasts in the fridge for about a year, and you can even use it for homemade lotions or as a butter substitute in cupcakes. The aroma will overcome you when you open the bag and have your mouth watering for a delicious piece of chocolate. Cacao butter is the key ingredient that provides the 'melt in your mouth' characteristic of most chocolate bars.

You'll notice that you are going to warm the cacao butter over a double boiler, and are probably asking yourself how these truffles are considered raw. You will only keep it over the heat long enough to start the melting process, so it never reaches above 100 degrees. Don't worry though, no tempering chocolate or even a thermometer necessary for this recipe!
You can roll these in cacao powder, shredded coconut, or chopped nuts, but my favorite is the chocolate shell. Make a few different flavors of these for Mother's Day and wrap them up in a pretty box for the beautiful mom's in your life!