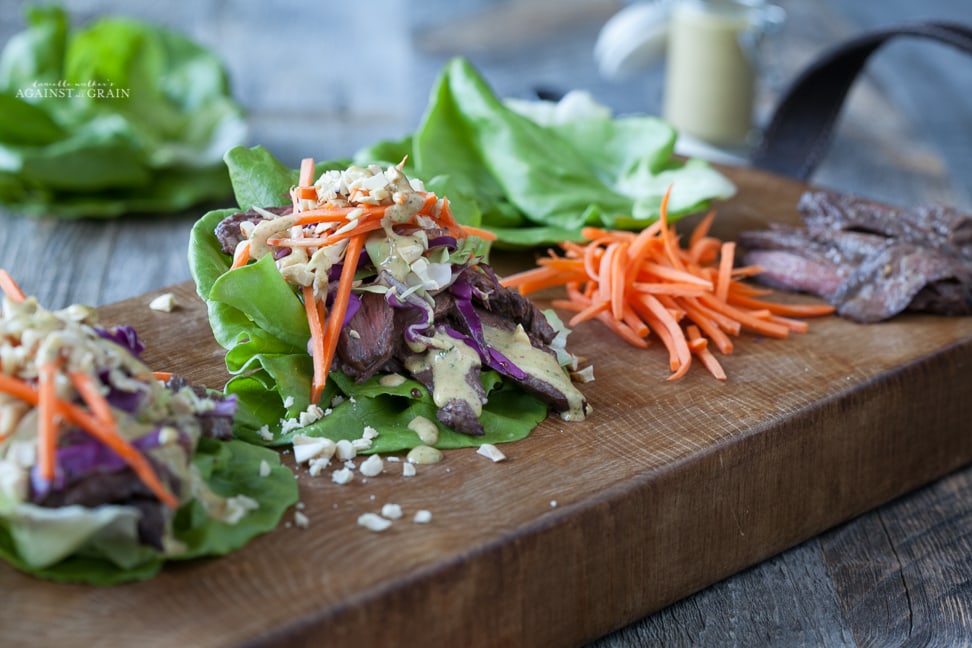 A few weeks ago, as I went through some of my older blog posts, I found this recipe for Thai Steak Lettuce Wraps sitting in my drafts waiting to be published. I remember creating this recipe, but I think one of my books was launching at the same time so it got lost in the shuffle. I am so glad I found this Thai inspired recipe, and I'm excited to share it with you all today! Especially as I've been working on easy weeknight dinners for you all for my next cookbook, this recipe fits right into that category!
As you all know, I love the vibrant flavors that Thai food offers, which explains why I have so many recipes that have Thai-inspired flavors. I wanted to create a recipe that captured those flavors in a fun way. And why not pile it all onto a crisp cup of butter lettuce? These Thai Steak Lettuce Wraps boast bold flavors from the fresh ginger, cilantro, and the slight heat of red pepper flakes. To balance these strong seasonings, it's finished with a drizzle of creamy 'peanut' dressing. It is a great dinner option for a quick and easy weeknight meal, and it has the kid stamp of approval!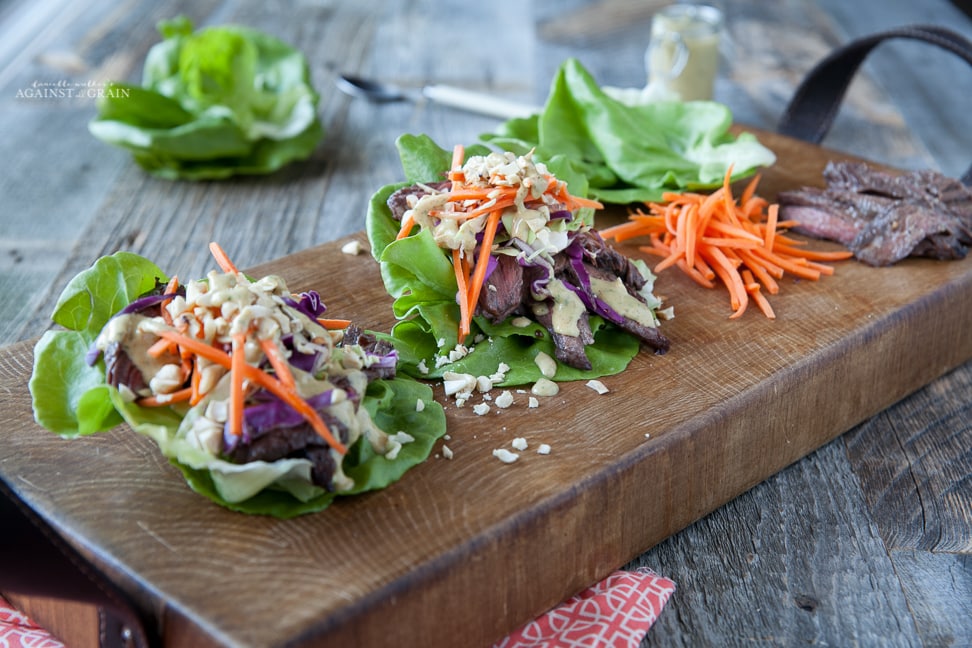 Fish Sauce
You may be thinking, "Fish sauce… ew… and only two teaspoons? It won't make a big difference if I leave it out"… I will admit- fish sauce has a rather pungent smell. That being said, it adds just the right savory, salty, and sweet umami flavor to this dish that is authentic to a lot of  Asian cuisines. So try to use it, even if you're opposed. Unless, of course, you're allergic to fish!
Dinner or Appetizers
I love this recipe because it is simple, quick, and pretty inexpensive! These are great as a main dish or can even make the ideal appetizer. If you do opt to make these as an appetizer, try cutting the steak into smaller pieces and serve it all on an endive leaf for easier eating. You can also serve these on homemade grain-free wraps or store-bought such as Siete grain-free wraps!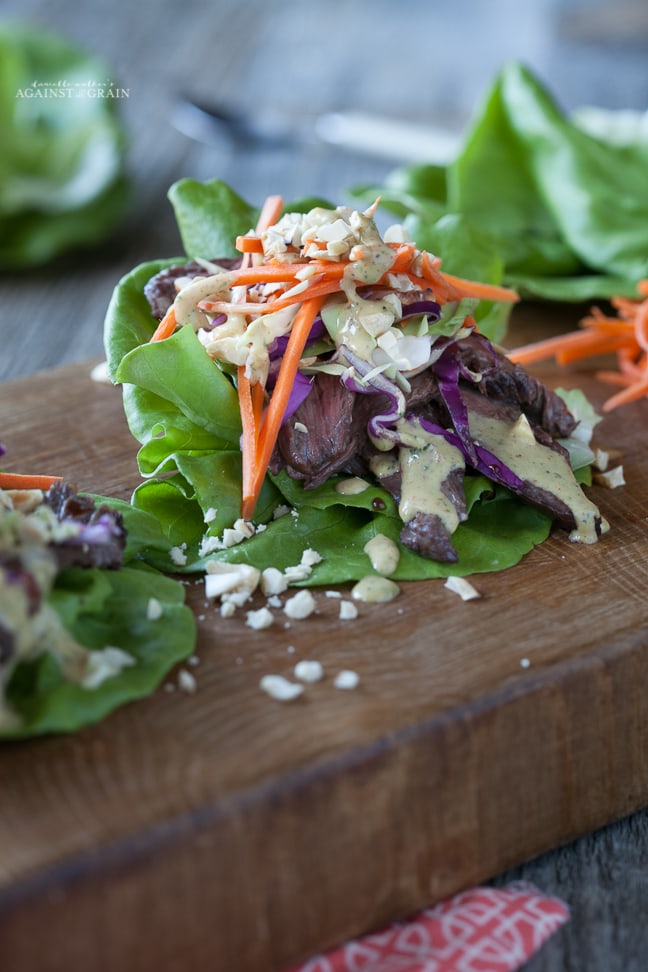 The "Peanut" Sauce
Since peanuts are technically legumes, I try to stay away from them to avoid digestive upset. Thankfully, almond butter has a similar texture and flavor, especially when mixed with a little maple syrup for this "peanut" sauce. It has that same sweet and savory taste that traditional Thai dishes have. But  this recipe doesn't have the gluten from soy sauce and added refined sugars.  This sauce is incredibly delicious. You will definitely want to make extra so you can drizzle it on salads throughout the week.

Tip on buying almond butter:
I used to find it a little overwhelming when trying to pick out the right almond butter in the grocery store. There always seems to be an excessive amount of options. I try to look for raw and organic almonds, with no added sugars or oils whenever possible. Almonds contain a lot of healthy and beneficial fats. However, roasted almonds lose most of their health benefits because their healthy fats become oxidized in the heating process. This can lead to the formation of harmful free radicals, which can damage your cells in the long run. So try to purchase raw or unheated when possible.

On the flip side, good quality almond butter can also be a bit expensive depending on where you shop. In order to cut down on costs, I sometimes like to buy a big bulk of organic raw almonds from Costco. I simply put them in my food processor until it forms into almond butter. You can store it in a jar as you would store-bought almond butter. You can also try purchasing organic raw almond butter on Amazon or Thrive Market. They tend to be cheaper than most grocery stores! 
I really hope you enjoy this recipe! If you are interested in more Gluten-Free Thai inspired recipes click here! 
Shop this recipe!