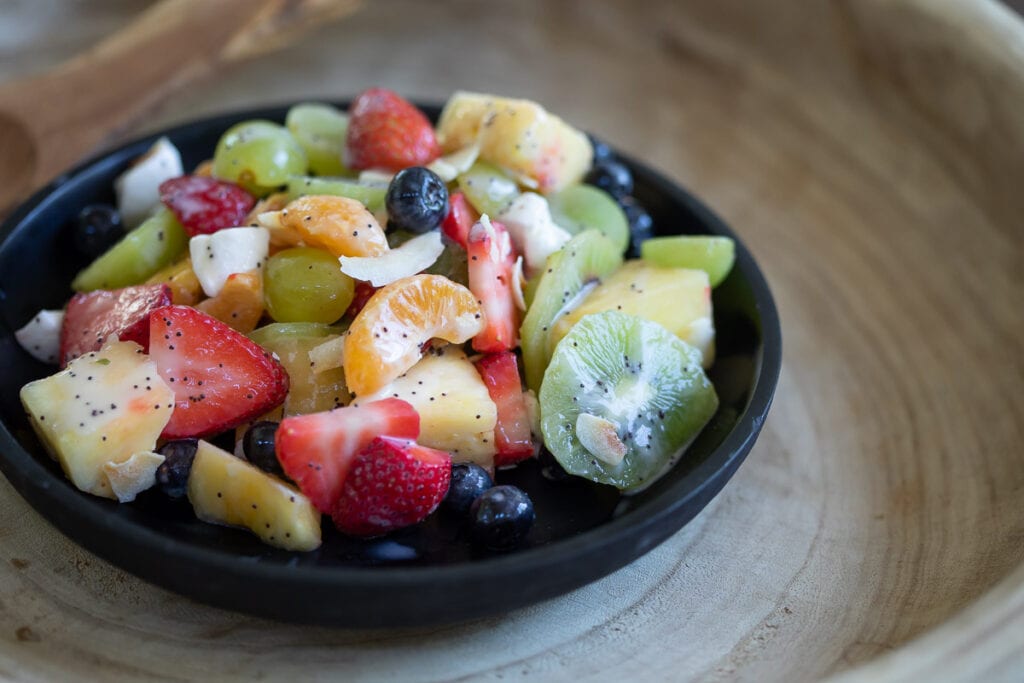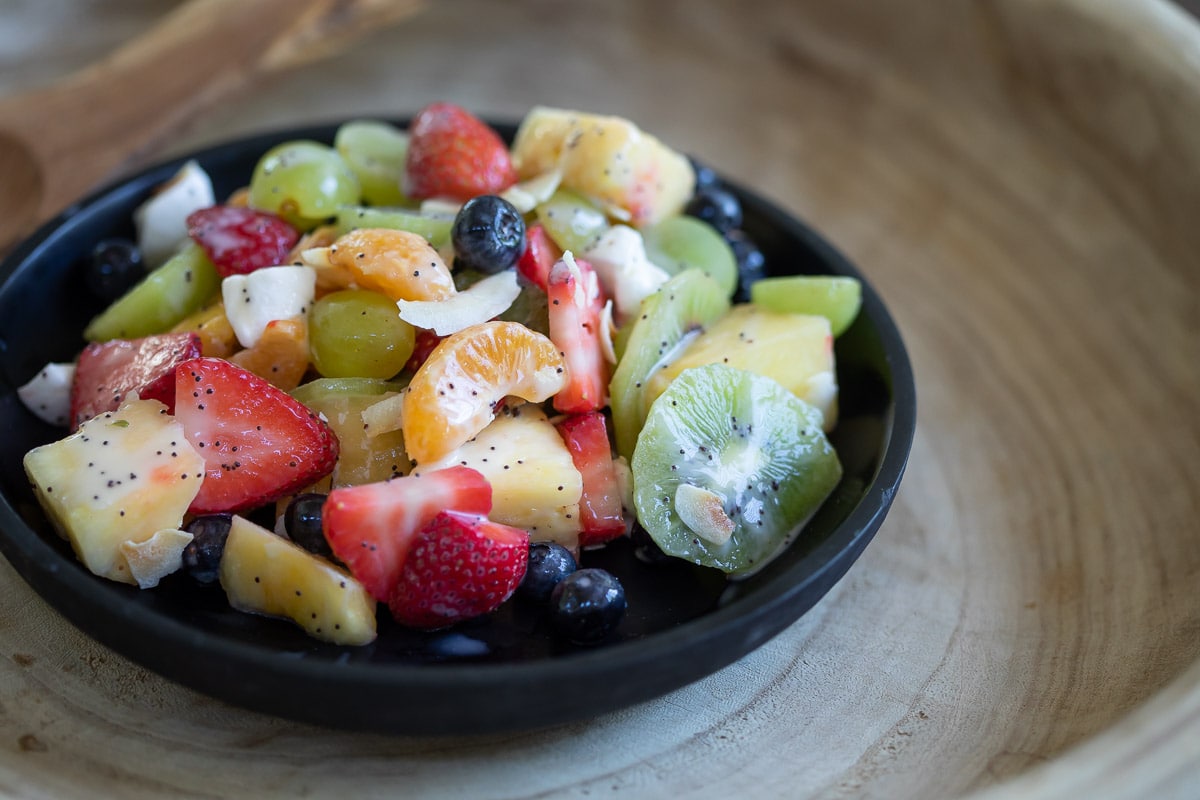 Fruit Salad. Yummy Yummy. Does anyone else always hear that song on the kid's music stations and have it stuck in their head for months?! Also, if you haven't followed Celeste Barber on Instagram, do yourself a favor and find her parody of the song. She had me laughing out loud – it is so funny! I think listening to that song over and over the past few months while in quarantine played a big part in inspiring this recipe for a Dairy-Free Fruit Salad with Yogurt Dressing.  
My father in law grew up eating ambrosia (aka fruit salad). There are many variations of this traditional dish online, but the base is usually the same – heavy cream, refined sugar and sour cream. I wanted to make a lightened up version with dairy-free yogurt, just a hint of honey, and poppy seeds (or chia!) for crunch. My kids eat fruit by the handful on its own, so this fruit salad recipe feels like a dessert to them! It is such a light and refreshing recipe, perfect for a summer treat any time of the day!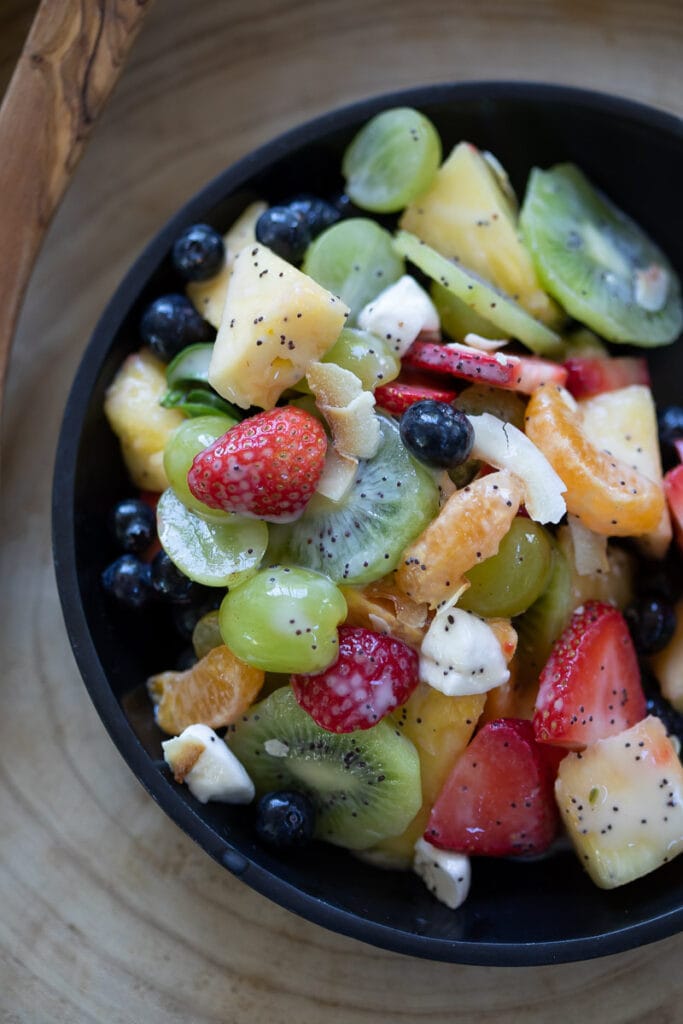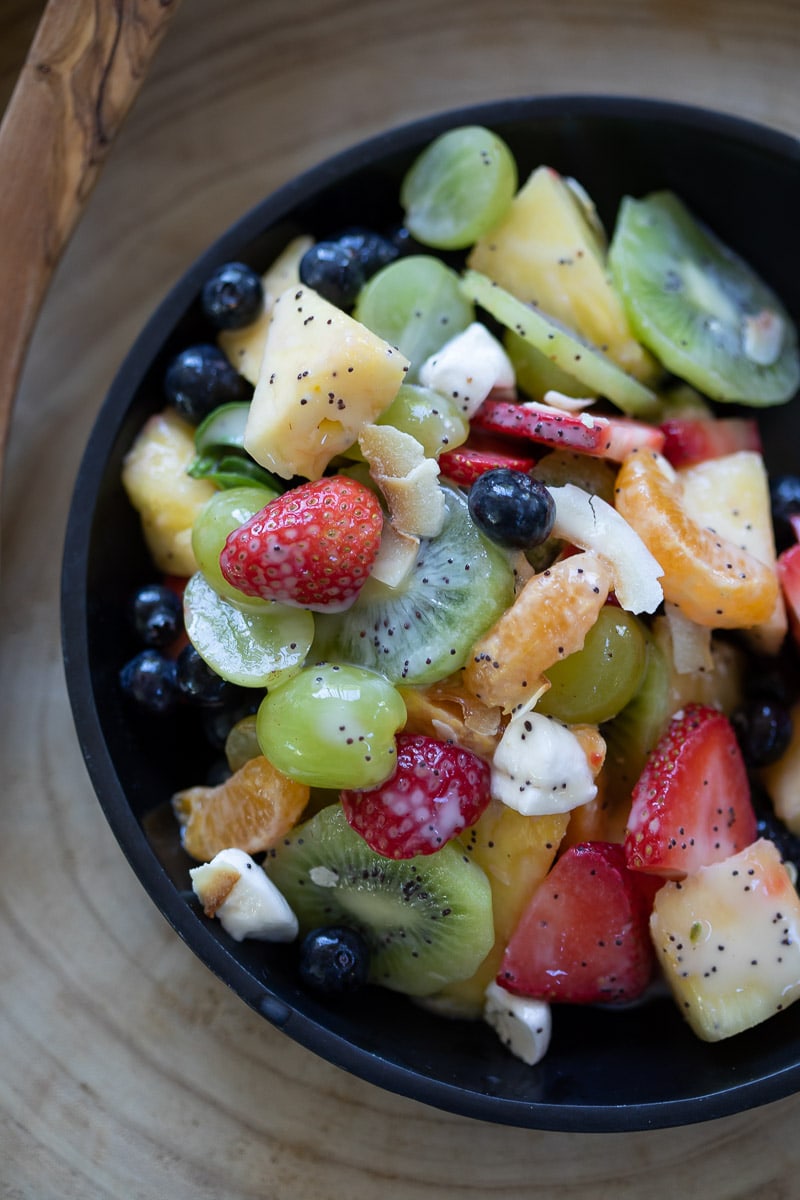 Fruit Salad for Dessert! 
For the most part, I keep our sugar intake as a family at a minimum to avoid the negative side effects it can cause. Sugar can create imbalances in the gut microbiome and causes hyperactivity in the kids. However, it can sometimes be hard to say no to my kids when they ask for a treat after dinner. After all, they definitely get their sweet tooth from me! I feel confident giving them a bowl of this refined sugar-free fruit salad knowing that they won't have any of those negative side effects. I also love the added bonus of gut-healthy probiotics in the poppyseed dressing from the dairy-free yogurt!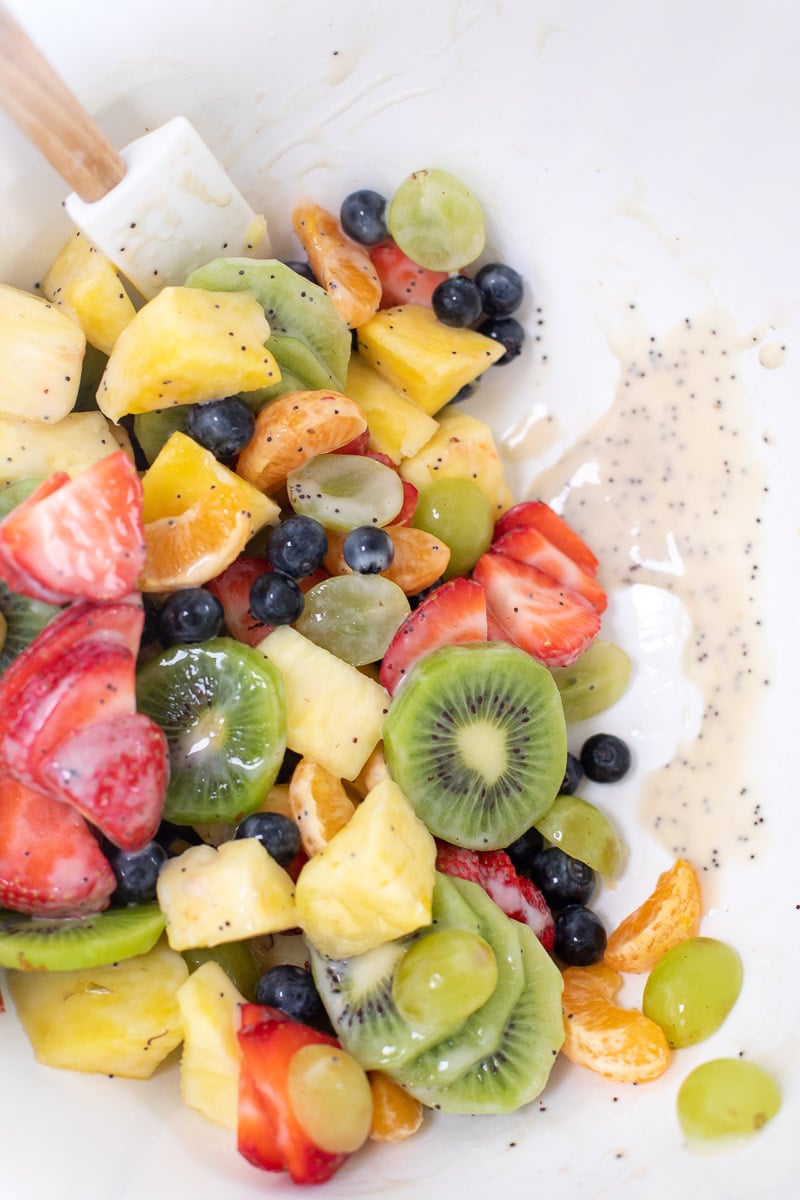 Some added sweetness
The salad my father in law always made had mini marshmallows in it (and sometimes green jello!), so to make this fruit salad even better, I decided to dice up a handful of my homemade marshmallows from page 316 in Celebrations or here on the blog and throw in some toasted sugar-free coconut flakes on top. Feel free to be creative and add whatever other add ons you'd like! My kids' like to customize their portions with their favorites such as Hu Chocolate Gems or homemade grain-free granola like my Vanilla Granola from the blog. 
The fruit
For this recipe, I used summer fruits like kiwi, strawberries, and pineapples because that is what is in season right now. If you would like to make this recipe in the fall and winter months, figs, apples, bananas, and pears would all be good substitutions!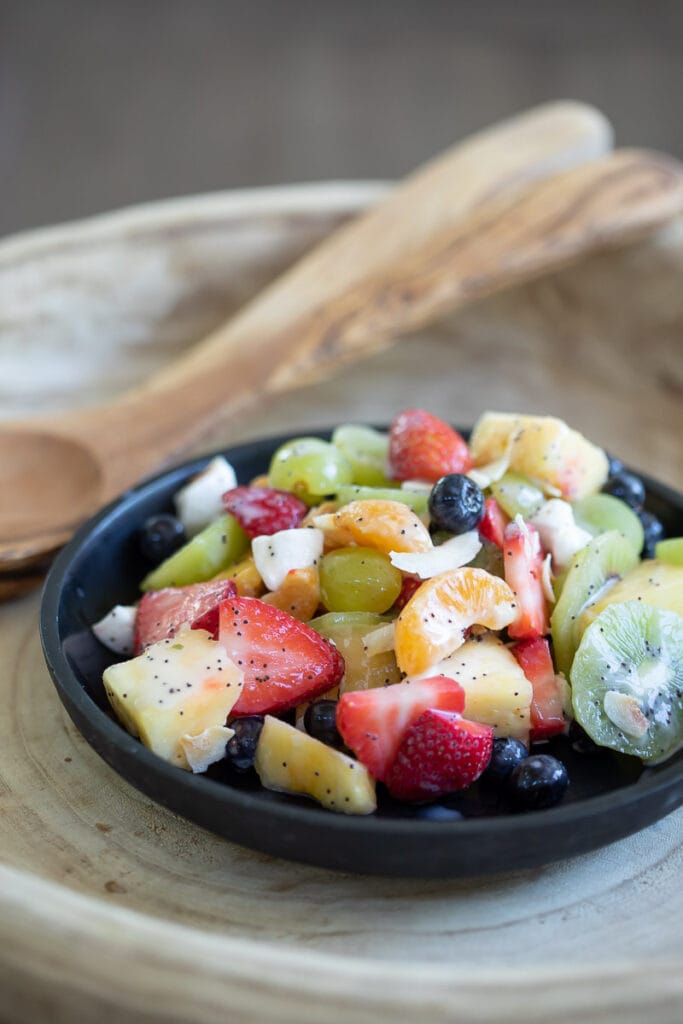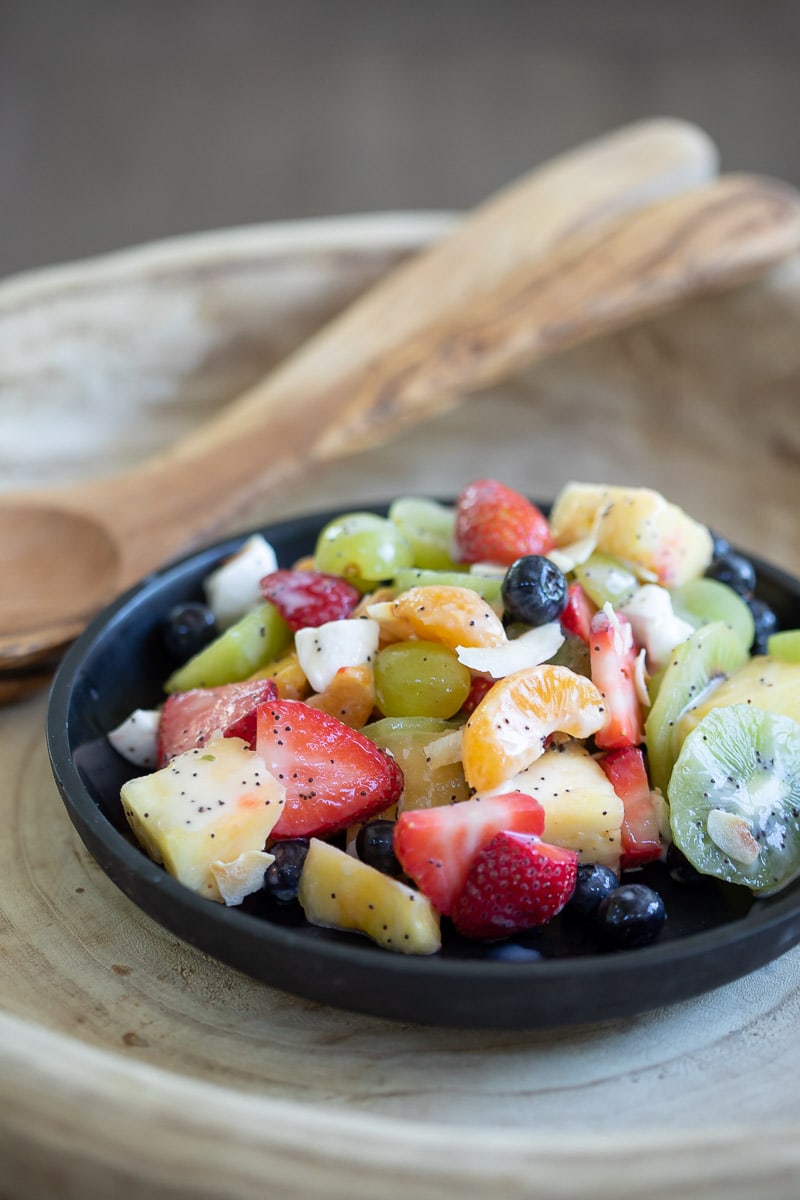 The Yogurt 
Back in 2011 when I started my paleo journey, there were not many options for dairy-free yogurts so I made it homemade quite often. Nowadays you can find a bunch of dairy-free yogurts in the aisles of your health food store. Two of my go-tos are Forager or the Kitehill brand, but any dairy-free yogurt that doesn't contain added sugars should work! Nothing beats homemade in my opinion, so I still like to make my Coconut Milk Yogurt recipe on page 46 in my first cookbook Against all Grain or my cashew-based Dairy-Free Yogurt on page 312 in Eat What You Love. If you do make it at home, I like to use this yogurt marker or use the yogurt setting on my Instant Pot!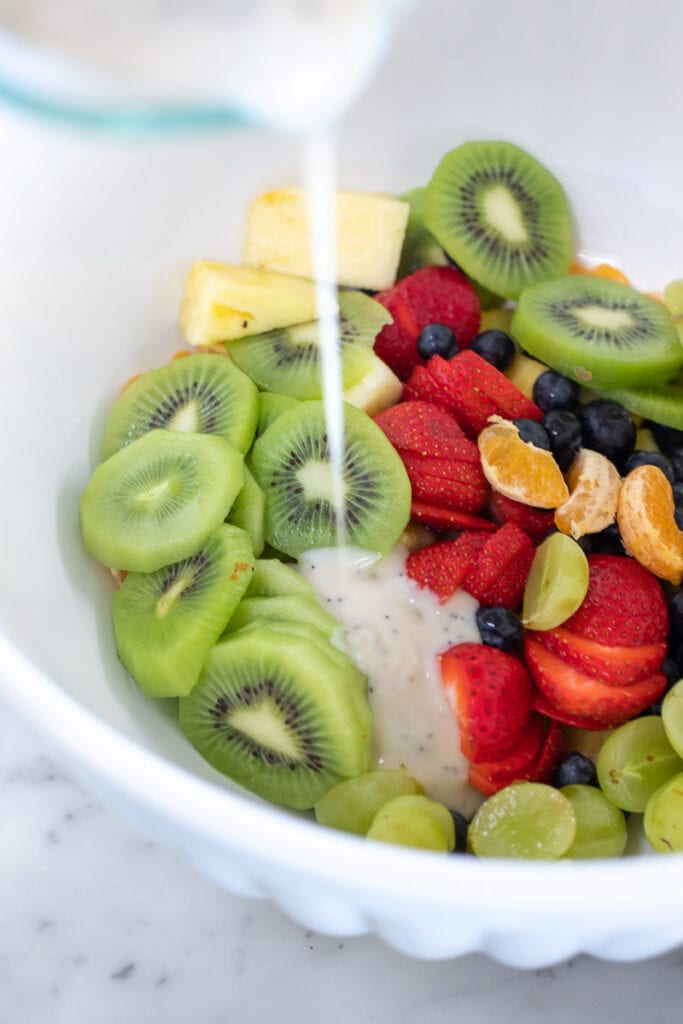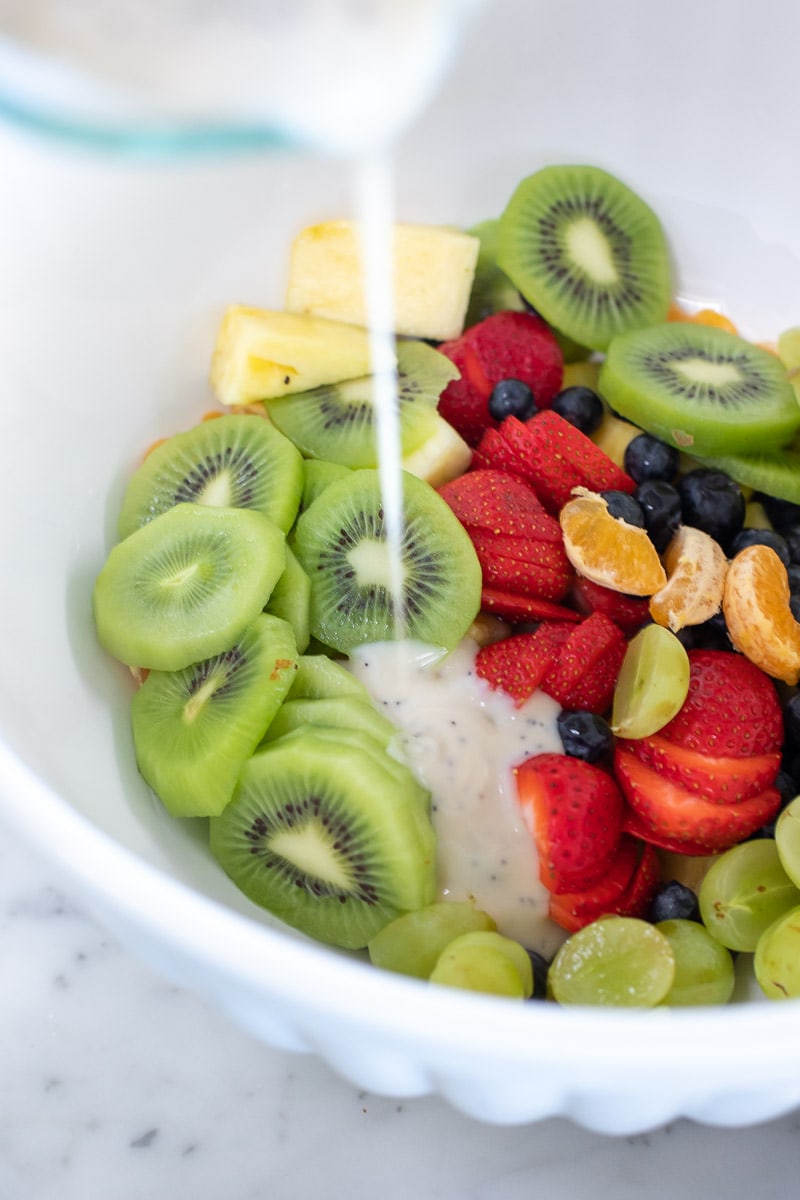 How to Serve
This dairy-free fruit salad recipe works great alongside eggs or a healthy protein such as my Breakfast "Hamburgers" on page 233 in my book Eat What You Love for a hearty breakfast that will keep you or your kids fueled for the day or serve it on its own for a midday snack, or of course as a light and tasty dessert! I also think my homemade whipped cream would taste amazing on top!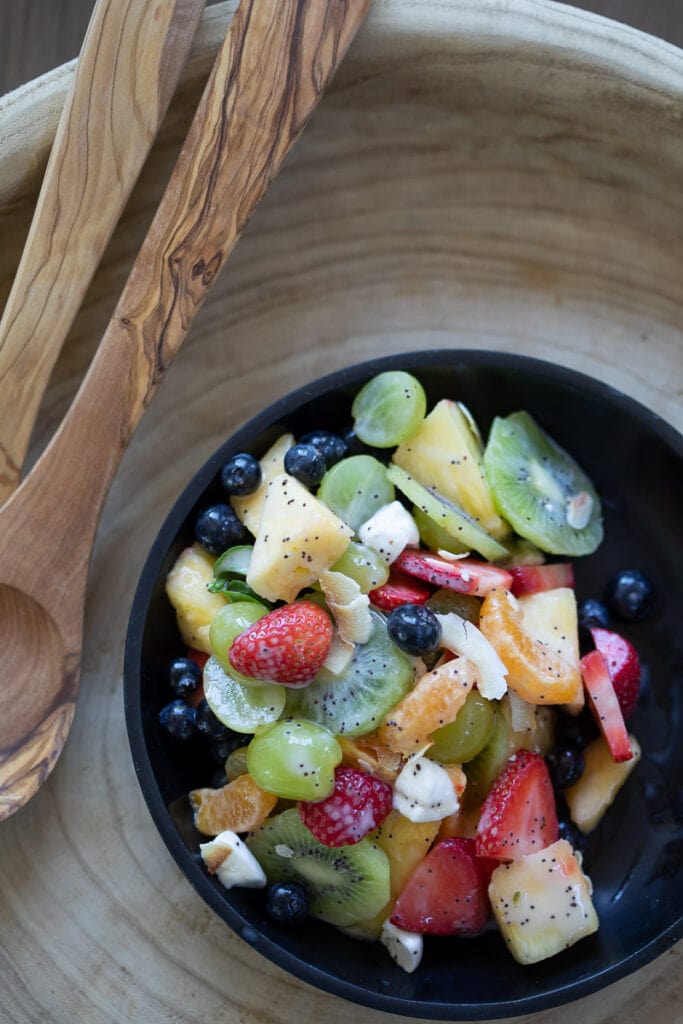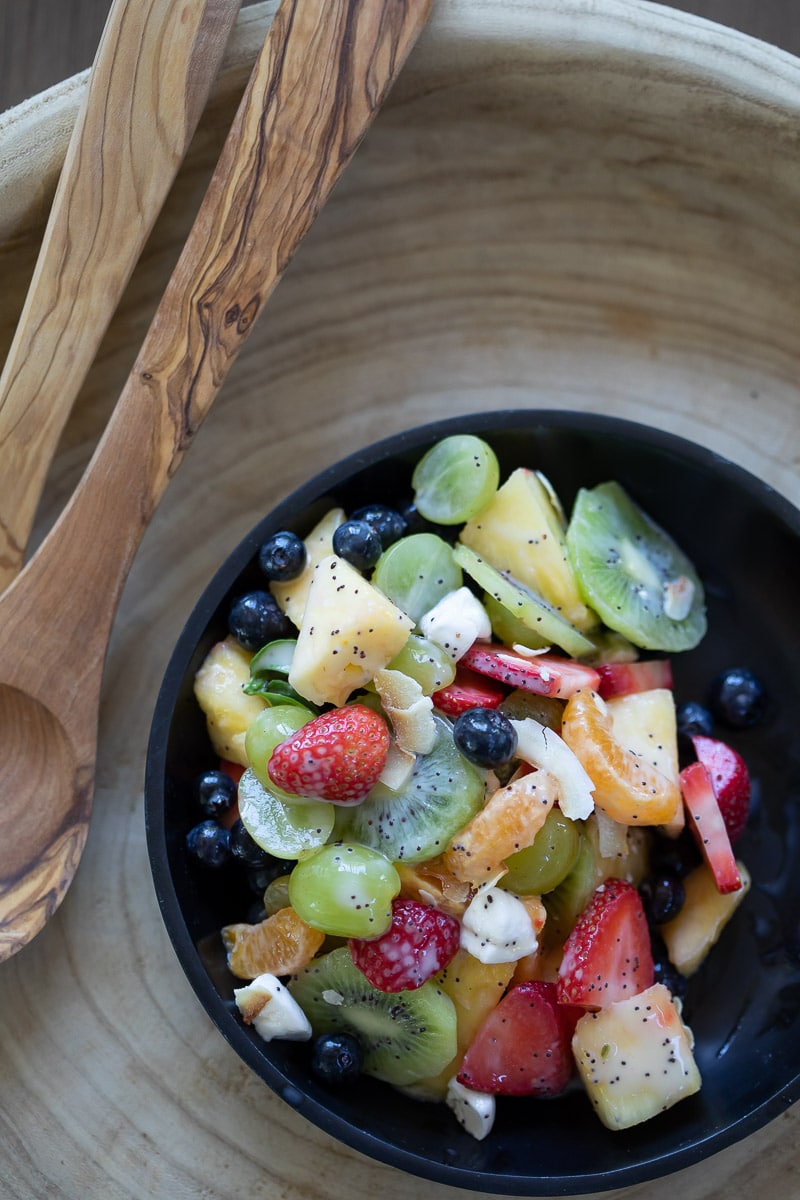 If you are looking for more healthy snacks and/or desserts with fruit I recommend my Fruit Kabobs on page 147 in Celebrations or this Berries and Cream recipe! 
Shop This Recipe!