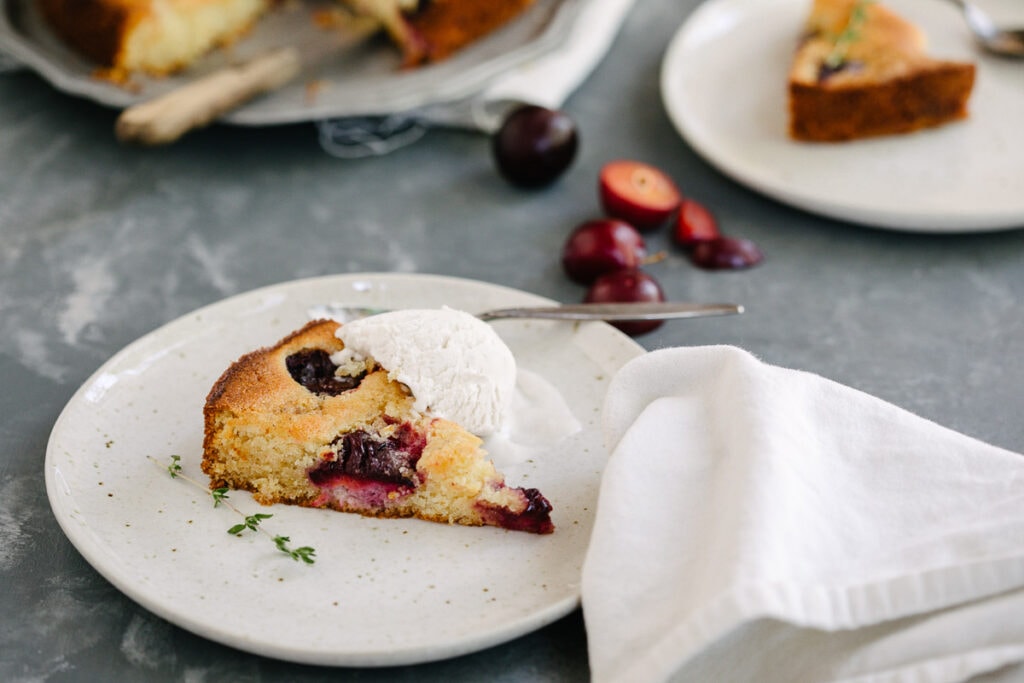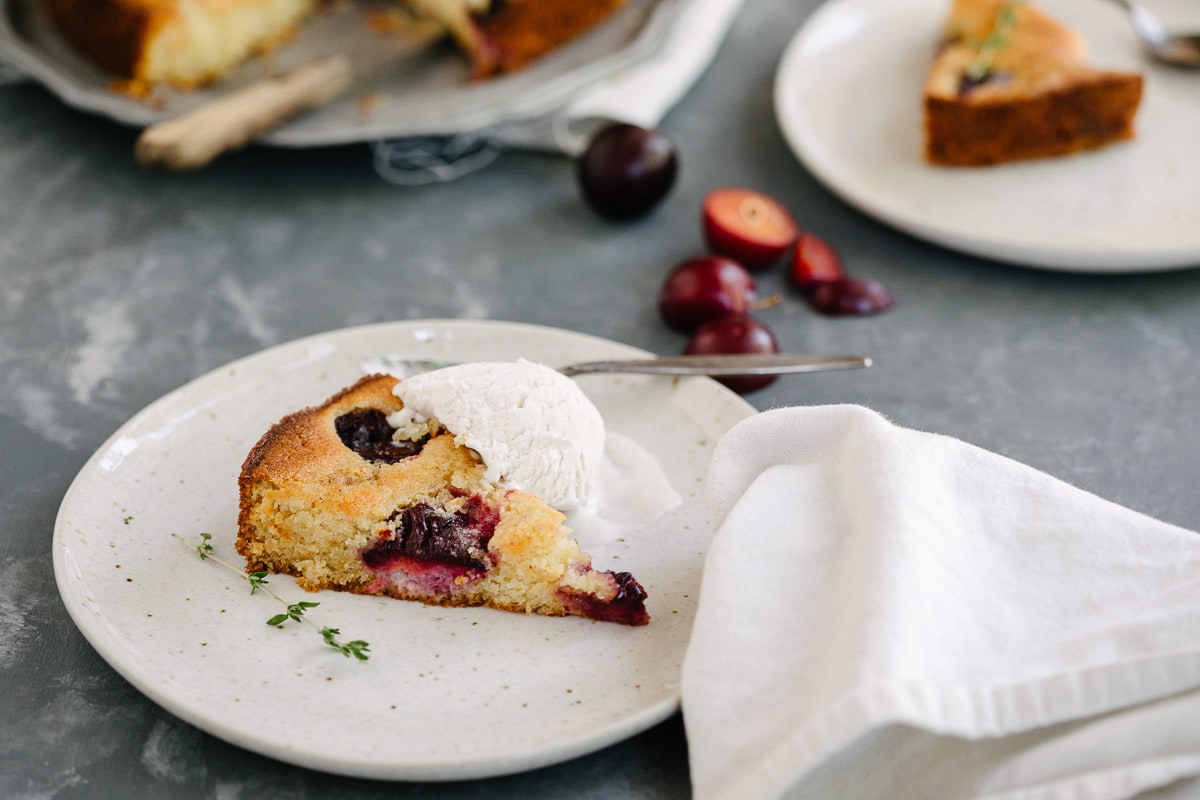 If you have been following me on social media for some time, you may know my garden is a labor of love. I cherish my time tending to it, as well as watching my kids' excitement of picking fresh fruits and veggies right off the vine. Last year, after moving, our garden nearly tripled in size. We gained so many fresh fruits and vegetables, including a giant plum tree that the previous owner had planted. I'm so grateful for all the time and care they put into the landscaping and how much we get to benefit from it! I've never had a plum tree before so I'm extremely excited to be able to incorporate them into recipes. That is, whatever is left after the birds and squirrels get them (and my own 3 little birds that pop them like candy!). After a few trials, I came up with this delicious and delicate Cardamom Plum Buckle recipe!
About a week ago, I started to notice that the birds and squirrels ("squirrelers" as Kezia calls them) were getting to the plum tree. I quickly picked them off the tree and headed to the kitchen. We can thank the birds for forcing me to create this delicious recipe for Cardamom Plum Buckle! This plum cake has the most decadent crumb and buttery taste. It's simple to make and has a dusting of cardamom and maple sugar on top that gives it a subtle sweet crunch. This helps balance the tartness of the Santa Rosa plums. It is the perfect summer dessert! If you're anything like me, you may even enjoy it for breakfast with a cup of coffee!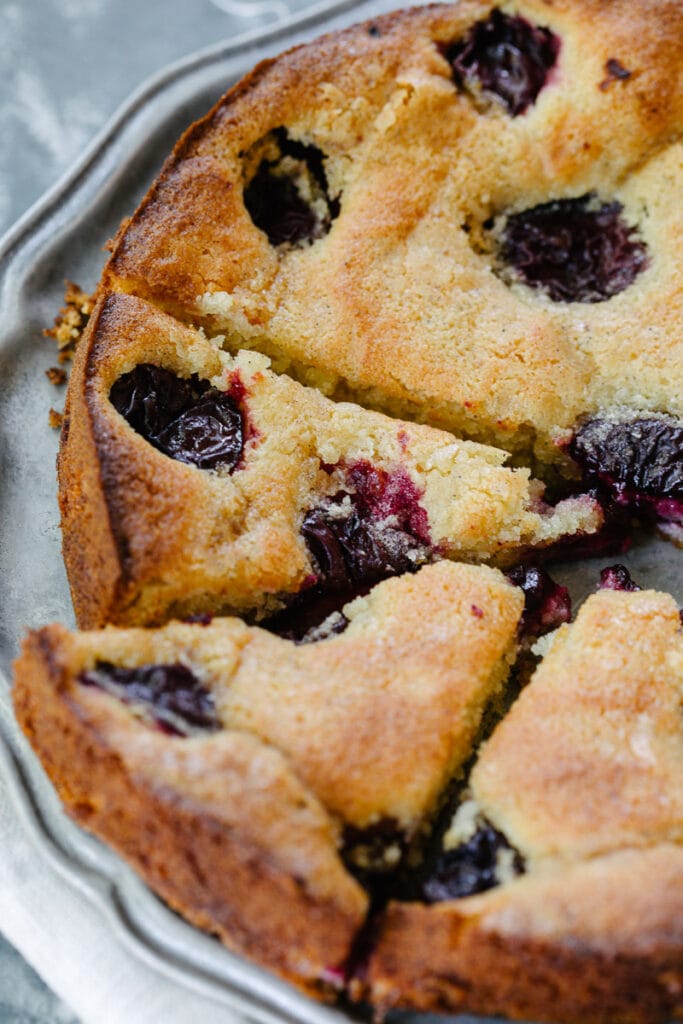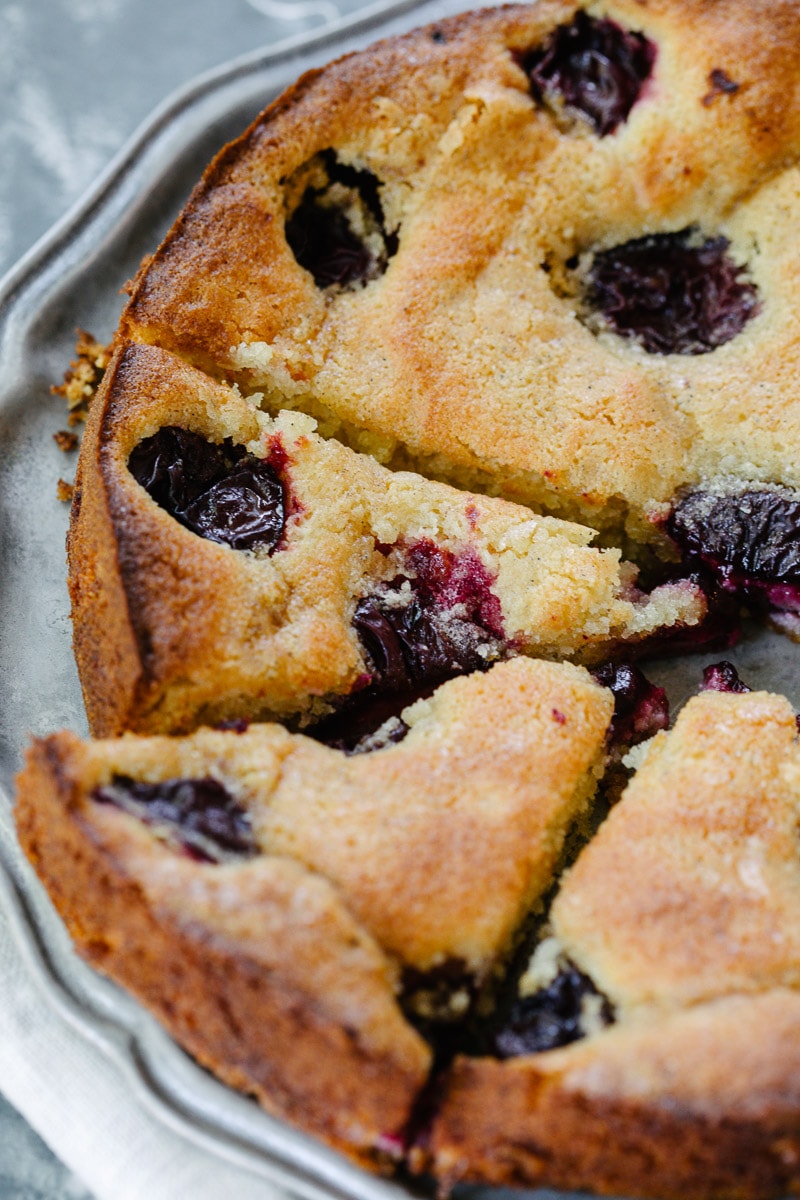 Crisps, Cobblers, and Buckles
These delicious fruity desserts can go by many different names, which can sometimes get confusing. It basically comes down to what type of crust or topping is used. I am going to help break down the main differences between what a crisp, cobbler, and buckle actually are! 
Crisps
A crisp traditionally has toppings of oats, flour, butter, and sugar. In the Paleo realm, it is typically substituted with crushed nuts, coconut flour, ghee or coconut oil and coconut or maple sugar. It gets its name because the toppings completely cover the fruit and then baked to perfection. This creates a slightly crispy toasted top. You can also call these "crumbles!"
If you are interested in making a crisp I definitely recommend trying my Apple Crisp on page 289 in Eat What You Love or my Pear-Berry Crisp on page 44 in Against all Grain. 
Cobblers
Cobblers are baked fruit with a thicker batter that creates a biscuit-style topping. It has a smoother crust compared to a crisp, but not quite as smooth as a pie. It is more of a cobbled and coarse top that is spooned over the fruit. This allows the fruit and fruit juices to peek through once baked.
If you are looking for a Cobbler recipe, you can try my Peach Cobbler on page 132 in Celebrations or here on the blog.  
Buckles
Buckles are a mixture of fruit and cake baked together. It gets the name buckle, because as it bakes the fruit and cake mixture begin to "buckle" or sink in and crack. Think more of a somewhat dense sweetened fruit cake. This Cardamom Plum Buckle is my first recipe for a true buckle!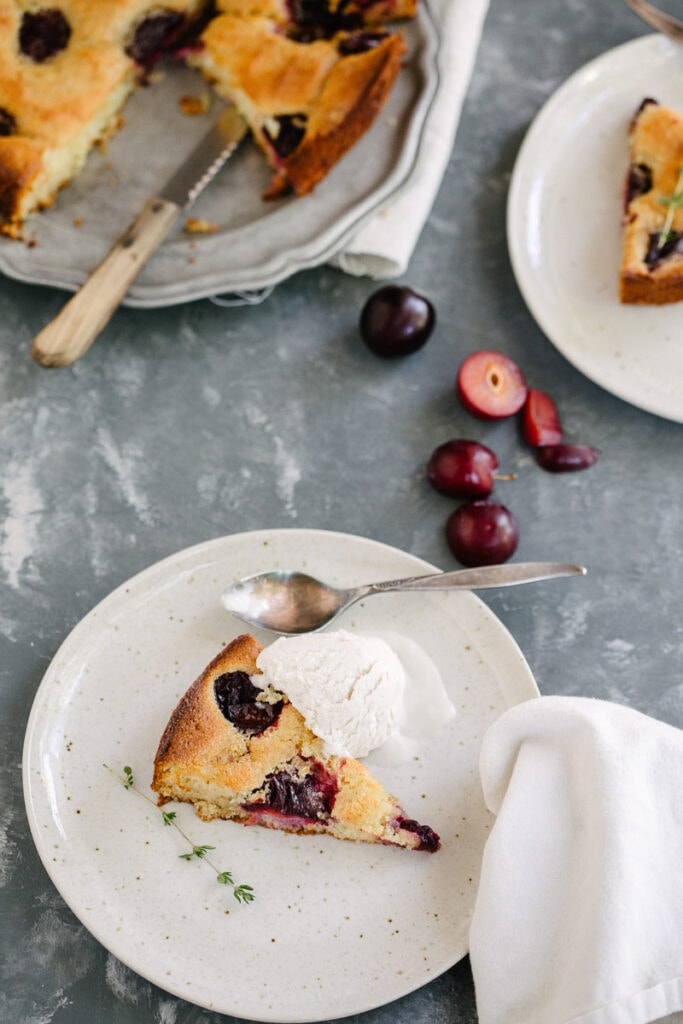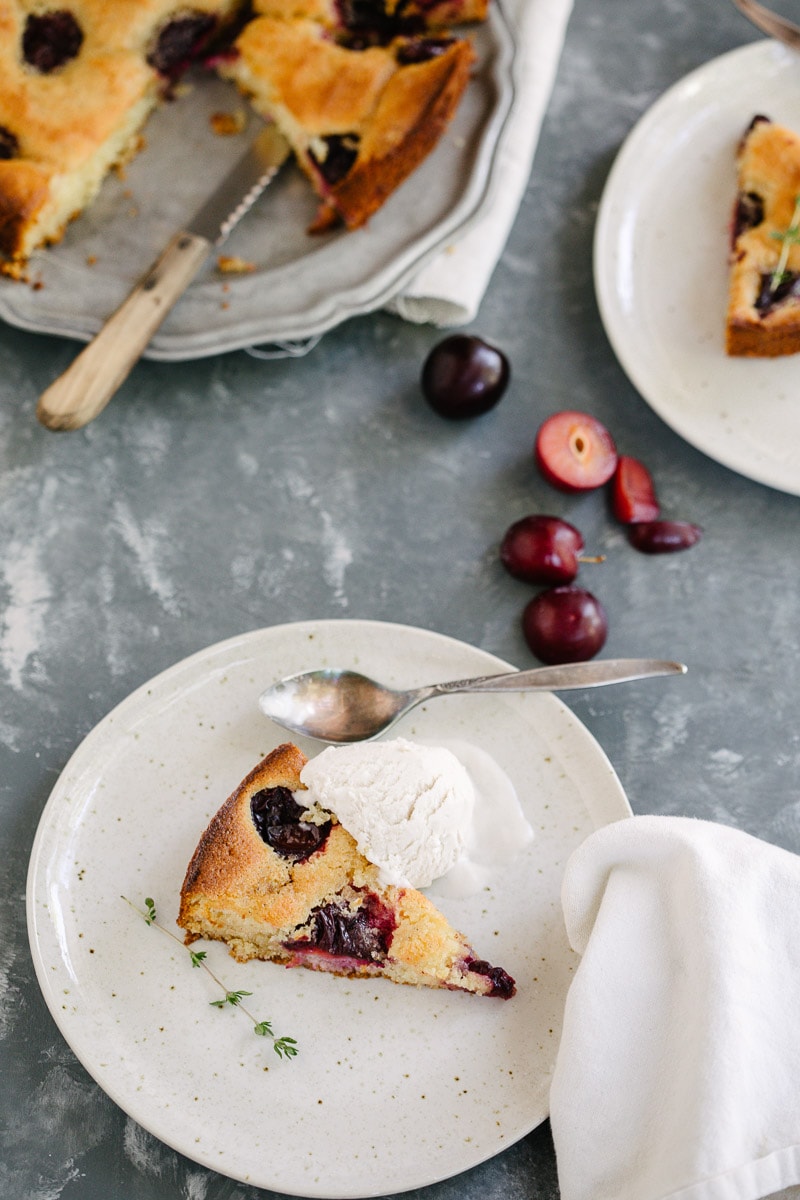 A favorite any time of the year
All three versions of these fruity desserts are the perfect treat to have all year long. I used plums in this recipe because I had easy access to them. You can easily substitute them with blueberries, apricots, cranberries, nectarines, or any fruit that happens to be in season! 
The extra touch
This warm fruity and sweet buckle cake pairs perfectly with any type of dairy-free ice cream. But then again, what doesn't taste better "à la mode?" I used my French Vanilla Ice Cream Recipe from page 280 in Against all Grain, but you can also find the recipe here on the blog. I think a scoop (or two!) of my Dairy-free Coffee Ice Cream would also taste amazing alongside this Plum Buckle.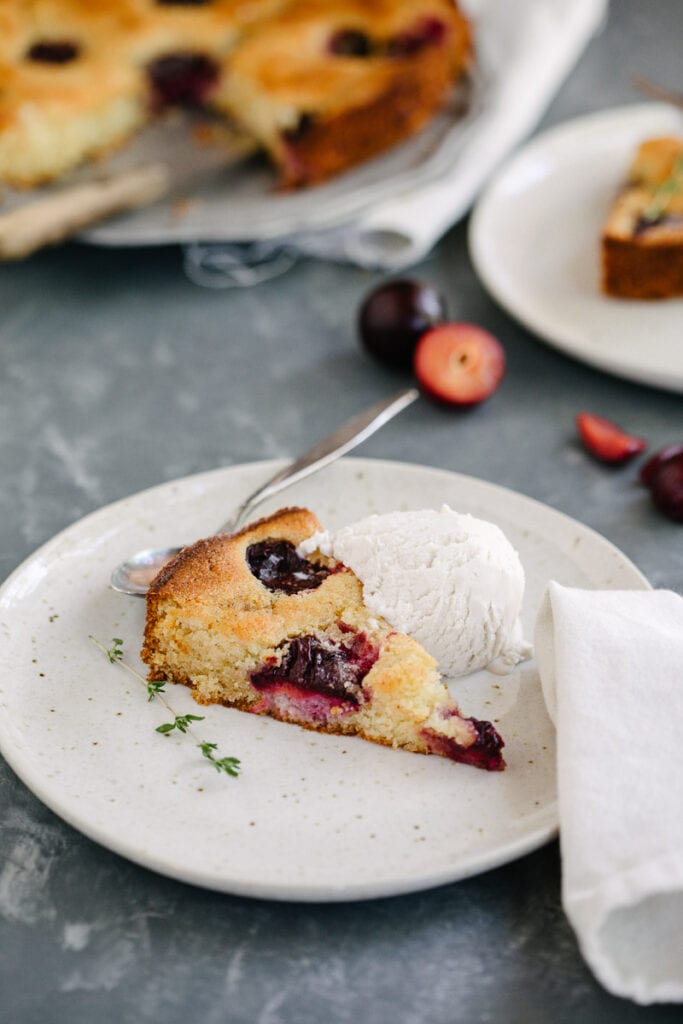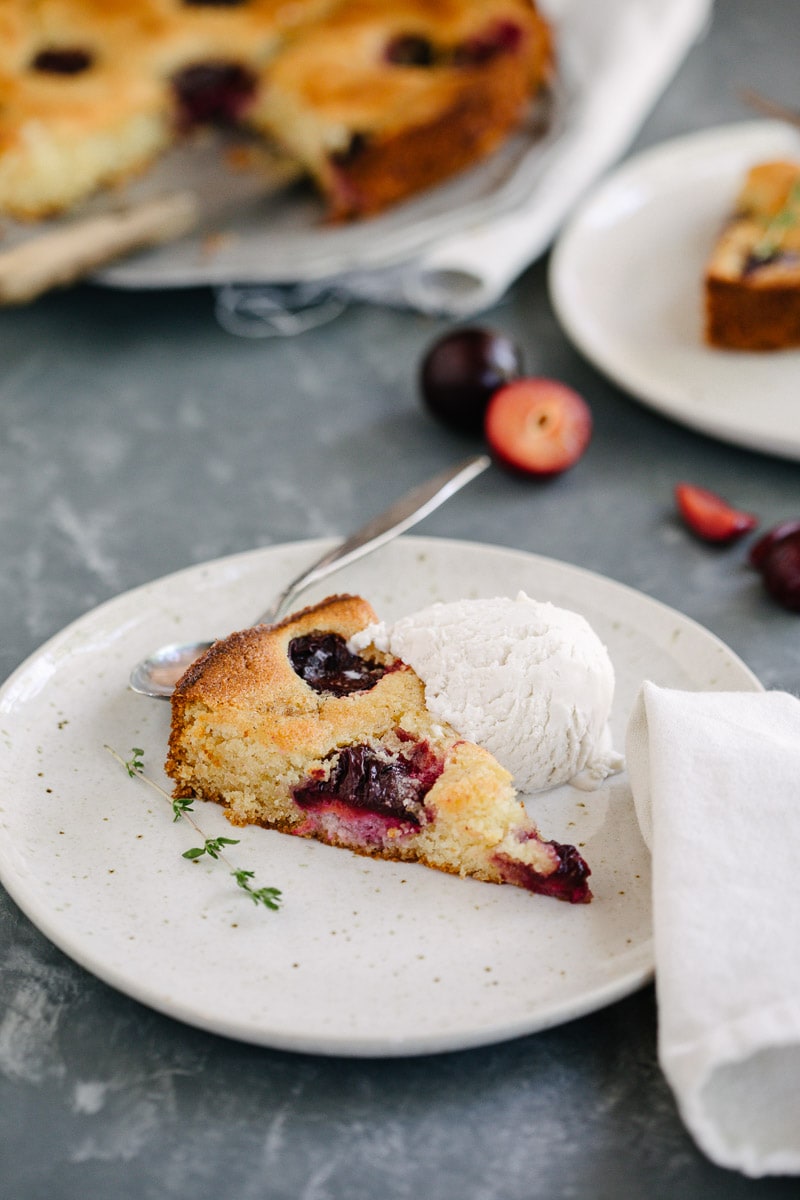 Shop My Kitchen!

recipe inspired by the ever-famous Original Plum Torte from the New York Times