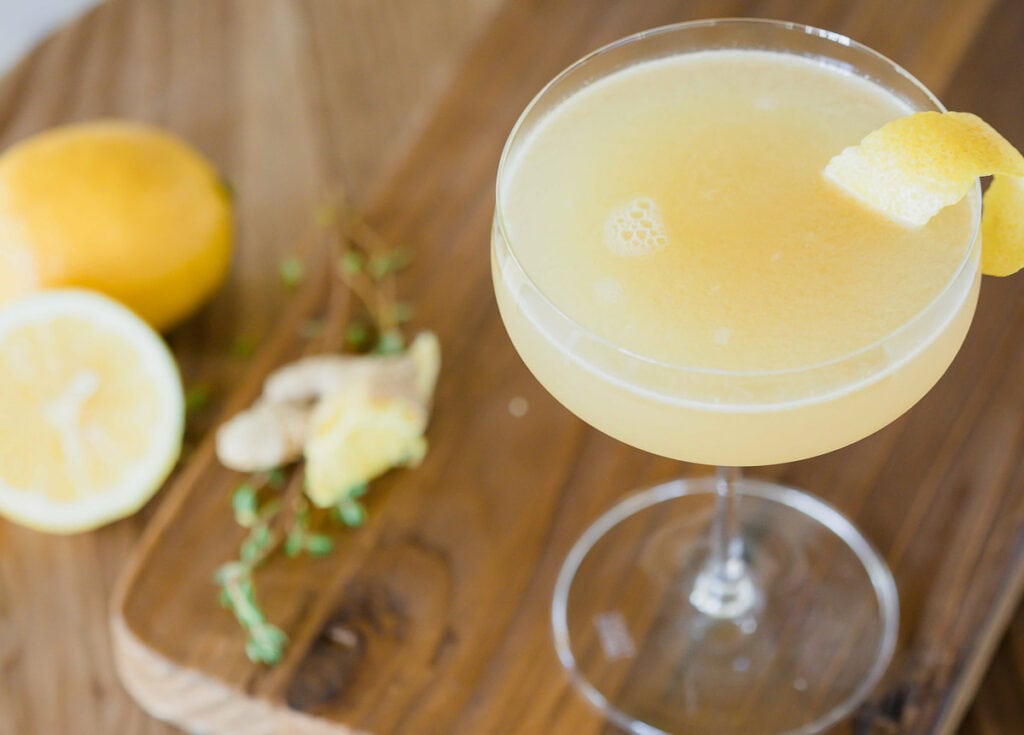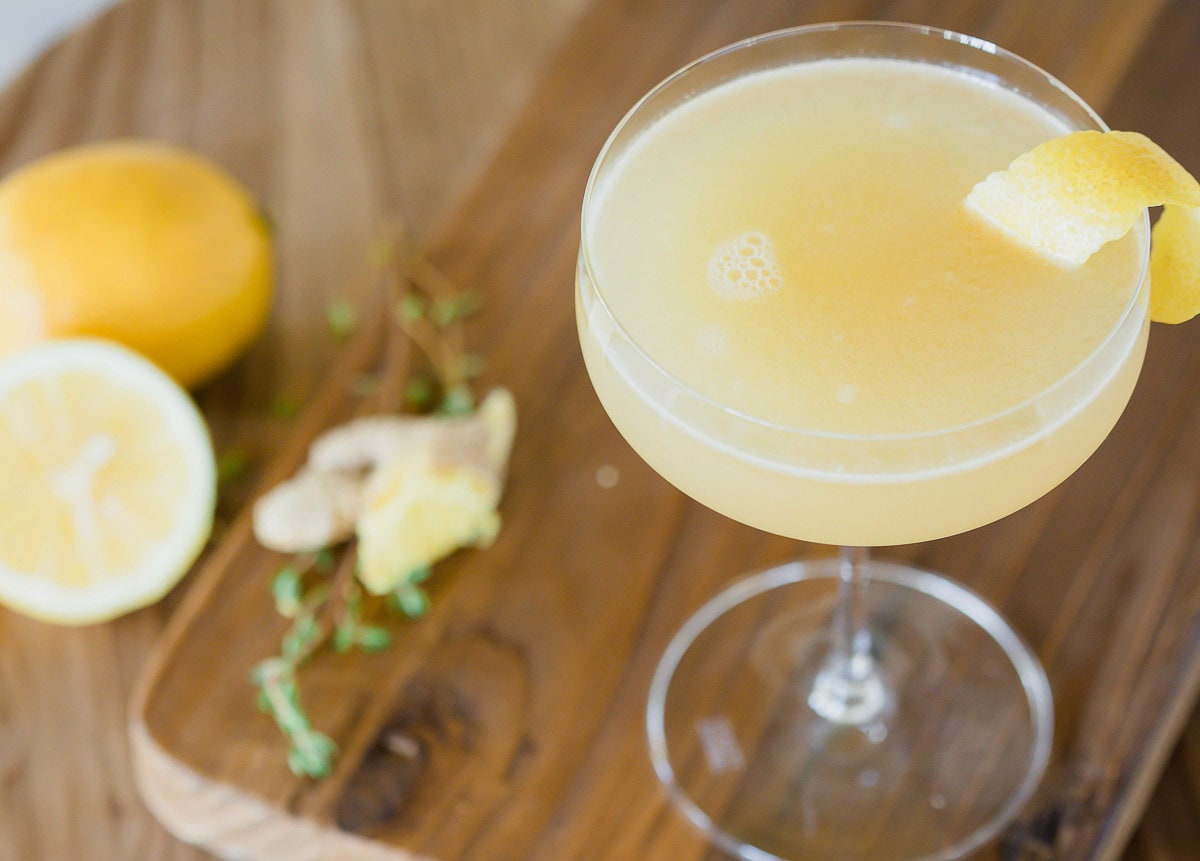 If you can't tell, I've been on a big tequila kick recently. It has to be a mixture of quarantine for the past 4 months and the warm summer air. While I do enjoy a glass of biodynamic wine, I also love putting my creativity to the test and mixing different fruits and fresh herbs with ice-cold tequila. This Ginger-Thyme Tequila Sour takes a cold refreshing cocktail to the next level. It's a unique combination of both savory and sweet that is certainly like nothing you've tasted before.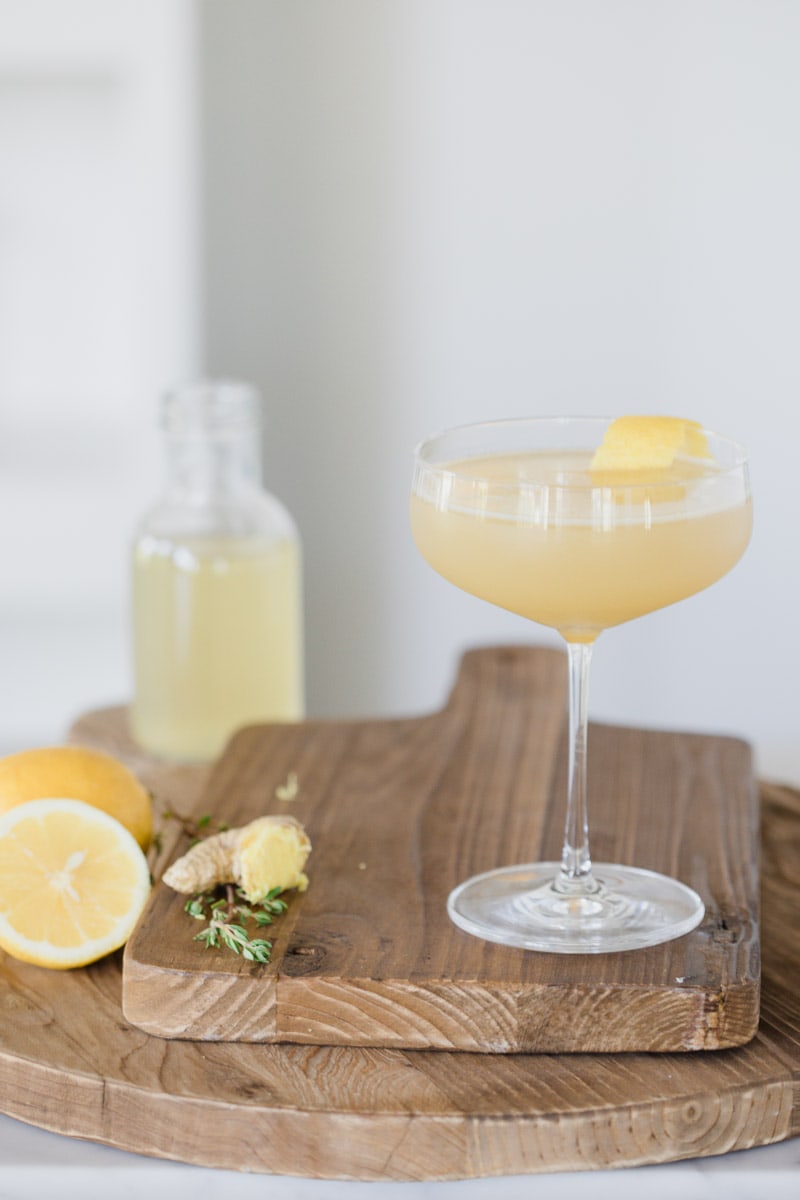 Tequila Sour vs Margarita 
So what makes this a Sour rather than a Margarita? Well first – I have so many recipes for Margaritas. You all know how much I love them and are probably beginning to think I'm a one-trick pony – so I just wanted to call it something different simply for variety! Haha. 
Both Sours and Margaritas typically contain a sweetener, alcohol, and citrus juice. The main difference between a Sour and a Margarita is the type of alcohol used and the use of lemon juice vs lime juice. Margaritas can be served over ice or frozen, but are rarely served straight-up. Sours can be served over ice or straight-up, but are not served frozen. 
Sours will also occasionally have a dash of egg whites to create a silky foam on top after being shaken. Your most typical sour cocktail would be a Whisky Sour; but since whiskey is grain-based, I've decided to make a Tequila Sour instead!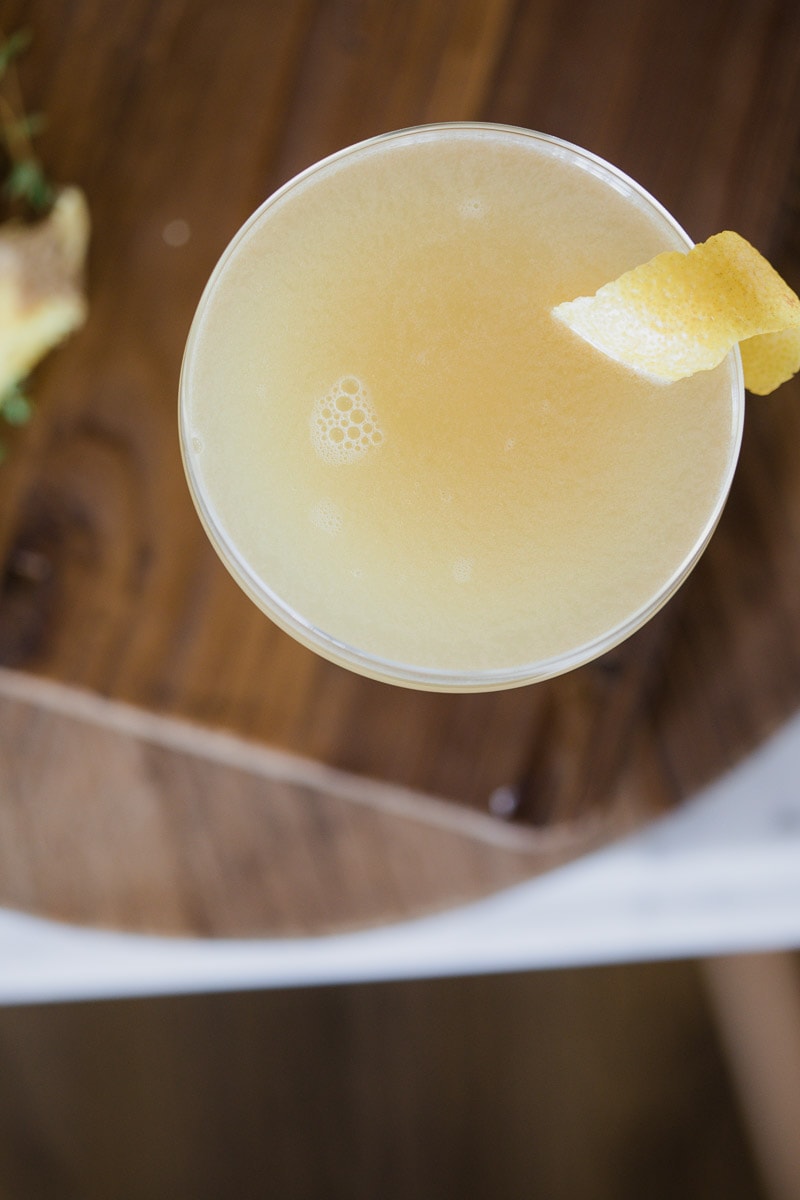 Sweet and Savory 
I think all cocktails tend to liven up when fresh herbs are added to the mix. They provide an extra boost of elegance to all craft cocktails. I regularly use mint and basil, but my garden is currently overflowing with fresh thyme so I knew I wanted to find a way to incorporate it into this recipe. The thyme gives this cocktail a slight savory taste and beautiful aromatic flavor.
The ginger gives it a mild kick that provides an unexpected spicy warmth. When you put them together they make for a unique, yet incredibly delicious drink. Think Ginger Ale meets Lemonade. With a shot of tequila!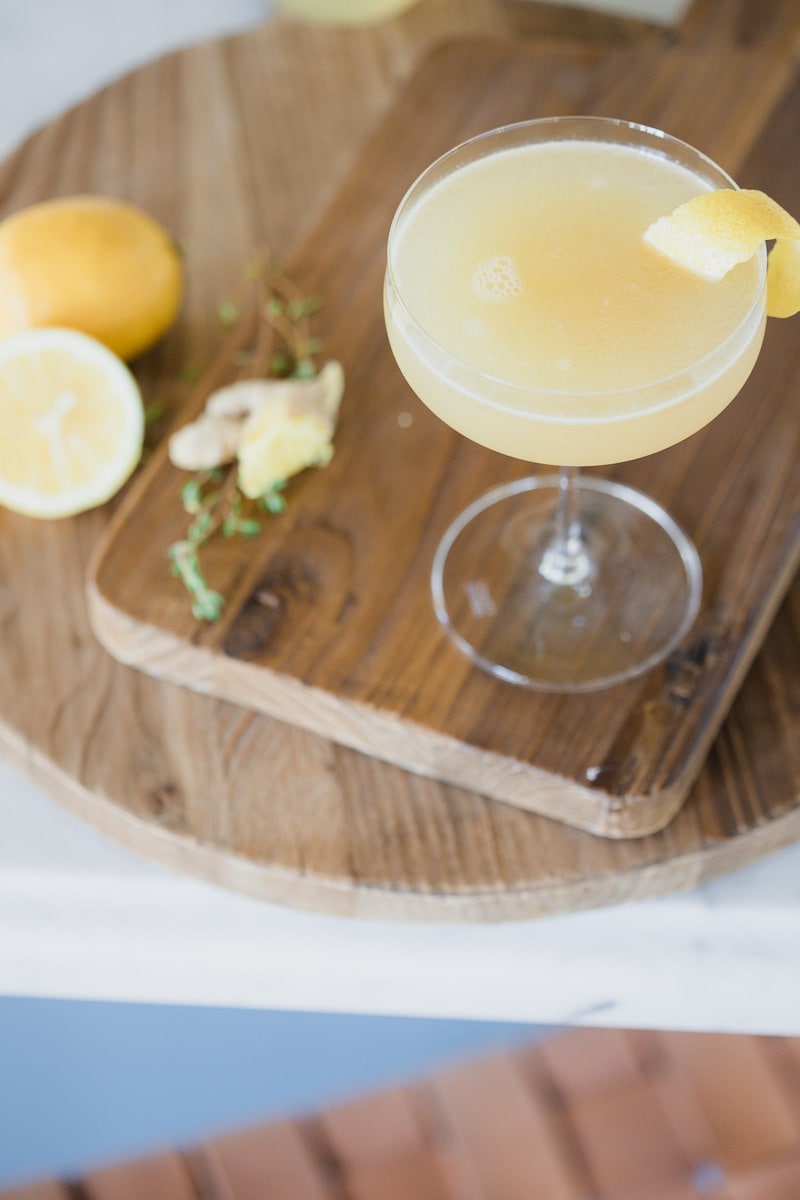 The Process
A Ginger-Thyme Tequila Sour seems fancy, but it's as easy as shaking everything together and enjoying. Simply follow the recipe for my Honey Simple Syrup and add some fresh thyme and freshly grated ginger. I like to use 100% agave reposado tequila, because it has a slightly sweeter flavor than the Blanco varieties. As I mentioned in my Watermelon Margaritas post, 100% agave tequila is naturally grain-free. It's what my body tolerates best when I feel like indulging in a cocktail or two.
To top it all off – add a few squeezes of fresh lemon juice to give it that extra zing and if you're feeling fancy you can add a lemon twist for an elegant garnish! We loved these served straight-up, without ice, but if it's a particularly hot day and you want to enjoy these in the backyard or poolside, a few ice cubes won't hurt!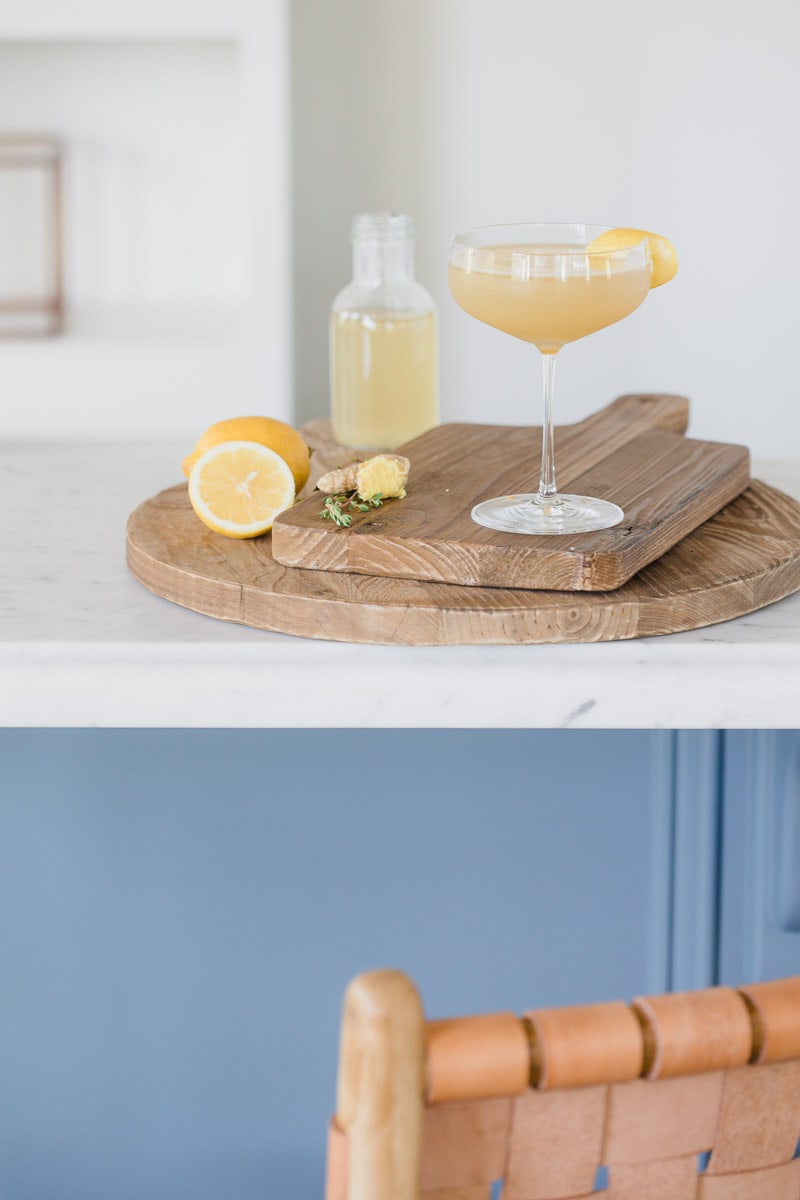 This cocktail is mildly sweet, so if you do prefer something fruity and sweeter, try my new recipe for Watermelon Margaritas. If you are not much of a drinker but do enjoy a fun sugar-free mocktail here and there, just replace the tequila with some sparkling water! I also have several mocktail recipes in my first cookbook, Against all Grain!
Shop My Kitchen!