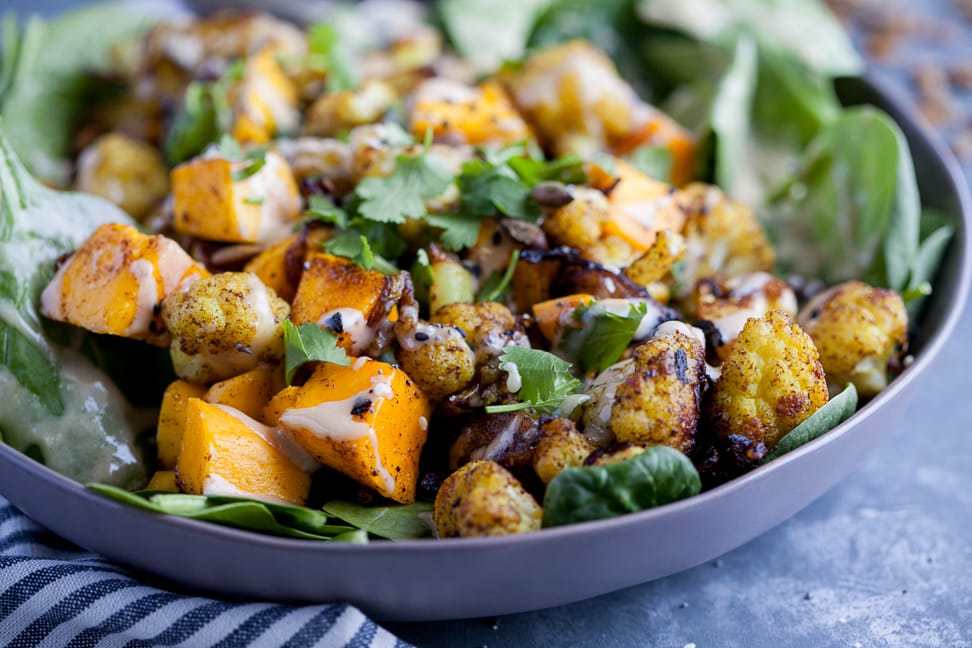 It's chilly here in California this week and the weather has me craving this Curried Cauliflower Salad with Mango and Tahini Dressing. The spices are so warming and the salad is incredibly satisfying and filling.
When I first started cutting out gluten and grains, I had a very limited perspective of what I could eat. I dreaded the thought of eating only steamed veggies and grilled chicken every day for the rest of my life. I grew up eating every casserole that you can imagine and definitely have a love for comfort foods (why I wrote Eat What You Love!) because of it. I also have a fondness for foods from different parts of the world because my dad traveled a lot when I was a kid and would always have us try different cuisines when he'd return from a new place.
I knew that if I didn't want to get bored of this new lifestyle change and fall off the wagon because I longed for something nostalgic, then I had to get creative. That meant recreating all of those comfort foods, and making use of the different flavor profiles I learned to love from my dad's travels. Thai flavors were always a favorite, so that's why you can see the Thai-style influence on a lot of my early recipes in my first couple of cookbooks and here on the blog.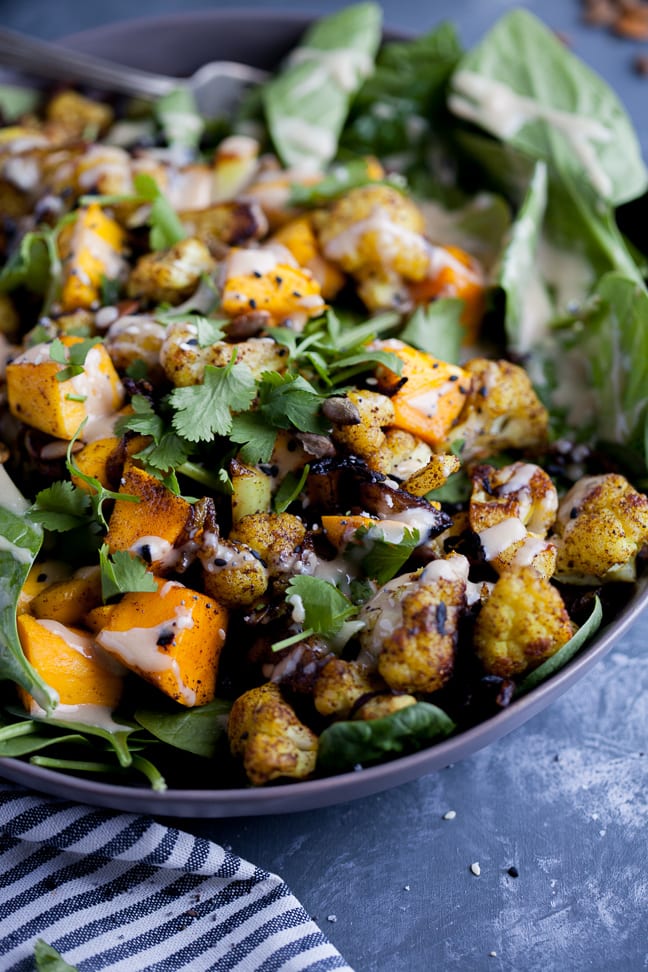 I ate a lot of salads at first because they were easy, especially when dining out. But they can get super boring after a while so I added lots of greens, well-seasoned protein, a sweet or tangy fruit, the perfect amount of spice and a little salty crunch at the end to keep things exciting. I found that this was the ideal combination that didn't leave me feeling like I was missing out. Some of my favorite recipes from my 4 cookbooks are the salad recipes! Have you tried my Roasted Autumn Harvest Salad from Celebrations, Summer Island Salad with Thai "Peanut" Vinaigrette from Against all Grain, Chicken Waldorf Salad from Meals Made Simple, or the  Barbecue Chicken Salad with Peach Power Slaw from Eat What You Love? Those are 4 of my all-time favorites.
Click here to see all of my Salad Recipes!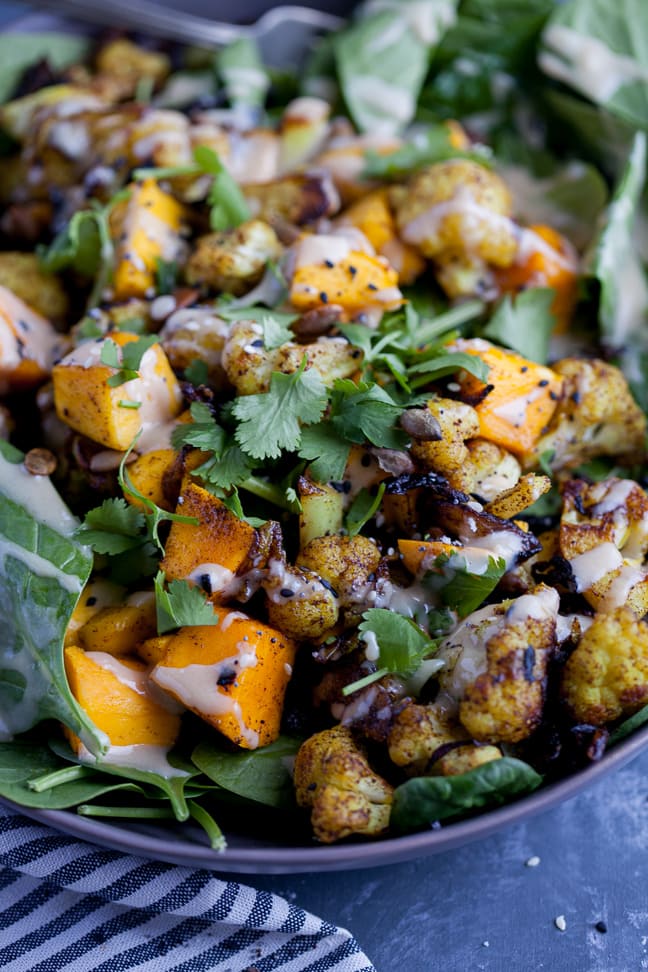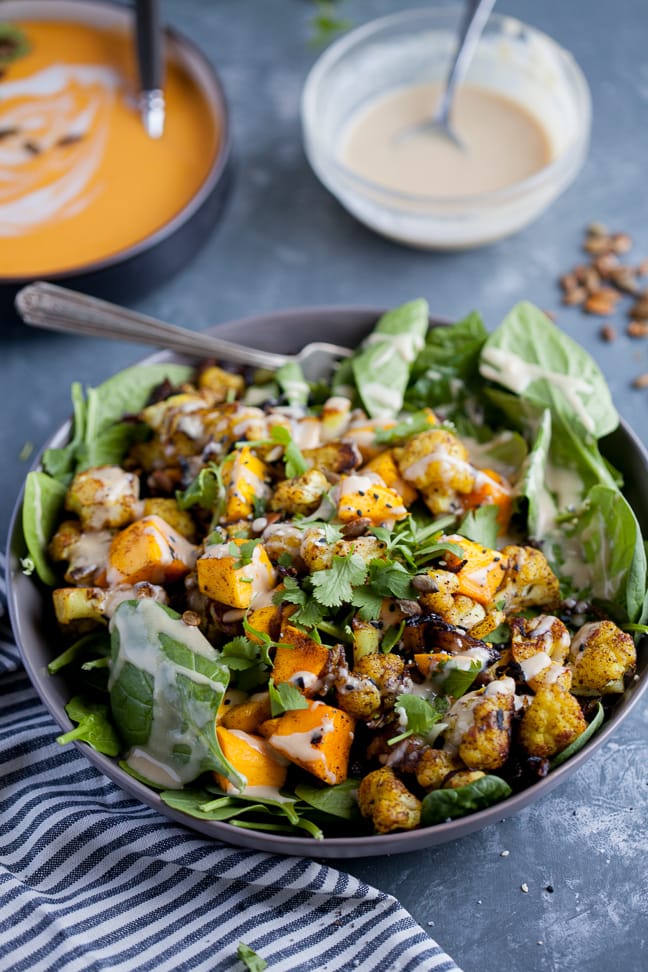 That brings me to this brand new recipe, and potentially my new favorite salad. I love curry seasoning and think it's good on just about anything. Instead of doing a curry chicken or other protein, I wanted to consider my friends who try to avoid meat or have committed to eating more vegetables weekly by doing a Meatless Monday so I use cauliflower to bulk this salad up. Of course, if you prefer then you can add a protein of your choice. Roasted shrimp would be amazing or leftover rotisserie chicken.
I have you sauté the spice mixture before coating the cauliflower to bring the flavors out, and I think it adds a substantial difference. The cauliflower is actually boiled and sauteed, which gives it the perfect texture. Then they are combined and tossed with the other ingredients to bring the whole recipe together. The conflicting spice of the curried cauliflower and sweet mango give the dish a nice complexity.
If you make this, don't forget the dressing, it brings all of the flavors together. If you're on salad duty for any social gatherings or just craving a warm salad then this is the one you should have! Plus, it pairs wonderfully with my recently released Red Curry Butternut Squash Soup for a Meatless Monday dinner that is filling and super satisfying!
I'm curious, what do you think completes the perfect salad?? Is it dressing? A warm roasted veggie? Or the variety of toppings that come together? Comment to let me know!