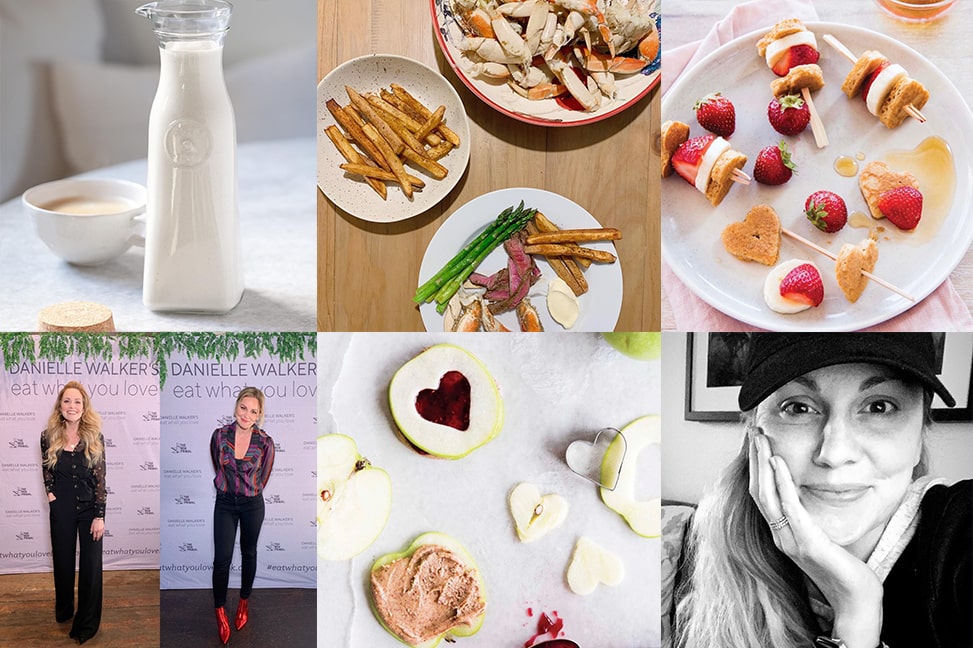 Hi Everyone! This week's digest includes a new blog post with all my outfits from the Eat What You Love book tour, some inspiration for all my fellow autoimmune/chronic illness warriors, a look into our Valentine's Day Celebration, and a brand new recipe!! Scroll down to see more.
Ok you asked – so I delivered! All of my looks from the Eat What You Love Book Tour are up on the blog with links to everything! 
Did you have a favorite?!
It's hard to pick – but I think mine was that ruffle jumper. Figuring out how many times and where I can wear it again. 😍😍😍
Around this time last year, I had to make a difficult decision to cancel my annual trip to the IF gathering where I fill my tank & see my favorite people. I had to choose to stay in bed in hopes of fighting a postpartum flare up of my autoimmune disease.
I posted some things over on my stories and saved them to my page. If you're suffering & are feeling discouraged, I hope you'll head over there to hear it.
It's a long, bumpy journey. It's not always perfect, & it's not always as quick as we want it to be. If you're not noticing the improvement you're hoping to after 100% committing to dietary changes (Paleo, Whole30, etc)- seek the guidance of a functional MD. You may need to have some testing done, or add supplements to come alongside diet. And the number 1 thing you may need to do? SLOW DOWN. Stress fuels AI disease.
Mental, emotional & physical stress.
Start seeing a counselor or therapist. Carve out time to take a nap. Go to bed early. Accept help from family or friends. Journal. Pray. Whatever it is that calms & de-stresses you. Make it a priority.
I'm sure last year's episode won't be the last. But I learn more & more about taking care of my body each time, & those setbacks keep me close to the heart of the work I do. They breed empathy for those who suffer with chronic illness. Empathy that fuels my passion to share about how much food matters.
Despite the setback last year – I have to remind myself of how far I've come. I haven't been hospitalized for 10 years. I didn't have to have my colon removed. I didn't have to start the lifelong immunosuppressant IV therapy. I'm off of all of my medications. I'm able to be a present mother for my kids, run my business, & live a vibrant life. I'm thankful for a year passed without a flare up. I'm thankful that I could travel the country & hear all of your incredible stories of healing. And that I was able to make it to Dallas this year.
What milestones in your healing journey are you thankful for? Let's focus on the steps forward and not on the delays or setbacks!
My favorite tradition in the morning for Valentine's Day is to decorate the kitchen table and have a full heart themed breakfast ready for the kids. My mom used to do it for us growing up, and I love carrying it on for my 3. I also usually make a chocolate treat for them for later in the day!
These are all from Celebrations! The fudge and marshmallows can be cut into heart shapes or poured into silicone heart molds before they set too.
What are your Valentine's Day Traditions? Did you make anything from Celebrations or Eat What You Love? ♥️♥️♥️
New Recipe!
DAIRY-FREE VANILLA COFFEE CREAMER
I like to make homemade coffee creamer because most of the ones at the grocery store have unnecessary additives (carrageenan, guar gum, gellan gum, soy or sunflower lecithin, to name a few). They can cause digestive discomfort, bloating and inflammation; so I try to avoid them.
I may be partial, but I actually think my recipe is better than the ones on the market, and it is made from real ingredients!
How do you take your coffee?
Let me know what you think when you try it!
☕️☕️☕️
Valentine's Dinner!
The Dungeness 🦀 in CA is so good right now!
We use the tri-tip steak marinade from Celebrations a few times a month. My kids scarf it down. I usually use flank or skirt steak for them so I can quickly grill it inside. The seasoned sweet potato fries are from Eat What You Love!
We don't usually do much in the celebration department as a couple because my birthday is just a few days later. But I do like to spoil the kids in the AM!
Did you make anything special for dinner on Valentine's Day? 
♥️♥️♥️
I have a serious question.
Donuts or Doughnuts?
However you spell it, you must make these Eat What You Love gluten/grain/dairy/refined-sugar do(ugh)nuts for Valentine's Day.
With homemade sprinkles. Or skip a step and buy dye-free sprinkles from Whole Foods. It's what I did this year! 🙋‍♀️
🍩🍩🍩