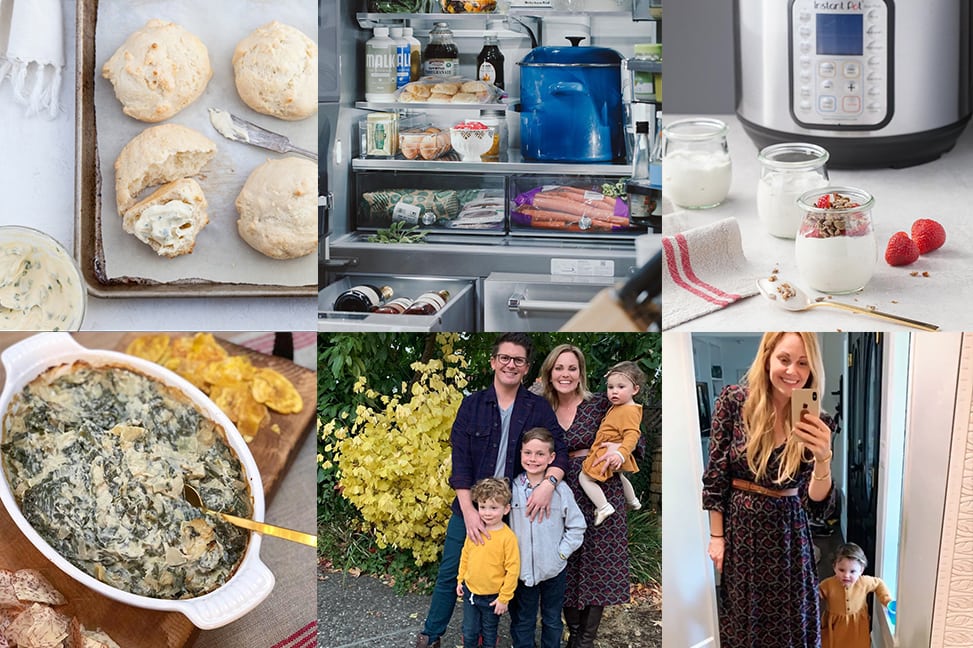 Hi Everyone! I hope everyone in the states had a happy Thanksgiving and are enjoying all the leftovers! Since Thanksgiving is over, that means Eat What You Love comes out SO soon! I can't wait for you all to get it and start cooking from it! This week's digest includes a look into our Thanksgiving, a look into my refrigerator and one last freebie for everyone who pre-ordered Eat What You Love! Scroll down to see more!
We made every single recipe from my Celebrations Cookbook for Thanksgiving, except 1! I'm switched out the drip biscuits for these Cheddar Biscuits from my blog because we're all obsessed with them. I've also been doing honey whipped ghee instead of the chive one and it's TO DIE FOR.
I'll be made a few dozen of these in advance and popped them in the freezer. Just throw them into a 400 degree oven frozen and bake for 7-10 minutes until they're warmed through!
My favorite appetizer option for Thanksgiving my Spinach Artichoke dip from my Celebrations cookbook! It tastes like it's full of cream of cheese but it's dairy free!
For me, executing a full Thanksgiving spread depends on being organized, planning, and preparing ahead. All 5 doors of my @kitchenaidusa refrigerator are stocked and ready to make Thanksgiving a success, with everything easily accessible the day of, plus tons of room to keep adding dishes as the big day nears.
So what do I do to get ahead? First – I layout a plan in my fridge to make sure everything has a home. When selecting my new refrigerator, it was super important for me to pick an appliance that would make meal planning and hosting easier than ever. My favorite parts are the lIttle things like the herb storage drawer that keeps herbs fresh and properly stored, or the drawer that keeps the wine and cider chilled and easy to access. It's one less thing I have to worry about so I can focus on doing what I love – making the food.
This year, I have my turkey soaking in the brine from my Celebrations cookbook, my Pumpkin Pie baked and ready to enjoy (if we don't dip into it before then!), Cheddar Biscuits, and my Cranberry Sauce in it's serving dish to get ahead of the game. I'll make my stuffing mixture tomorrow and store it in the fridge separate from the bread cubes to keep it fresh, and to keep checking things off my list.
I hope everyone had a Happy Thanksgiving!
♥️♥️♥️
Instant Pot Cashew Milk Yogurt!
BLACK FRIDAY DEAL: If you pre-order my new book today (use code NOVBOOK18 for $5 off!) or purchase a ticket to one of my book tour stops, you get a FREE gift of 10 Instant Pot recipes with this yogurt included. Previous pre-orders or ticket purchases are eligible too!