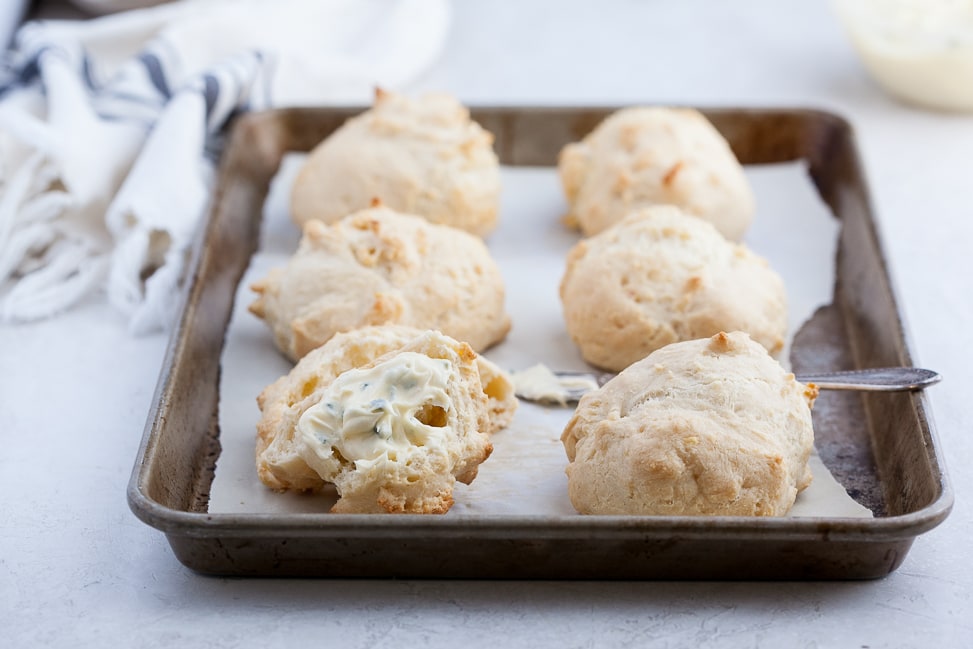 If you've been following me on Instagram, you've probably seen me trying to master a Pao de Quejo (or Brazilian Cheese Bread) recipe. I finally nailed it, and Ryan has been in heaven popping a few into the oven from the freezer whenever he wants them with dinner or to make breakfast sandwiches in the morning.
It got me thinking about the crusty cheese biscuits that I used to love. The kind that your grandma would make from scratch, or in my case – we would get at some of those chain rotisserie or fried chicken joints! I always slathered them with butter and honey. Oh my goodness.
So I played around with cheese bread recipe to create this Grain-free Cheddar Biscuit Recipe with Chive Whipped Ghee. The Brazilian cheese bread is pretty gummy and stretchy inside, so I needed to add a few different flours to the mix. I wanted to make them flaky and crusty on the outside, and perfectly decadent on the inside. While these do include dairy, I wanted to keep them lactose free so I could tolerate them better.
Enter Pasture-raised, organic Ghee and organic, Grassmilk Raw Cheddar from Organic Valley!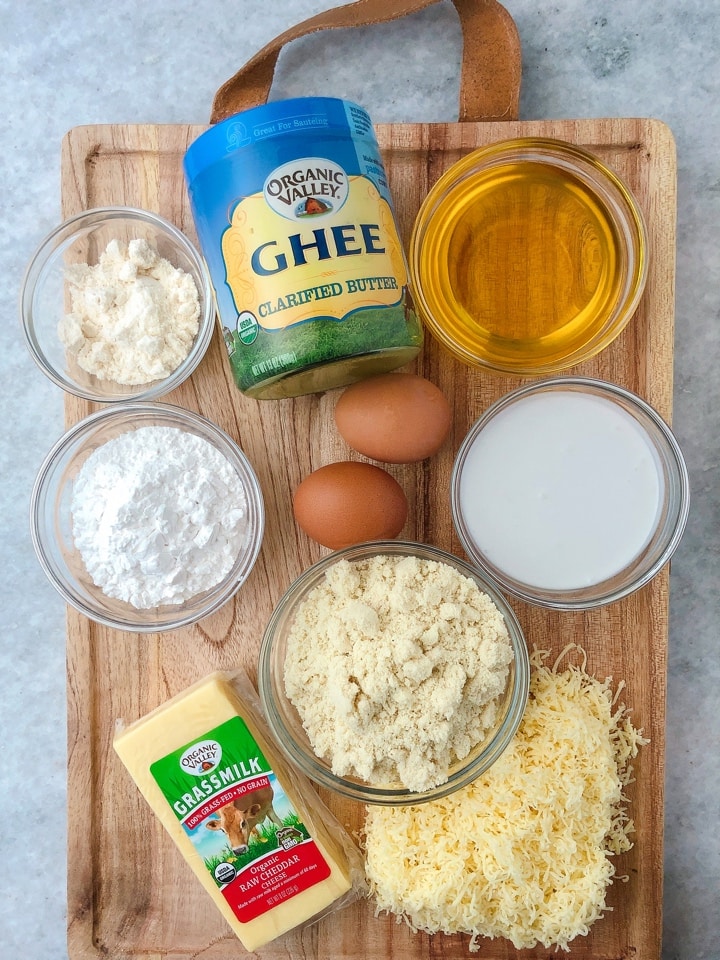 You all know my love for ghee by now. I'll even make a bold statement and say it's my favorite fat to cook with, ever. I use it for sautéing, frying, and baking and I love the flavor of it.
Ghee is made from clarified butter, which means that the milk solids have been almost entirely removed, leaving only the healthy butterfat behind. The fat is where all of the health benefits of organic and grass-fed dairy lie – so this is like liquid gold! Very pure ghee is 99% pure butter oil but may have trace amounts of casein and lactose. Unless you are extremely sensitive, it normally does not cause problems, even if other dairy does. Ghee also has a very high smoke point so it makes it a great fat to use for stir-frys, frying, and even baking.
We have been buying the Grassmilk Raw Cheddar Cheese for years because we all tolerate it really well and it made these biscuits extra delicious. It's 100% grass-fed, and doesn't go through pasteurization or homogenization – which can change the protein structure of cheese and make it difficult to digest. Hard cheeses like cheddar or Parmesan are free of lactose from the aging process, so they're allowed on diets like the Specific Carbohydrate Diet (SCD) or GAPs. Plus because this cheese is raw, it has beneficial enzymes!
As I mentioned in my Guide to Grass-fed post earlier this week, 100% grass-fed (and finished) Organic Valley dairy is 147% higher in omega-3 fatty acids, which decreases inflammation. Organic grass-fed dairy is also free from all grains, synthetic pesticides, GMO, and hormones. So if my family is going to have dairy- it is always grass-fed and organic. And I seek out Organic Valley co-op products at the store because of their incredibly high standards for animal welfare, and passion for organic farming.
These biscuits are divine. My in-laws and Ryan fought over the last couple the other night at dinner so it's going to be time to make another batch. Lucky for all of us – I'll be showing you all how to make them on my weekly Tuesdays with Danielle Facebook live TODAY!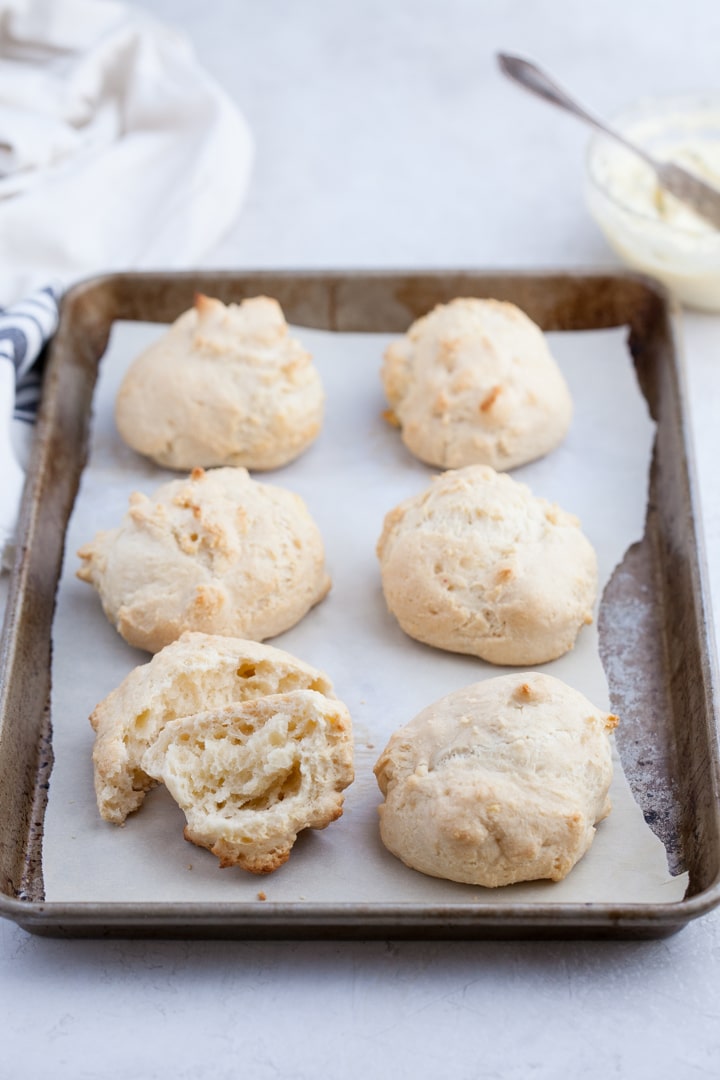 Did you know that you can whip ghee? It gets super creamy just like butter. I made a whipped chive ghee to spread on top of them in these photos, but lately a whipped honey ghee has been winning over the chive and is quite addicting. It is the best thing to combine and create the full grain-free cheddar biscuit recipe with chive whipped ghee.
BONUS – they freeze really well! I've been pulling them out of the freezer and putting them on a tray frozen in a 400°F oven for 10 minutes and they come out just like they're freshly baked!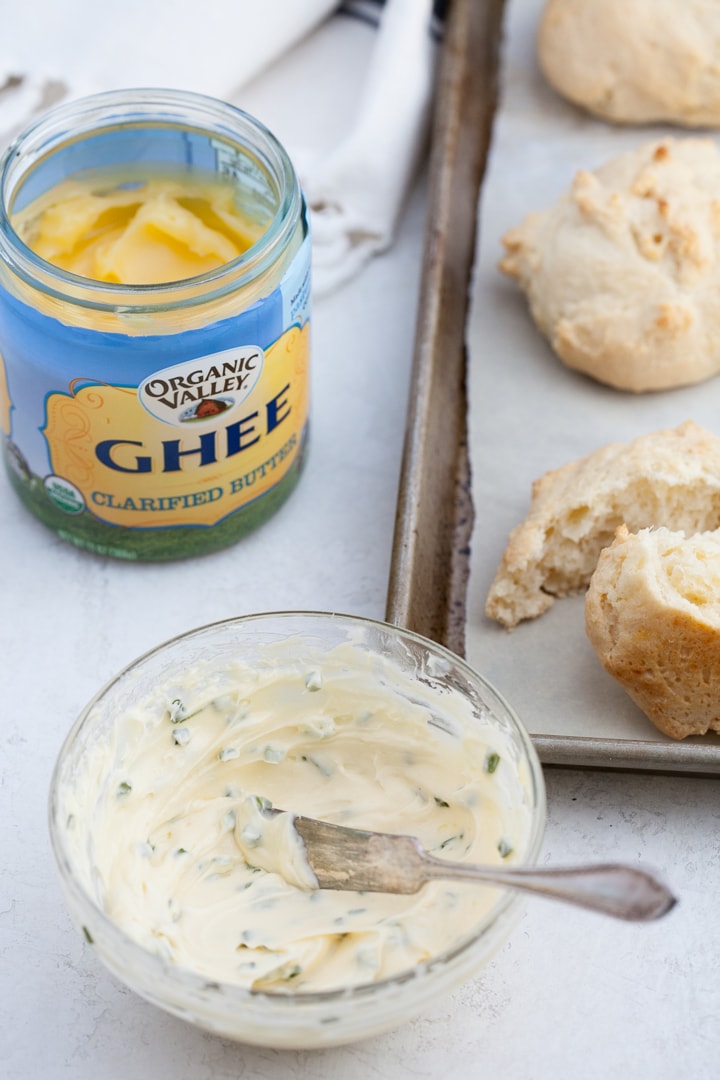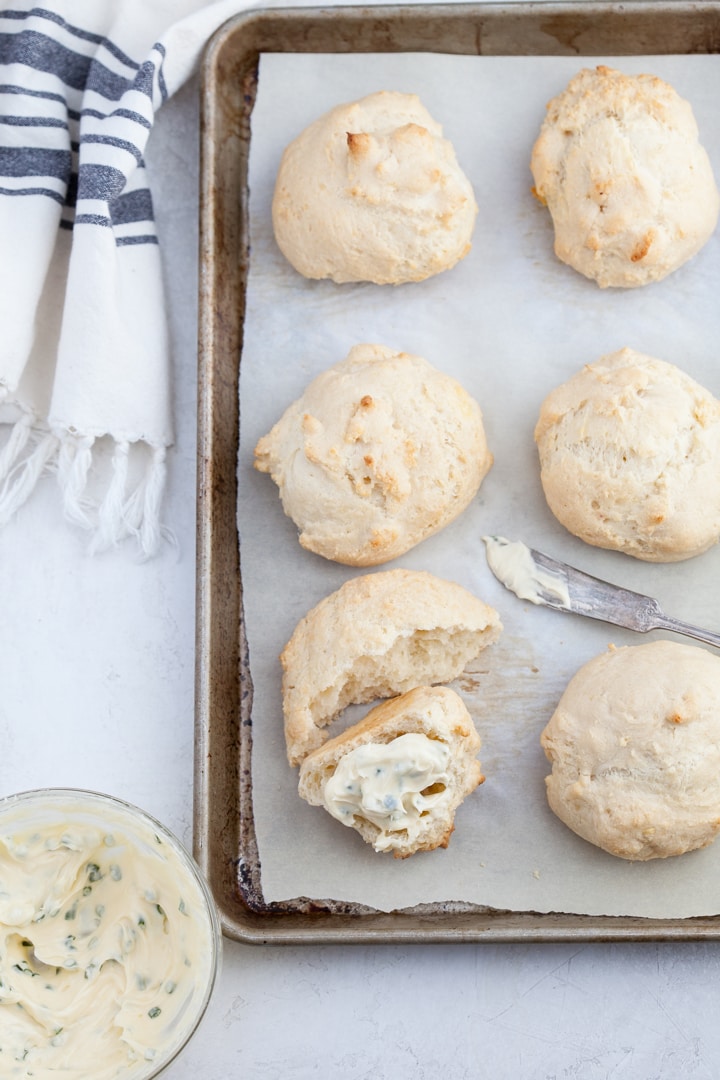 I partnered with Organic Valley for this post. I was compensated for my time in developing the recipe. My opinions are always my own and I only partner with brands I personally use, trust, and want to share with you.