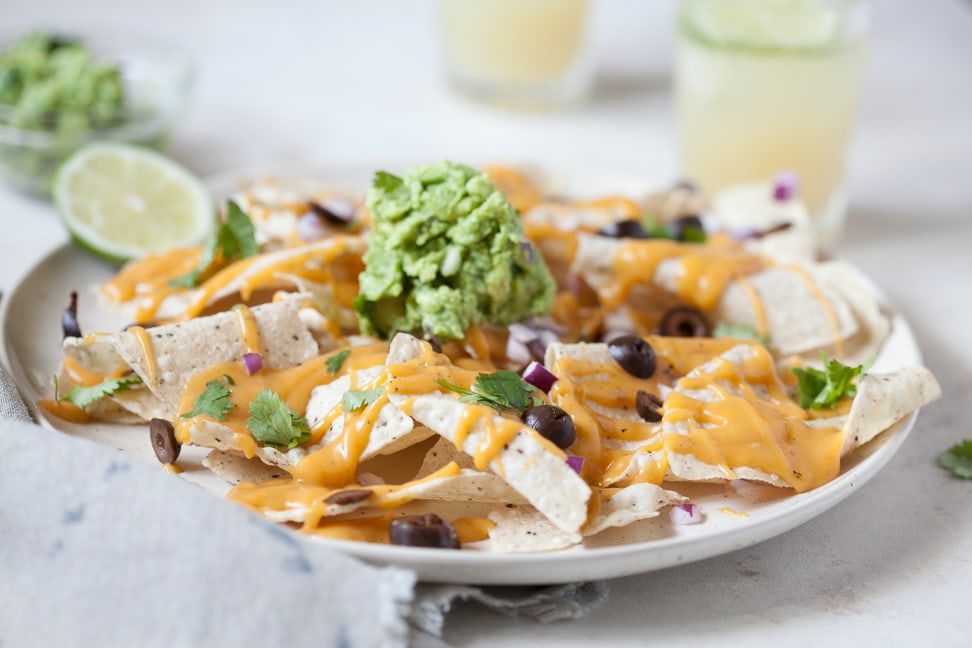 When I tell stories about the way we used to eat growing up, Sam's Club and the Schwan truck always come up. Except I used to think it was the "Swan man!" I remember that tanish-yellow truck pulling up and delivering all of our favorite foods-  pizza bagels, corn dogs, pot pies, breakfast burritos, you name it. And Sam's Club – well my mom shopped there for our bulk items – including more pizza bagels, corn dogs, and my favorite – the vat of nacho cheese sauce that came in a massive tin can. We would open it up and scoop out what we wanted and then cover it in plastic wrap and keep it in the fridge for weeks on end. It never crossed my mind back then that real cheese probably wouldn't have lasted that long! Nor that real cheese doesn't have that saucy consistency once melted!
I've been a big nacho sauce or queso and chips fan for as long as I can remember. If it was on a menu, I ordered it. I mean – we're talking the kind at ball parks, movie theaters, and gas stations. And of course if there was a "real" queso dish on a menu at a Mexican restaurant, I was definitely all in.
After going gluten-free, and then grain-free, I learned that most of those saucy cheese dishes use wheat flour to help them stay viscous and not stringy like normal melted cheese. Then I went dairy-free and my beloved queso was out completely.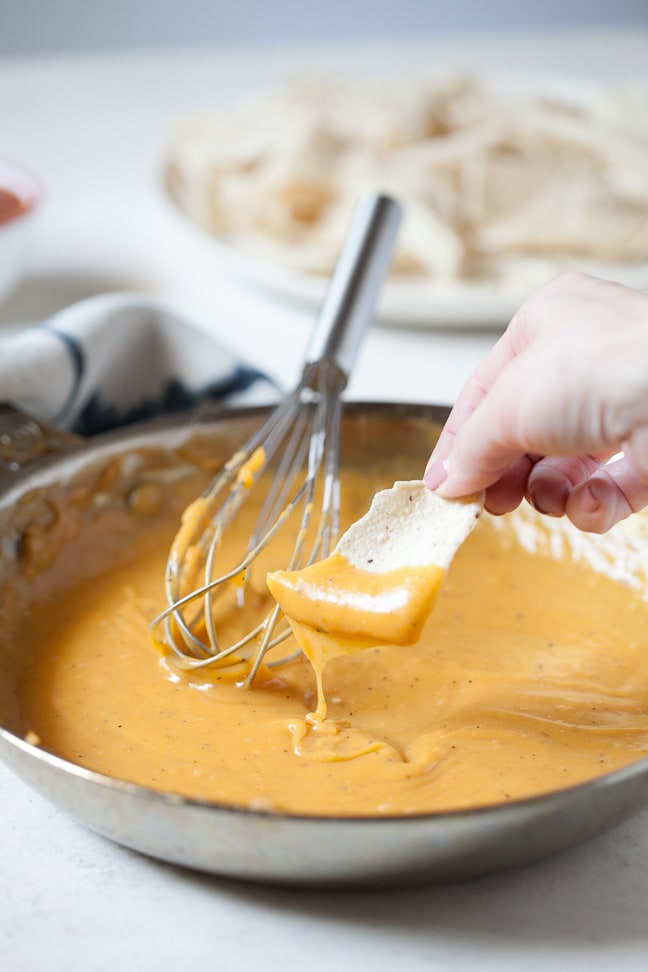 I was making my new Instant Pot Mexican Chicken Chowder and happened to have some Taro chips nearby so I dipped a few in the leftover soup after I had eaten all of the chicken and chunks of veggies out of it. It reminded me a little of nacho cheese sauce and it was like the heavens opened up. I tinkered with the ingredients that went into that soup and thickened it a little and this Paleo-friendly, lactose free Nacho Cheese Sauce recipe was born!
While I don't tolerate cassava and tapioca (see my cassava-baby-belly post on my IG!!), I had to use the one and only grain-free tortilla chip by Siete brand for this photo shoot to complete the wool-over-your-eyes look I was going for. Sure looks like grain and dairy doesn't it?! I normally use Terra brand taro chips or plantain chips to enjoy this with, but it also is delicious with carrot sticks. Plop a scoop of fresh guac on there and some red onions and olives and you have full-blown nachos.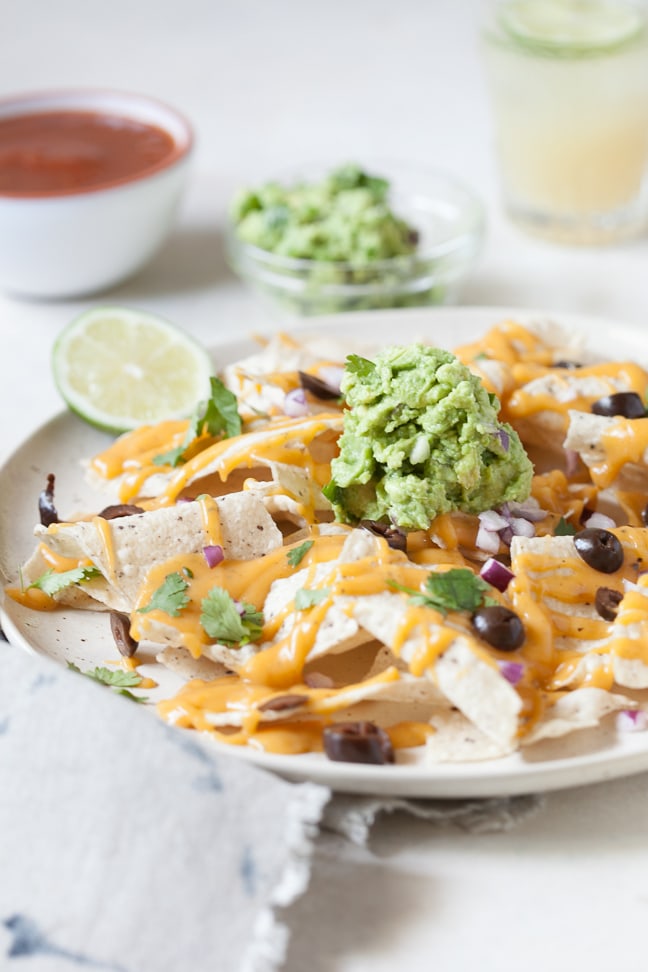 A note on the salsa – my favorite to use is a local, fresh store-bought by Casa Sanchez. Look for fresh salsas in the refrigerated cases, usually somewhere near the eggs or dairy. Ingredients should be super simple – tomatillos, jalapeños, onions, garlic, salt, lime, cilantro. I also have a recipe in my Meals Made Simple cookbook if you want to make your own, or this is a super simple recipe you could make as well. We buy mild salsa, or if making it at home – I remove the seeds from the pepper and only use a half of a pepper. So just do it to your taste.
I hope you guys love this paleo nacho cheese sauce! I've also heard from a few people who got the recipe early that their kids love dipping broccoli in it! Mom win!!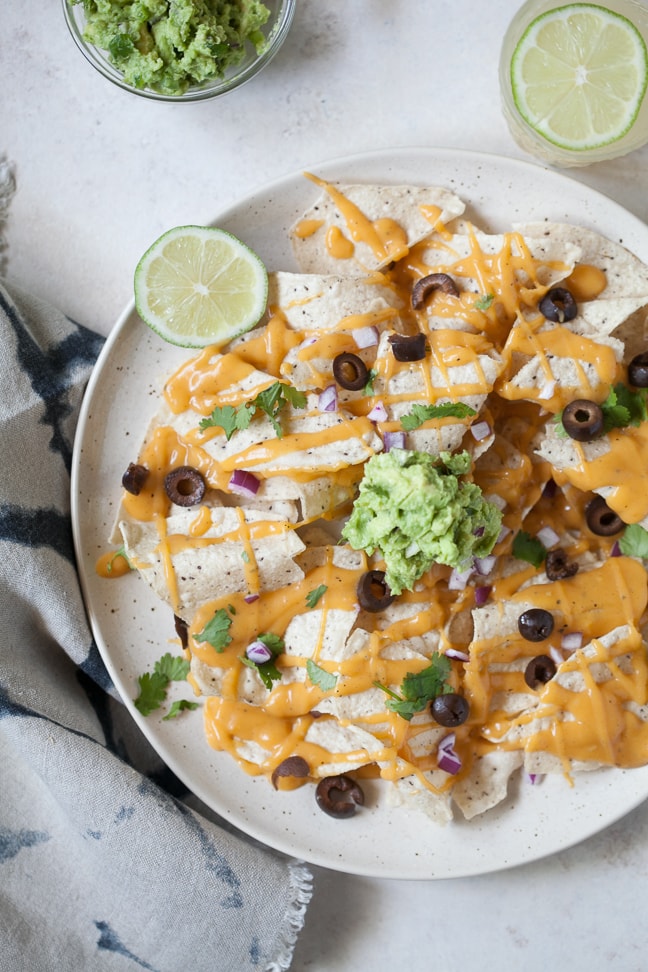 Shop My Kitchen