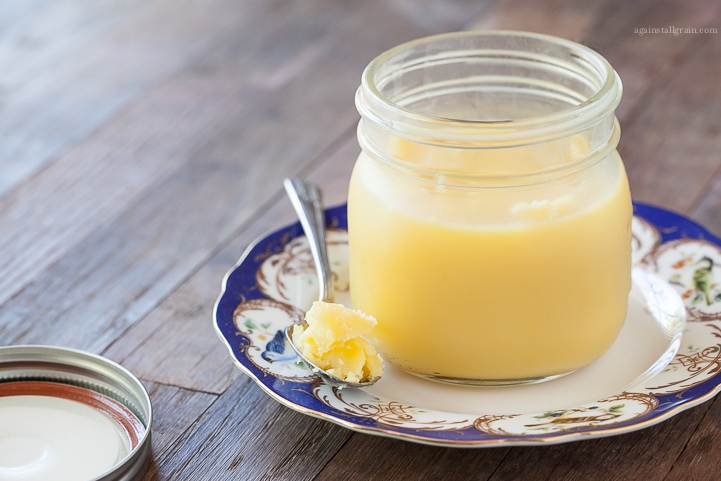 Ghee is my preferred fat to cook with, and you have probably seen that I use it throughout my new book Meals Made Simple. Ghee is made from clarified butter, which means that the milk solids have been almost entirely removed, leaving only the healthy butterfat behind. Very pure ghee is 99% pure butter oil but may have trace amounts of casein and lactose. Unless you are extremely sensitive, it normally does not cause problems, even if other dairy does. Ghee also has a very high smoke point so it makes it a great fat to use for stir-frys, frying, and even baking. 
Because the recipes in my book are dairy- free, ghee is often used but always has a substitute listed after it such as coconut oil or palm shortening. If dairy is tolerated, grass-fed unsalted butter may be substituted. I have to be honest, I most often just buy ghee and love Pure Indian Foods on Amazon or Purity Farm Organics brand at Whole Foods. It can easily be prepared at home from grass-fed butter with a little time in the kitchen though, I wanted to provide you with a step-by-step guide to making it at home!

But before that, we have received some new reviews from fellow bloggers as well as some really great Amazon feedback that I wanted to share! If you have had a chance to cook from the book, and can offer some honest feedback on both Barnes&Noble.com and Amazon, I would love to hear what you think and I know others would too! You can just copy and past the same review to both sites to make things easier.
CLICK HERE TO REVIEW ON AMAZON
CLICK HERE TO REVIEW ON BARNES&NOBLE
REVIEWS
"My favorite dinner recipe is the Ropa Vieja (p. 158). This is a slow cooker recipe with little prep. Danielle uses flank steak in hers, but I found grass-fed tri-tip a bit more economical and it also has the marvelous shredding quality of flank steak. I made this three times already with amazing results. Tip: it's even more flavorful the second day. The Mediterranean Braised Lamb (p. 176), another slow cooker entrée, is also superb and uses the cheaper cut of lamb shoulder. Also, it can be made ahead and reheated, and it's perfect for the Greek Salad on p. 110. I served mine with roasted golden beets. Creamy Dill Salmon is next on my list of dishes as soon as I find a nice fillet of wild-caught salmon. I like that it roasts a few minutes in a hot oven and love that I can make the sauce while the salmon is ready to pop into the preheated oven." -Suzanne
"Danielle has this unique way of taking common ingredients that can be found in many grocery stores or markets and creating something special that I can feel good about feeding my family. Even those who do not follow a Paleo Lifestyle will greatly benefit from making Danielle's recipes. The Autumn Breakfast Skillet and the Overnight Breakfast Casserole should be go-to recipes for anybody who loves to cook. Meals Made Simple is exactly that. Easy-to-cook meals that are nutritious but so full of flavor. These are not too elaborate or full of hard-to-find ingredients. Danielle gives tips for substitutions, intro pages full of information on starting a Paleo journey, stocking a Paleo pantry, and great meal plans. I love doing my own meal planning. But these next couple of weeks, I'm letting Danielle plan for me. I'm just going to follow the directions and take comfort in the cooking process . When I think of healthy, beautiful, and flavorful meals, I think of Danielle Walker." -Katrina