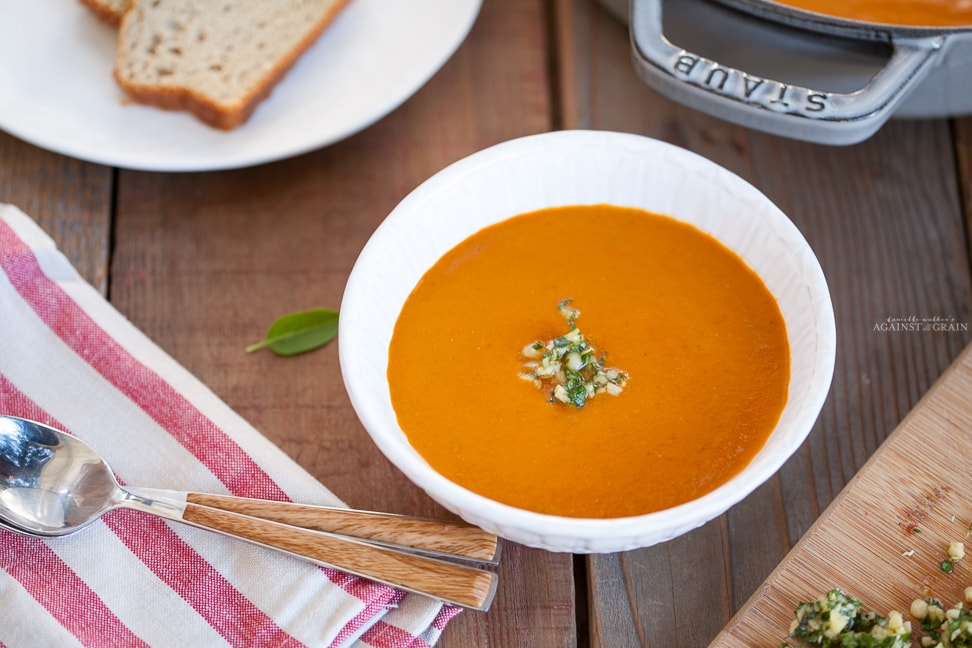 If you have been following me on social media (mainly Instagram), you know that we planted our first garden last summer. With a mix of beginner's luck, lots of youtube video tutorials, and many tips from you guys, we actually had quite a bit of success! Our biggest problem this year and last has been having time to harvest and use everything up – especially the tomatoes! We had success again this summer despite barely tending to it, with the little time we have had with the new baby and the newest book I turned in to the publishers! As a result I created this Creamy Tomato Soup with Pesto Gremolata recipe which I know you and your family will enjoy!
We learned last year that we over-planted. We were so excited that we got 4 successful cherry tomato starters from our seeds that we planted them all. All 4 within 1 foot of each other! Oops! Those tomato plants that we planted far too close together toppled over after uplifting their cages. Thankfully I wised up and plucked out 3 of the zucchini seedlings we planted because our 2 that I kept were so overgrown you could barely walk by them. We learned a lot last summer for this year. I only planted one seedling of each the heirloom and the cherry, but we still ended up with an abundance of tomatoes.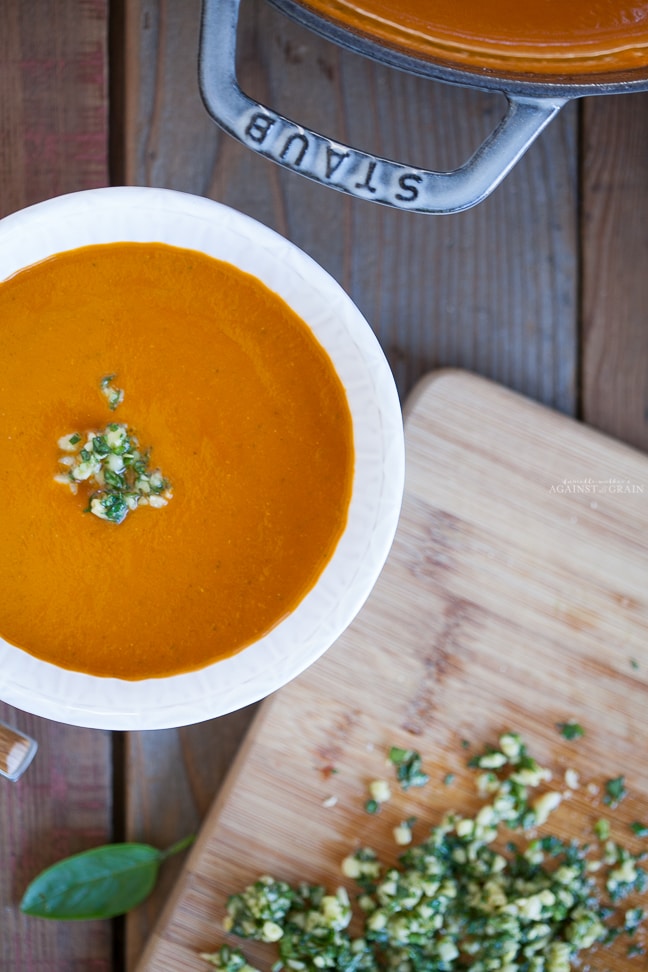 Little E has been loving snacking on the cherry tomatoes. The itty bitty seeds end up all over him but that's ok. I picked a few pounds the other day and decided to use all of the cracked ones and some extra heirloom tomatoes I had in the fridge for soup. My oldest Asher has never liked soup no matter how hard I've tried. I have always tried because it's such a great way for them to get bone broth into their diets, and he won't sip on it out a mug like mama does. Which I wouldn't expect a 7 year old to do anyhow.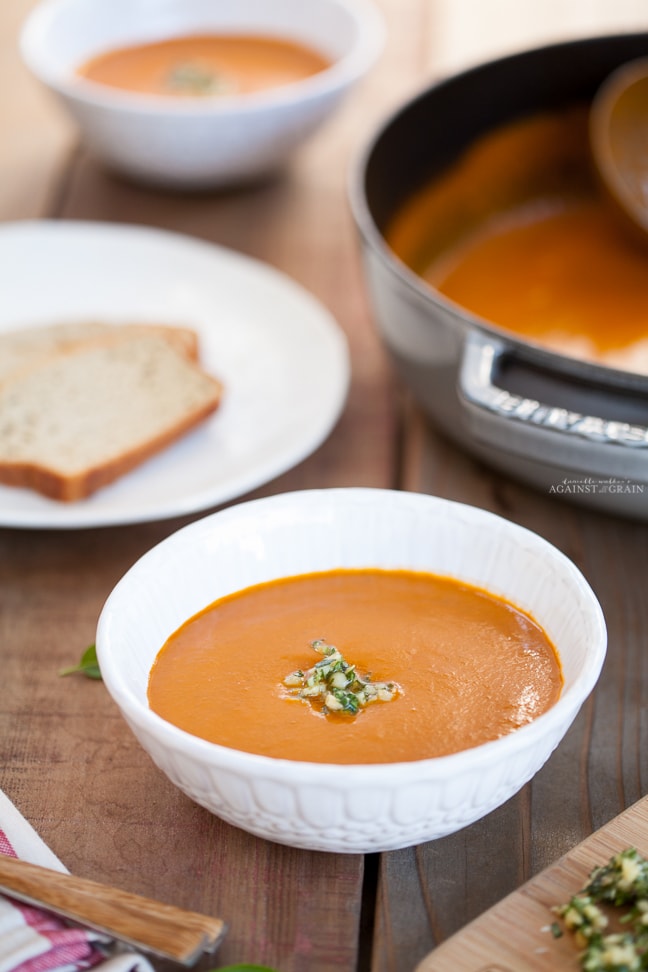 I'm proud to say that he loved this one and declared it was the only soup he would EVER eat. Kids speak with such finality it cracks me up. I look at it as a gateway soup. 😉
We topped this Creamy Tomato Soup with Pesto Gremolata, or more simply chopped basil, pine nuts and lemon zest. If you eat cheese, parmesan would be an obviously delicious topping as well.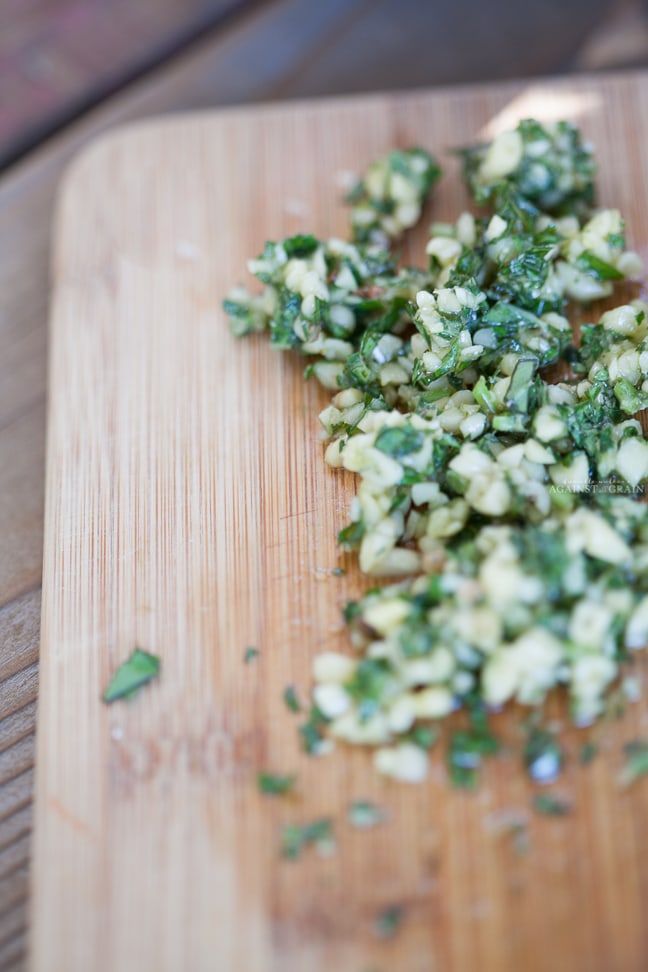 I will admit while this soup is dairy-free – I made grilled cheese sandwiches to go with this for the kids. Because tomato soup and grilled cheese just go together. I used a mix of raw cheddar cheese and parmesan sandwiched between 2 slices of my Blender Bread and buttered up the sides with ghee.
I think you will love this soup and it will be on regular rotation during your Fall and Winters (of course between your all-time favorite my Roasted Chicken and Veggie Soup). Enjoy!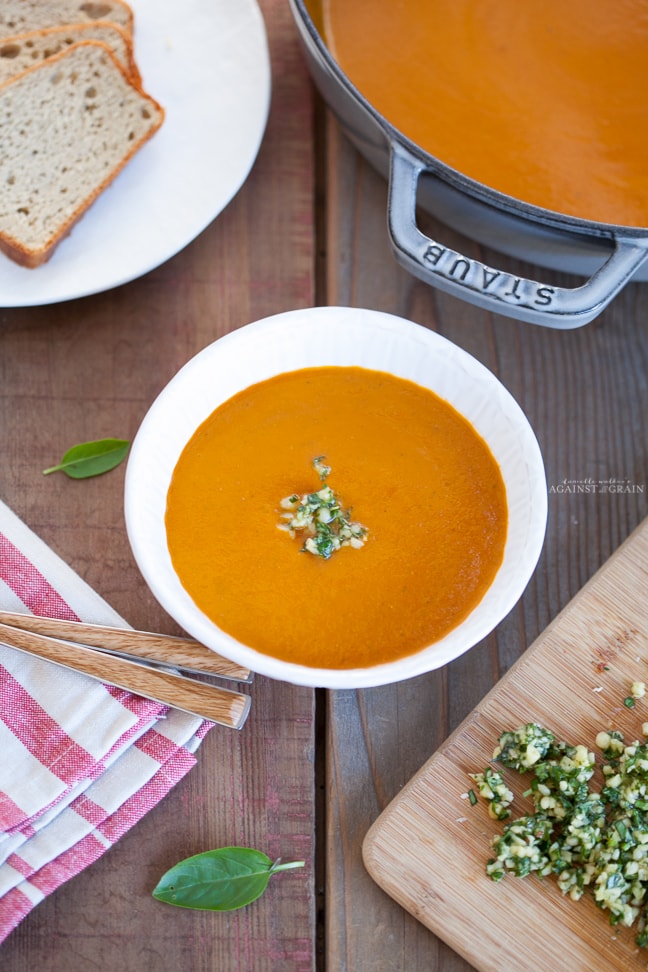 Shop my go-to kitchen tools below!