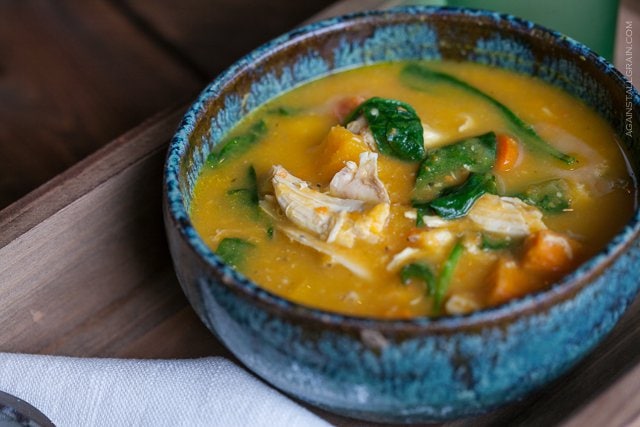 This Roast Chicken Soup uses leftovers to create a hearty meal filled with nutritional vegetables. Create a crowd-pleasing meal from last night's leftovers that has comfort written all over it.
Roast chicken is an almost effortless dish to prepare and always satisfies a hungry crowd. I like to roast mine perched atop a bed of root vegetables. The vegetables rest in a little white wine and chicken stock bath. The juices from the bird drip down into the pan and infuse the root vegetables. This technique results in tender and flavorful vegetables. While the chicken is thoroughly enjoyed by all, there are always leftovers. We usually end up with the dark meat hidden between the bones, the underside of the bird and even some white breast meat. Not to mention – save the entire carcass to make bone broth!
This Roast Chicken soup is the solution to using up all of the extra vegetables as well as the leftover chicken. It's a hearty soup and will warm your body right up on a cold day. If your family devours the meat from the roast chicken then you may need to add in a few extra chicken breasts, but since I cook for a family of 2.5 we always have leftovers. We like to serve it with this Moroccan Chicken Salad but I leave the chicken off since the soup is like a meal in itself.