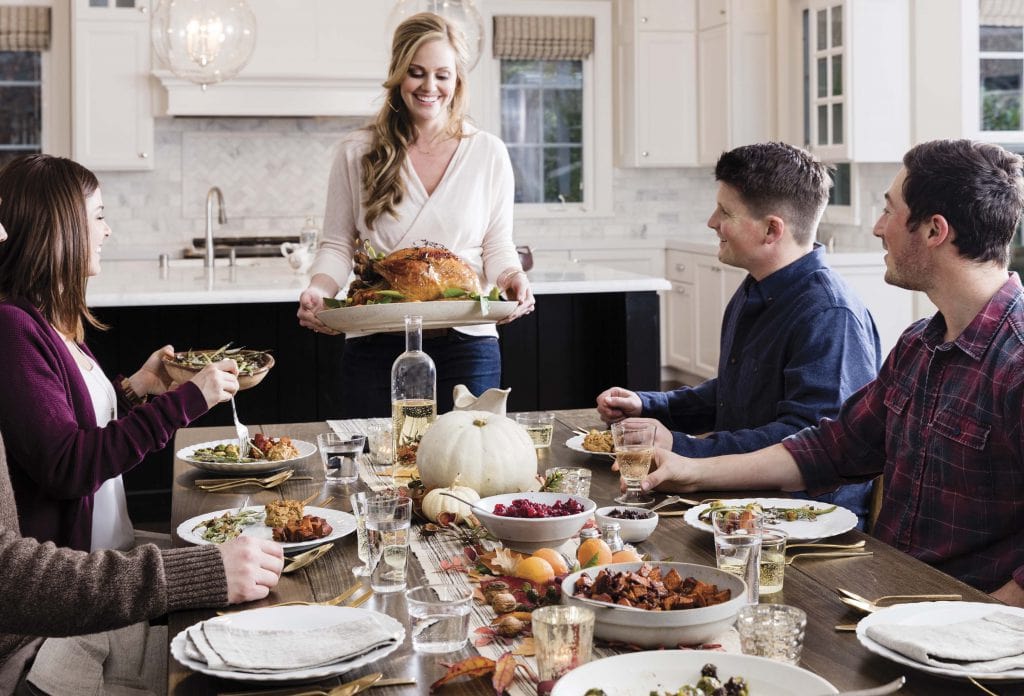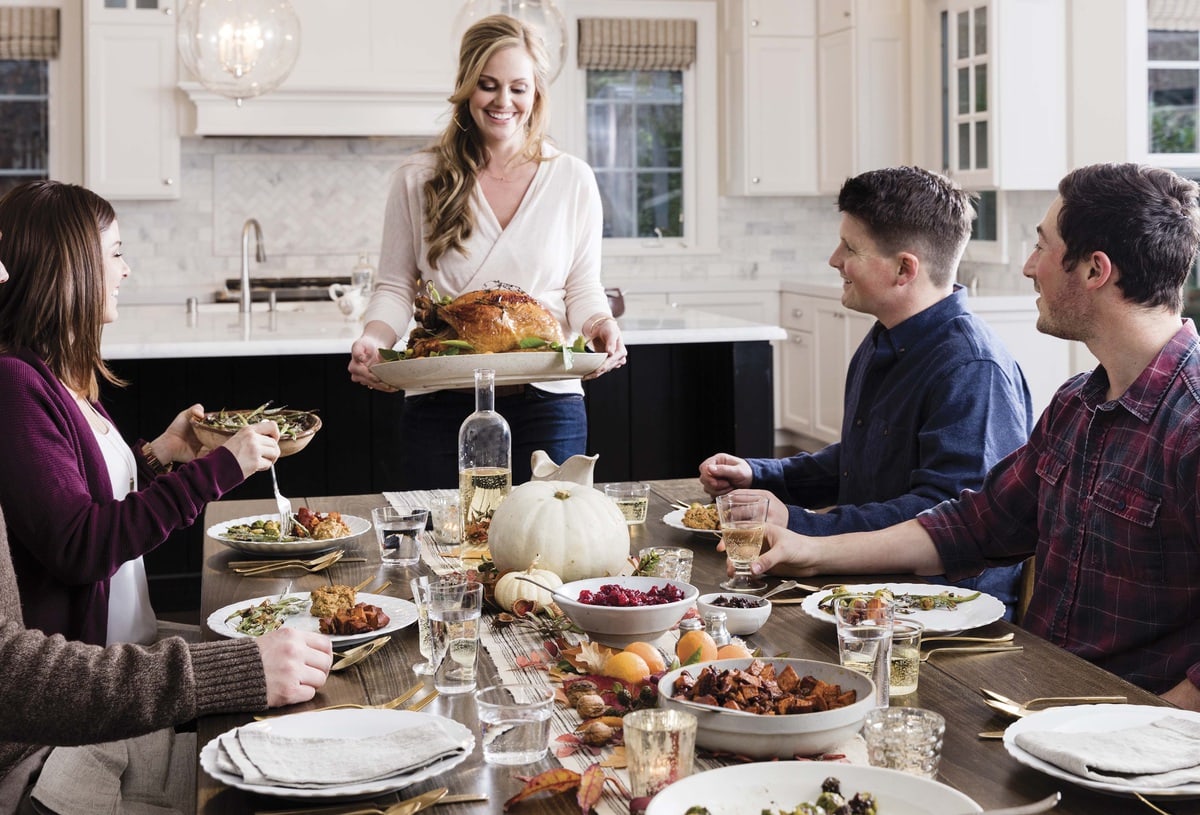 Also see:
Cooking a big grain-free meal can be intimidating any day of the year, but Thanksgiving can be an especially anxious one for people. I've broken down each of the recipes from Celebrations into a timeline for you so you can plan ahead and go into your Thanksgiving feast with ease.
Before getting started, be sure to also read my Top Ten Tips for Effortless Entertaining on page 7 of Celebrations. 
Our Menu
from Danielle Walker's Against all Grain Celebrations
Herbed Drop Biscuits, page 234
Roasted Garlic Mashed Cauliflower, page 237
Cranberry Sauce, page 238
Green Bean Casserole with Crispy Shallots, page 241
Smoky Candied Sweet Potatoes, page 242
Roasted Brussels Sprouts with with Bacon Jam, page 245
Apple Sausage Stuffing, page 246
Brined and Roasted Turkey, page 249
Pan Gravy, page 250
Maple Pumpkin Pie, page 256
Chocolate Pecan Tart, page 260
Whipped Cream, page 332
I'm also having guests bring the following starters, but these will not be included in the planning notes
Prosciutto Wrapped Glazed Shrimp, page 30
Spinach Artichoke Dip, page 35
Curry Pumpkin Soup Shooters, page 220
Roasted Autumn Harvest Salad, page 223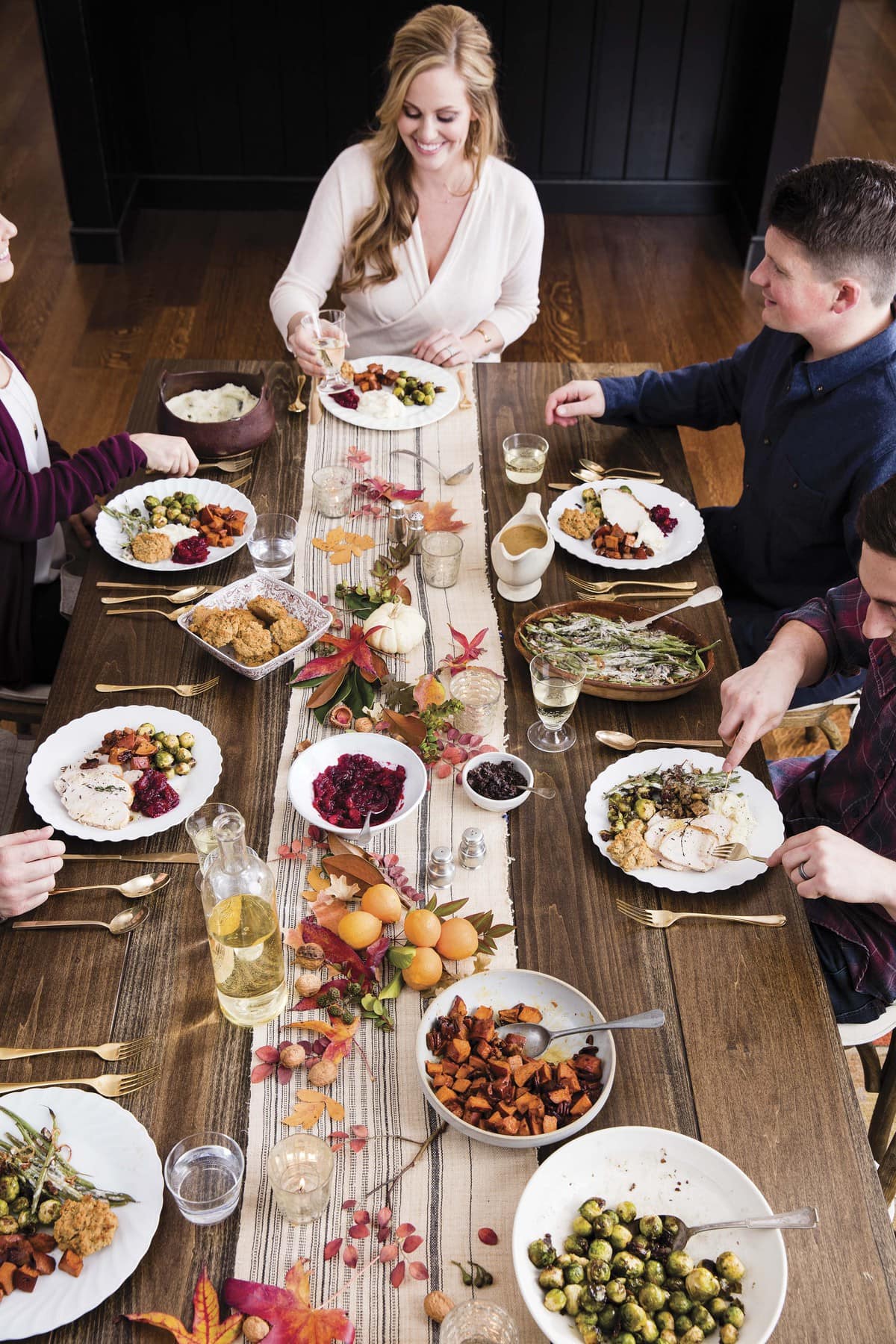 Mid November
Pick your menu and assign your guests a few dishes to contribute.
Assign dishes to your guests. Have a couple of people help with appetizers so your guests don't get too hungry awaiting the big feast. Assigning a couple of side dishes or desserts will also help alleviate your stress.
Create your guest list and order your turkey. Figure out how many guests you are having, and what size turkey you need. Allot 1.5 pounds of turkey per person, which will allow for some leftovers. Reserve your turkey at your supermarket or butcher or order it online. I prefer to pick up a fresh turkey so I don't have to worry about thawing time and it taking up a lot of room in the refrigerator.
Take inventory of your kitchen equipment and borrow or purchase the following if you're missing them. Be sure to have a Roasting Pan, Brining Bag, Food Processor, Blender, Rimmed Baking Sheets, Digital Instant Read Thermometer, Bulb Turkey Baster, Carving Knife and Board, Cooking Twine, Fat Separator, Baking Dishes, Parchment Paper, Pie Plates, and Pie Crust Cutters. Also a countertop oven like this Breville really comes in handy when you're low on oven space.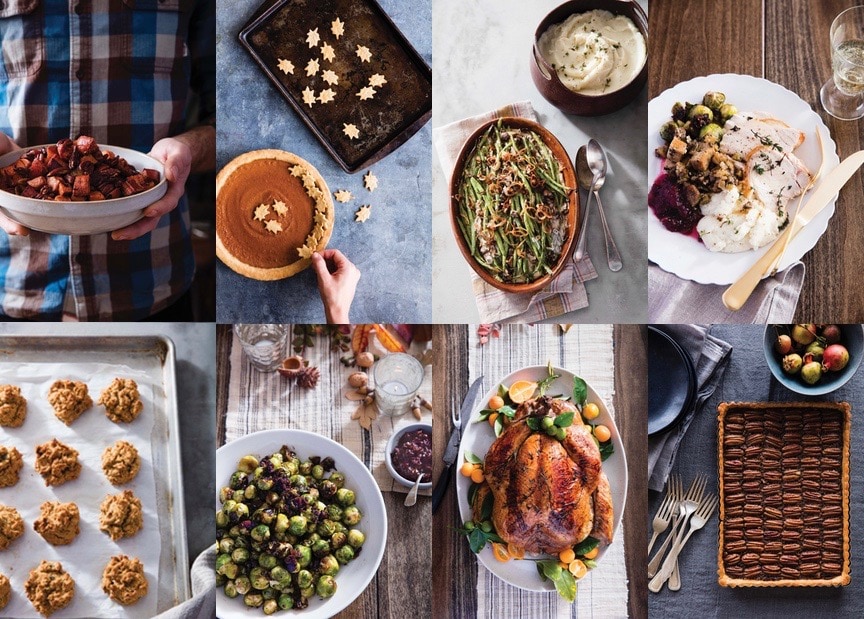 1 Week Before
Clean up. Clean out your fridge and the house and stock up on non-perishable items like paper towels, toilet paper, trash bags, dried herbs, frozen foods, and canned goods.
Make your pie dough, page 322. Wrap each disc tightly in plastic wrap and then place in an airtight bag or container to freeze. Defrost overnight in the refrigerator when ready to use.
Make the sauce for the green bean casserole, page 241, and freeze it in an airtight container.
Make your turkey stock. You should be able to find turkey bones at most grocery stores or butchers during the month of November. Grab a few pounds and make a big batch to use in your stuffing and gravy. Once it's cooled, I freeze it in one-quart containers so it easily defrosts  in a saucepan over medium-low heat when I need it. Follow the recipe on page 327.
Sort your platters and serving ware. Borrow or purchase anything you are missing. Don't forget trays for appetizers and desserts.
Create a grocery list. The grocery shopping lists that I created for you are organized by department to make your shopping trip more efficient. Download them here.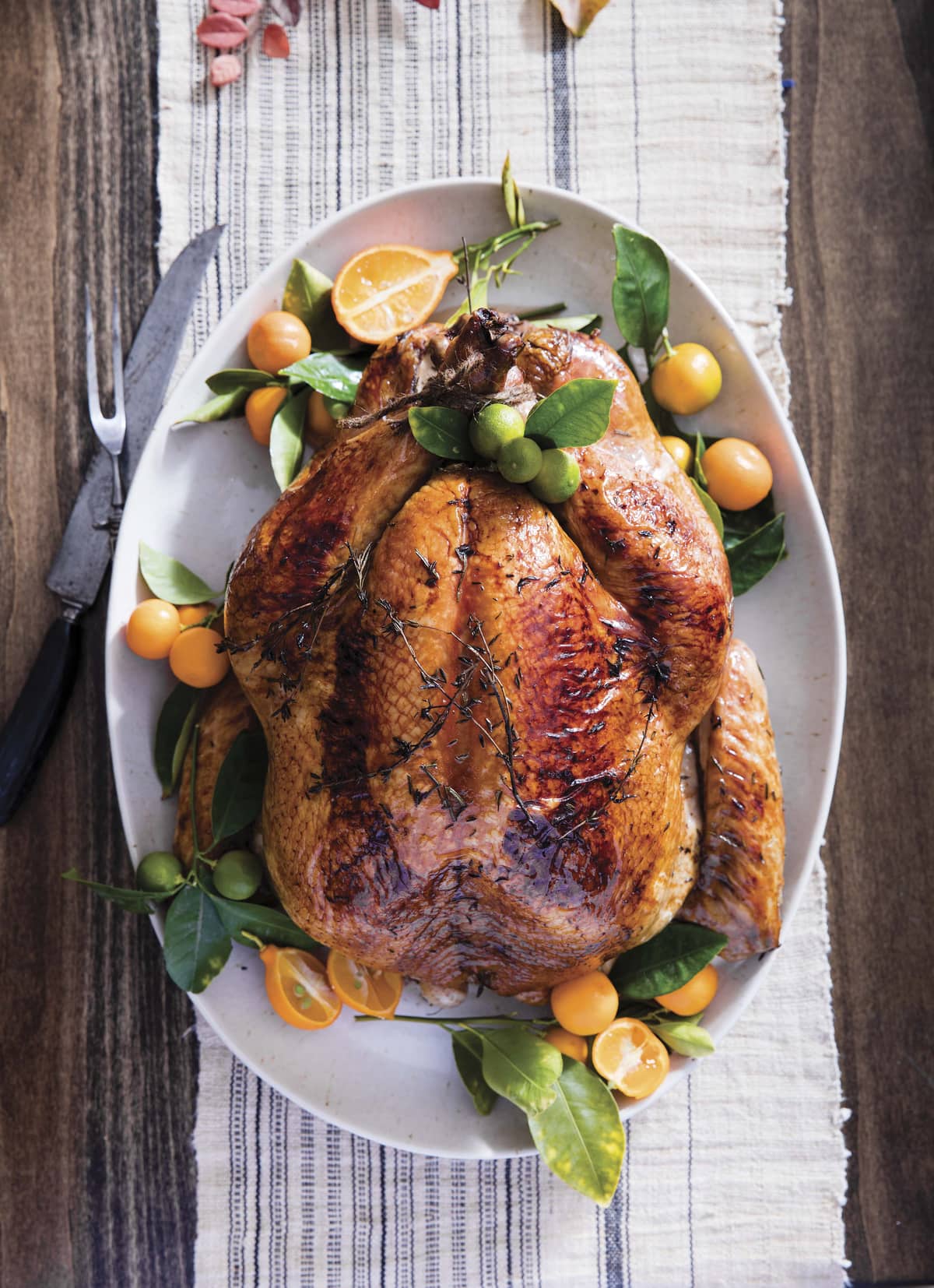 4 Days Before
Defrost your turkey. If you are using a frozen turkey, place it in the fridge to defrost.
Grocery Shop. Some people like to split their shopping into 2 trips, but I prefer to get it all done on one day, and on Sunday because I find it's less busy. Your produce and meat will keep just fine if stored properly. Otherwise, shop on Sunday for less perishable items and again on Wednesday.
Make your cranberry sauce, page 238. Cover it tightly and store in the fridge.
Make your brine. Mix together the brine, page 249, and put it in the refrigerator (or covered and outside if you live in cold climates!) to chill.
Make the Bacon Jam, page 245. Bring it to room temperature, then cover tightly and store in the refrigerator.
Bake your grain-free bread. Whether you're using my Cornbread, page 131, or my Blender Bread, page 323, you can bake them up to 5 days in advance. Once cooled, store them tightly wrapped in the refrigerator.
2 Days Before
Defrost all made-ahead frozen items. Place your turkey stock, pie crusts, and green bean casserole sauce in the fridge to defrost.
Chill wine and beverages. If you're low on space, place the beverages in a cold garage or basement then place them in a bucket of ice Thursday morning.
Chop up vegetables. Chop the garlic, onions, and celery for the Apple Sausage Stuffing, page 246, and store them in a resealable bag in the fridge. Trim the cauliflower into florets for the Roasted Garlic Mashed Cauliflower, page 237, and store them wrapped in a cloth in a bag in the crisper drawer with the top slightly open. Trim the haricot verts and slice the shallots for the Green Bean Casserole, page 241. Store them separately in resealable bags. Cut up the sweet potatoes and bacon for the Smoky Candied Bacon Sweet Potatoes, page 242, and store them in a resealable bag.
Cube your bread for stuffing. Store it in an airtight container in the fridge.
Bake the biscuits. Bake the Herbed Drop Biscuits, page 234, and store them, tightly wrapped, in the refrigerator.
1 Day Before
Grocery shop again. It's inevitable that something was forgotten, extra guests were added, or you ran out of something you thought was stocked. Make a thorough list and do a last minute run to the store and also pick up your fresh turkey. Go early in the morning though!
Brine your bird on Wednesday morning. Place it in a brining bag set inside a roasting pan or big, clean bucket and place it in the refrigerator. Remove shelves if needed.
Make the Roasted Garlic Mashed Cauliflower, page 237. Store it in an airtight container in the refrigerator.
Assemble the Green Bean Casserole, page 241. Cover and refrigerate.
Assemble the Smoky Candied Sweet Potatoes, page 242. Store everything in an airtight bag in your refrigerator.
Sauté stuffing ingredients, page 246. I cook the sausage, apples, and vegetable mixture the night before or even 2 days before and let it cool before placing it in a resealable bag. I only have to mix it with a few things the next day before baking.
Bake your pies. Your crusts were already made, so you just need to bake the shells and the filling.
Set your table. And place all of your serving dishes and platters on the buffet table. I place a sticky note with the name of the dish on each platter or dish to plan ahead and make transferring the food easier.
The Big Day
The morning of
Warm your Turkey Stock on the stove over low heat in a stockpot so you can ladle out portions throughout the day.
5 hours before dinner
Rinse the bird and let it rest in the roasting pan at room temperature for 1 hour. Prepare the bird and the vegetables as described on page 250.
4 hours before dinner
Get your bird into the oven. It will take anywhere from 2-3 hours, depending on the size so plan for it to come out of the oven about 1 hour before dinner so it can rest and your oven is freed up to bake side dishes.
2 hours before dinner
Remove all pre-prepped dishes that need to be baked from the refrigerator so they can come to room temperature.
Prepare the Roasted Brussels Sprouts, page 245, and set them aside to roast later.
Clean up the kitchen as best as you can, or enlist some guests to help, so the cleanup duties aren't as bad after the big meal. Start the dishwasher so it can be unloaded before the dinner dishes pile up.
Serve cocktails or wine.
Plate appetizers for guests to nibble on while they wait for dinner.
1 hour before dinner
Assemble and bake the stuffing. Combine the sautéed mixture with the bread cubes, salt and pepper, eggs, and stock. Bake as directed, page 246.
Roast the Smoky Candied Sweet Potatoes. Transfer the contents of the bag to baking sheets and roast as directed, page 242.
Bake the Green Bean Casserole, page 241, and fry your shallot topping.
Fill water glasses and pitchers. Have someone who is not needed in the kitchen, an older child or guest take this job.
30 minutes before dinner
Pull the turkey from the oven, test for doneness, and allow it to rest.
Make your gravy, page 250, and keep it hot over low heat in a saucepan.
Roast the Brussels Sprouts and rewarm the bacon jam for serving.
Reheat the Roasted Garlic Mashed Cauliflower according to the make it ahead instructions on page 237.
Reheat the Herbed Drop Biscuits according to the make it ahead instructions on page 234.
Transfer the Cranberry Sauce to a serving dish. 
Right before dinner
Transfer the turkey to a serving platter, either whole or carved.
Transfer all of the side dishes to their designated serving platters. The sticky notes will come in handy so you can have help from guests here. Make sure to take the sticky notes off of the dish before the food is placed on top 😉
Reheat pies by placing them in a warm oven that is switched off so they can gently warm during dinner.
Remove the whipped cream from the refrigerator so it can be easily re-whipped right before dessert.
The Day After
Turn on the Christmas tunes, decorate your house, and enjoy a second feast of leftovers using any of my Thanksgiving Leftovers recipes!