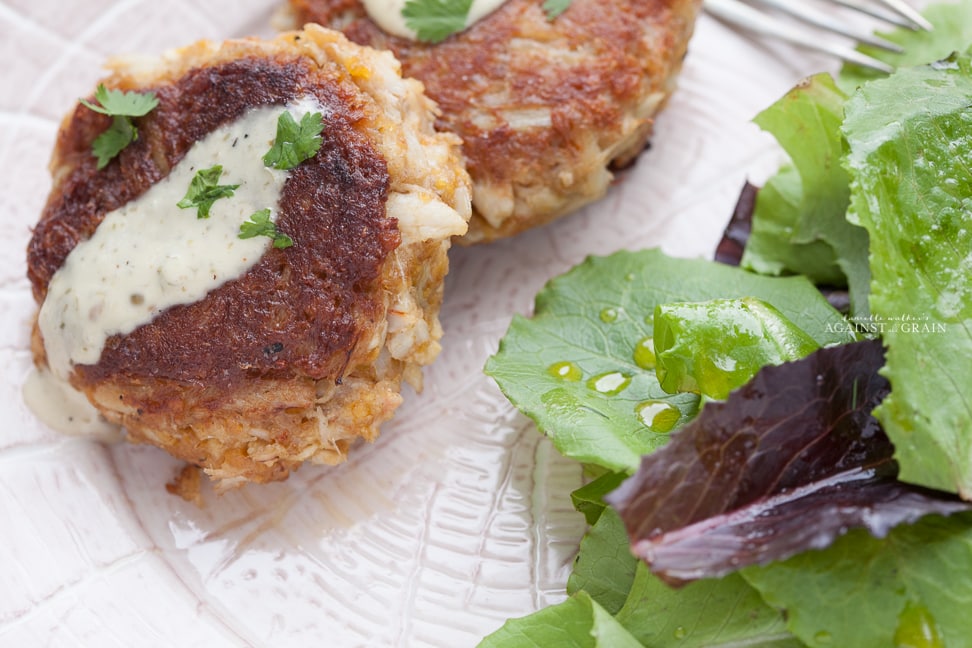 Did you hear the news about my brand new cookbook!? Now that it is off to print, I'm having fun getting back into the test kitchen and making some new recipes for the blog.
My husband, Ryan, introduced me to crab cakes when we were dating in high school so I've been long wanting to create a gluten-free and paleo crab cakes recipe for him. His family was from the East Coast, so he grew up eating blue crab cakes and loved them.
My only experience with crab was the big family crab feeds my grandmother would often host in California when I was growing up. When we were really little, she would crack the crab for all 8 of the grandkids and have it already waiting on plate for us while the adults all labored over their dinner. Boy were we spoiled!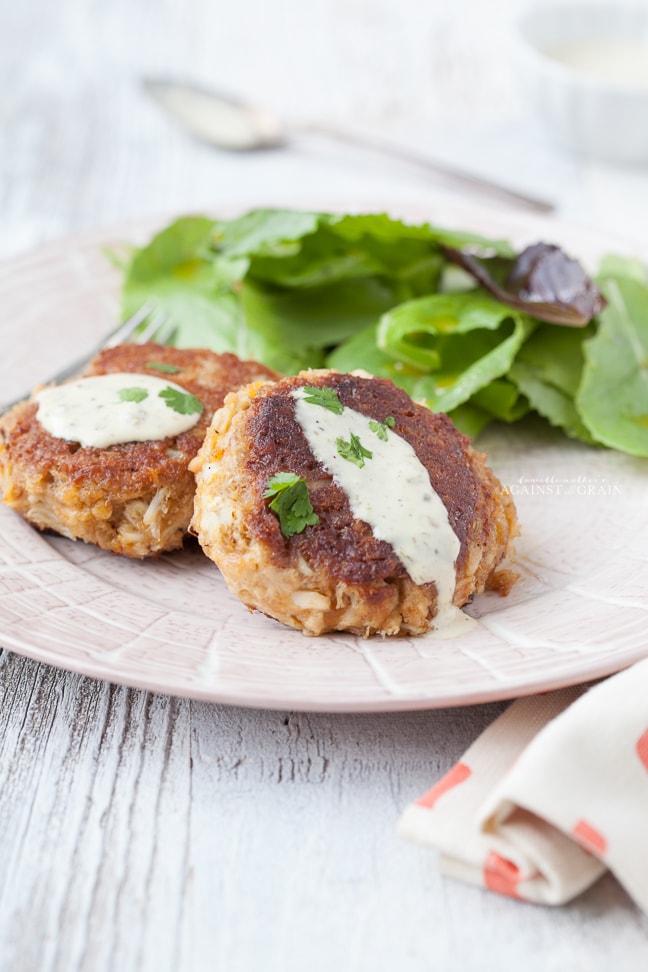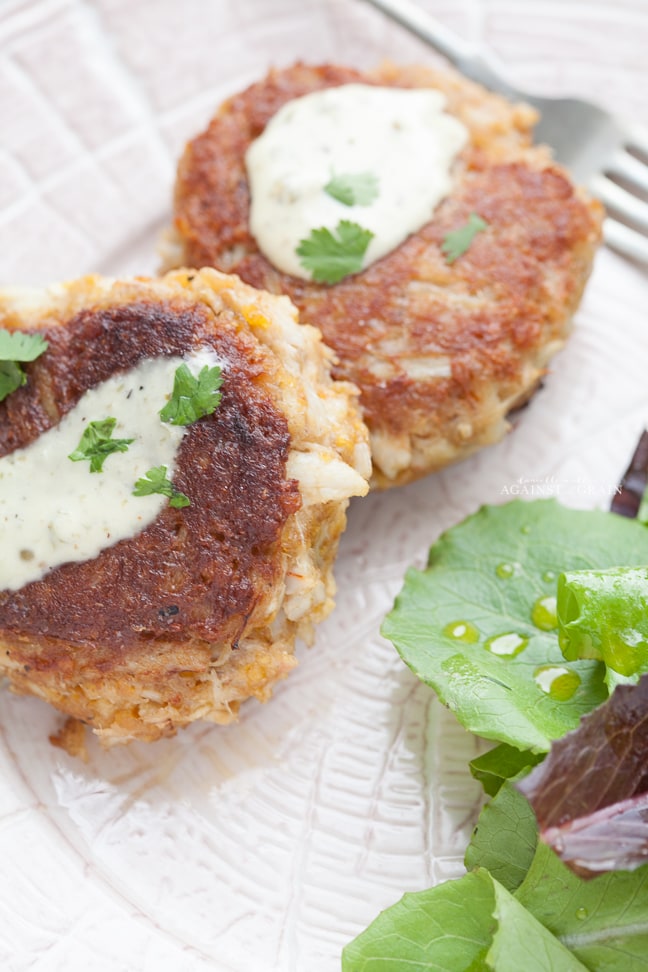 There's two types of crab eaters – one that cracks and eats as they go (Ryan), or one that cracks for seemingly an eternity without so much as a taste so they can feast on a huge stack of crab meat and enjoy their labors. The latter is my whole family. The entire table is silent while everyone concentrates on releasing the succulent meat from the red shells. It has always been a running joke (but the serious kind of joke that's not actually a joke) to guard your plate well because my uncle and dad are known for stealing fresh cracked crab off of the plate of the hard worker who stepped away briefly.
It was my moms birthday recently so I hosted a crab feed to celebrate her. We keep things simple usually and just serve it with a salad and possibly artichokes or asparagus. I served the Grilled Artichokes with Remoulade from my first book, Against all Grain, and my sister in law made a simple salad with greens, fennel, apples, and a lemon vinaigrette. Some of the guests prefer melted butter while others dip their crab in mayo, so I had those on the table as well. The remoulade sauce from the artichokes tasted so good on the crab though that I ended up using a bit of that.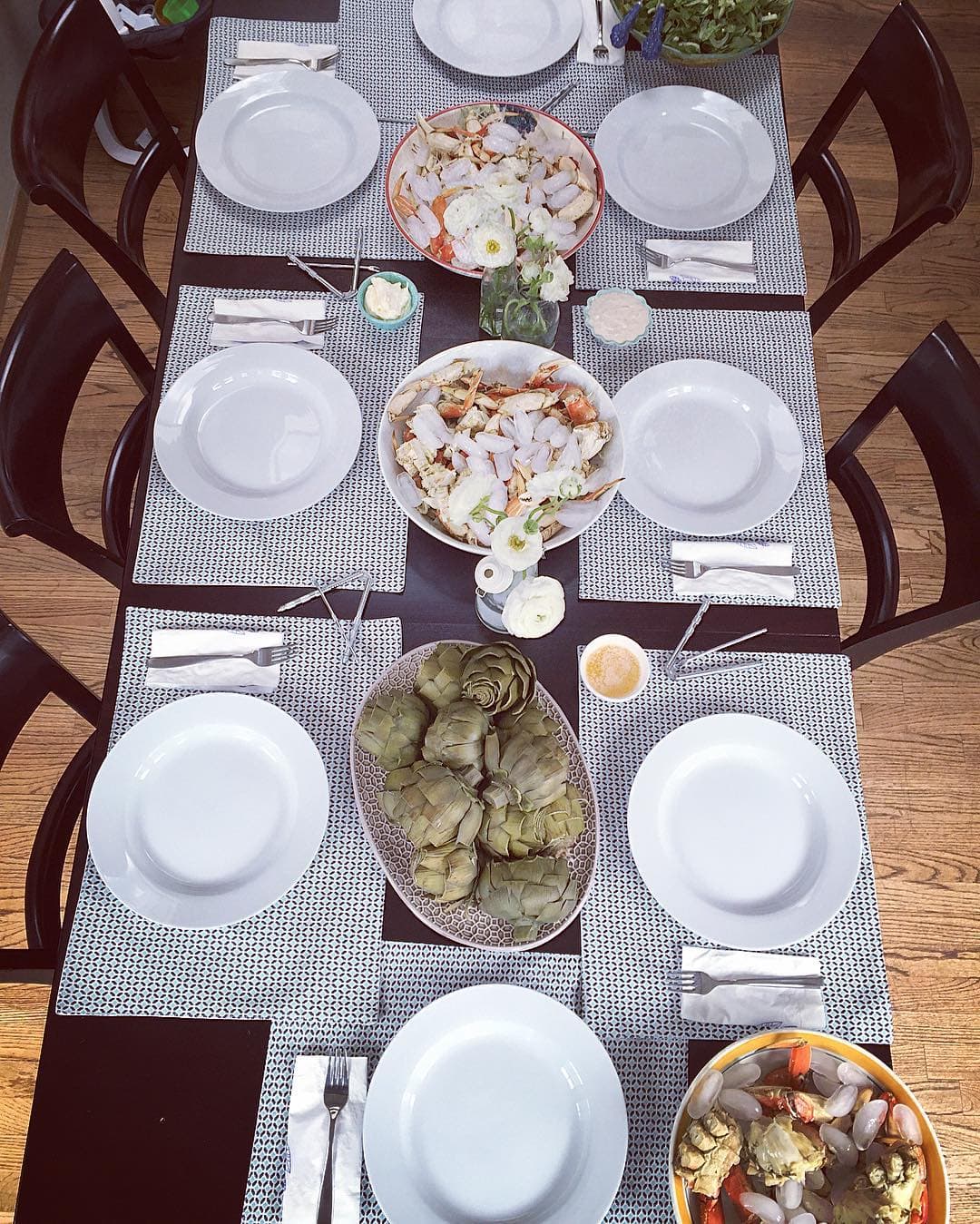 We had about 1 pound of leftover crab (I got 1 crab per person!), so I thought it was the perfect time to make those crab cakes. While typical crab cakes have bread crumbs or ground up crackers to bind them together, I decided to grind up plantain chips. You can very easily bake them at home using coconut oil and one of the various recipes found on the web, but I used a bag of Inka brand that I had in my pantry. Trader Joe's also sells them and they're super good with salsa and guacamole if you have any leftover.
These are so easy to make and are so incredibly delicious. I made a double batch the last time I made them so we could use them in place of ham and waffles in my Eggs Benedict recipe!