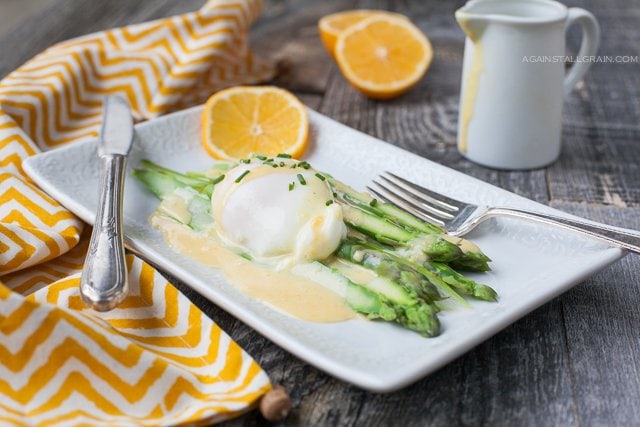 I have a super scrumptious Asparagus Benedict breakfast recipe to share with you. Poached asparagus and eggs are topped with my favorite condiment: hollandaise sauce. If you've been following me for quite some time, you know of my affinity for that creamy, velvety, rich sauce. See below for more recipes where this sauce shines.
You guys, this book writing process is so crazy! I had no idea what I was getting myself into when I signed on, but absolutely have no regrets and am already crazy enough myself to be planning the next one! You probably saw my post the other day on Facebook that the book was done. That was a silly rookie mistake apparently. This really is kind of like pregnancy. Just when you think it's the end, there's more to endure. I was 10 days late with Asher! I am going on 12 days late with this little bundle of book joy.
In all honesty though, it will be kind of like holding my new baby for the first time when I finally receive my first printed copy in June. After 9 months of creating, testing, writing, photographing, designing, and editing (& more & more editing), I will get to see what all of my hard work has accomplished. Just seeing the PDF version reassures me that it was not all for naught and will absolutely pay off in the end when I get to see the joy that my book and the recipes in it will inevitably bring to you and your family.
Want to see a little bit of it? I'm sure you do, but that will have to wait until I have time to sit and write the sneak peak post. You can however, in the meantime, view a few pages that I have leaked on my instagram page. I will write the post soon though, I promise. And here are the other recipes that use the creamy hollandaise sauce.
baked eggs with bacon, greens,and hollandaise
eggs benedict over savory waffles
eggs benedict florentine (dairy-free!)