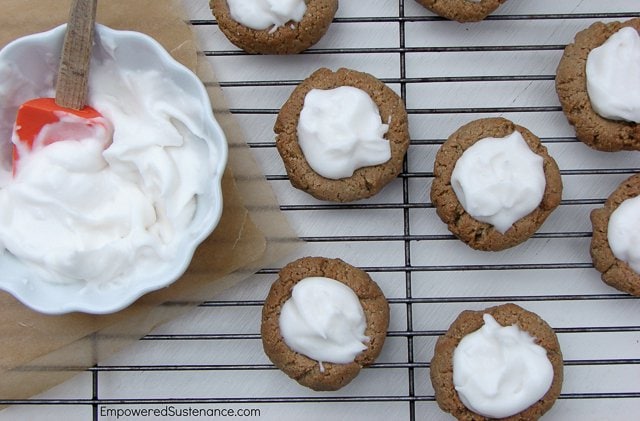 With my new cookbook well under way and keeping me very busy, I've lined up some fellow bloggers to do guest posts for me every Saturday. My autoimmune condition is heavily fueled by stress, so in an effort to stay healthy, these friends will help relieve some of the stress and keep recipes still coming your way! I am excited to introduce Lauren from Empowered Sustenance to you today! Lauren is a young passionate blogger who, like me, is fighting Ulcerative Colitis with a grain-free diet. She will be a great resource for many of my nut-free readers as she frequently uses homemade sun-flour in her baking. Today she is sharing a nut/egg/dairy/grain free cookie recipe with you. Please welcome Lauren to Against All Grain!
Why am I passionate about a grain free diet?
Like Danielle, I stumbled into the world of grain free living when I discovered the Specific Carbohydrate Diet as a solution to my ulcerative colitis. At 19, I had spent five years of my short life traipsing from hospital bed to hospital bed, receiving numerous prescriptions with unbearable side effects. Nine months ago, I ditched the grains and began therapeutic doses of healing foods like fermented veggies, coconut oil and homemade bone broths. The results were instantaneous. The best part? I was eating the best foods I had ever tasted!
Grain, dairy, nut and egg free!
We all get excited about free things, but I get enthusiastic about an unconventional use of the term. Grain free, dairy free, nut free, egg free… that's my kind of free! Creating treats on a limited diet presents challenges, but, with a little creativity, the results taste delicious.
Here, I've utilized my favorite technique for creating a creamy filling without dairy and eggs. I set coconut milk with gelatin, let it set, then whip it until creamy. It's the same technique I use in my Paleo Pumpkin Mousse.
Finally, I recommend soaking and dehydrating the sunflower seeds to neutralize the anti-nutrients and enzyme inhibitors naturally present in all nuts and seeds.
About Lauren
Lauren discovered the healing power of a grain free diet when the GAPS diet halted her debilitating ulcerative colitis symptoms. She is now abnormally enthusiastic about coconut flour, raw milk and fermented cod liver oil. She shares creative grain and nut free recipes at Empowered Sustenance. For more recipes, download her free Grain Free Holiday Feast E-Cookbook. Stay in touch on Facebook, Pinterest, Twitter, and Google +.