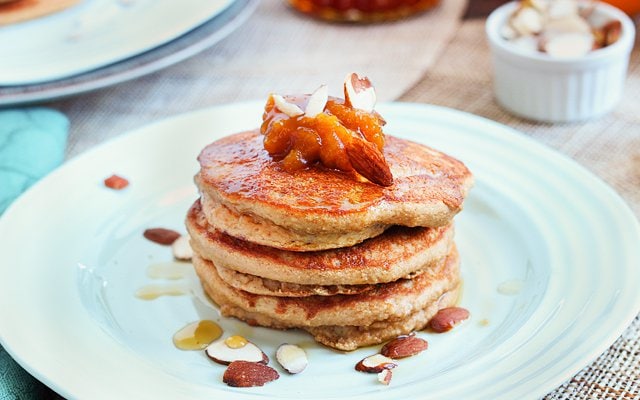 With my new cookbook well under way and keeping me very busy, I've lined up some fellow bloggers to do guest posts for me two Saturdays a month.  My autoimmune condition is heavily fueled by stress, so in an effort to stay healthy, these friends will help relieve some of the stress and keep recipes still coming your way! Today we have Alyssa from Queen of Quinoa. Alyssa's recipes are not all Grain-Free, but today she is sharing a special Paleo Pancake Recipe with us. These coconut flour pancakes are great for those of you that cannot tolerate almond flour. Enjoy! 
Hey everyone! I'm Alyssa from Queen of Quinoa and I'm so excited to be guest posting on Against All Grain today and can't wait to share this yummy paleo creation with you. With all of Danielle's unique creations, I'm inspired to push my gluten-free baking boundaries and explore the world of paleo and grain-free goodies.
Breakfast being my favorite meal, and usually my first experiment in the kitchen of the day, making something grain-free was at the top of my list. During the week, I opt for green smoothies and on-the-go baked goods for breakfast, but when Saturday morning rolls around and we stroll lazily into the kitchen, there's one thing on my mind. Pancakes.
What's great about pancakes is that they're, a) very easy to make paleo and b) fun to spice up with different flavors. And now that we're fully immersed in the chilly weather of fall, the warm flavors of vanilla and chai seemed like the perfect way to go.
But before we talk about the flavors of these glorious pancakes, we just have to chat about the texture. If you've baked with coconut flour before, then you understand, but if you haven't, let me just say, you may never turn back. Coconut flour, which is naturally gluten-free and a staple in many paleo bakers' pantries, brings an amazing light, fluffy texture to baked goods that is unparalleled by any other flour. Which of course, makes it perfect for paleo pancakes.
So, the pancakes. They're sensational. Fluffy, high fiber, low carb, paleo pancakes. And the secret to this tasty breakfast treat, is the milk. Rather than adding spice after spice, hoping to get that chai flavor just right, I took the easy way out. I simply simmered the almond milk with two bags of chai tea, which infused the pancakes with the delicious chai flavor. Pancake perfection and so tasty topped with pumpkin butter and sliced almonds, drizzled in warm maple syrup. A quick and easy paleo breakfast, just in time for Fall.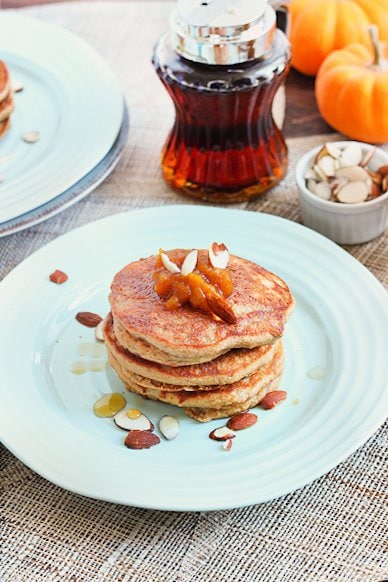 About Alyssa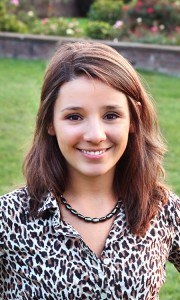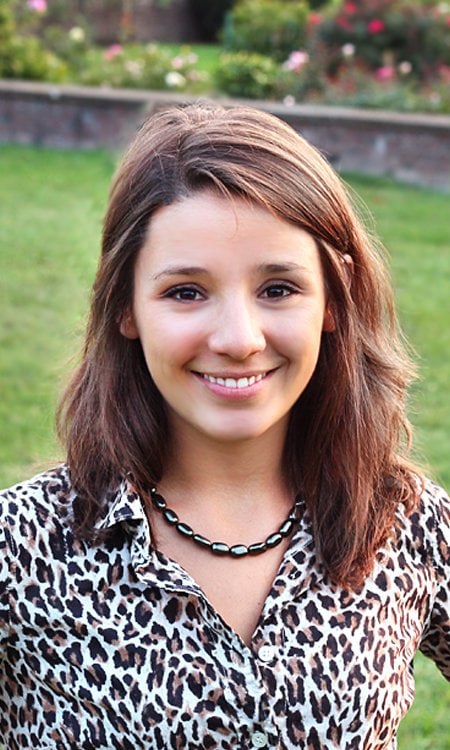 I'm the quinoa obsessed girl behind the gluten-free blog, the Queen of Quinoa. I love experimenting with nutritious and whole-food ingredients, and hope to encourage the everyday home chef that cooking and eating gluten-free cannot only be healthy, but also delicious and fun.
After struggling with stomach issues throughout her college years, I decided enough was enough and took my health into my own hands. I started by removing gluten from her diet and haven't looked back since. Two happy years have passed and my stomach issues have practically disappeared! Living gluten-free has also helped me to truly discover my passion for cooking and I have embraced my new lifestyle with open arms.
With the Queen of Quinoa, I share my gluten-free recipes, many of which are focused on the superfood quinoa, and discuss my journey to living a more fulfilled and healthy life. I now also cook refined sugar-free and although not all of my recipes are vegan, I have loved learning and experimenting with vegan baking.
Stay connected with Queen of Quinoa:
Facebook |Twitter |Google+ |Pinterest